By now everyone has heard the nightmare stories about crowds overbuying toilet paper and hand sanitizer so if you went to stock up I don't use commercial hand sanitizers anyway because of their triclosan content, but I do use a hand sanitizer which is made with ethyl alcohol rather than rubbing alcohol and I was so pleased to find this recipe for the same type of sanitizer by a reputable Youtuber @Dr.Davis from Chem Survival who made a great Youtube video of how to make that very organic hand sanitizer that I really love by using a few simple ingredients. The recipe is very easy and only basic ingredients are required. With the coronavirus spreading fast and flue season also still here, cleanliness and preparedness are more important than ever. Without having hand sanitizer to use when grocery shopping and running other important errands, it can be concerning. Fortunately, you can learn how to make hand sanitizer at home with just a few inexpensive ingredients so that you have lots on hand.
Where can I get hand sanitizer?
Well, by now, you probably know that most every place that once sold hand sanitizer has none in stock right now, not Amazon, the pharmacy, the grocery store, office supply store or even Home Depot. Worse yet, most recipes for DIY hand sanitizer call for rubbing alcohol, and stores are out of that, too.
Fortunately, you can make your own hand sanitizer from just a few ingredients, even when rubbing alcohol is not available. We don't recommend the Vodka version, either. Use the recipe below with grain alcohol to mix up a batch so you can be prepared during the Coronavirus pandemic.
Ingredients for Homemade Hand Sanitizer:
3/4 Ethyl Alcohol (that is 150 proof grain alcohol such as Everclear)
A few drops of Glycerine (to keep your hands from drying out)
Optional – 2 to 5 drops of Essential Oil (you want one of the following: Orange, Tea Tree, Oregano, Thyme, Lavender, Thieves, or Lemon essential oil)
NOTE: Do not add more than a few drops of essential oil, as too much can burn the skin. Oregano oil is very strong, so please be careful when handling this and any essential oils.
Also, if you don't have glycerine or are having trouble finding some, aloe vera gel can be substituted. You can either buy this in stores or online, and it is usually located with the sunburn and skin care products. You might also be in luck if you or a friend have an aloe vera plant on hand, you know, the one you keep around for burns? I successfully harvested some from my backyard to make a batch of this DIY hand sanitizer without alcohol and it turned out to be a wonderful consistency. I have to admit that although it would have been nice to buy Purell or some premade hand sanitizer, I am loving this recipe since I know exactly what is in it, plus it smells great. I very well may keep using this over the store bought from now on, especially since it looks like I am going to need to disinfect my hands for a long time.
Don't worry if you don't have any essential oils on hand, either. The recipe works great without this ingredient, These essential oils are believed to be antimicrobial – oregano, thyme, or orange oil, in fact, if you spray one of those ingredients mixed with soapy water it makes a surface disinfectant that can be used to clean surfaces.
Also, if you have rubbing alcohol, we can show you how to make hand sanitizer with rubbing alcohol in a very similar method with just a few ingredients. Where to buy rubbing alcohol? You can try making your own rubbing alcohol on Youtube with this video or whip up a batch of this organic hand disinfectant without it.
Directions for making hand sanitizer without rubbing alcohol at home:
This is the formula.
First, add the ethyl alcohol to your bottle 3/4 the way full.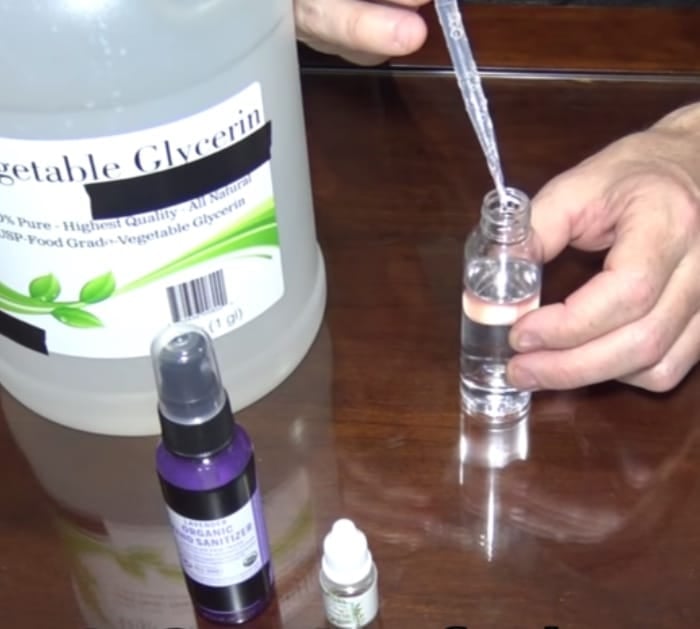 Then add a few drops of glycerine and shake, it is really that easy. You can add essential oil if you want, but that is completely optional.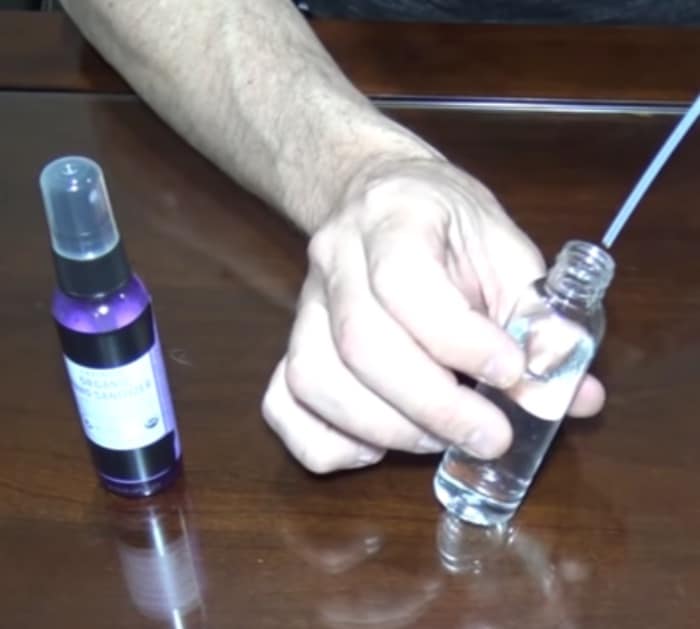 I hope everyone finds this formula useful, I know I did.
How To Make Hand Sanitizer Without Rubbing Alcohol