These days, I've been redecorating my room with the help of DIY crafts. I prefer making my décor because it's cheaper and customized/personalized. I also find it as a fun activity, one of my favorite crafts are those that involve mason jars and fairy led lights. This tutorial right here by Decor Crafts is a project that I enjoyed doing, it was absolutely adorable and it made my room look cozy as well, I even made more of this and gave some to my younger cousins and niece as a gift!
Materials:
Mason jar
Acrylic paint, white
Small sponge
Glitters, white and blue
Polyester fiberfill
Glue stick
Glue gun
Marker pen
Paper
Scissors
Glue or Glue stick in a tube
Fairy led light
Directions:
Step 1
Get a clean and dry mason jar. Cover the body with white acrylic paint using a small sponge. Then sprinkle white glitters all over it, followed by blue glitters just around the top part of the jar. For the next step, you can either search for and print an image or you can do it manually.
Step 2
Search for a silhouette image that you want inside your jar to appear, then trace the shape with a thin sheet of paper, transfer the pattern to a thicker paper then cut it out. Cover the cut out with a black inked marker, then spread a layer of glue at the top of the paper, right where the black color is. Place and attach the cutouts inside the mason jar.
Step 3
Cover the lid with hot glue then attach the polyester fiberfill, repeat the process and add more fill until the lid is covered well. Decorate the top with glittered embellishments, then attach a bit of filling at the bottom too and add embellishments as well. Insert fairy led light in the mason jar then close the lid.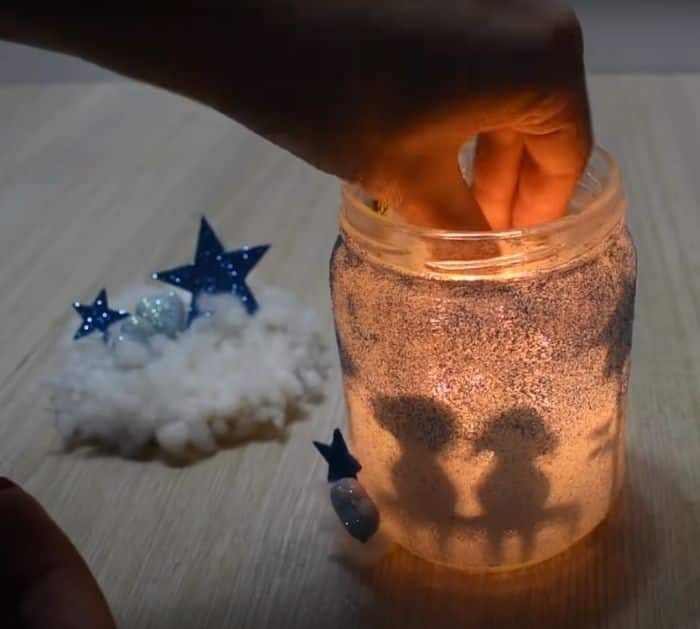 *These amazing images are all credited to Decor Crafts via YouTube. Check their other content and follow for more!
DIY Glowing Mason Jar Tutorial