Need a cool and creative DIY gift idea that Mom will love? Sometimes our mothers are the hardest people to think of gift ideas for, and we think DIY is the way to go. Your mother is always sure to appreciate something you made for her more than something you bought. Moms are just that way, you know? From crafty home decor to pretty jewelry to kitchen crafts and wall art, these step by step tutorials show you exactly how to make an awesome gift for Mom. Whether you need something for a thoughtful Christmas gift or birthday present, or just something to let your mother know how much you think of her, these 39 DIY gift ideas for Mom are some of our absolute favorites.
DIY Gifts to Make for Mom
1. DIY Ombre Tassel Necklace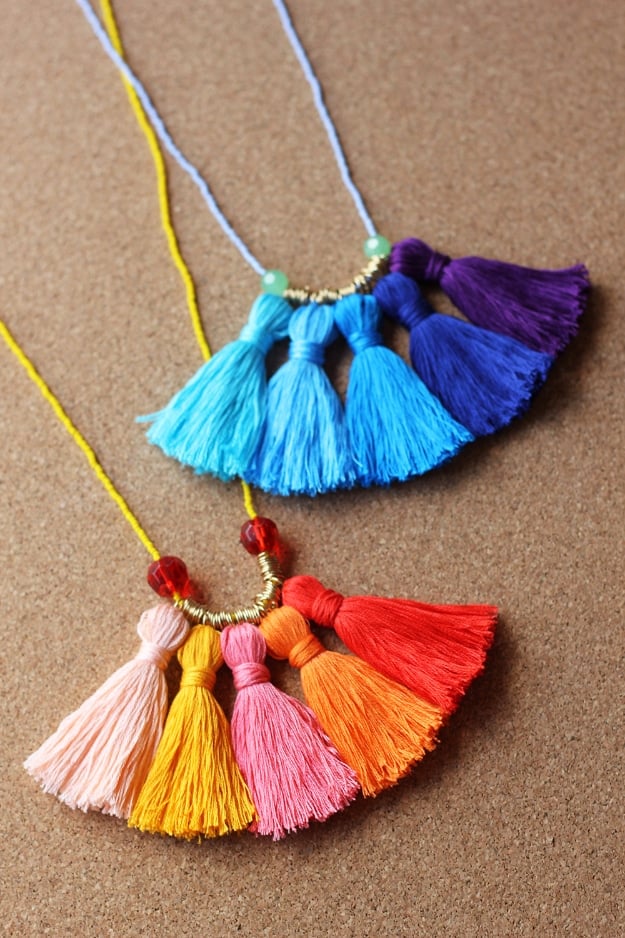 Let me introduce you to my DIY craft ombre necklace, a really great Christmas DIY gift idea. I hadn't tried ombre on anything as yet, shocking right? Now that Christmas is here, the occasion couldn't be any more perfect to make this tassel ombre necklace from my leftover project beads. Truth to be told I had been visualizing an ombre tassel necklace for a long time, and I really feel like I got a winning idea perfect to try and it made me very happy. The technique is very simple, I have all my pre-made tassels, glass beads, and gold rings ready to go. Then just strung my beads to hold it all together. Finish it off with lobster clasp and all the lucky peeps on your Christmas list will be rocking this DIY ombre tassel necklace with holiday flair. If you are looking for fun and easy DIY Christmas gifts for Mom, this pretty handmade necklace belongs on your list.
2. Kilim Inspired Painted Basket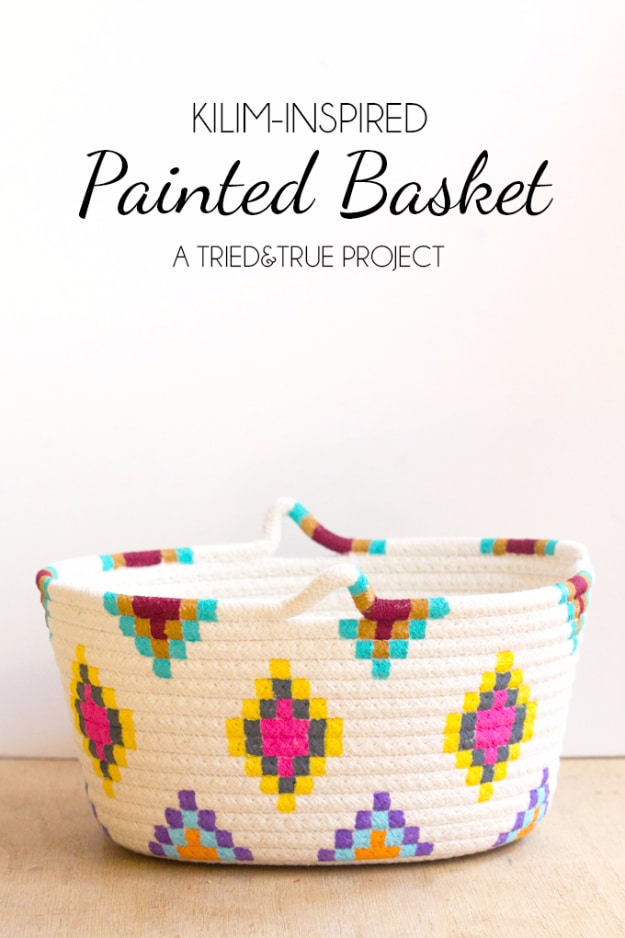 My Aunt is a huge fan of all the gorgeous Turkish Kilim tapestries that are so rich with cultural dignity. I love the wide variety of colors that are used in this whimsical, unpredictable pattern. So unlike the monochromatic style that is a little overused. I needed a DIY craft gift to replace my Aunts sewing basket, and this Kilim-Inspired Painted Basket tutorial is an easy way to try out a fun new color palette quickly and inexpensively. She loved it and when I make others happy, I am happy.
3. DIY Personalized Mug For Mom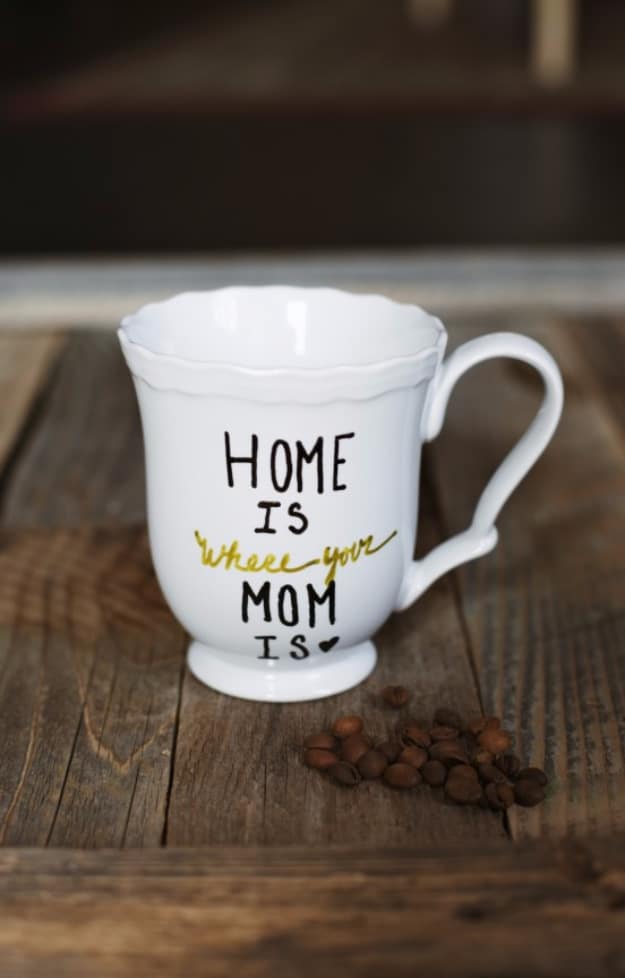 I needed a lot of gifts in a short amount of time. When I say short, I mean like an hour. So I had a box of mugs from my days as a caterer and I decided to jump on the personalized mug train and make a fun little mug for my friens on Mother's Day from my painting class. It was crazy easy and definitely worth the time and mugs are cheap, personal and useful all at the same time.
4. Zippered Make Up Bag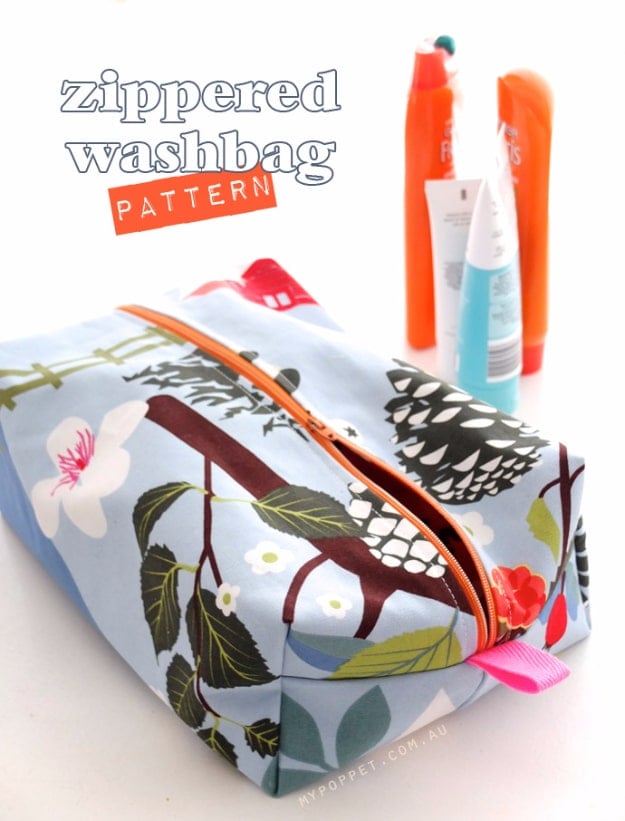 My daughter needed a new toiletry pouch, so I thought I would give her something crafted from my heart. She loves sewing but had kind of got a little disinterested in it. so I made her his zipper top DIY craft toiletry pouch in hopes to spark her interest again. These zipper top DIY toiletry pouches are so cute and functional, we just can't have enough of them in our lives. They are so simple to sew, this one involves a zipper and requires an intermediate level of sewing skill. Once you get this one down though, you can pump them out all day long and they make great gifts for everyone. A cute but easy DIY sewing gift you can give to almost anyone. Perfect for a Christmas gift idea, but great for year round gift giving. Whether you need a holiday gift idea for your daughter or an easy DIY Christmas gift idea for Mom, this handmade makeup bag or jewelry carryall is sure to please.
5. Fabric Terracotta Pots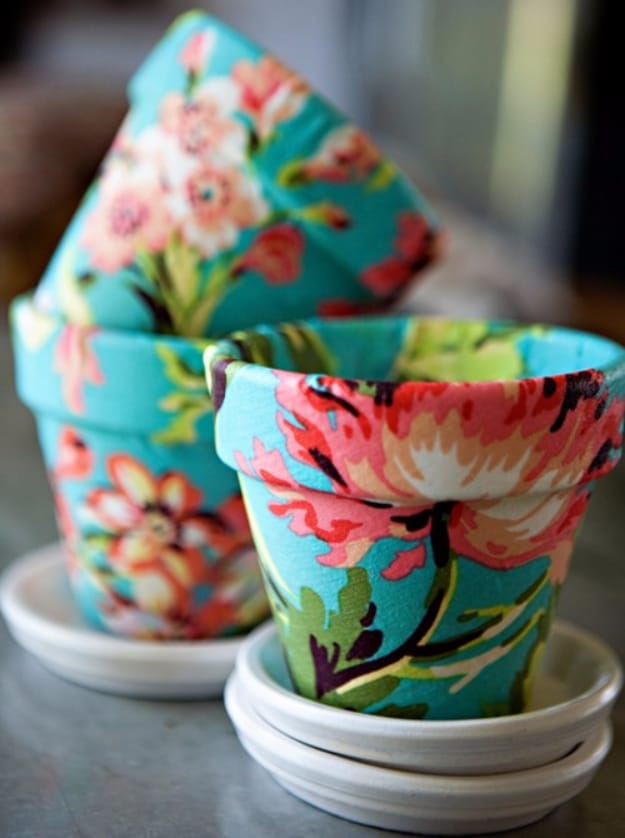 needed some really stunning DIY crafted pots for my best friends new porch. I saw this DIY project on Pinterest and it struck me as a genius idea. Decorating terracotta pots using fabric is a great DIY gift idea and very simple, cheap and rewarding. Beautifully patterned pots are usually quite pricey and fabric can really help get similar ones very cheap. Besides terracotta pots themselves and different fabrics, you'll also need Mod Podge and a brush. To decorate one pot you need to cut a fabric to wrap once around it leaving extra room for folding it over on the top and bottom. After that, you simply need to glue the fabric piece you got to the pot. You can also cover the fabric with Mod Podge afterward to seal it. Such pot is perfect looking on my friend's porch and she loves them.
6. Painted Plates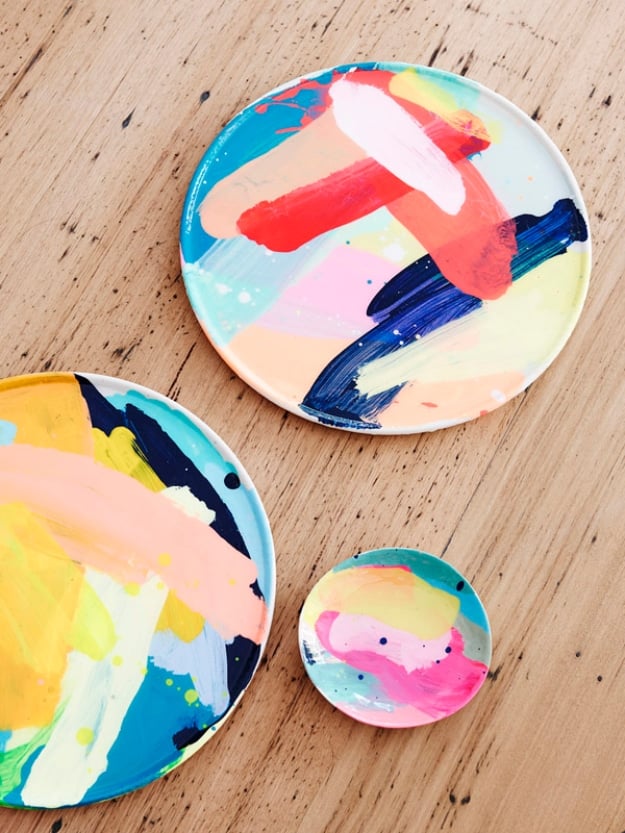 These DIY paint splattered plates remind me of the French master painters, Picasso comes to mind. I made some for my Sister In Law to use in her chic New York apartment. I just spattered them with craft paint and covered them with a coat of Decopodge. You should see my humble DIY craft offering in her uptown city slicker pad, just phenomenal! If you want an impressively easy DIY gift idea for Christmas, a quick birthday gift idea or a special present just to tell someone how much they mean to you, this hand painted DIY wall art idea is sure to impress them.
7. DIY Chalkboard Spice Jars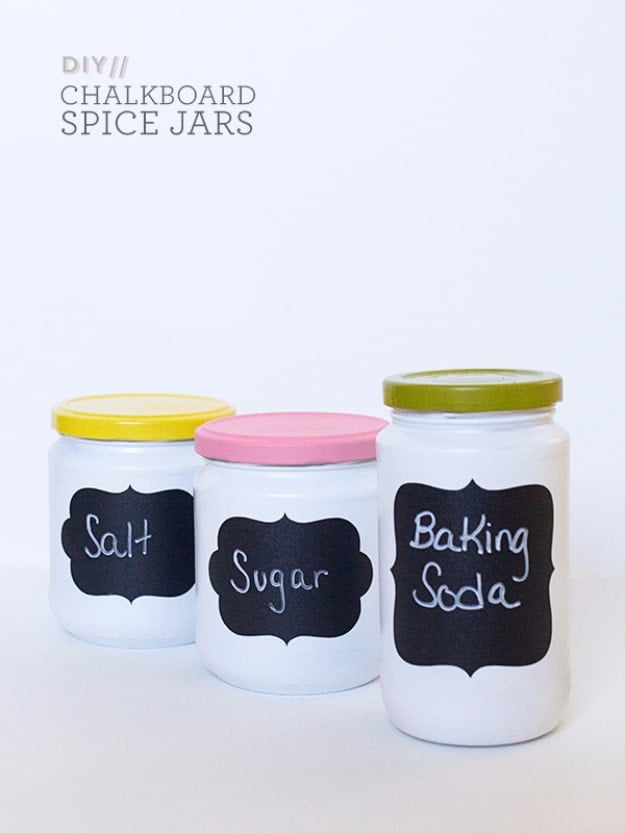 I had some guests coming over for a Christmas baking party and I wanted to make my kitchen look extra special. The craft chalkboard spice jars are a fantastic DIY upcycling project that only takes under an hour to complete. I always save my empty bottles for these kinds on DIY bolts of inspiration, and really you are free to use any size for this I like pickle and olive jars best. I just spray painted them white in accordance with my kitchen and wrote the contents of the DIY canister on peel and stick chalkboard labels I got at Michael's. My Christmas baking party guests adored the extra effort I made to make them feel warm and surrounded by love and beauty. One of the cutest DIY ideas for the kitchen, these adorable handpainted chalkboard jars will be proudly displayed front and center.
8. Beaded Bracelet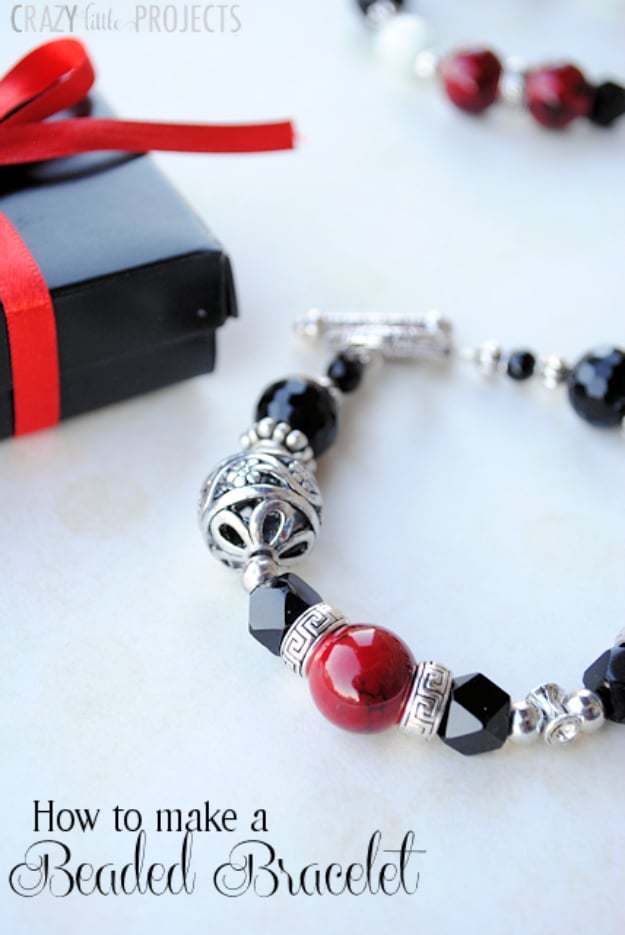 The simple beaded bracelet with a toggle clasp is one of the quickest easiest DIY gift projects you can make. I make a whole bunch of them at a time to give out as gifts to my kid's teachers, other Moms at school, neighbors, or anyone who shows up unexpectedly and needs a gift. I keep all these items in stock in my craft project drawer and pull them out whenever the kids need something to do.
9. Cute Apron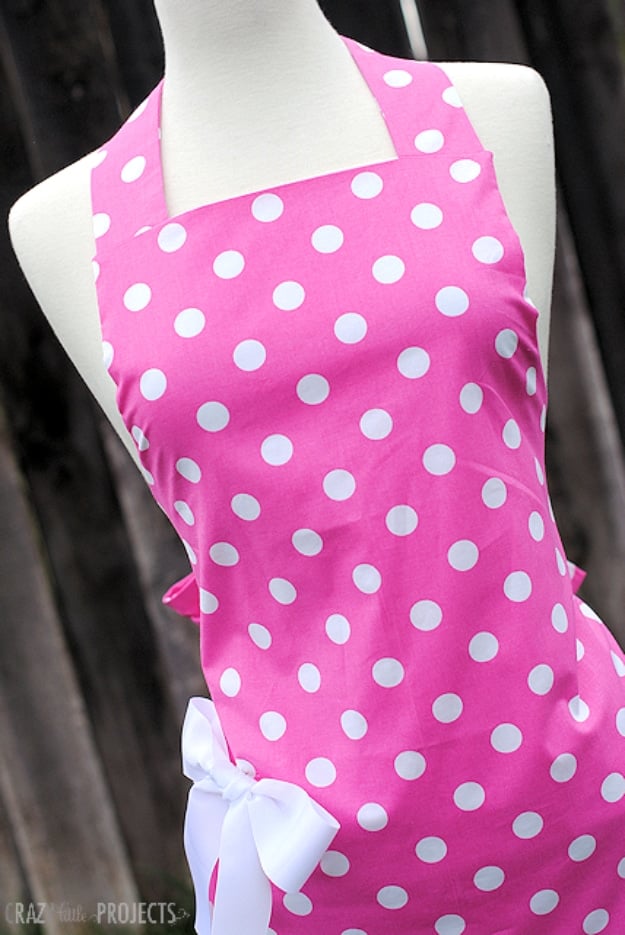 I have been really enjoying my neighborhood baking parties this Christmas season. My neighbors and I take turns sharing recipes and cooking our favorite dishes for the holidays. When it was my turn to host I wanted everyone to have a very special DIY hand-sewn apron to take home that day. It wasn't a big effort because aprons are my favorite thing to sew, I could make them all day long. Everyone loved them and guess what? Now we are having DIY sewing parties.
10. Printable Coupons For Mom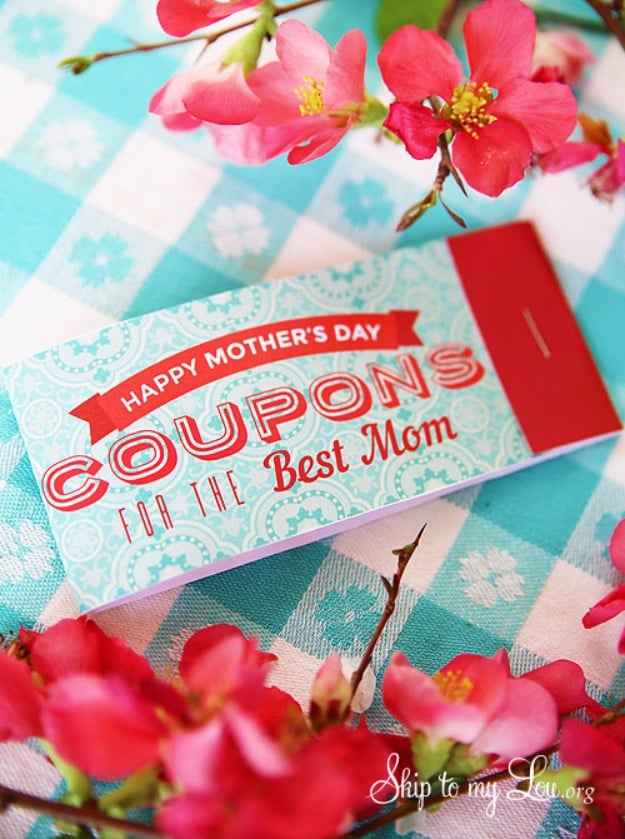 This is a great gift for someone you love at Christmas time when you really want to give of yourself this Christmas, this little DIY project is the ultimate solution. My Mom had been sick for a while and she really needed help more than a regular gift and I saw this great idea on Pinterest to make a customized gift of services coupon booklet. It contained phrases like make dinner, help with laundry, clean kitchen, etc., in really cute lettering. The method is a really simple download then assemble it like an ordinary papercraft. My Mom really appreciated it and it filled her heart with love.
11. Plastic Animal Pin Cushion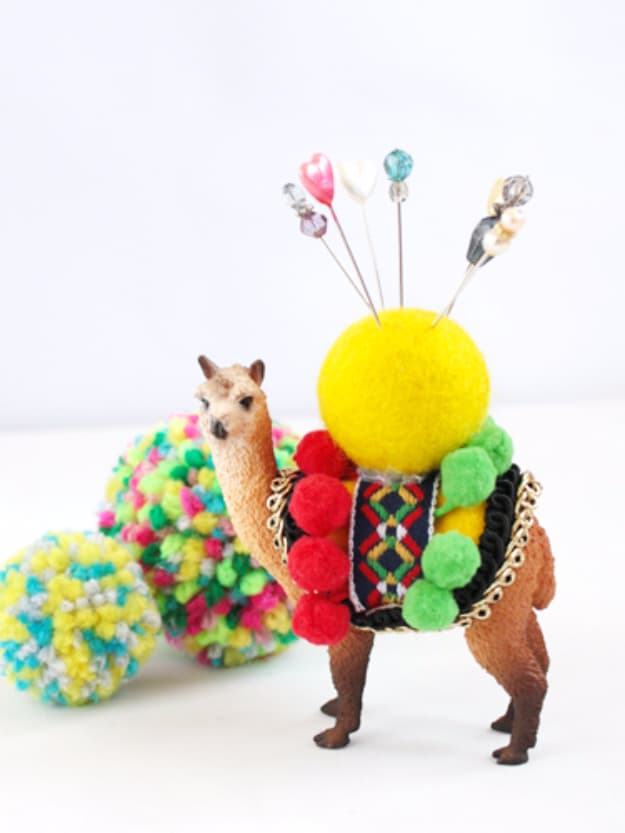 12. Vintage Teacup Candles

Candle making is a great way to add functional DIY home decor to your home. Homemade candles also make fantastic DIY gifts that match any room decor. These vintage teacups can be upcycled into these DIY crafts in under an hour. I melted some beeswax which is super healthy and added wicks and wax to these teacups. They are so adorable and also very safe with their saucers firmly in place underneath.
13. Reclaimed Wood Photo Holder for Mom

14. DIY Swirl Ring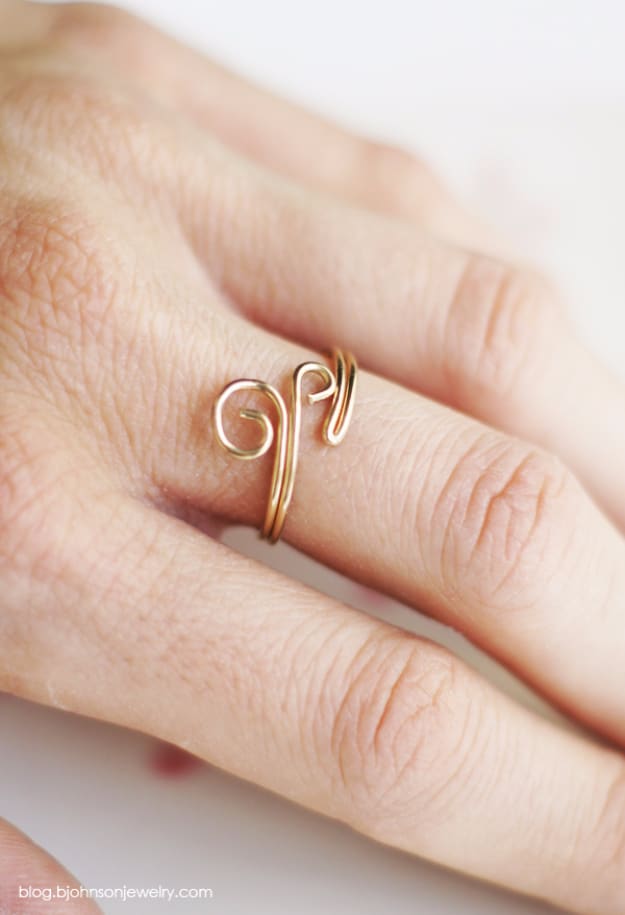 15. Fingerprint Table Runner