Need some cute gift ideas for girls? Why not DIY your way into some of the best, most thoughtful creative presents you could possibly think of? Girls love crafty things, and something you made just for them is sure to please. If your daughter, granddaughter or other special girl has a birthday coming up, or you need some cheap, quick and easy ideas for Christmas presents. you should definitely check out this list of awesome ideas. From room decor to fun accessories to cute DIY fashion ideas, all of these cool crafts come with step by step tutorials with instructions for making. Be her hero with these cool DIY gifts for girls, easy and inexpensive crafts you can make yourself, probably to be enjoyed much more than some plastic thing you might buy in a store, too.
DIY Gifts for Girls
1. DIY Leather Hexagon Vanity Tray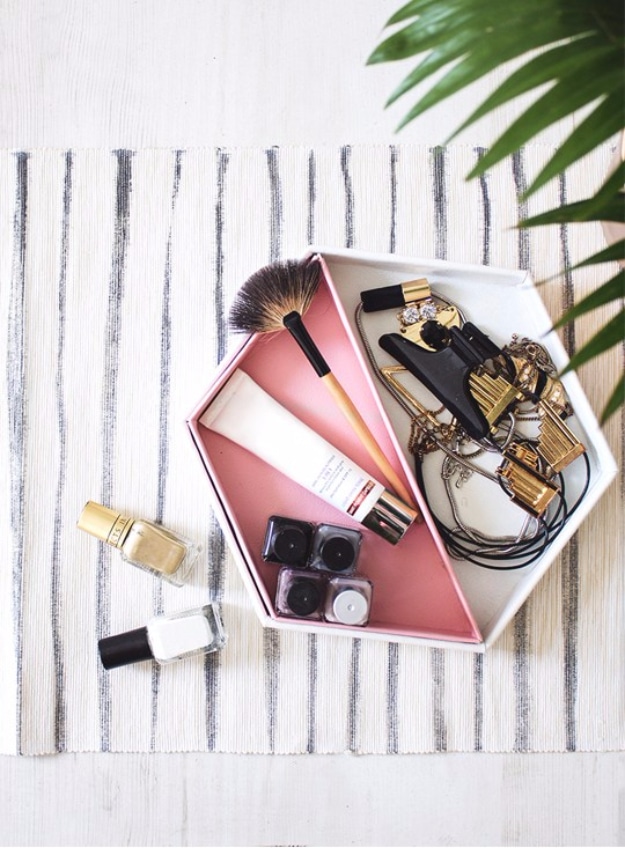 I did something brave, I must admit I did not have a clue how to make these DIY leather craft hexagon vanity containers, but I had a vision. I knew that these DIY leather hexagon vanity trays keep you organized and on trend while you're getting ready in the mornings, or winding down at night so I gave it a go, I found the DIY project so simple I made some for my friends at work. Hard to explain but I found the geometry strangely relaxing. They are gorgeous. If you are looking for a present to make for a teen girl, tween or older girl who likes makeup, this vanity tray is a cute decor item for their room, too.
2. Rose Gold Leather Mousepad DIY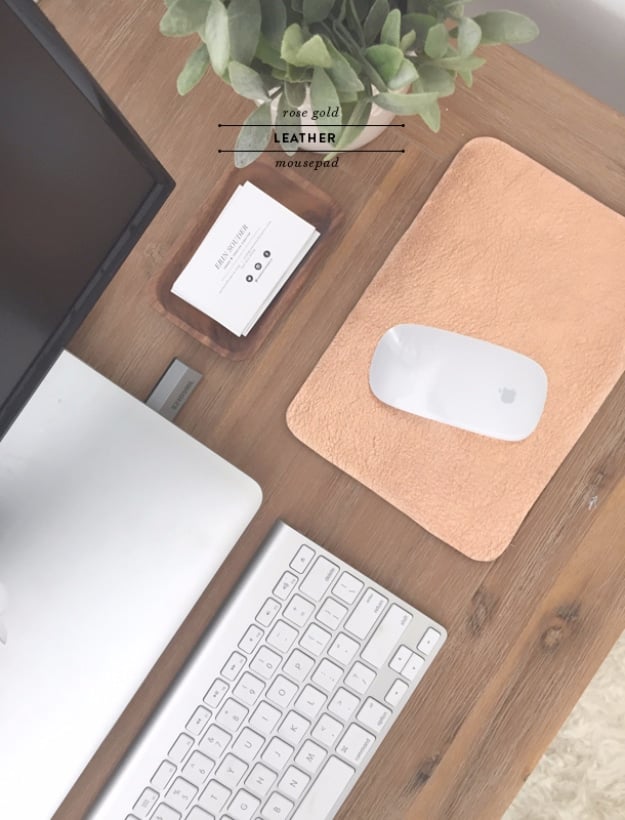 DIY leather crafts are my passion, and as I'm always advocating, upcycle those scraps. This is one of the most simple DIY leather crafts I have ever made. It works with any leather and can be decorated with hand tooling, stamping or using foil heat etching, which is great for personalizing your gifts, the recipients really love that, it's so personal and respectful. You can easily attach the cork backing with any glue, I like Leather Weld from Tandy, but even spray adhesive will work.
3. DIY Cord Tacos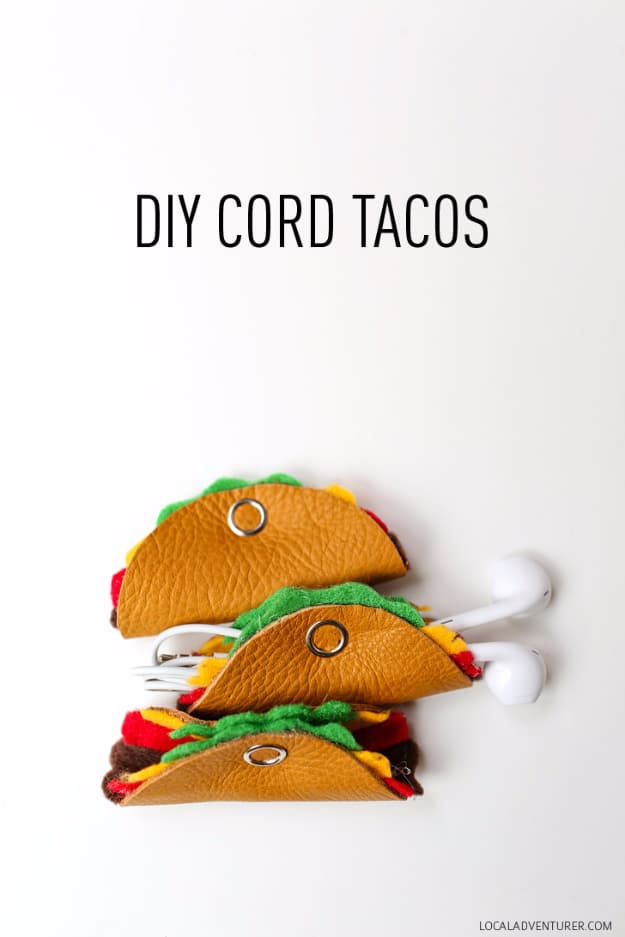 These DIY leather craft taco headphone holders are the absolute cutest thing you've ever seen. I made so many, this is simple, cheap, no fuss, and useful. You just cut circles and stick your felt on the inside and cut into scallops. Everyone loves these.
4. DIY Gypsy Chain Headband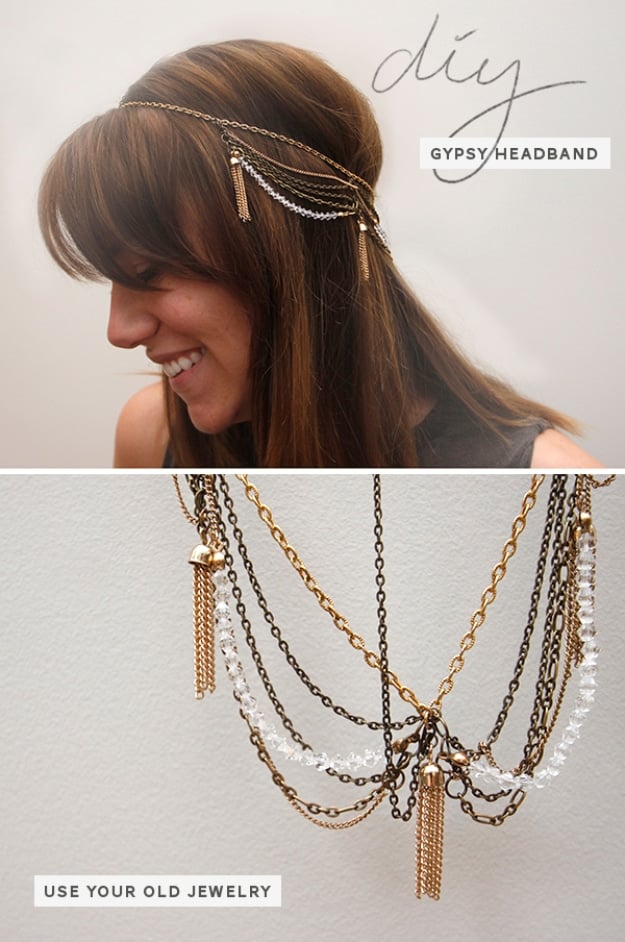 If you have a BoHo goddess in your family they will go crazy over this DIY chain headpiece gift. We have just watched the story of ancient Rome and I fell in love with their clothes, especially the hair ornaments. I had a drawer full of old metal chains and a pair of plyers and some jump rings, so I just let my imagination go wild. My BoHo goddess was very happy. There is no right or wrong way to do this DIY headpiece and its a lot of fun, I highly recommend it.
5. DIY Gold Foil Brush Stroke Pillow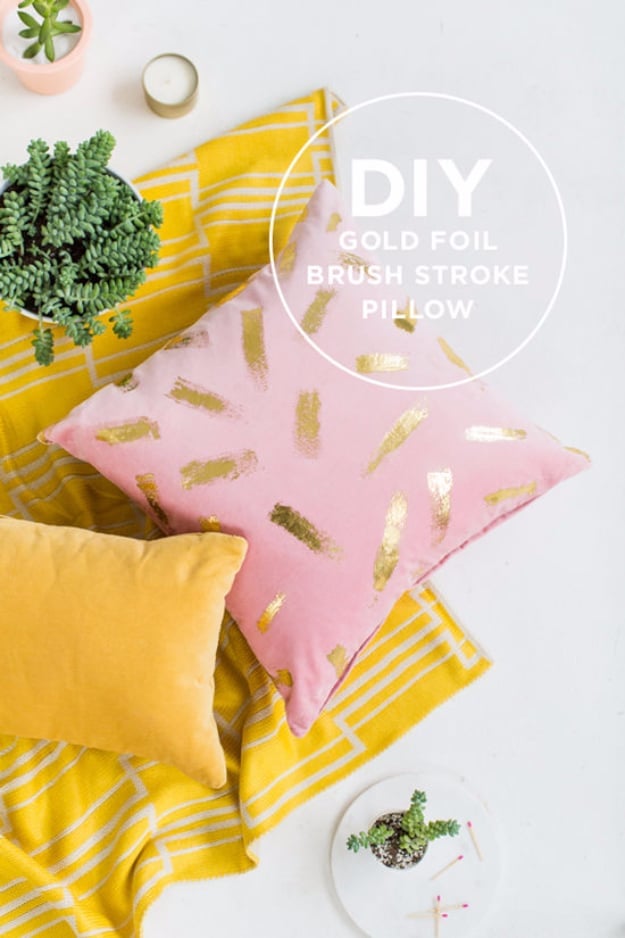 I found these vintage velveteen pillows at a garage sale and over the weekend I decided to transform them into a guilded regal look. I'm super excited to share my love affair with all things gold with you today by showing you how to create this DIY gold foil brushstroke pillow. Don't worry, it's a very do-able weekend project that doesn't require you to be super precise with a paintbrush, plus you'd never know it's a DIY.
Homemade Christmas Gift Idea For A Girl
6. Crochet Chevron iPad Mini Case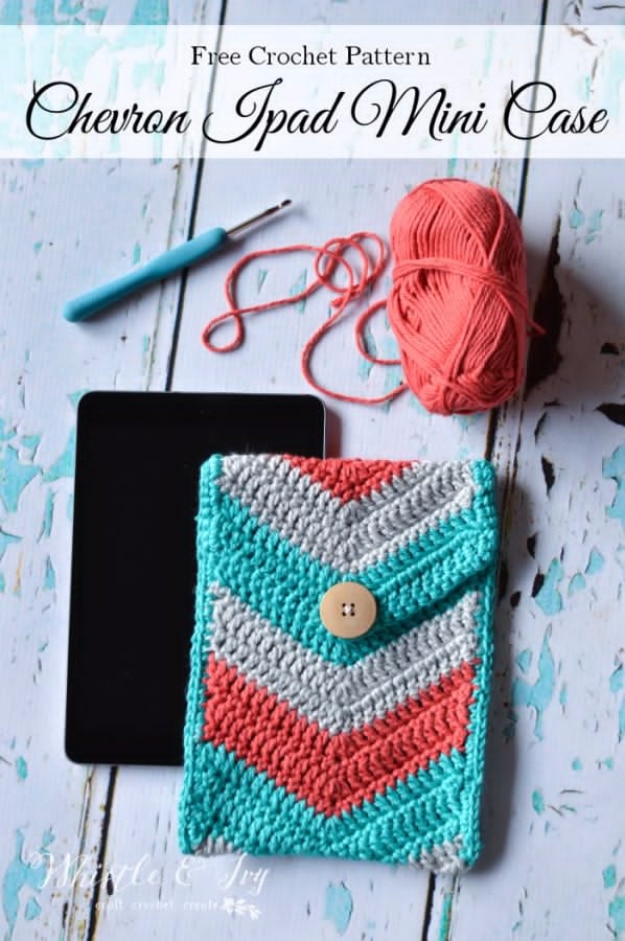 My Grandma taught me to crochet and its something I've loved doing for a very long time. This is a super easy DIY crochet phone case pattern if you have beginner skills. I made one for my step daughter who is very into the hippy BoHo look. She carries her phone in it and I managed to spark her interest to make some with me to give to her friends as Christmas presents.
7. DIY Pom Pom Market Tote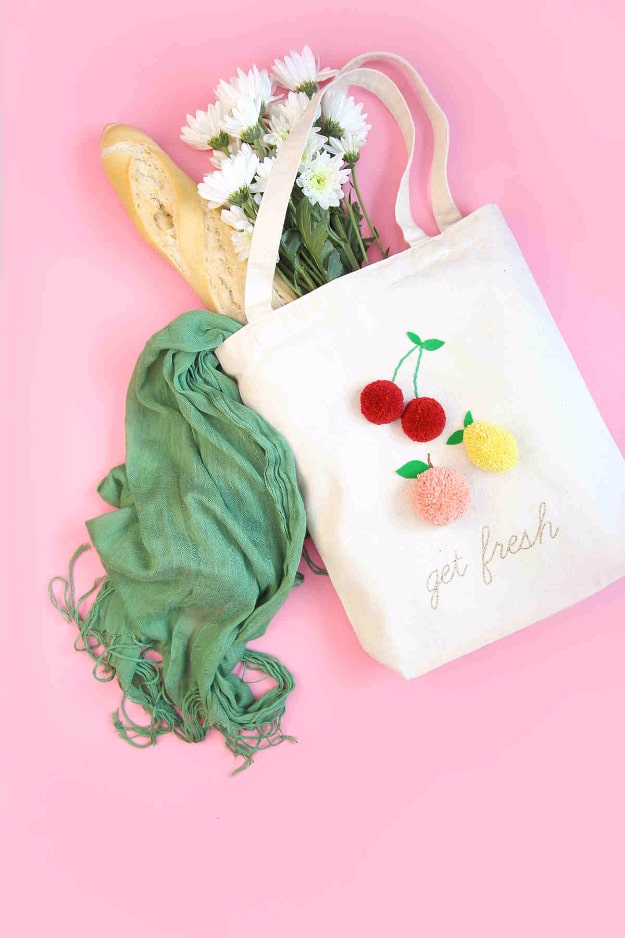 This morning, I decided to make a DIY craft shopping tote bag as a gift for my daughter's best friend. This is a simple rectangle pattern that is accented with long straps. The cool thing about this pattern is that you don't have to line the bag or cover seams with binding! The tutorial is written so that when you are done, your bag will look stunning inside and out without the trouble of adding a lining. This fabric is from Joann's Fabric Store, where you can always use your app coupons. I found these coordinating quilting fabrics that looked awesome. The bag measures about 20″ x 10″ which makes it the perfect size for an overnight stays. This is an adorable DIY Christmas gift for teens, also a birthday present you can sew. Make a few of these darling DIY tote bags, they are sure to be adored.
8. DIY Leather Jewelry Dish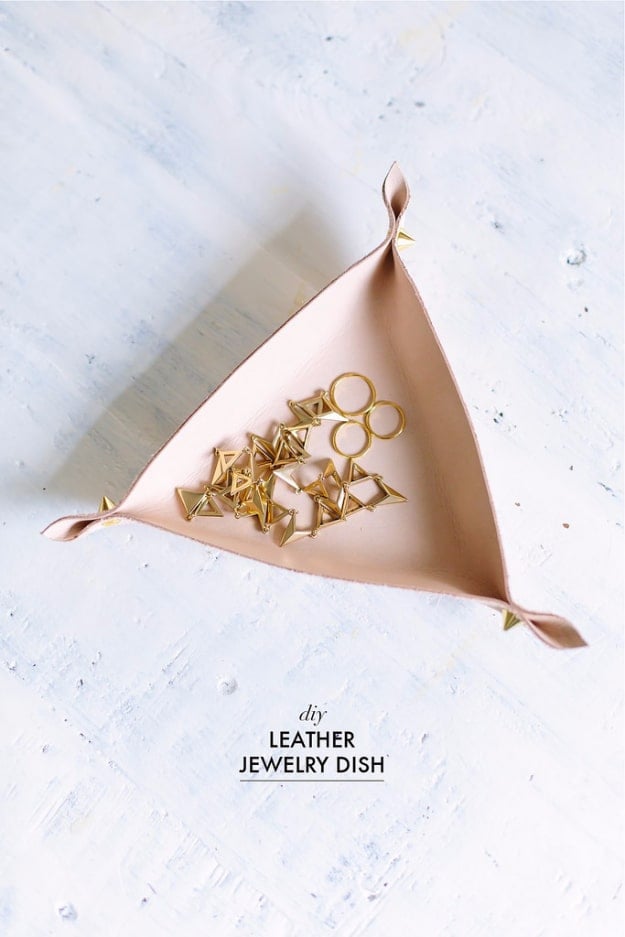 DIY leathercrafts are my favorite thing in the whole world and I am a huge upcycling advocate, I never throw away a leather scrap. The DIY leather jewelry dishes make the perfect Christmas gift for anyone on your list. You simply cut a triangle and pinch the corners with a rivet or snap. and presto… you're done! Merry Christmas from the quickest elf in the west! 😉
9. No Sew Jewelry Pouch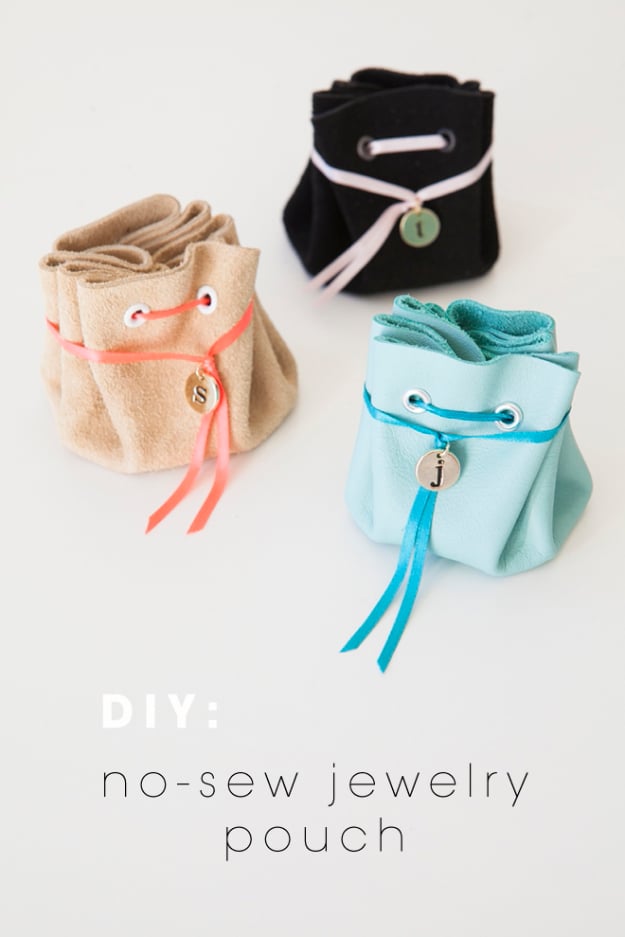 My daughter makes jewelry and made some lovely shell earring sets for her best friends this Christmas. I shared a great idea with her to make DIY leather gift bags for these beautiful creations, like having two gifts in one. Mere words can't describe how cute they turned out. I had the best time teaching her this simple gift bag making technique. My youngest Son did an excellent job making the braided embroidery thread strings and the final product was breathtaking. When it comes to cute DIY Christmas gifts, these handmade gift pouches are one of my favorite presents.
10. Bohemian Style Iphone Case

I love making DIY leather crafts and because I mainly make clothes, I always have small pieces of leather scraps laying around waiting to find a home inside a new creation. I needed a new phone case, so as a gift to myself I decided to make a rustic, boho simple leather pouch with a snap fastener. I use a lot of leather glue making my DIY leather creations because it holds beautifully without sewing and you can always add hand whip stitching to the seam once it is secure. So my advice is to try this project because if you can cut 2 rectangles and glue them together, you got this one. 😉 If you need a pretty, elegant idea for a homemade Christmas gift for her, try making this cool pouch. It is an easy sewing project to make as a gift. This is one of my favorite DIY gifts for teen girls, super cute and practical but not too young looking, plus it holds the precious phone. Make these for homemade stocking stuffer ideas, too.
11. DIY Mini Make Up Pouch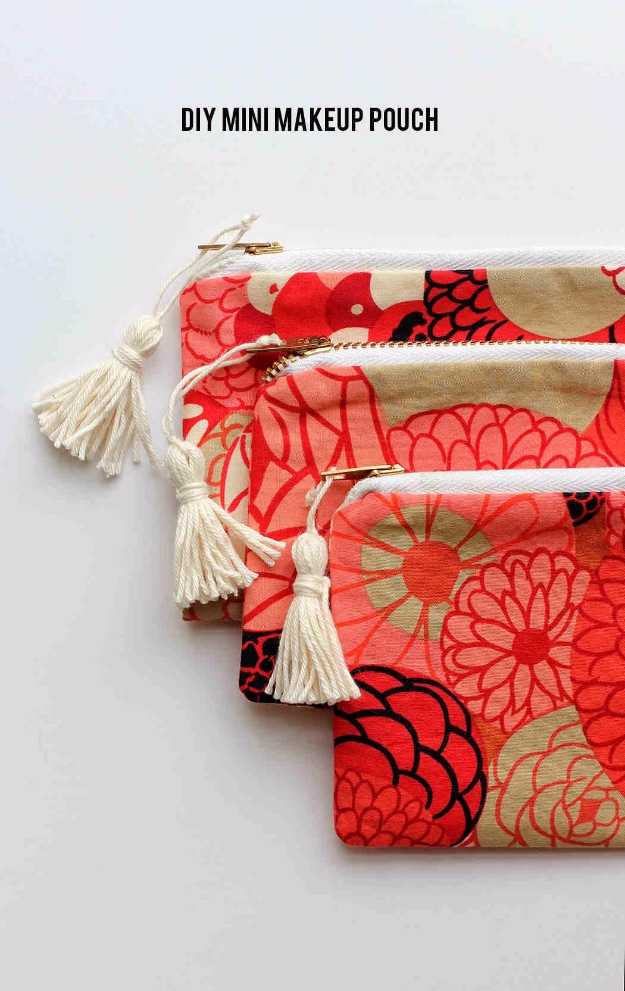 12. DIY Watercolor Clock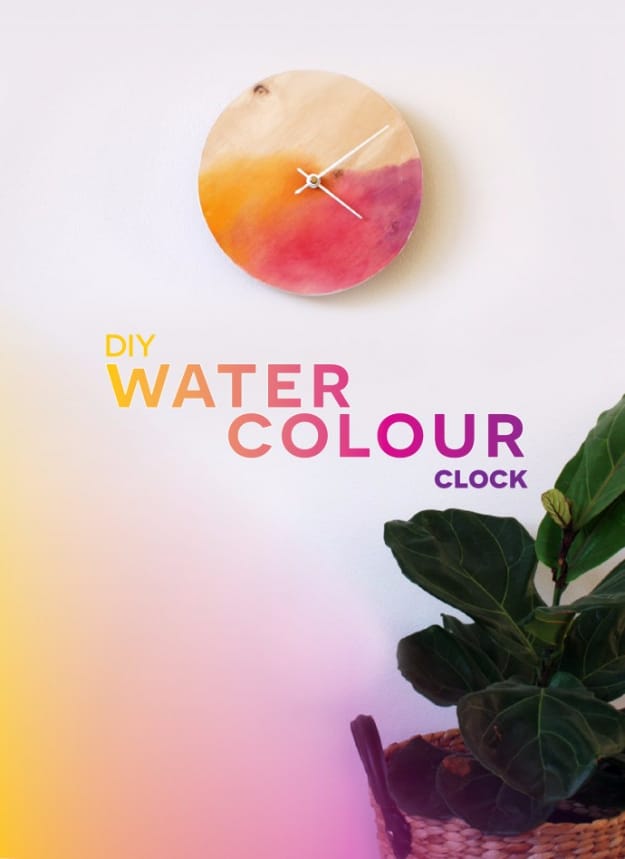 13. Embossed Hand Lettered Journal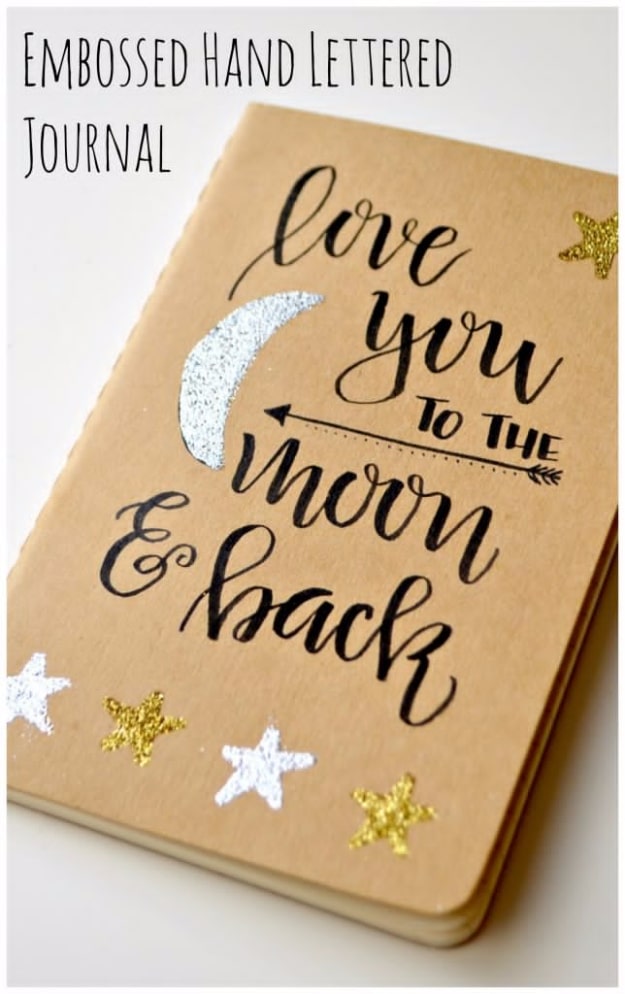 14. DIY No Sew Funfetti Cake Slice Pillow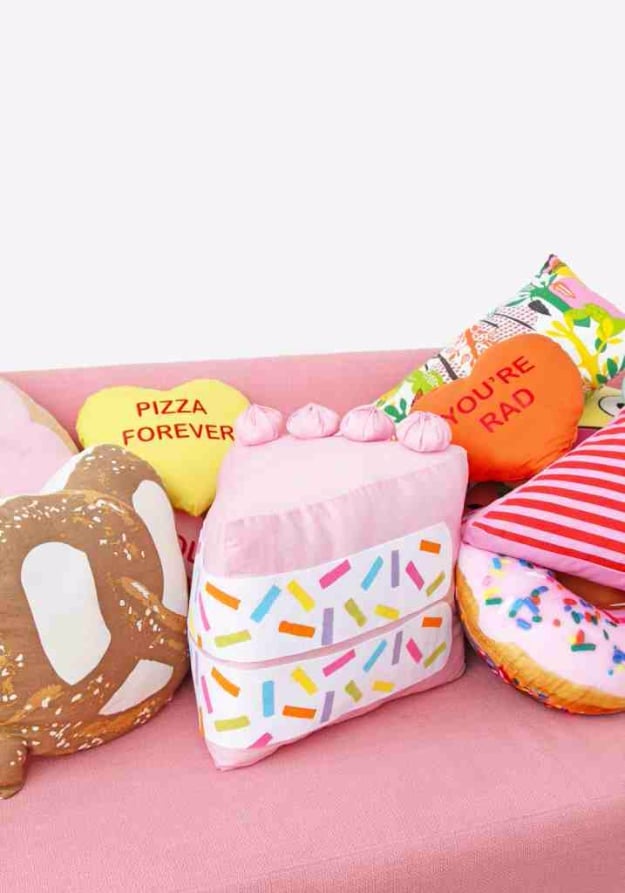 15. Pom Pom Barettes