Do you drink coffee every hour of the day and have a signature coffee cup? Perhaps you drink coffee only occasionally from the white set of IKEA mugs you bought when you moved in years ago. Either way, you need to get creative with your coffee mugs, people! And not just coffee, really, just mugs in general. What a statement you can make with this versatile beverage holder, so why on earth be boring? Make some DIY mugs with these fun homemade decor projects instead.
Whenever I go to someone's house where there is a unique collection of mugs, I am always touched and look over just about every one of them. One of my friends makes most of hers and even has had the grandkids make a few. What a nice keepsake to make you smile and think of those you love as you have your morning cup of Joe. From sharpie art ideas, monogram mugs to artistic designs where you can really get creative, these 35 DIY mugs are super cute, and many are super easy. If you need gift ideas and or some new decor in your kitchen, we know you are going to love these cool crafts. Enjoy!
DIY Coffee Mugs
1. DIY Polka Dot Mug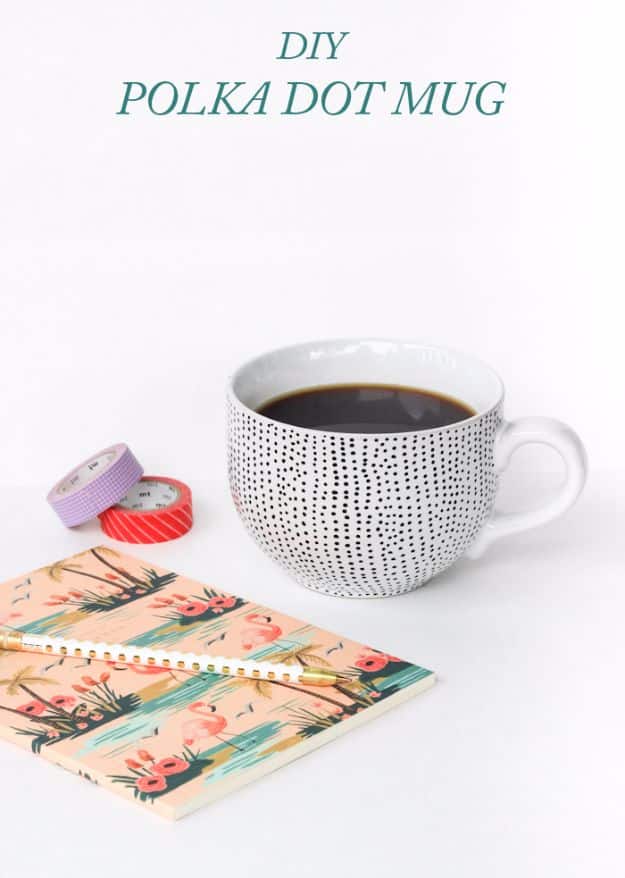 This is gorgeous! The dots look so perfect! I love these kinds of pens and I've decorated quite a few mugs now for friends and family – they make great gifts. Porcelain paints are my favorite for ceramics. All you need to make your design permanent is the porcelaine 150 pen and an oven. You can use any ceramic mug and may even find good ones to makeover at the dollar store.
2. DIY Stenciled Coffee Mug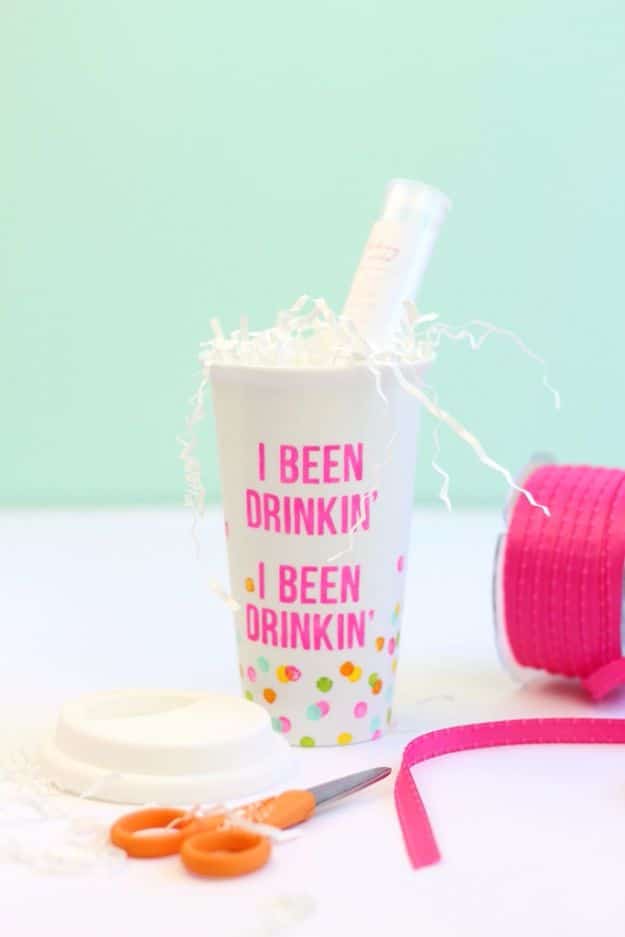 If you are like me, you can't function in the morning without your cup of joe! The unmistakable aroma and the comforting steam make it a special moment of the day. How can it get any better? — how about with a personalized and adorable mug? Customize your coffee cup by using stencils. This easy DIY requires few supplies and is a fun way to add some fun to your daily routine of drinking coffee.
3. Personalized Coffee Mug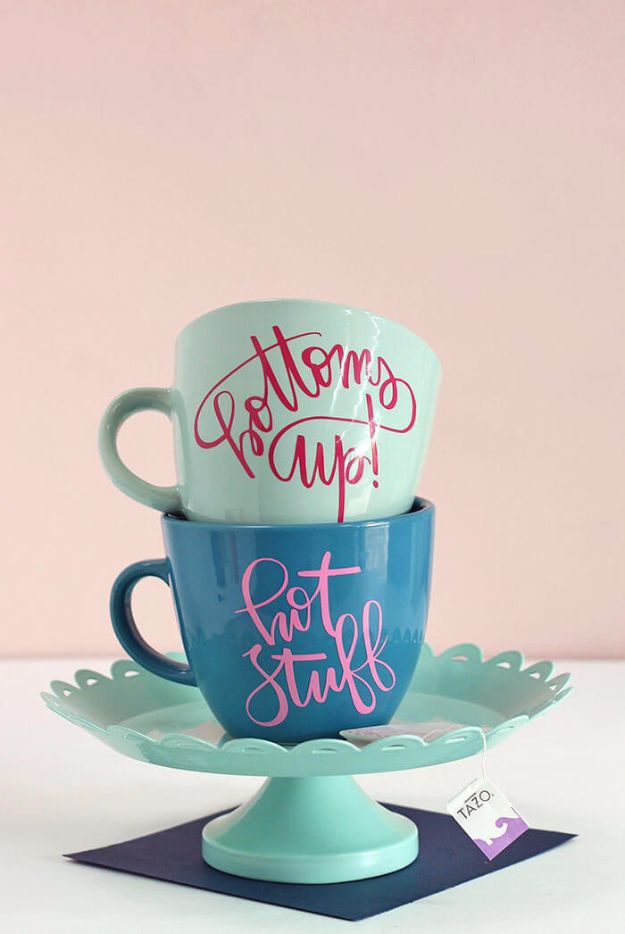 Learn how to DIY personalized mugs with vinyl – it's easy to do with professional results. You can make these adorable cups easily with the free cut files and be sipping your favorite drink in no time. Read about the full details in this blogpost from Persia Lou.
4. DIY 5-Minute Decal Transfer On A Coffee Mug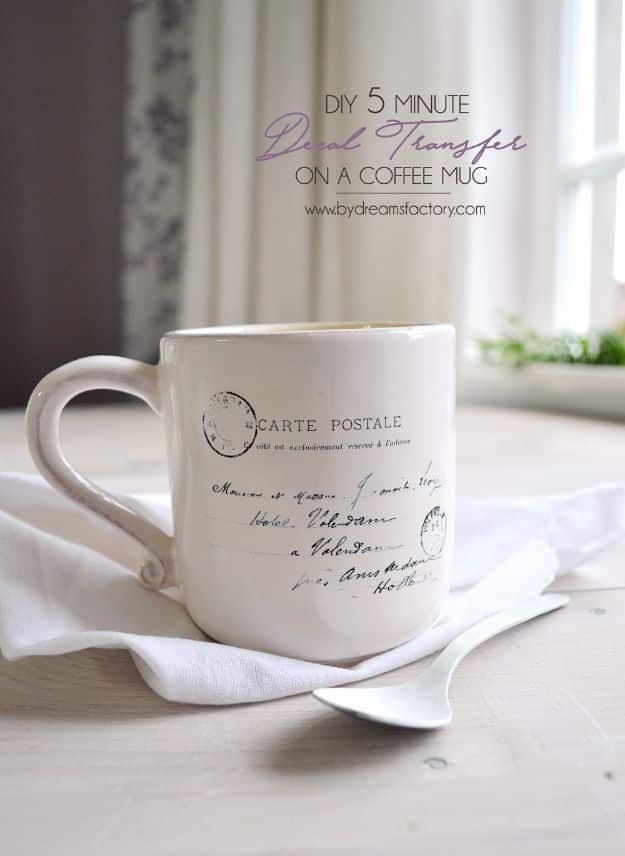 I just love this type of small projects that help you add a little bit of chicness into your everyday life! Learn how to quickly decorate your coffee mugs with your favorite images and make your mornings more chic and beautiful. They would make such an amazing gift for any special occasion.
5. DIY Painted Mugs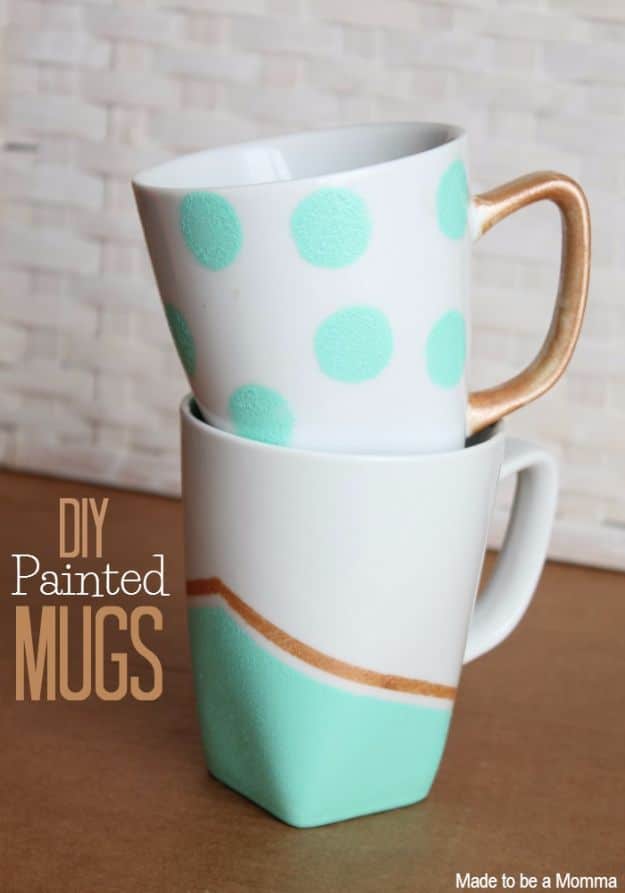 I absolutely love this color combination of DIY Painted Mugs from Made to be Momma. Teal, silver and gold are just beautiful, and I can't wait to create my own. I have been wanting to try my hand at crafting a painted mug and I finally stumbled upon a great DIY tutorial. Awesome blogpost!
6. DIY Speckled Dip Mug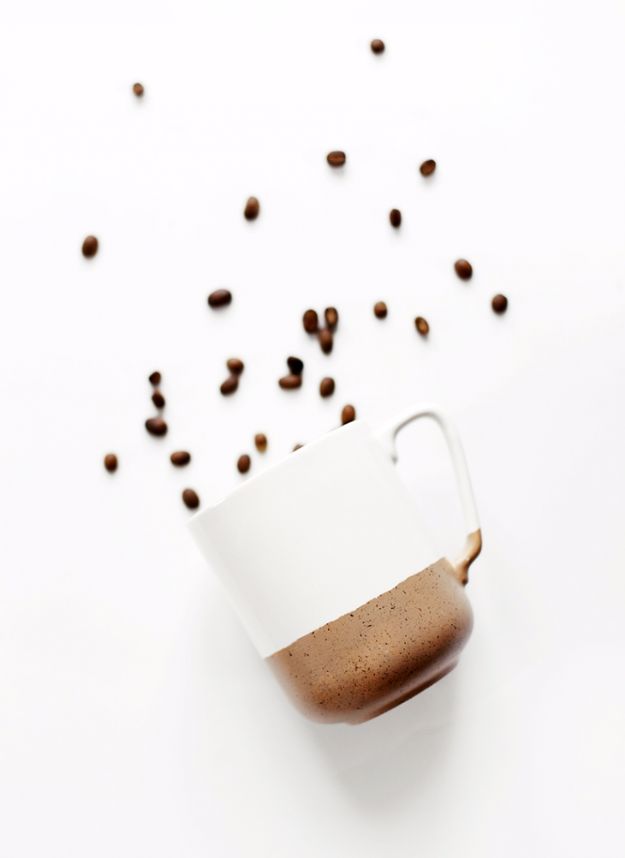 Transform your boring white mug to look like a gorgeous clay and porcelain mug by painting them. Coffee tastes a lot better when you drink it from your favorite mug. Imagine how it would feel if your favorite mug is also completely personalized? You don't have to pay anyone to do it for you. Just follow along with this simple tutorial of DIY Speckled Dip Mug from The Merry Thought.
7. Customize Coffee Mugs With Hand-Drawn Flowers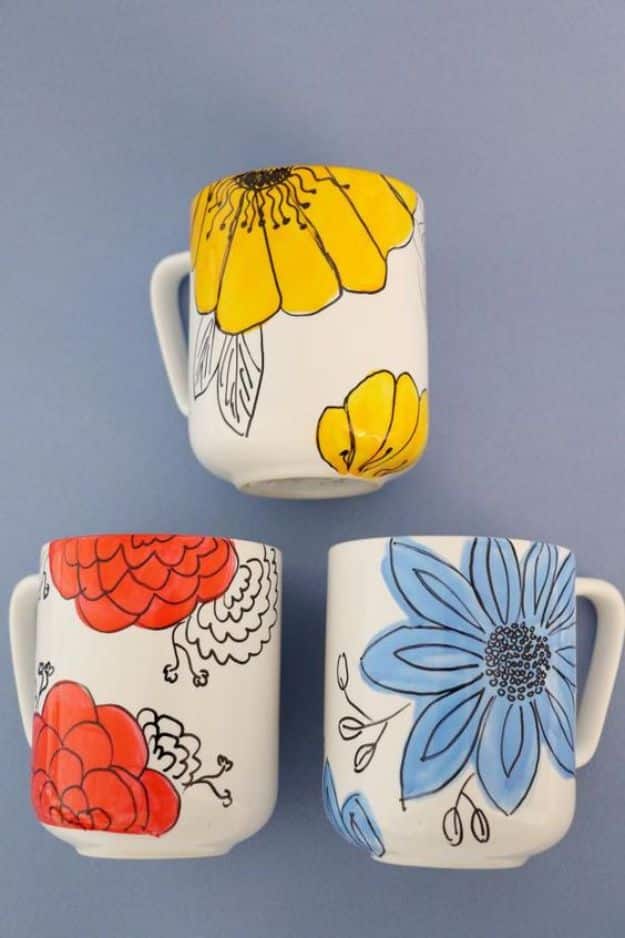 Everybody has got their favorite coffee mug from which they most enjoy their morning cup of coffee. This coffee mug design is so cute, you can bring them as a gift to someone you know will appreciate a custom coffee mug. Update basic mugs with large, colorful flowers to bring a splash of summer to your morning coffee routine. Aren't these hand drawn flowers look so pretty?
8. DIY Merry and Bright Vinyl Mug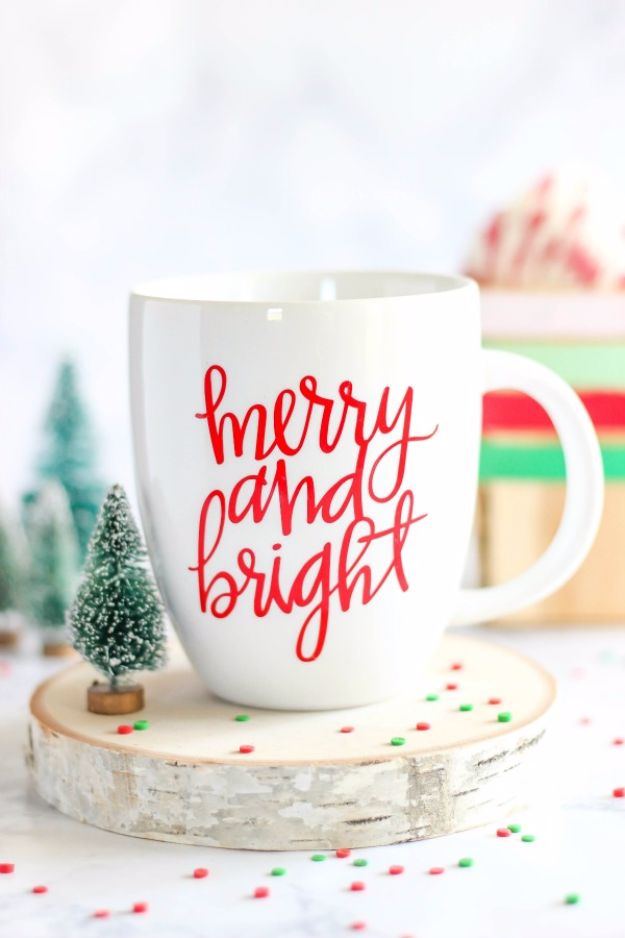 Check out this DIY Merry and Bright Vinyl Mug from The Casual Craftlete. It's perfect for sipping a cup of coffee or hot chocolate on a cold winter day. It makes a great gift idea too! This mug is so cute that I just might have to make one for myself. It is so festive for Christmas and makes a great gift idea.
9. Decorate a Coffee Mug Using a Porcelain Marker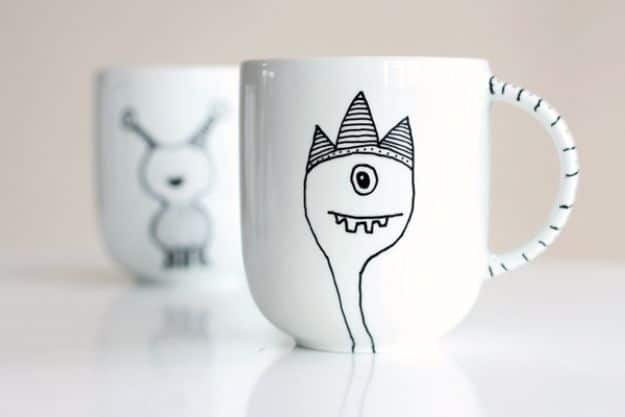 Give a coffee mug a dash of your own personality using a porcelain marker. In this tutorial, you will learn how to transfer ready-made designs or create your own free-hand geometric and organic patterns. The design possibilities are endless! Let's get you started with this DIY project tutorial from Crafts Tutsplus.
10. DIY Coffee Mug Rack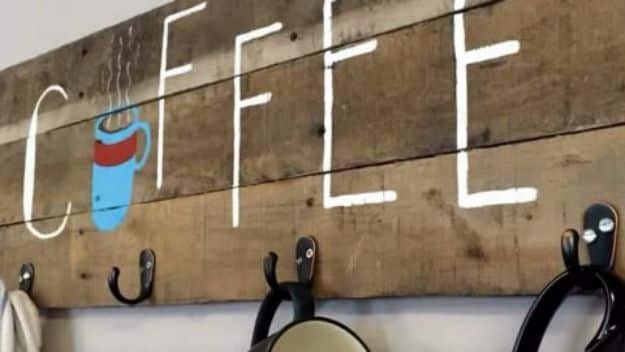 Add a feeling of warmth and comfort to your kitchen, breakfast nook, or drink station with this hand-crafted coffee mug rack! The great thing about this coffee mug display is that it is totally customizable. You can build it larger or smaller depending on your space. Apart from being pretty, it has to be practical and one such project is this coffee mug holder.
11. DIY Tribal Print Mug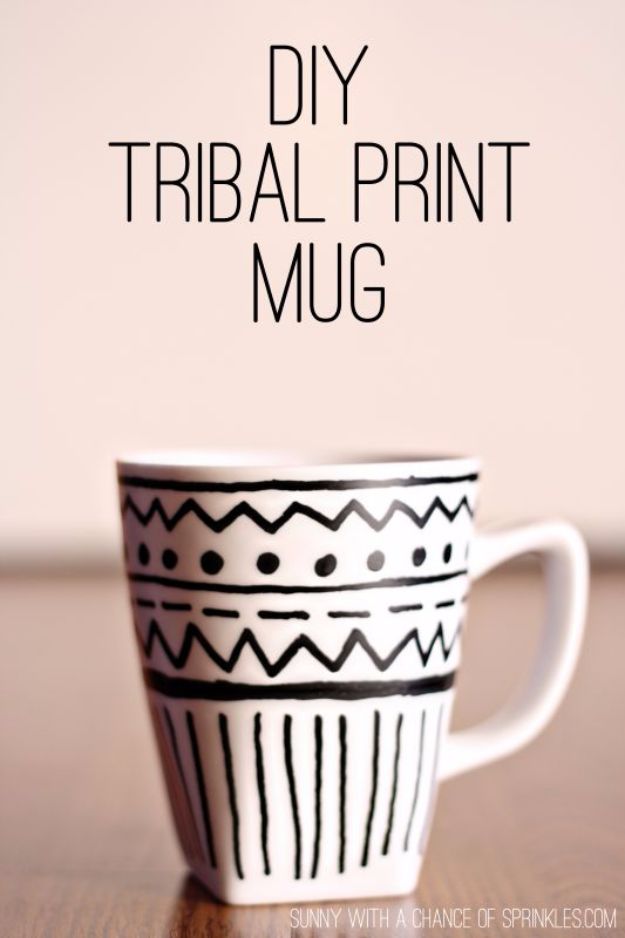 12. Glitter Heat Transfer Vinyl Mug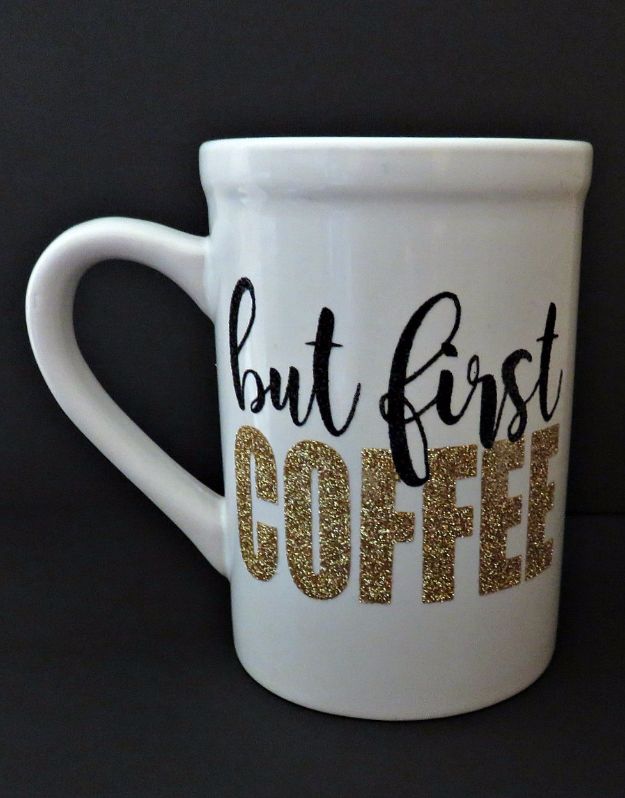 13. DIY Love Mug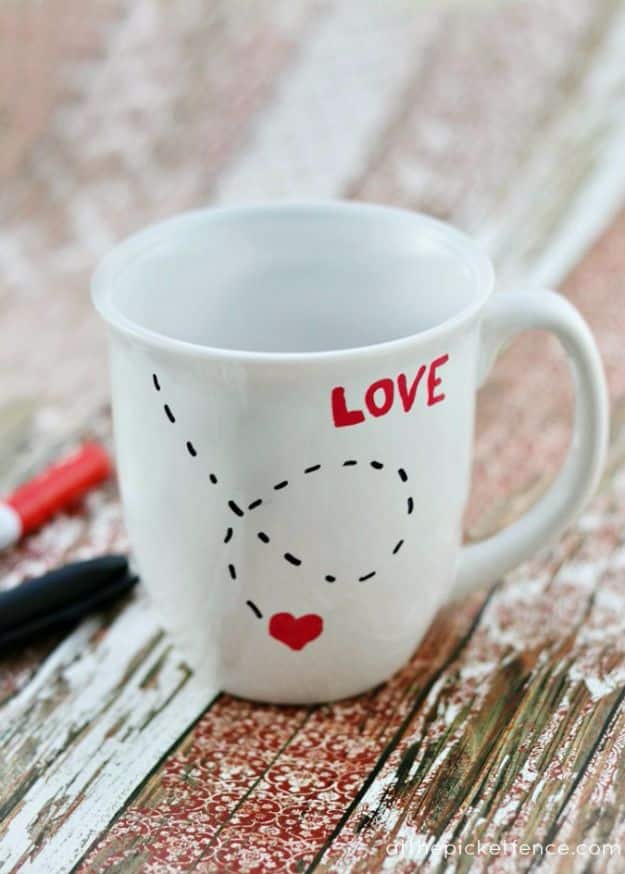 14. Glammed Up Coffee Mugs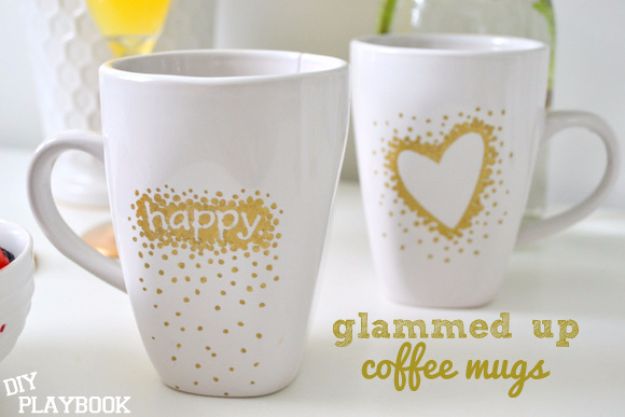 15. Easy DIY Harry Potter Coffee Mugs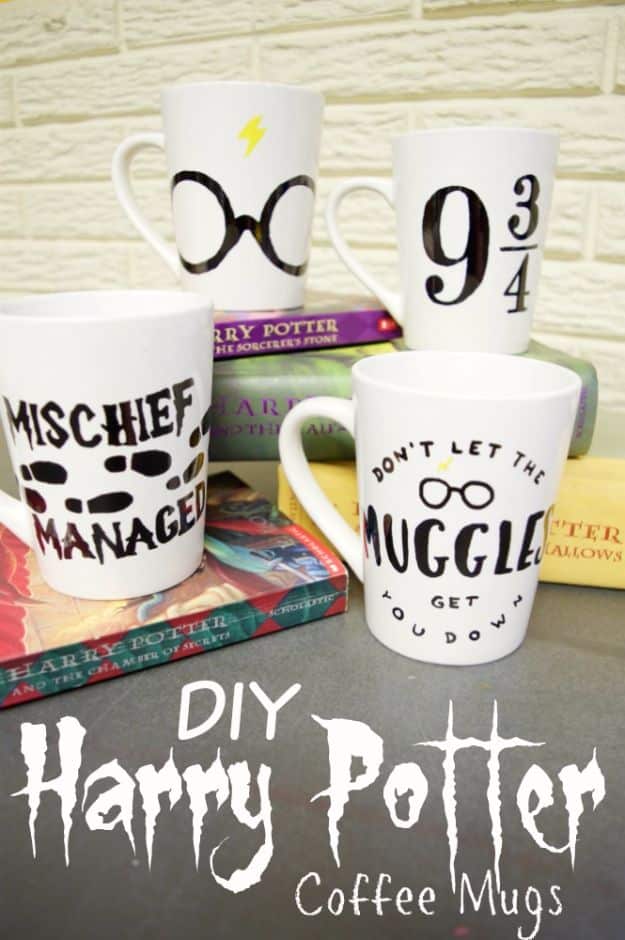 16. Dashes and Dots DIY Floral Mugs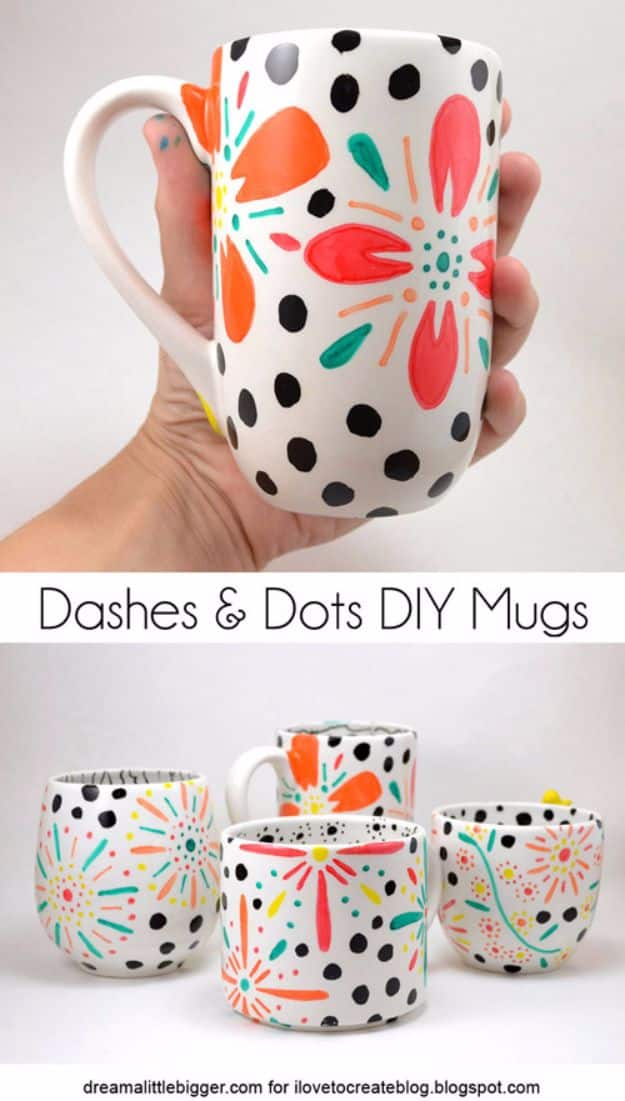 17. DIY Watercolor Coffee Mug

19. DIY Painted Coffee Mug Gift Idea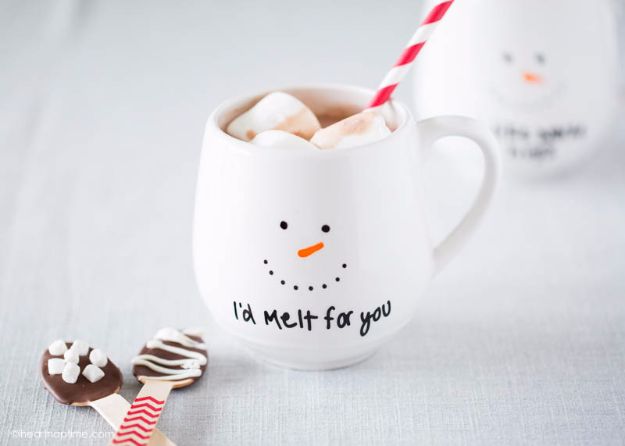 20. DIY Gold Dipped Mug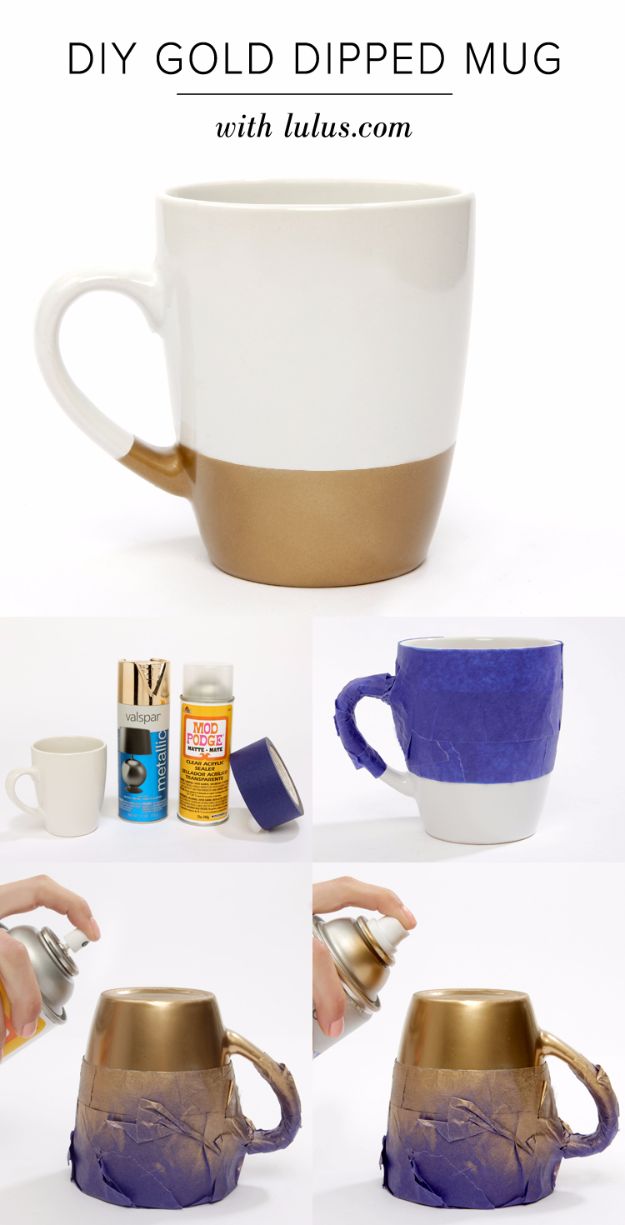 21. Spray Painted Coffee Mugs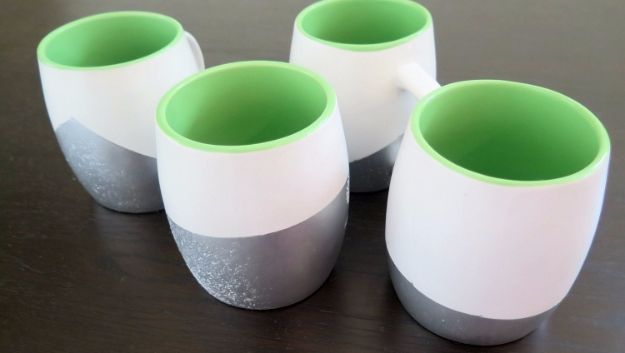 22. Dear Coffee Hand Lettered Free SVG Cut File

23. 15-Minute Holiday Mugs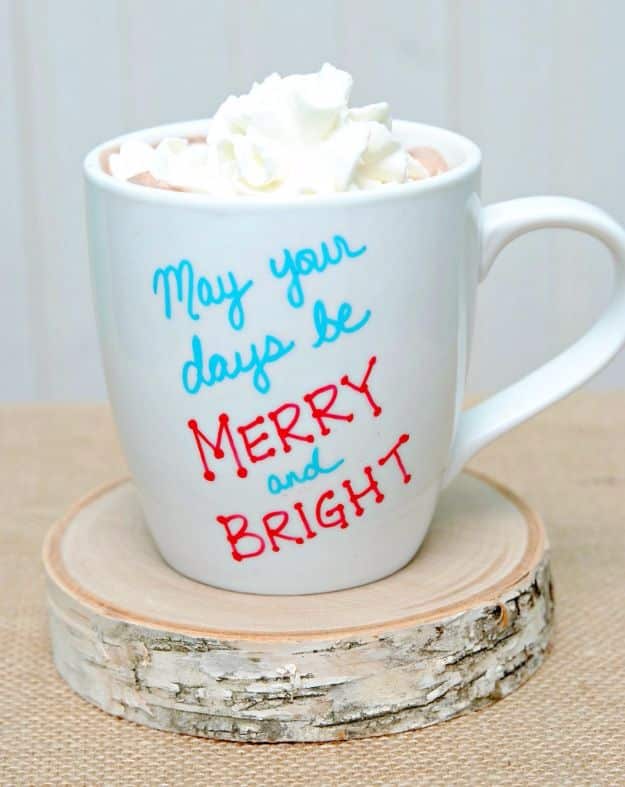 24. DIY Nail Polish Marbled Mugs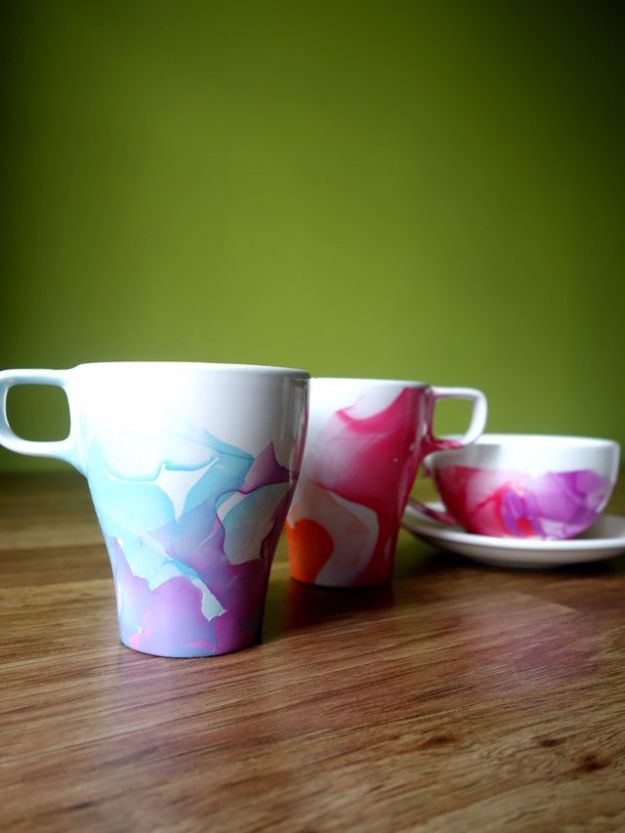 25. DIY Handprint Mug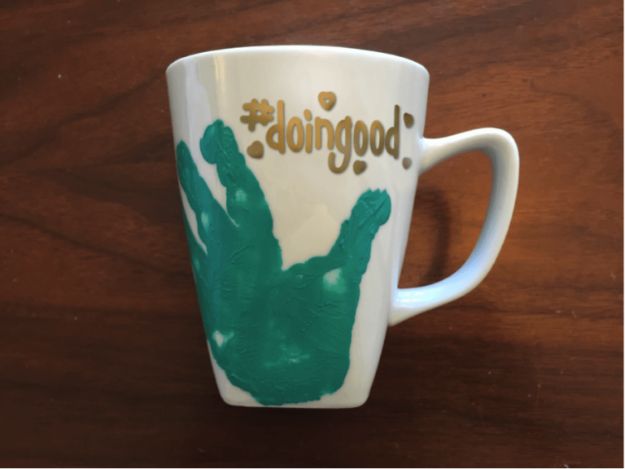 26. Sharpie Mug Project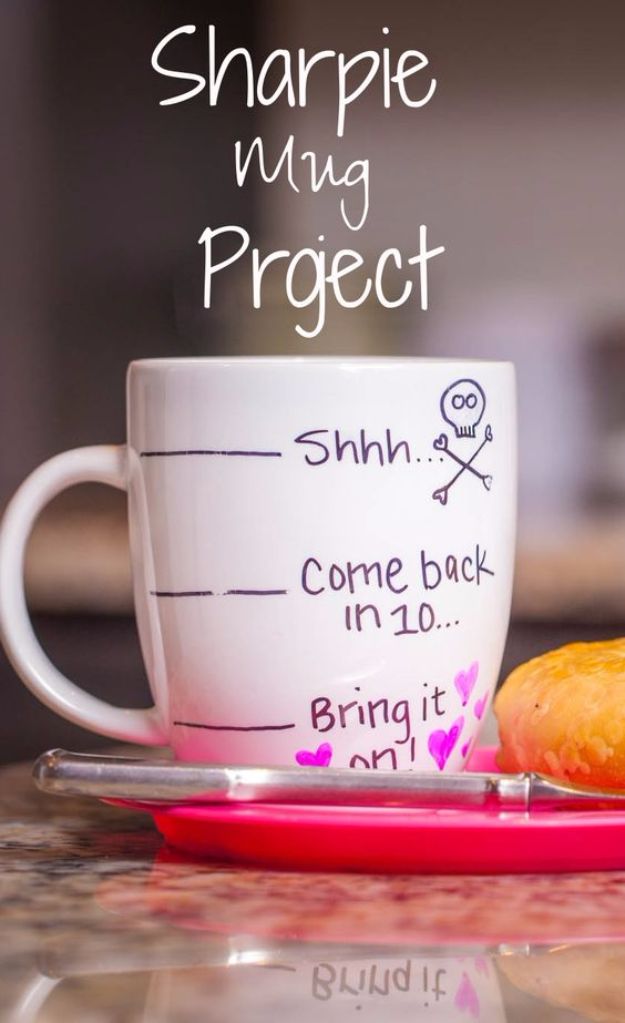 27. DIY Initial Marker Mug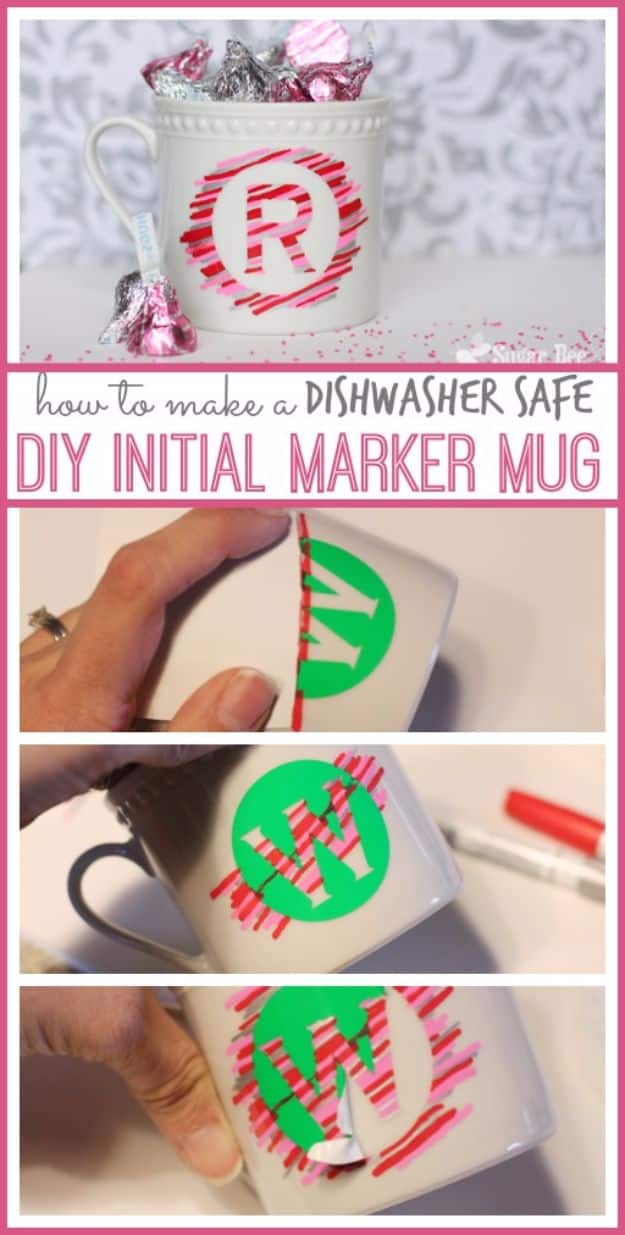 28. DIY Hand Lettered Coffee Mug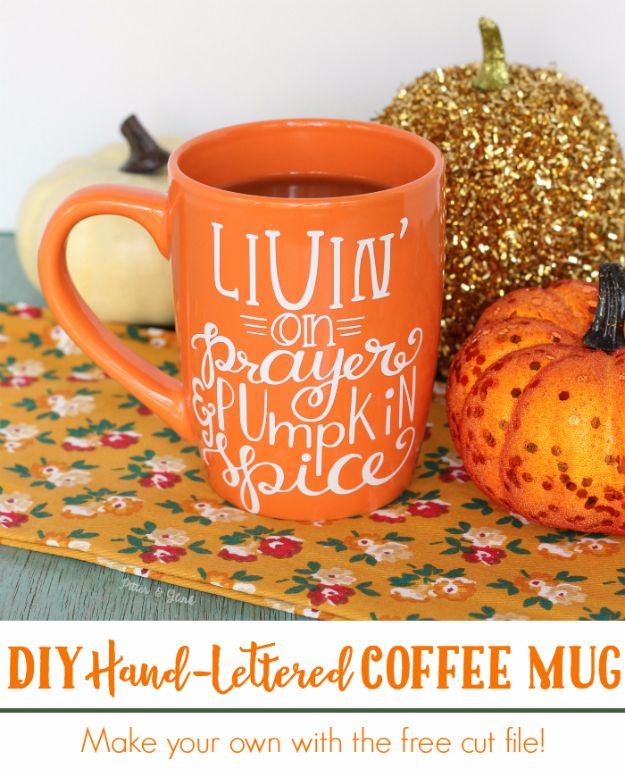 29. DIY Hand Painted Holiday Mugs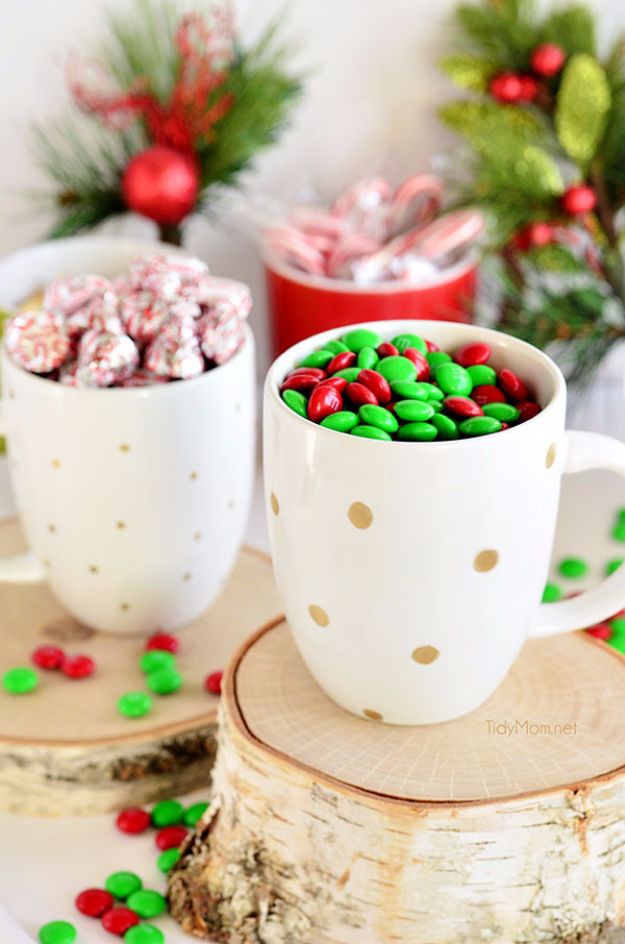 30. DIY Painted Mugs That Won't Wash Away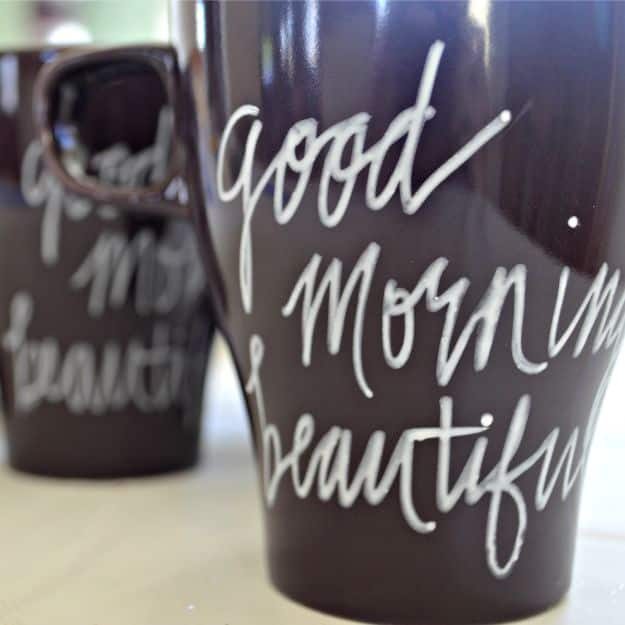 31. DIY Painted Ceramic Mugs with Martha Stewart Glass Paint and Stencils
32. Enamel Paint Mugs DIY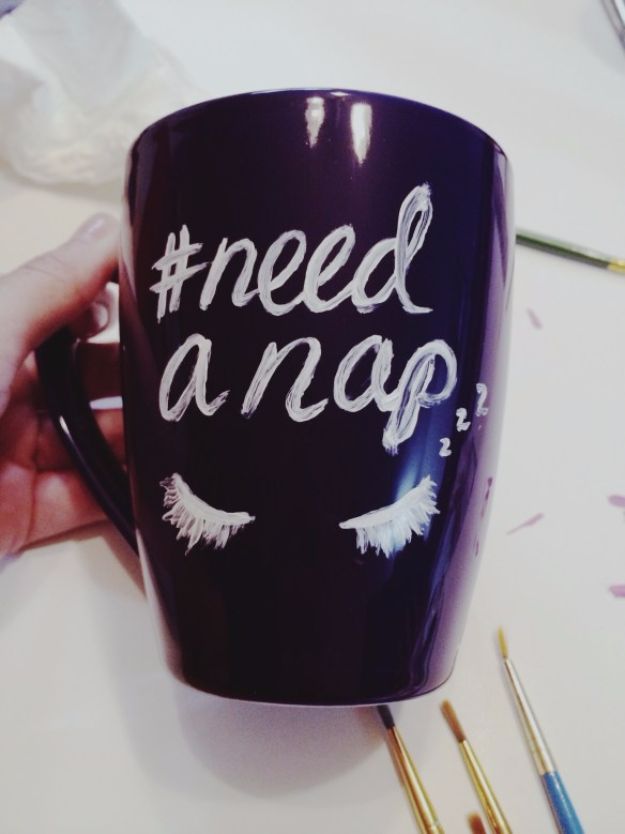 33. Tape Resist Coffee Mug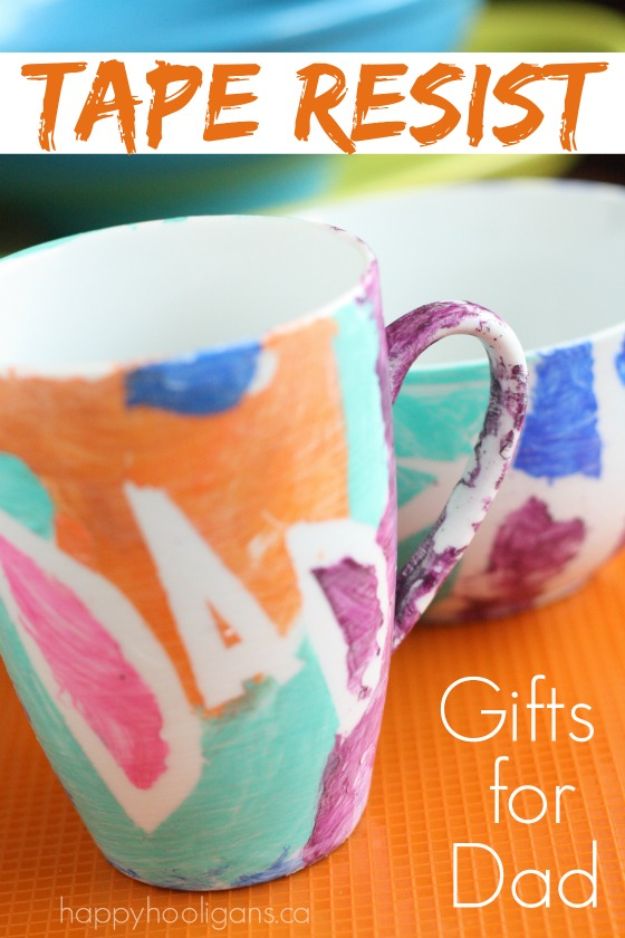 34. Cute Hand Painted Mugs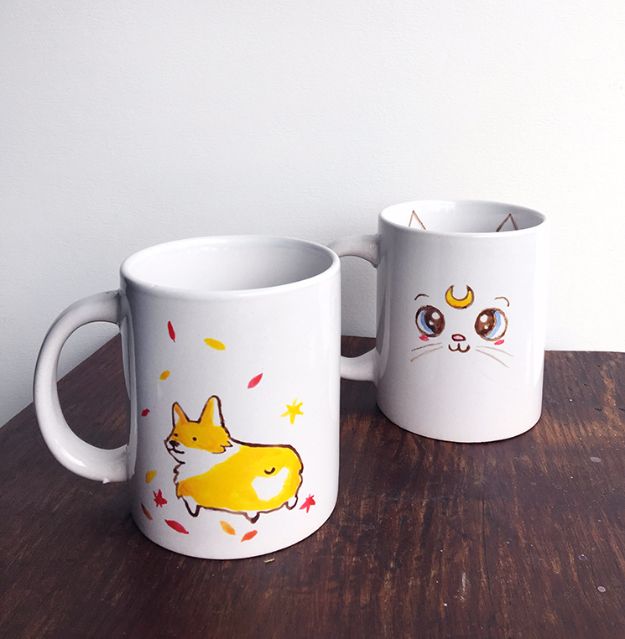 35. DIY Chalkboard Mugs