It's that time of year again! Time to decorate for Christmas and the holidays. The first thing I do every year is choose the wreath I want to put on my front door and I love to get creative and do something different every year. With so many great DIY options for wreaths, sometimes, the choices can be overwhelming. I put together a list of the best DIY wreath ideas from Pinterest and the best DIY blogs for you so you could find an awesome wreath to make. Check out these beautiful homemade wreath ideas…
DIY Christmas Wreaths
1. All Time Favorite Traditional Christmas Wreath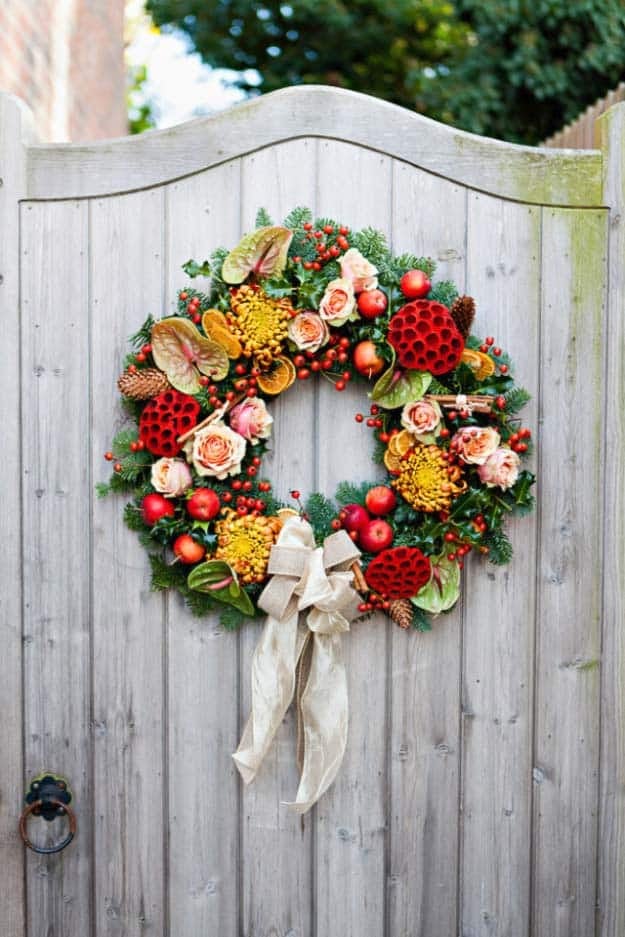 This wreath uses seasonal foliage and fresh fruits, so it smells incredibly festive. It will give you some Christmas inspiration for making your own wreath. Keep your wreath looking fresh by regularly misting it with water. If kept in the right conditions the flowers and foliage should be long lasting, however you can always replace any as they get past their best.
2. Modern Rudolph Wreath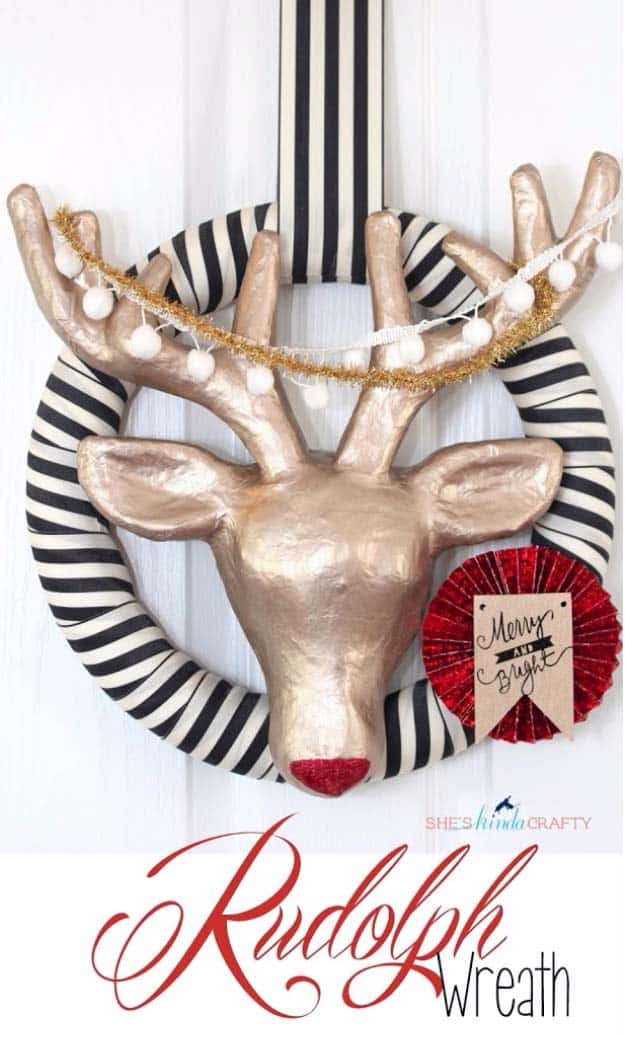 This Modern Rudolph Wreath will definitely get you into the Holiday Spirit! I could not love that wreath much more! Definitely headed out to buy the reindeer head this weekend. I'm on the hunt for my paper maché reindeer. Now, I'll have a centerpiece of our holiday decorations.
3. Modern Wire and Ornament Wreath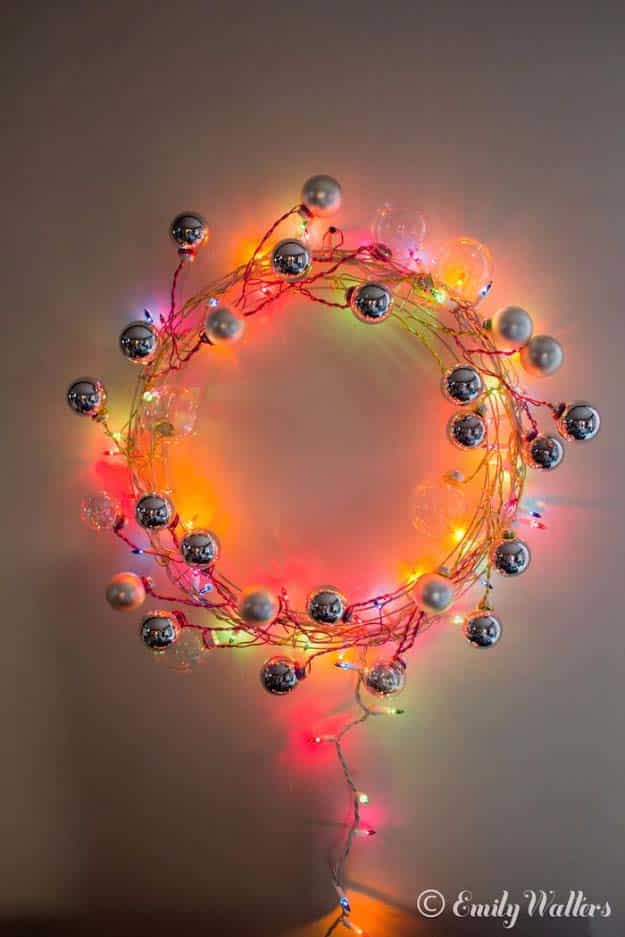 I just love how the colorful lights reflect off the silver ornaments. This Modern Wire and Ornament Wreath might just be your favorite Christmas decoration in the house. It's a little bit modern, a little bit messy, and a whole lot of colorful. Just my style!
4. Santa Christmas Ball Wreath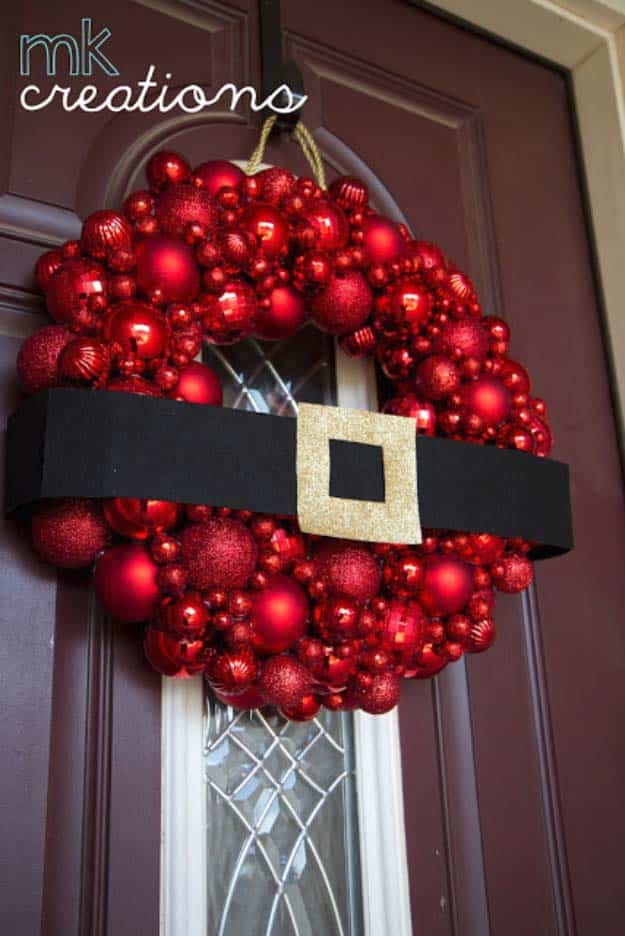 There are several ways to make a Christmas wreath out of ball ornaments. Adorn your home in style with this DIY Santa Christmas Ball Wreath. This tutorial will show you how easy it is, and the result is fun, festive and downright fabulous. It's super simple and inexpensive to make so learn to make it today.
5. Ombre Felt Wreaths
These are so lovely! I just love all the leaves! And the ombre is perfect. The teal one is my favorite – it looks so cheery. Looks like I'm going to need to buy more felt from Etsy. To create these felt ombre wreaths, just follow along with the simple and easy tutorial from Burlap and Blue.
6. Burlap Christmas Wreath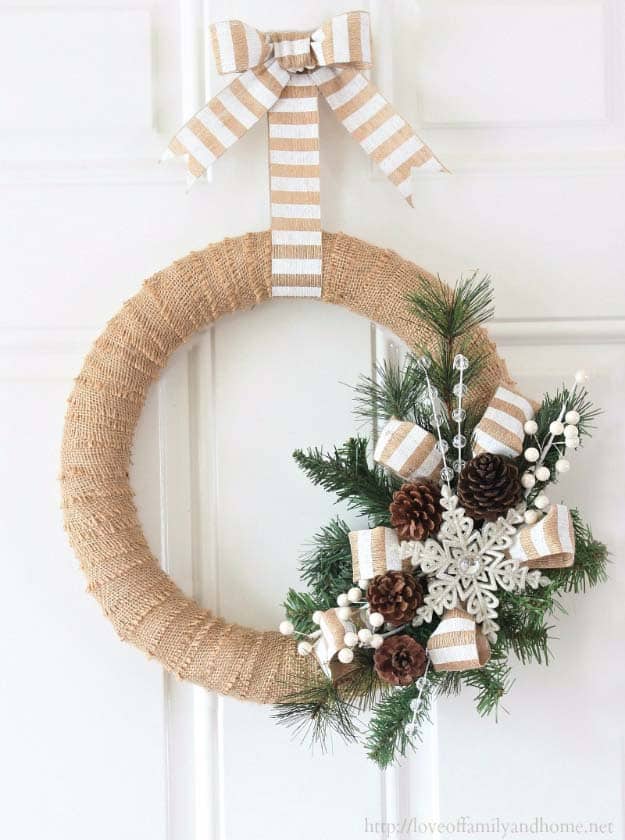 A Christmas burlap wreath is the perfect craft for the holidays. Thanks to scores of DIY craft blogs, home décor magazines, and of course Pinterest, wreaths have been fairly easy to make. But let's get a little specific today because I'm in the holiday mood! You can find out how to make your own DIY rustic burlap Christmas wreath by following along this easy DIY blogpost from Love of Family and Home. Go and check it out.
7. Paper Dahlia Wreath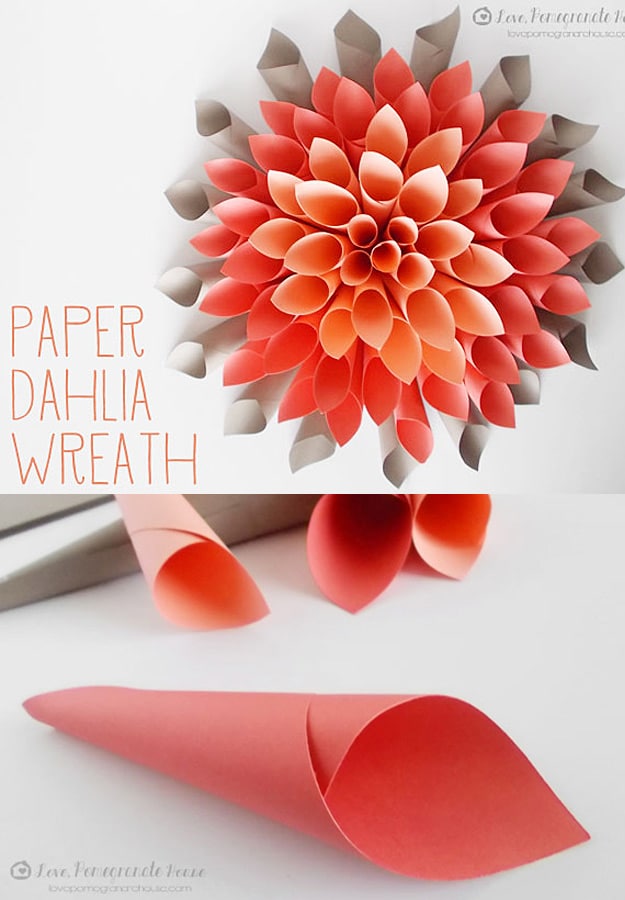 Making your own amazing wall art has never been easier – these DIY paper dahlia wreaths are just the thing to brighten up any rooms of the home! This adds as a great decor for your home this Christmas season. You can use it as wreath or make three or more and hang it to decorate a plain wall.
8. Embossed Foil Leaf Wreath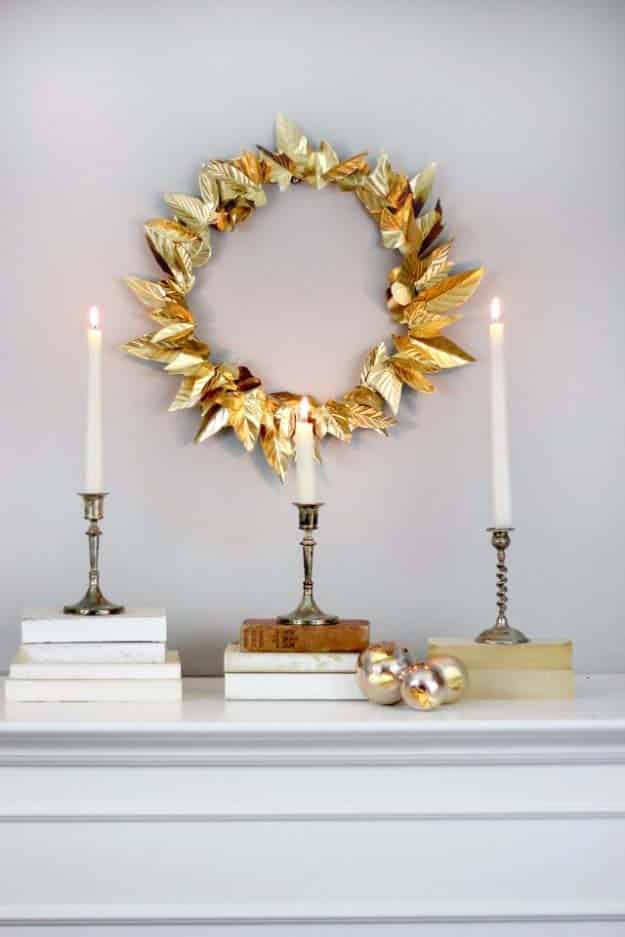 There's no denying the holiday season is upon us. You can feel it in the air as Christmas trees begin making their appearance into our homes, twinkling lights on the streets and beautiful wreaths hanging on our doors. I had never really heard of embossing with foil before, but this turned out to be so lovely.
9. Geometric Wreath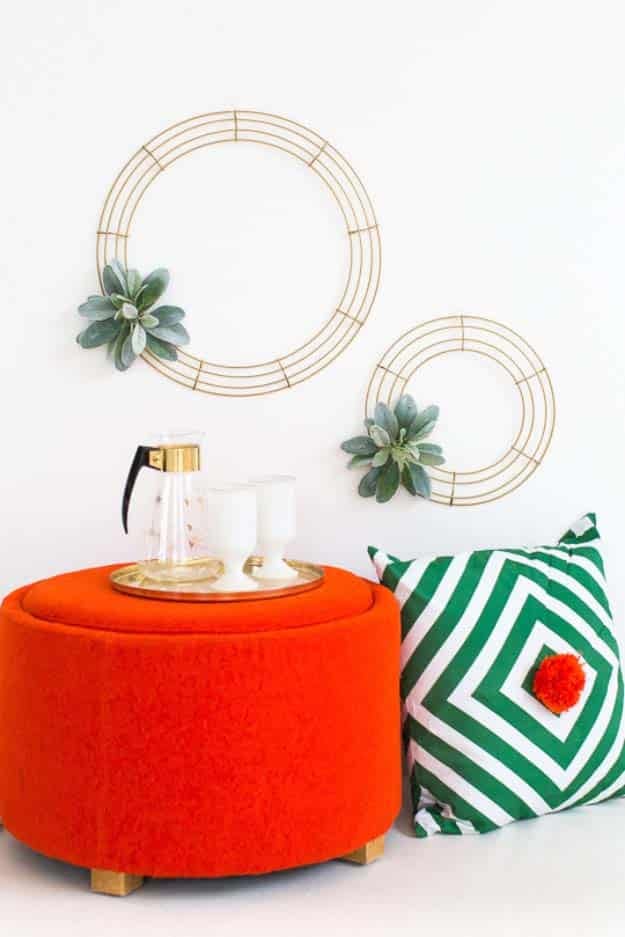 I am absolutely in love with this DIY Geometric Wreath. It's a tutorial that I pull out every time the holidays come around because it works with any style of decor! Make it a modern holiday moment by re-creating this and leaning towards the modern, minimalist look when it comes to door décor. These project is two easy steps: first, spray paint the wire frames gold and let them dry. Second, hot glue your greenery on, then hang with clear adhesive hooks. Then, voila, you're done!
10. Holiday Pom Pom Wreath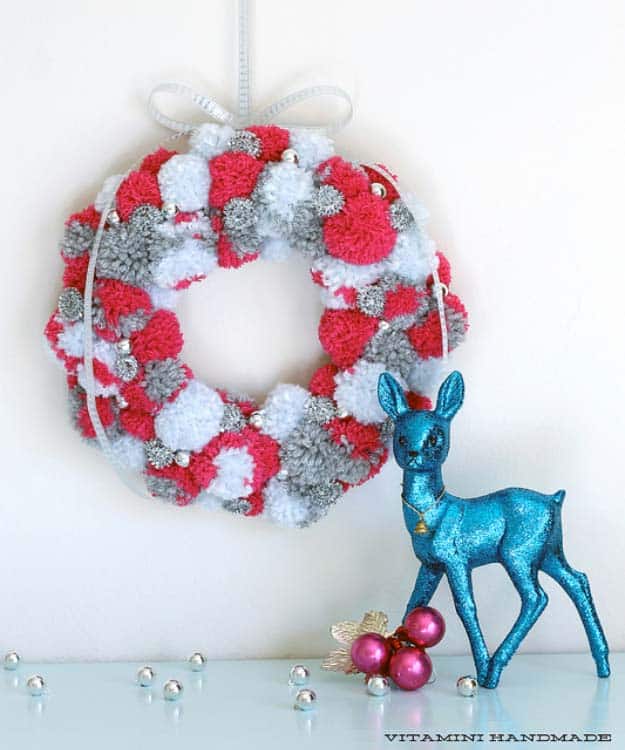 Here's a unique holiday wreath made with a few simple, inexpensive materials. Make your own in any colors you choose. Wouldn't one in shades of white and light blue be beautiful? This project would be great to use for other holidays as well. Just mix up the colors. Pompoms are so lovable and those glitzy pipe cleaners are a great touch!
11. DIY Gift Card Mini Wreath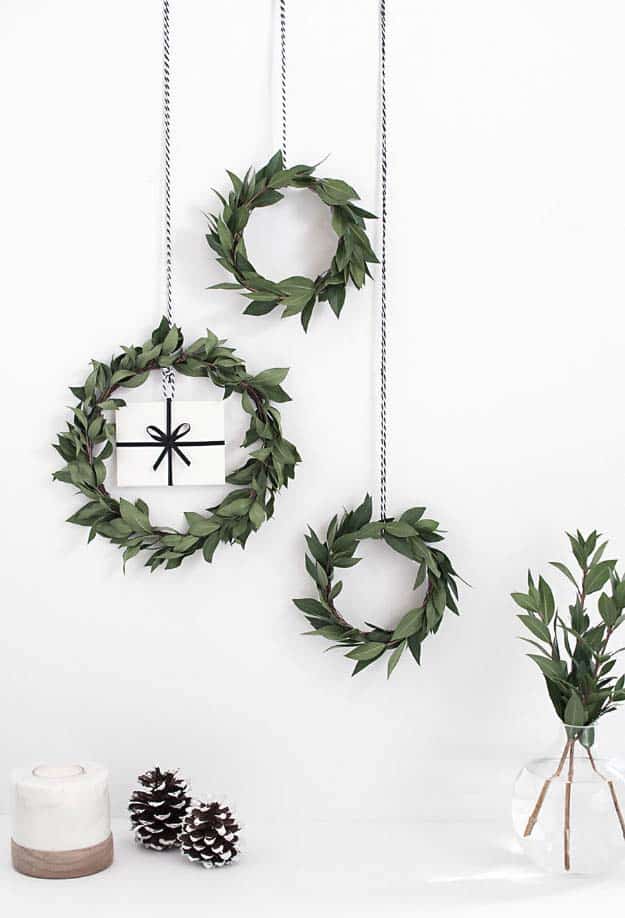 12. Lumberjack Plaid Antler Wreath

13. Monogram Christmas Wreath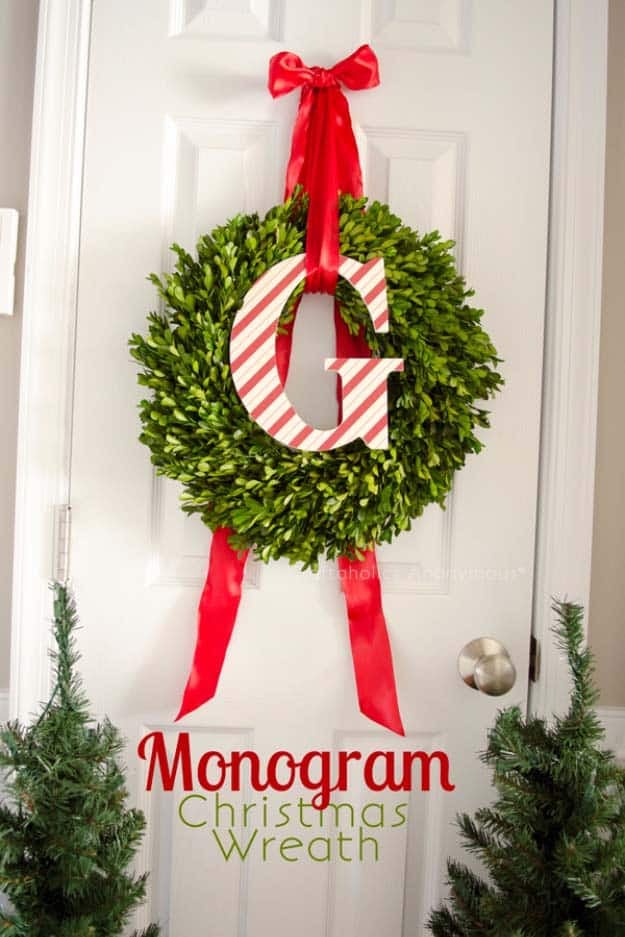 14. Gift Box Christmas Wreath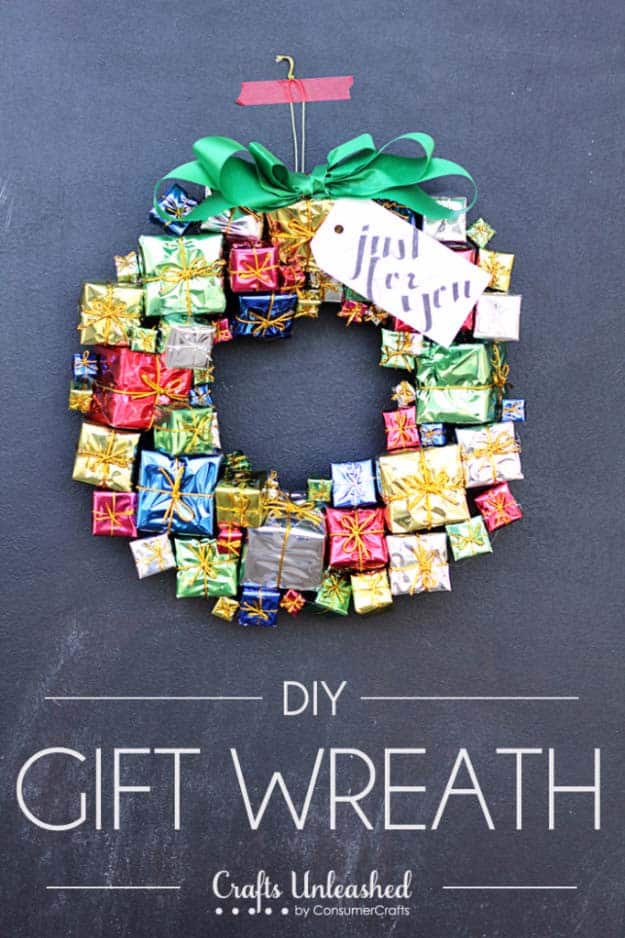 15. Easy Faux Boxwood Wreath

16. Woodland Tree Wreath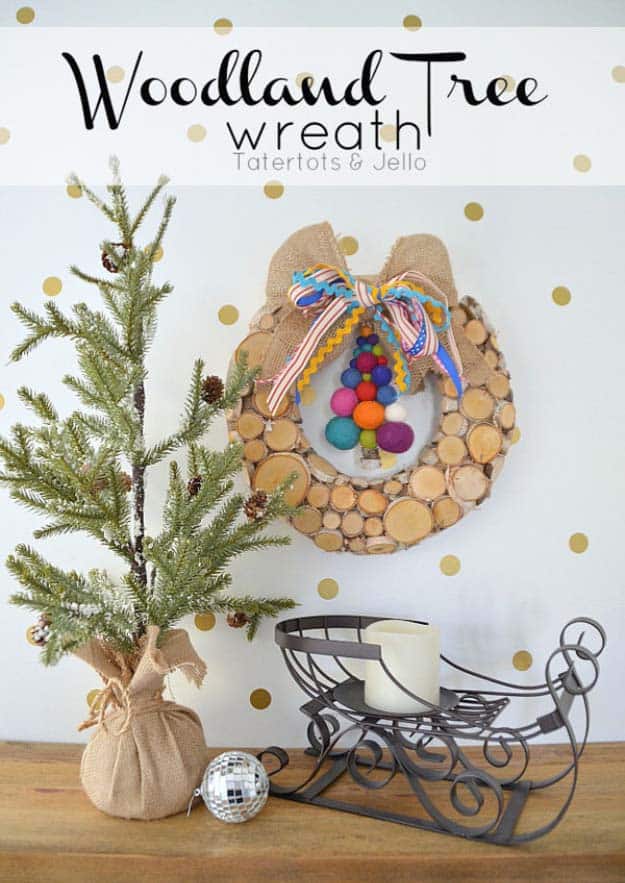 17. Ornament Wreath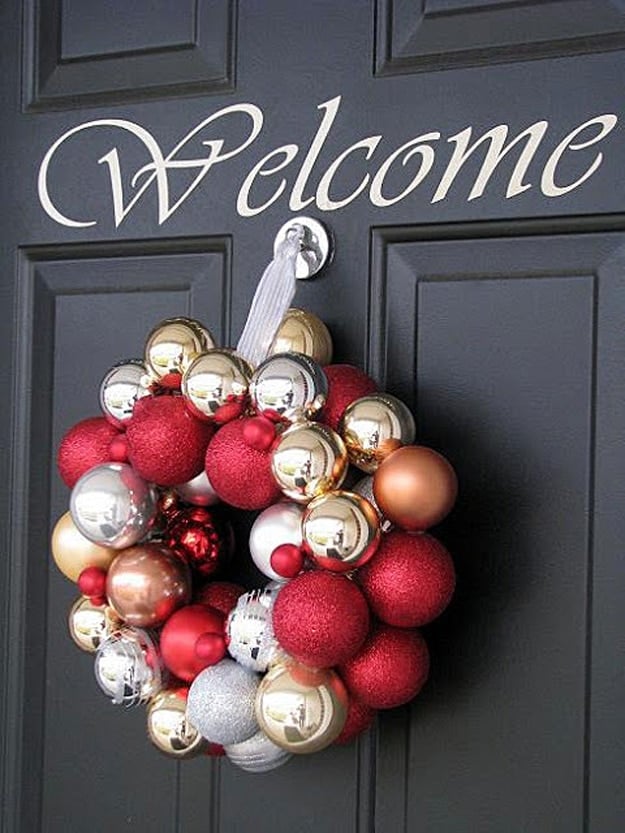 18. Pine Cone Christmas Wreath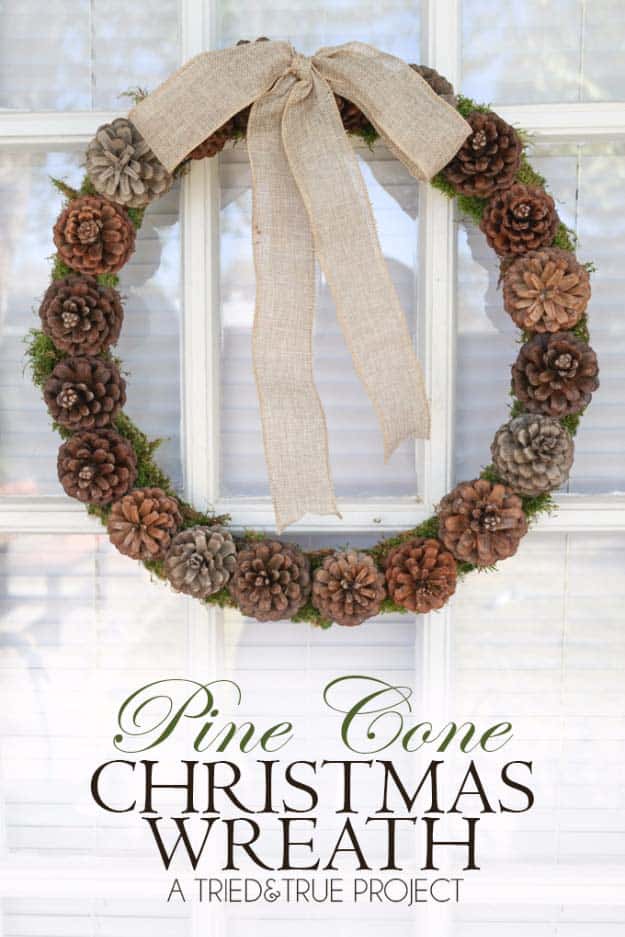 19. Holiday Photo Card Wreath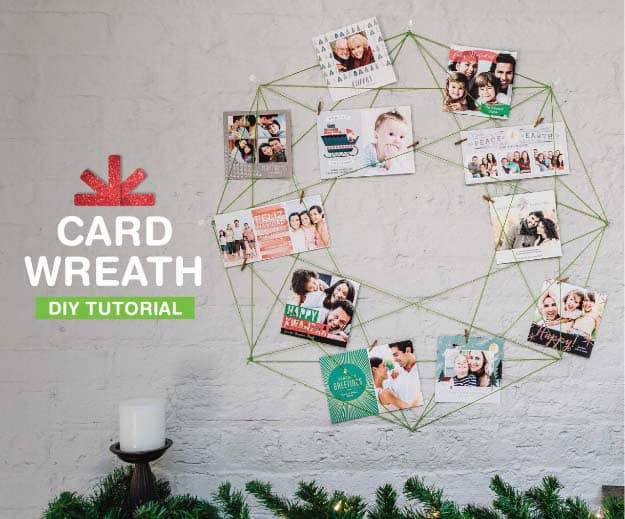 20. Framed Christmas Tree Ornament Wreath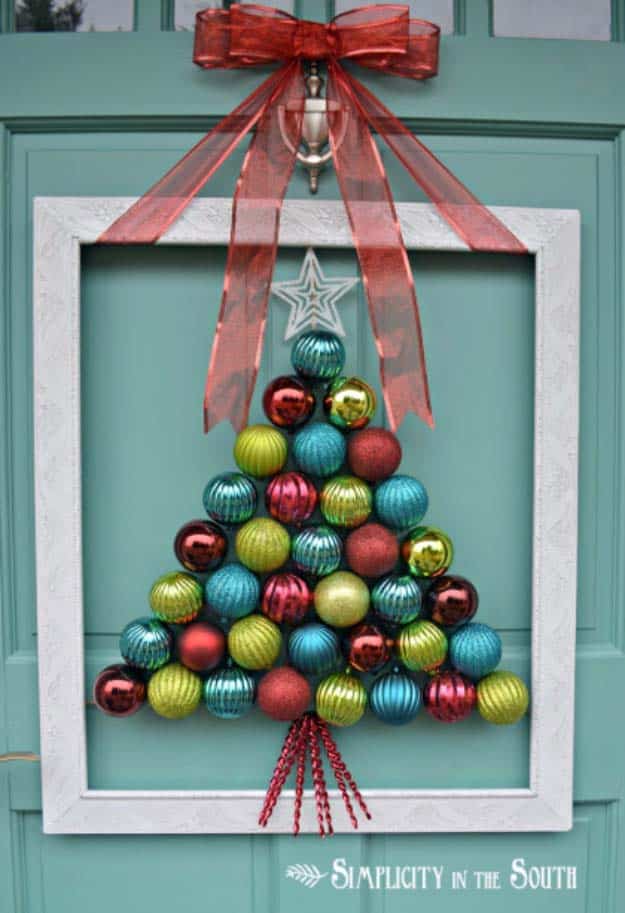 21. Ribbon Candy Wreath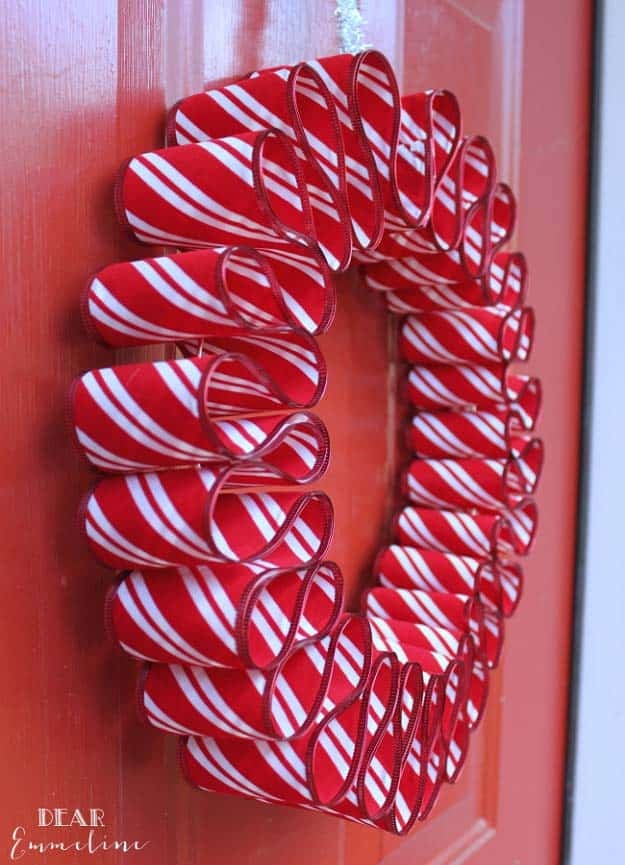 22. Pine Cone Flower Wreath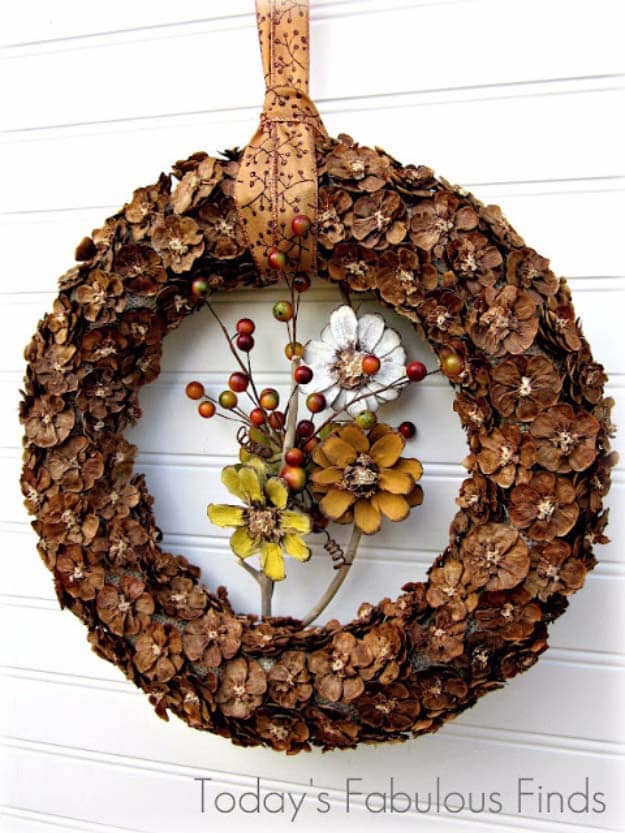 23. Snowman Wreath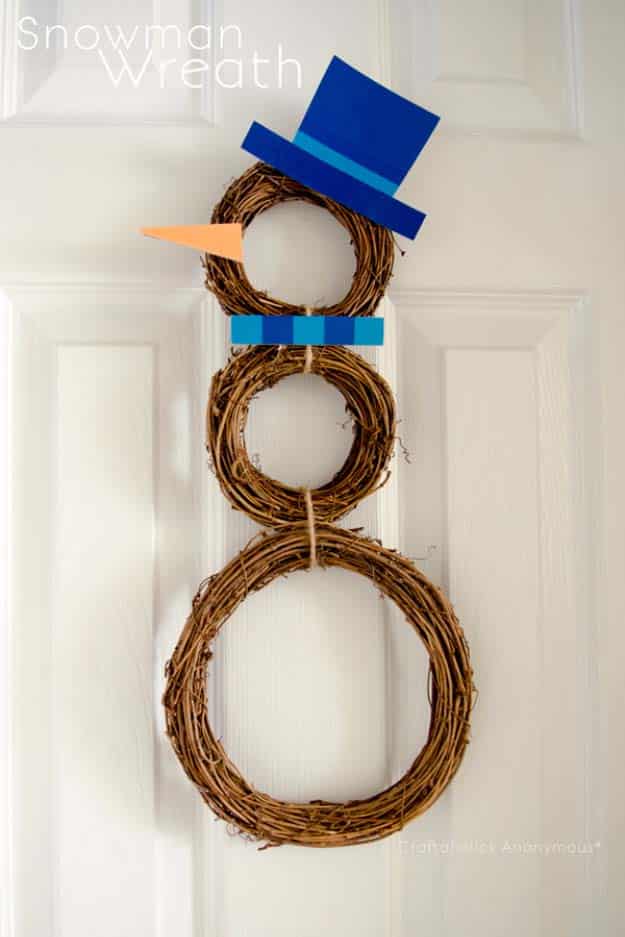 24. Twiggy Winter Wreath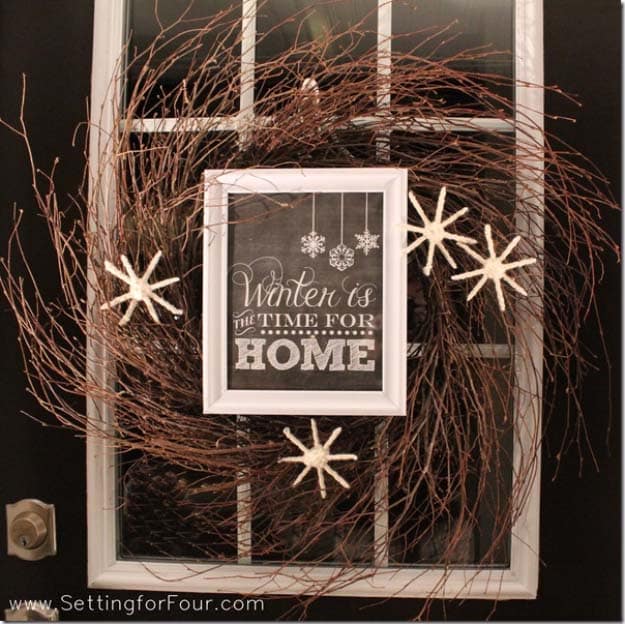 25. Poinsettia Wreath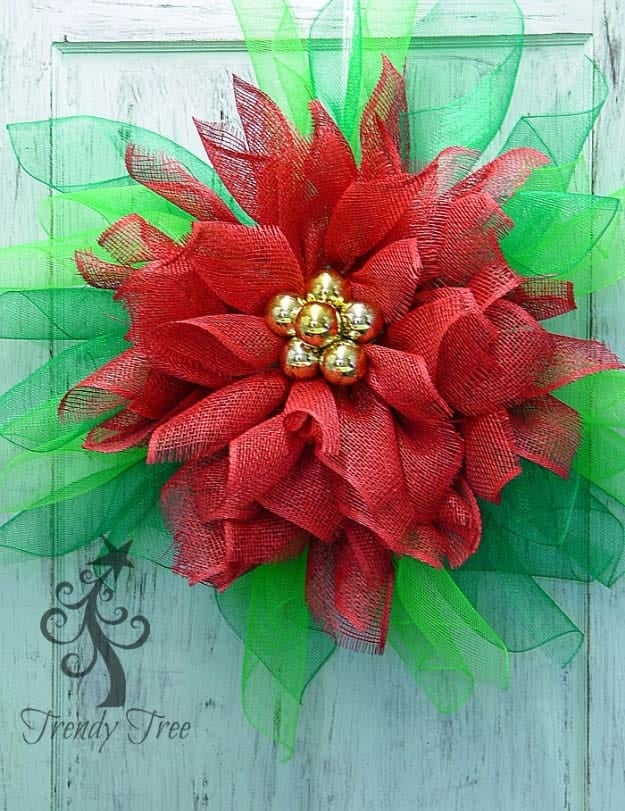 26. Leafy Wreath