There's nothing like a warm blanket to cuddle up with on a snow day, rainy day, or any day for that matter. These DIY throw blankets are the perfect accent to your sofa or bed. We've scoured high and low to bring you these fabulous DIY ideas, so if you are looking for some creative but practical ways to decorate your sofa or bed? Try adding these awesome handmade blankets and throws. Add some color and texture to your decor while also having additional options for keeping warm. Modern, vintage, minimalist, creative and crafty, you are sure to find the perfect project to match your decor.
DIY Throws and Blankets
1. DIY Giant Tassel Throw Blanket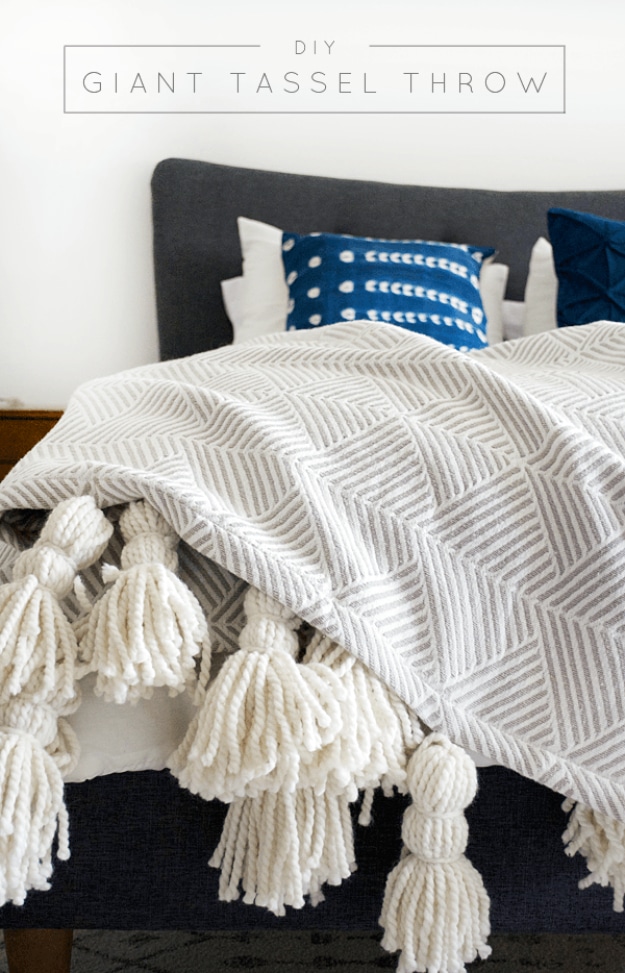 We recently got a new bed, it's so awesome to finally have a real bed. Up until this point we've had those terrible metal frames, so now I feel so fortunate to have this awesome bed. But the dark gray clashed with our lighter gray bedding so I had to switch things up. I loved all the layered, textured looks I'd been seeing, especially that incorporated a fun throw at the end of the bed with tassels or pom poms. But they were all crazy expensive! So I found this pattern on Pinterest and created my own DIY Giant Tassel Throw Blanket.
2. DIY Adorable Pom Pom Throw Blanket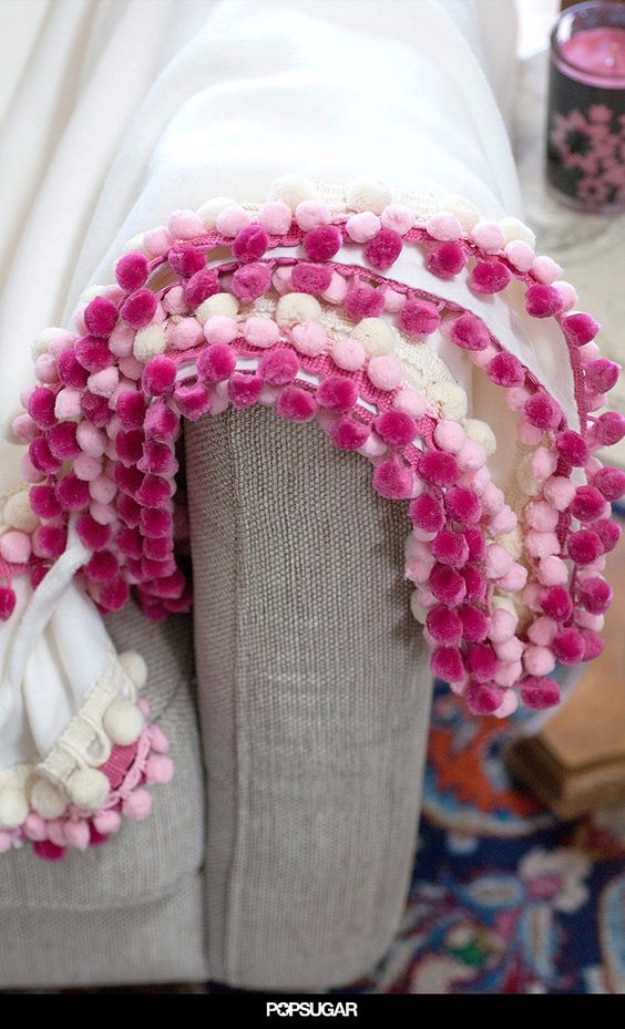 Wrapping up in a warm blanket is what I look forward to after being at work all day. And it's the best when lounging on the weekends with a good book. Save money and make a DIY blanket using materials you can pick up at your local fabric store for around $20. There's no need for a sewing machine for crafting this cute throw, making it a fun project for anyone. And using fleece as the base adds softness while keeping costs low. The fabric won't pull apart along the edges, so you can have it cut right at the fabric store and get started.
3. Throw Blanket With A Geometric Patterned Edge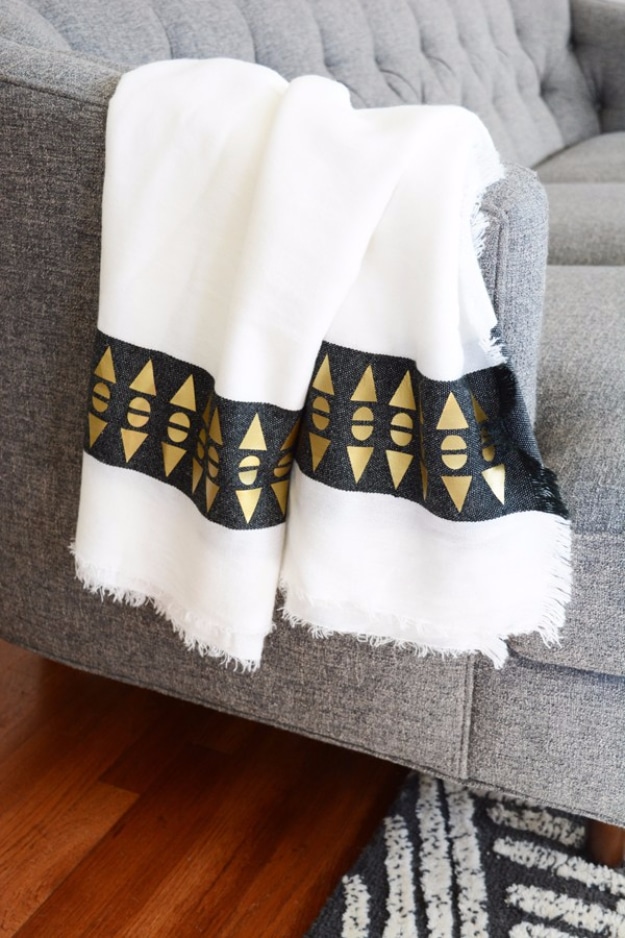 Give a plain throw blanket a custom look with this geometric edge. With a roll of metallic gold iron-on vinyl, I made this white throw feel like something special. The Make-It-Now feature in the Cricut Design Space app, makes creating so easy. All the materials and instructions for that project are all listed, there's no guesswork. Check out the link and see how to make this treasure.
4. DIY Tassel Throw Blanket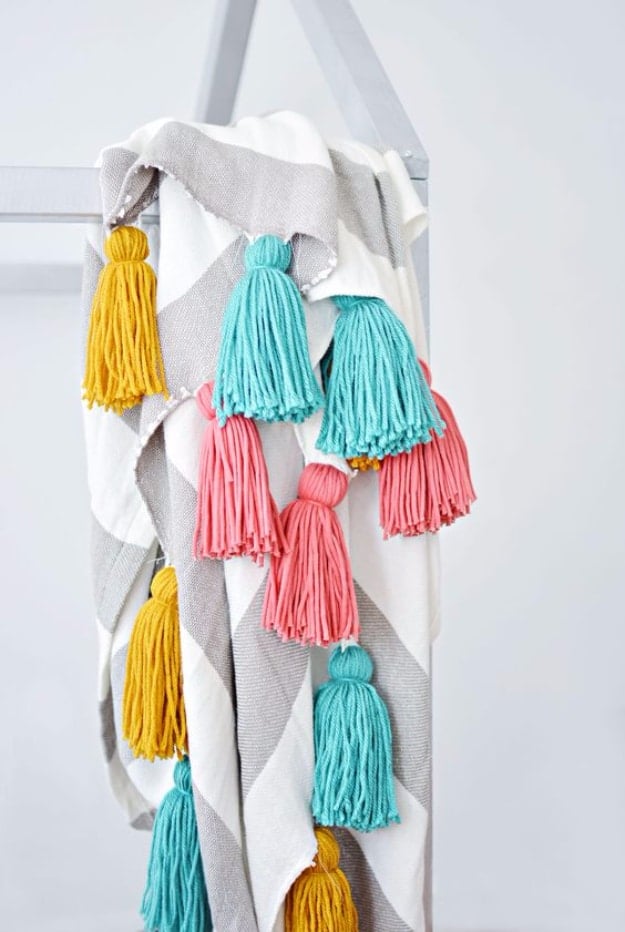 I had a thin blanket that didn't lay properly and I saw this awesome DIY tassel idea on Pinterest and I knew it was going to give my thin little blanket the extra oomph it needed because tassels give any blanket weight and an added zip and zing to any ordinary blanket.
5. DIY Luxe Fur Pom Throw Blanket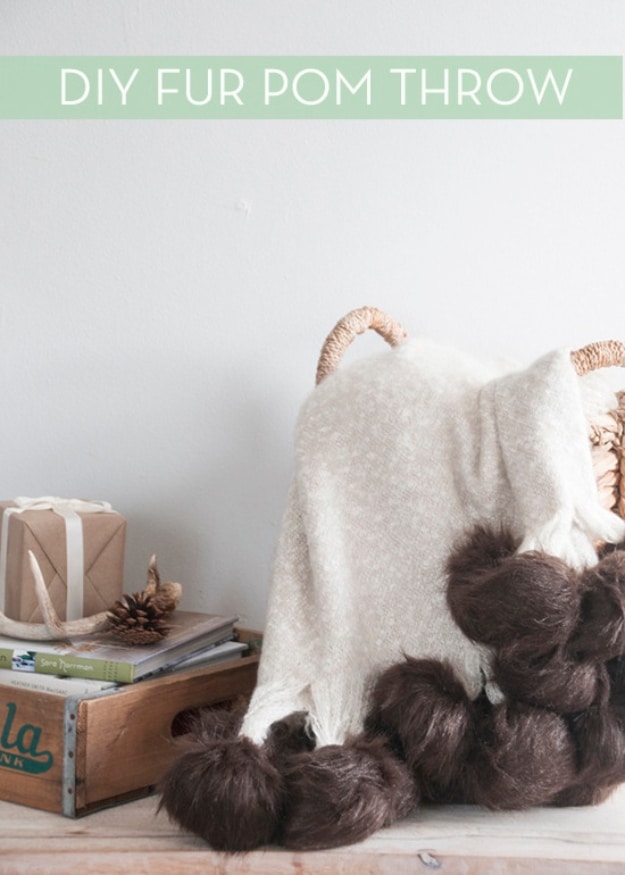 I've seen giant pom poms made from yarn, but this DIY is made from faux fur, it is so unique. And I love how it looks! Make this blanket for your loved ones, or for yourself, by following this tutorial I have loved all of the fur pom pom throws I've seen around the webs over the past year or so and have always loved how girly and lavish they feel. Pom poms are awesome on their own, but in fur, they really shine. I've always wanted to try and make one of these throws and I thought this time of year was the best to give it a try and give it to someone really deserving of a unique and elegant gift.
6. Faux Fur Throw Blanket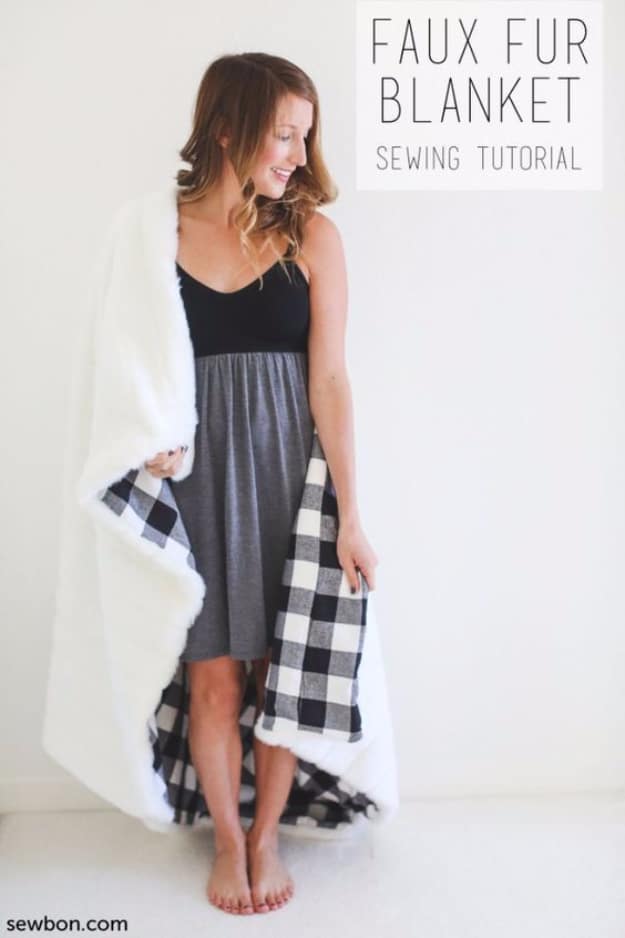 Cold days are best spent lounging on the couch with the fireplace on while binge-watching TV. I typically try to pile all my pets on me for added warmth during extra cold days, but I think this cozy DIY faux fur throw blanket might make that not as necessary as it once was. Although, it is still more than welcome… I mean, those cute faces! This faux fur throw blanket is a super easy project that can be completed in under an hour. Click on the link and see how easy this DIY faux fur blanket is to make, you will not be disappointed.
DIY Blankets
7. DIY Indigo Dyed Blanket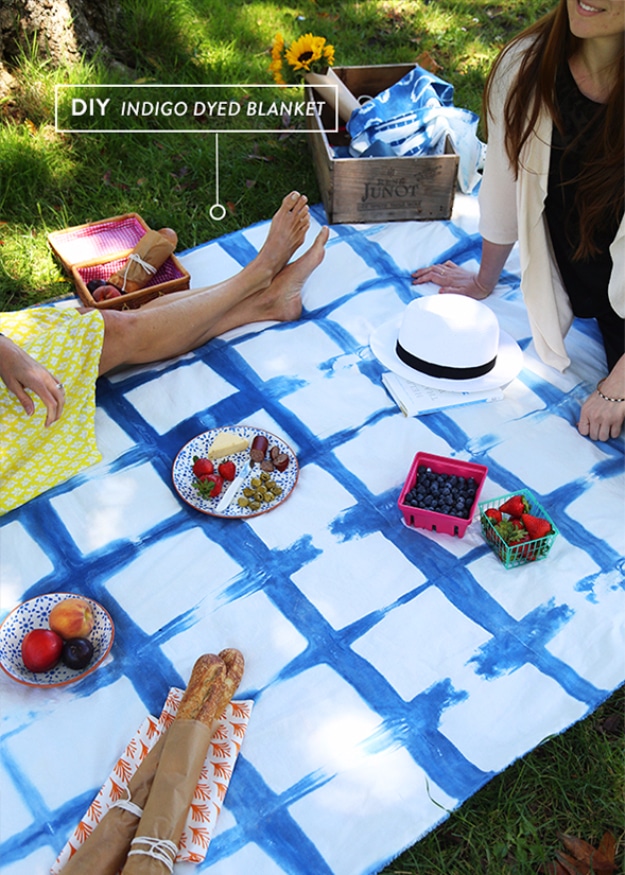 In browsing a few of my favorite stores recently I've noticed a lot of indigo or shibori dyed clothing and home goods. It's an old traditional Japanese dyeing technique of twisting, folding, and binding fabric before adding dye that dates back to the 8th century (precursor of 80s tie-dye!). Blue and white have long been one of my favorite color combinations for summer. The deep blue color from the indigo dye is incredible and the possibilities for design and pattern are endless. No two pieces are the same, which makes them that much more special. I thought for a picnic week it would be fun to try our hand at indigo tie dying ourselves and make a summery picnic blanket to enjoy a day at the park or beach this summer.
8. Patchwork Sweater Blanket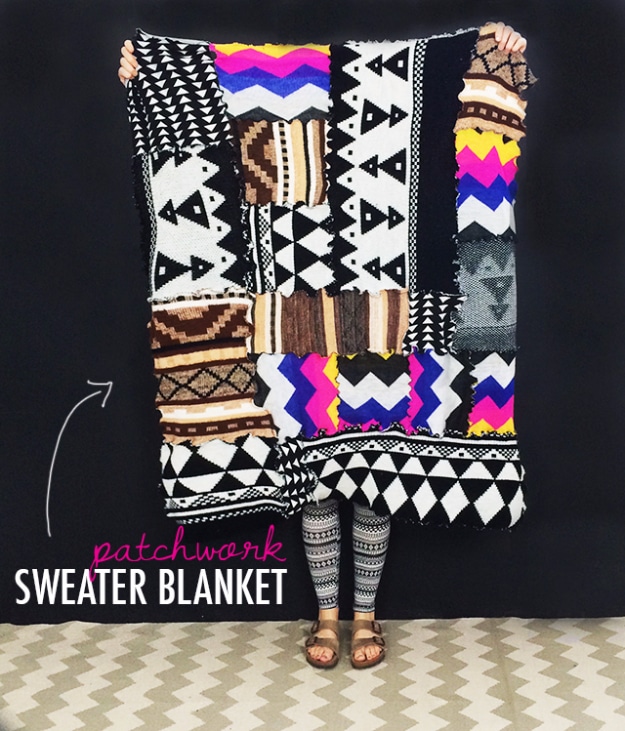 I love DIY upcycling all kinds of things but one of my favorites are old or thrifted sweaters. You can transform an old sweater in all kinds of things DIY (pillows, poufs, arm warmers, even a new sweater) but one of my favorite things to make is a DIY blanket. With fall coming, you can never have enough cozy blankies! When I am out thrifting I am always on the lookout for cheap sweaters with colors or pattern that catch my eye. I like to keep a little stash in the studio for fall and winter projects. I grab a few sweaters (I used 4 for this blanket and have enough leftover for another project). I like to pick funky and unexpected color and pattern combos. Next, I cut them up into different sized squares and rectangles. Then I piece them together, pin everything and get busy sewing! Sewing sweaters can be a little tricky and messy because once you cut up a sweater it will want to unravel. I use a really tight zig-zag stitch when sewing the pieces together. This keeps everything together and helps to avoid any unraveling.
9. Quick And Easy Flannel Blanket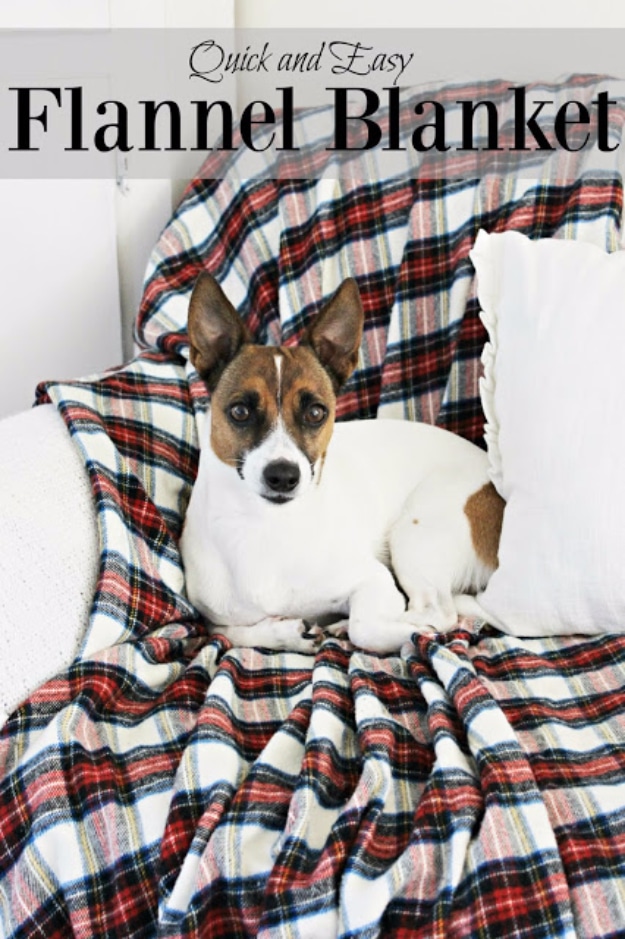 This DIY flannel blanket is so easy and cheap to make. Digging my stash of flannel shirts out of storage is one of my favorite things about fall. I am crazy about flannel! I wear it just about every day! So when I wanted to include a new throw blanket in the living room to add some color and texture to space it didn't take me long at all to jump on the idea making it out of flannel. It's Soft. . . It's Warm . . . It's Plaid! Did I mention I'm crazy about plaid too! What's more perfect than Plaid Flannel? Love this DIY flannel blanket, my doggie does too!
10. Patchwork No Sew Fleece Blanket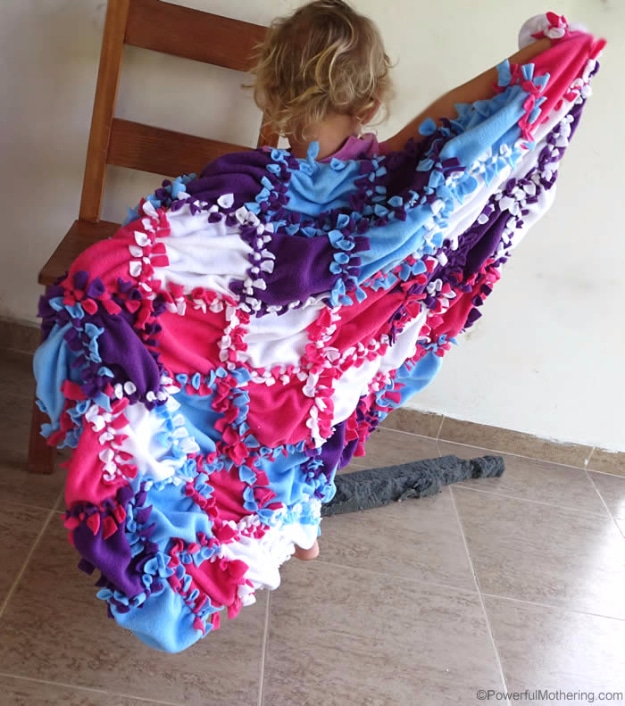 I have been rather lazy lately with the sewing machine, it is sitting in a box in the corner. I certainly do get my spurts of when I go on a sewing craze and I have a few projects piling up for that but at the moment I'm on a "I don't need to sew that" bringe. I decided to make my daughter a cute little patchwork no-sew fleece blanket. My baby loves this DIY blanket so much, I know you will too! 😉
11. DIY Arm Knitted Blanket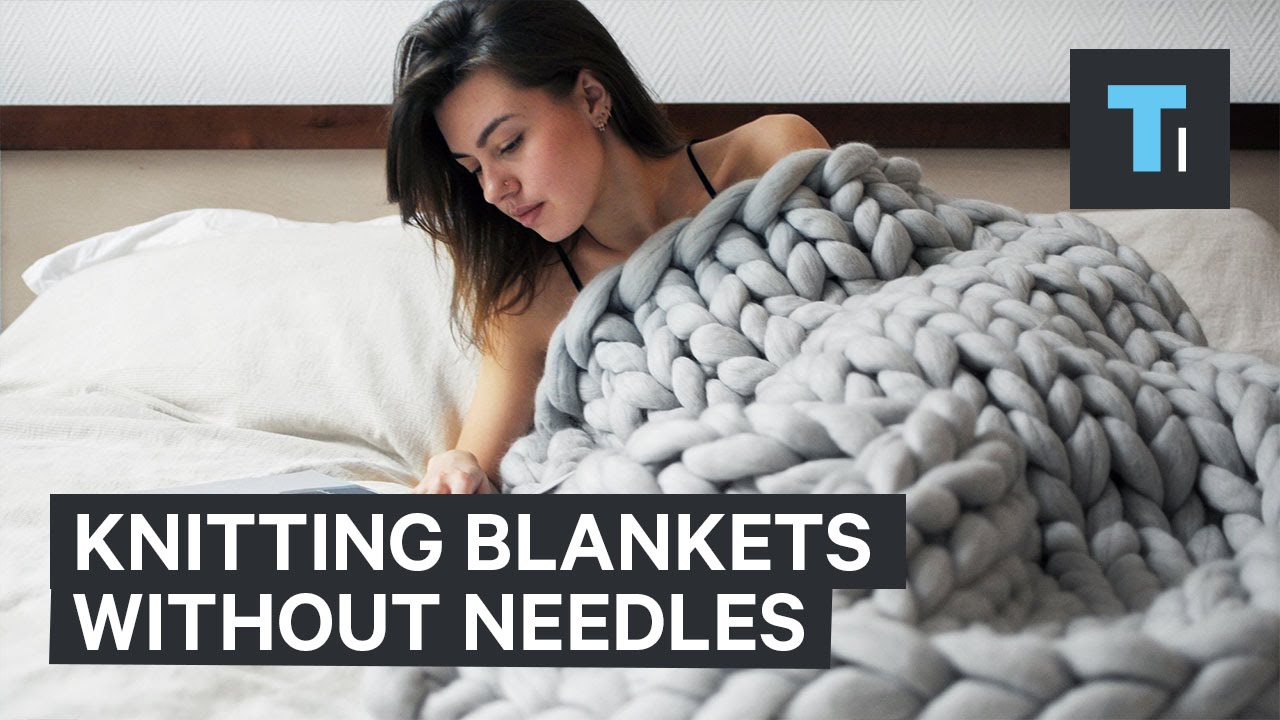 12. Easy Flannel Fringe Throw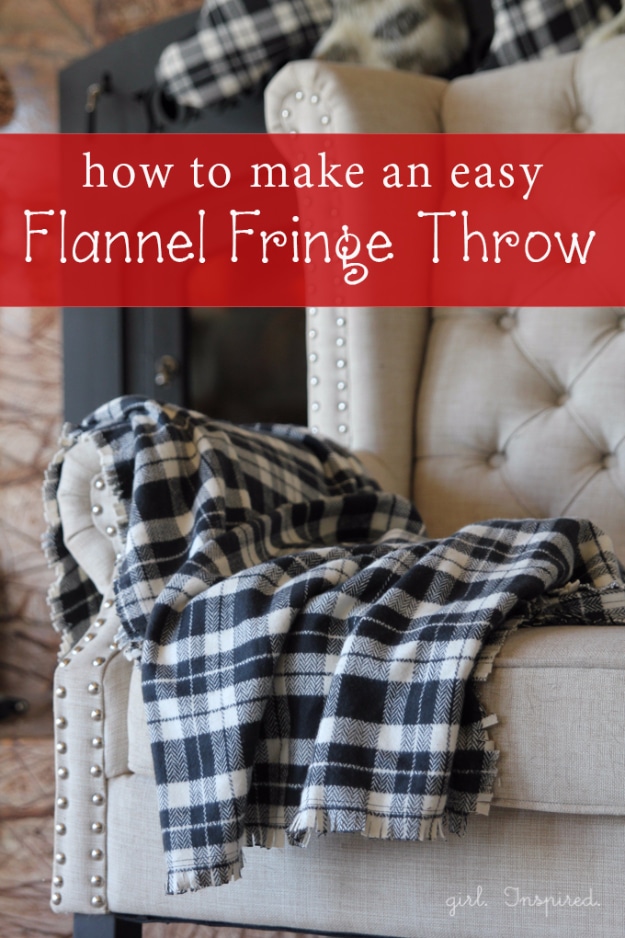 13. DIY Pom Pom Drop Cloth Throw Blanket

14. DIY Giant Embroidery Picnic Blanket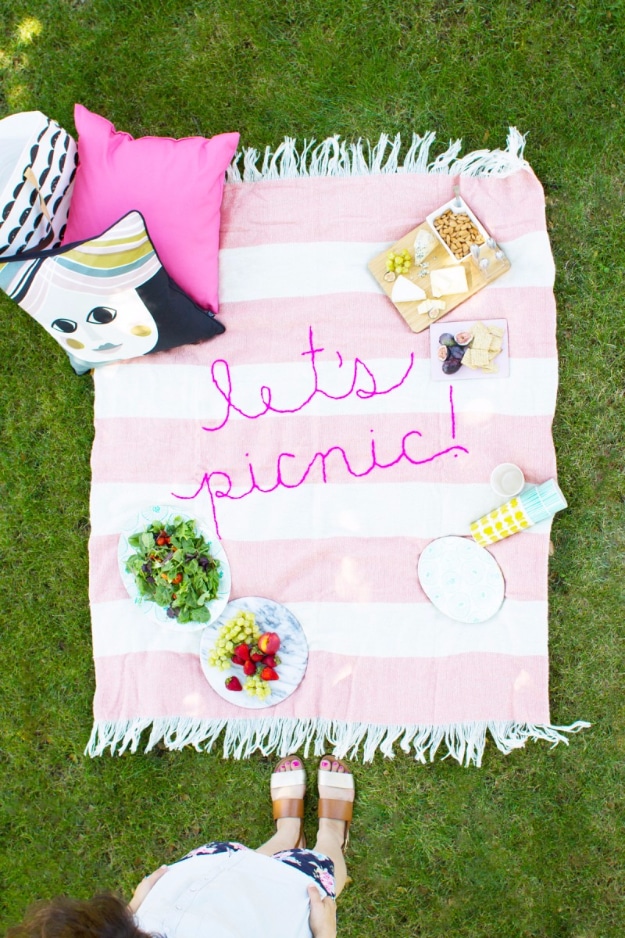 15. No Sew Summer Throw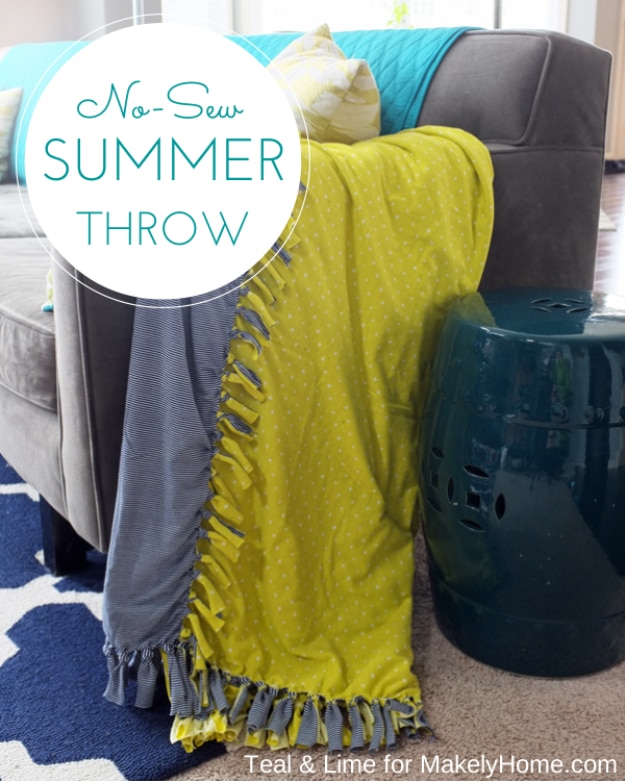 16. Chunky Feather And Fan Crochet Blanket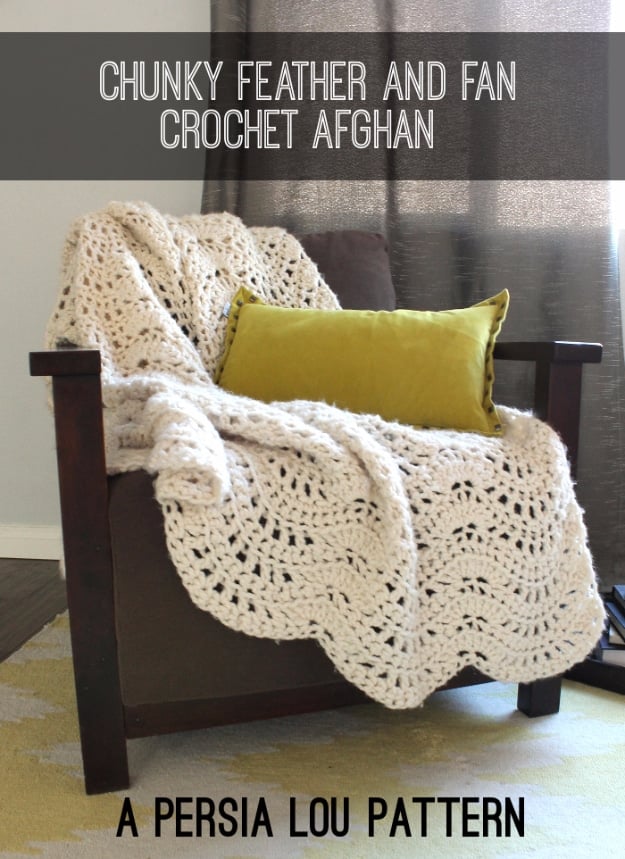 17. World Map Quilt Blanket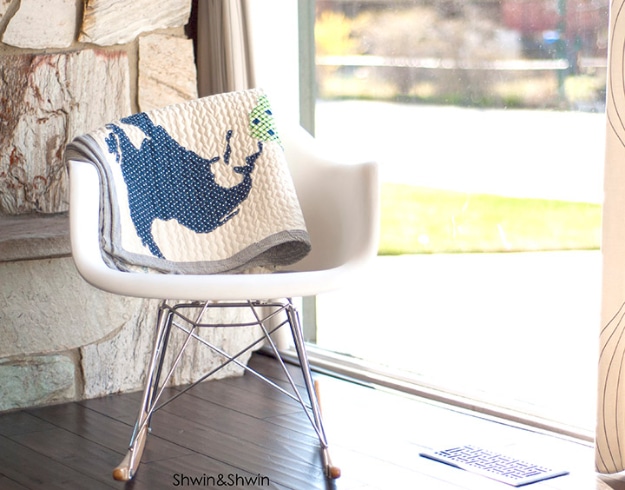 18. Tassel Throw Blanket DIY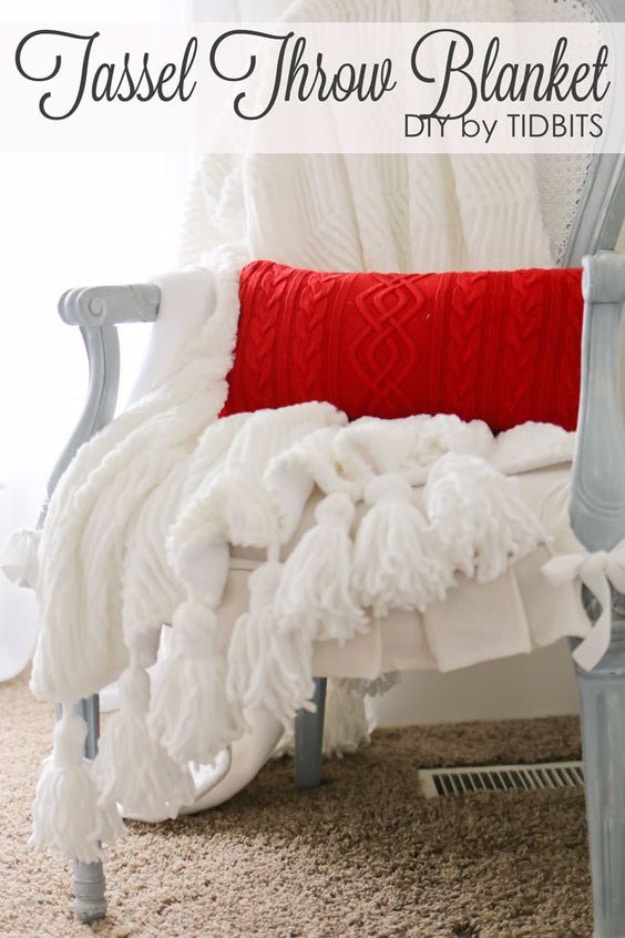 19. Lovely Linen Throw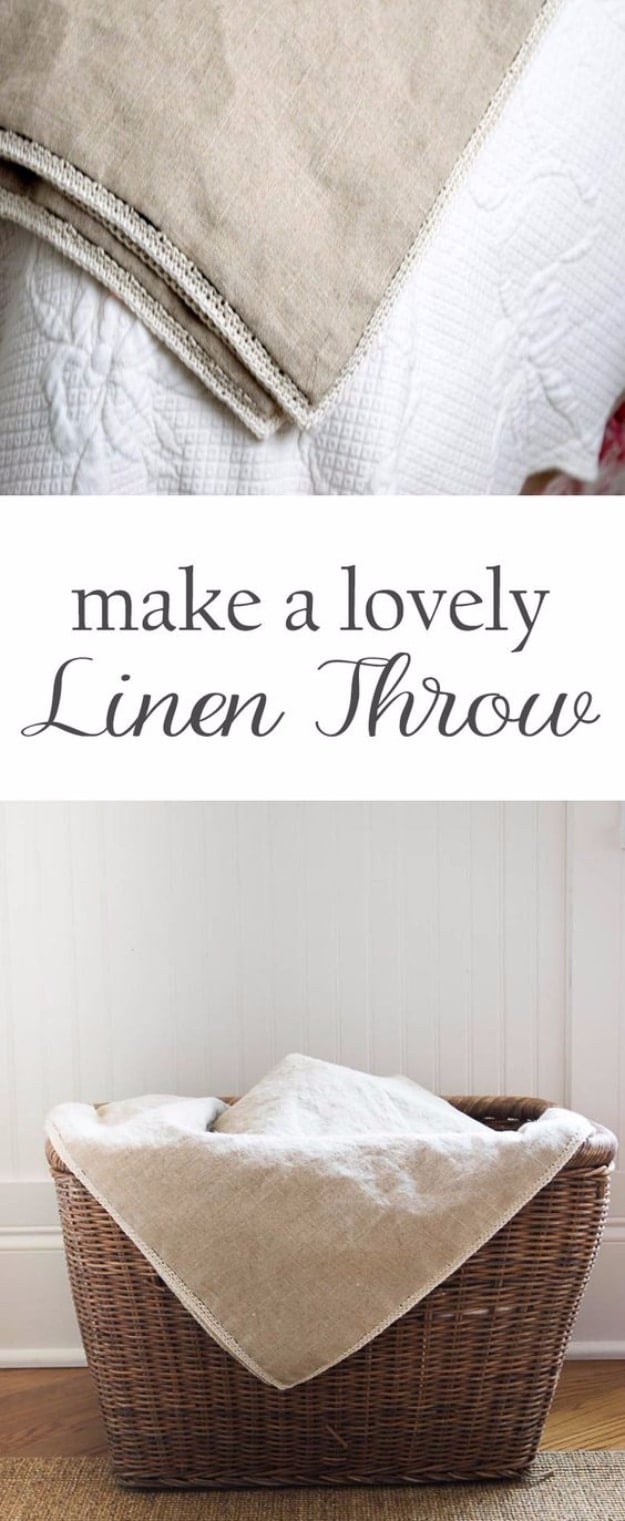 20. Chunky Tassel Throw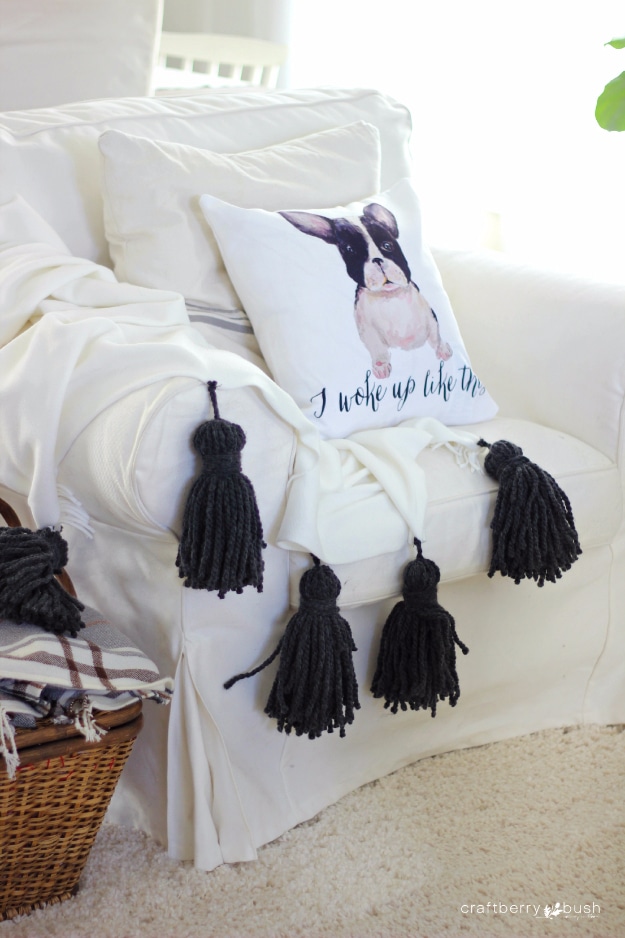 21. Easy Patchwork Quilt DIY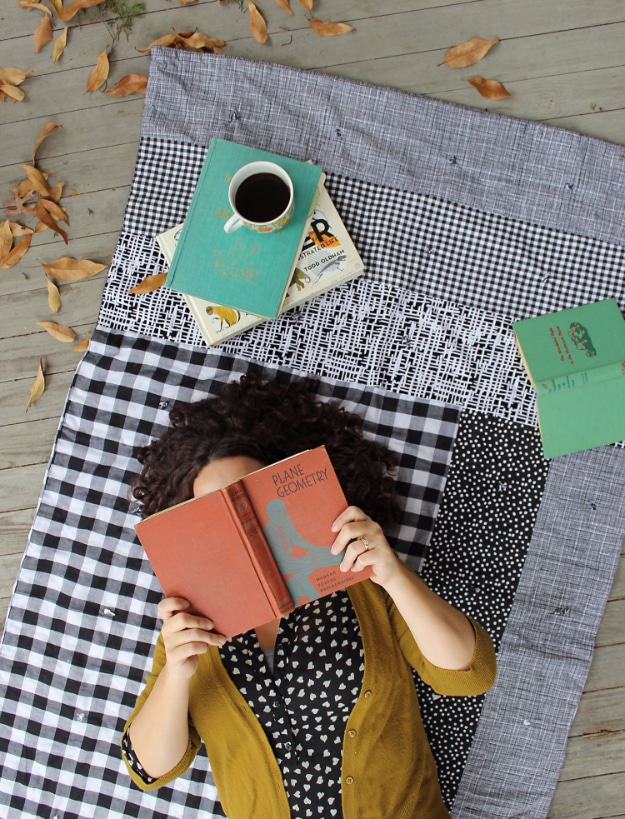 22. Upcycled Jeans Quilt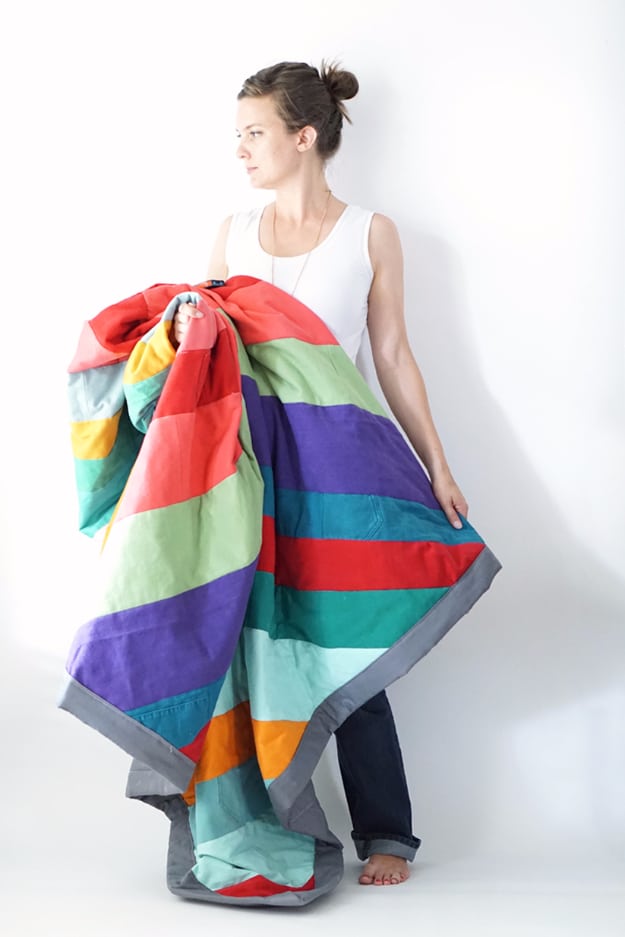 23. Travel Picnic Blanket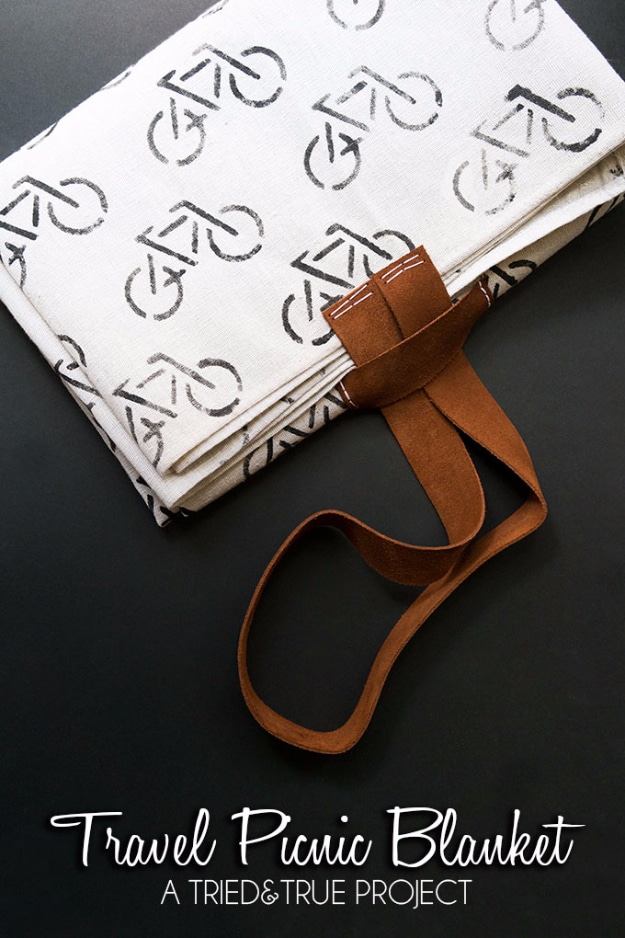 24. Striped cotton Crocheted Throw Blanket
25. Warm And Fuzzy Fleece Blanket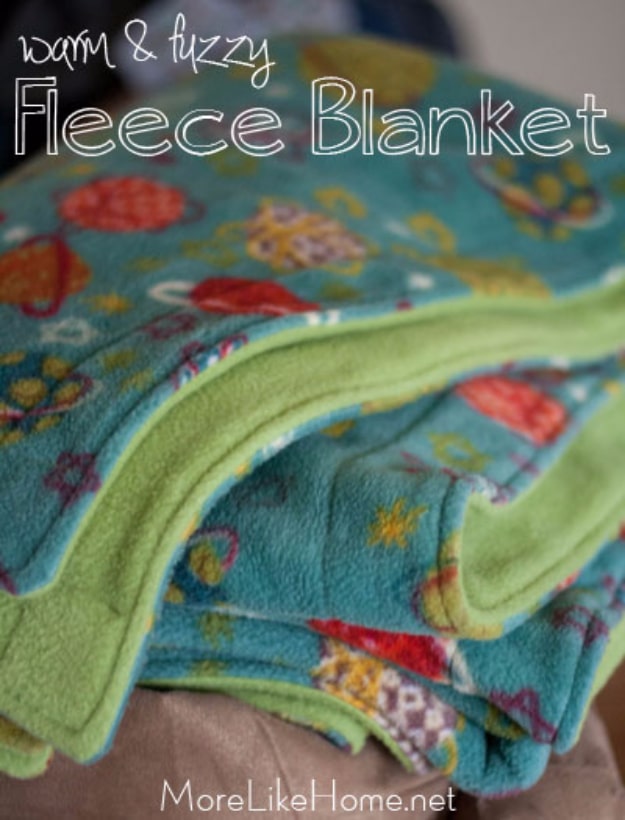 26. DIY Gauze Swaddle Blanket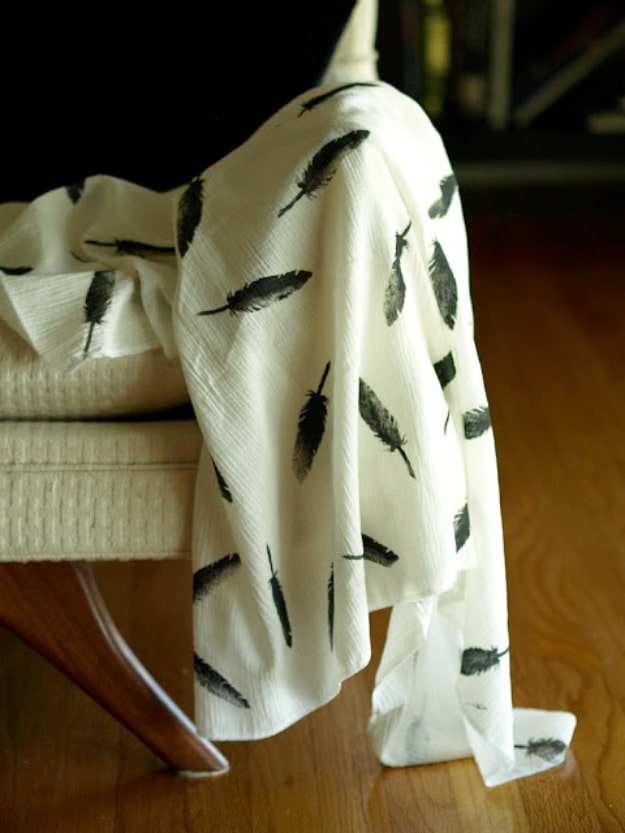 27. DIY Chic Plus Sign Blanket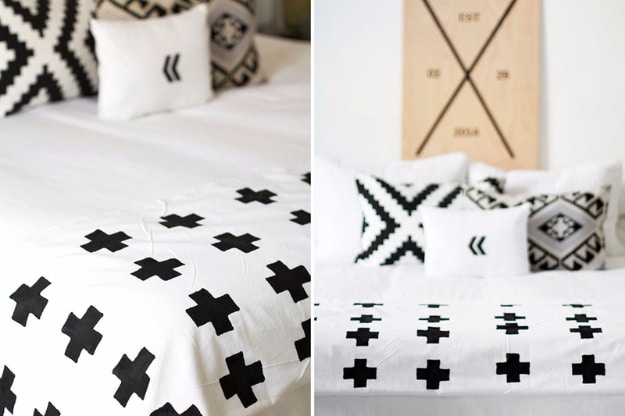 28. Patchwork Blanket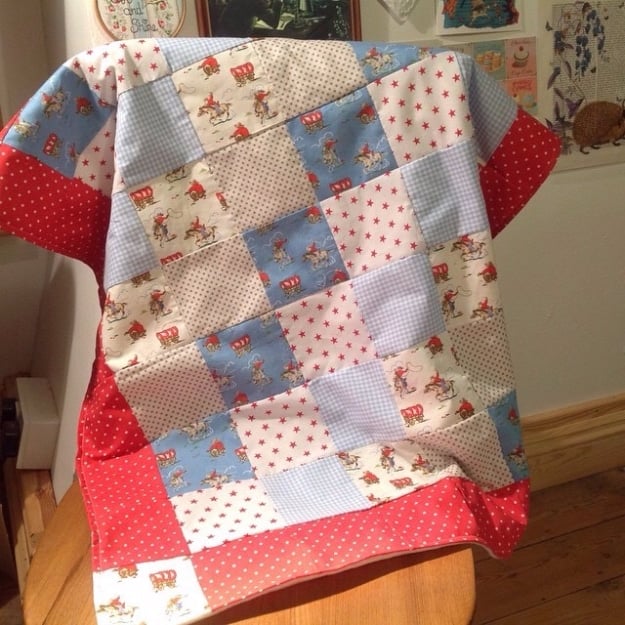 29. Moroccan Wedding Blanket DIY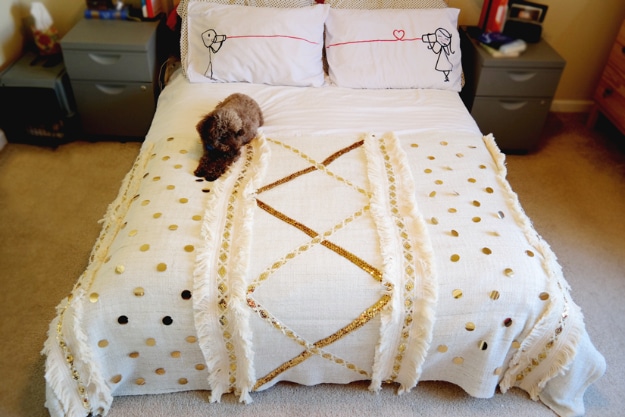 30. Big Star Baby Blanket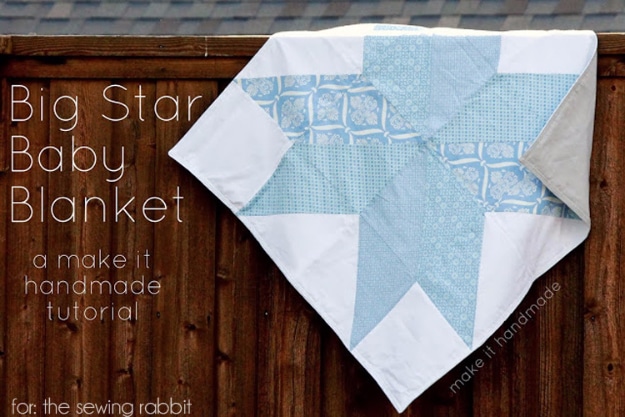 31. A To Z Quilt Blanket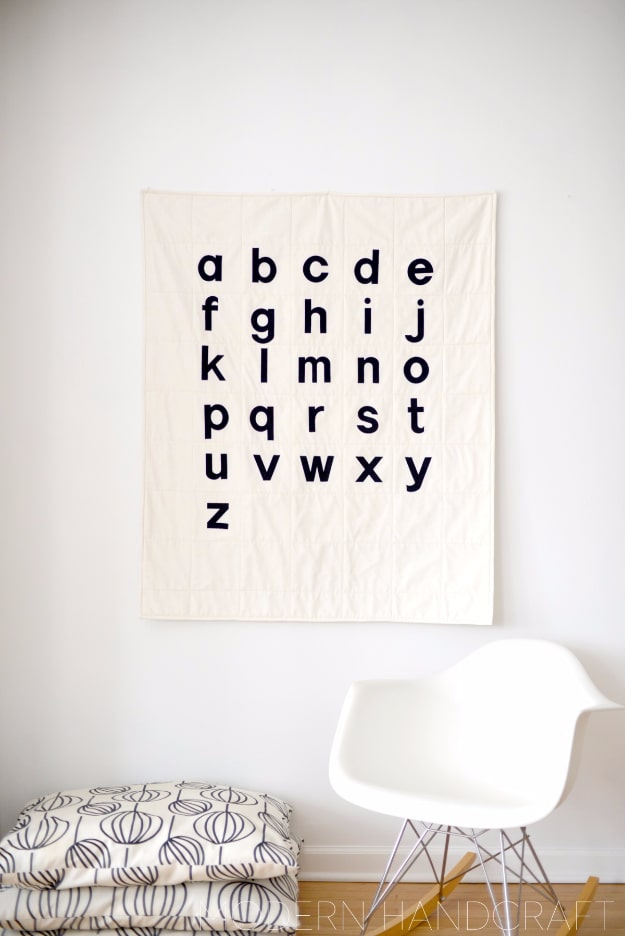 32. Extra Large Chunky Crochet Blanket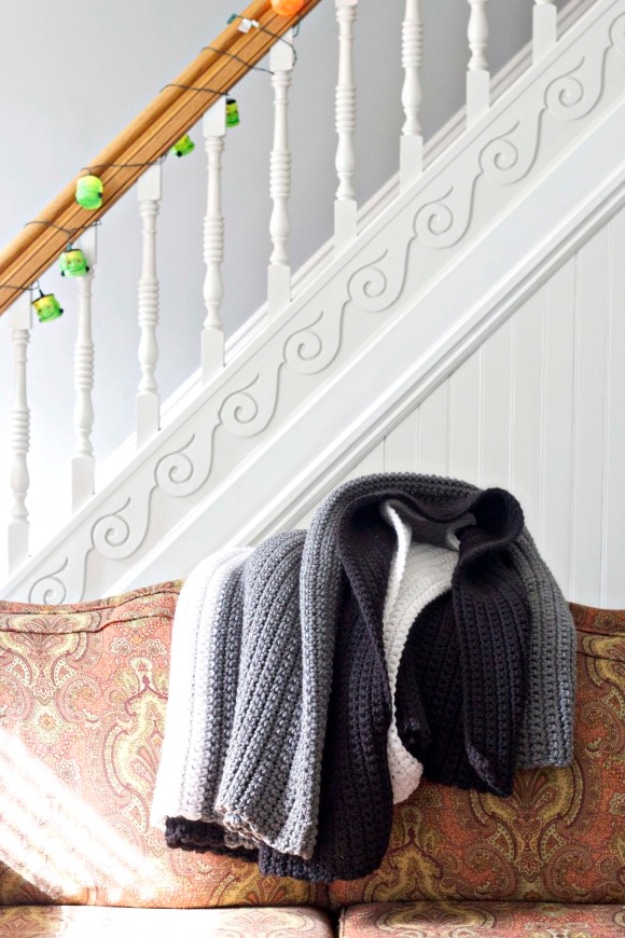 33. Ombre Pink Blanket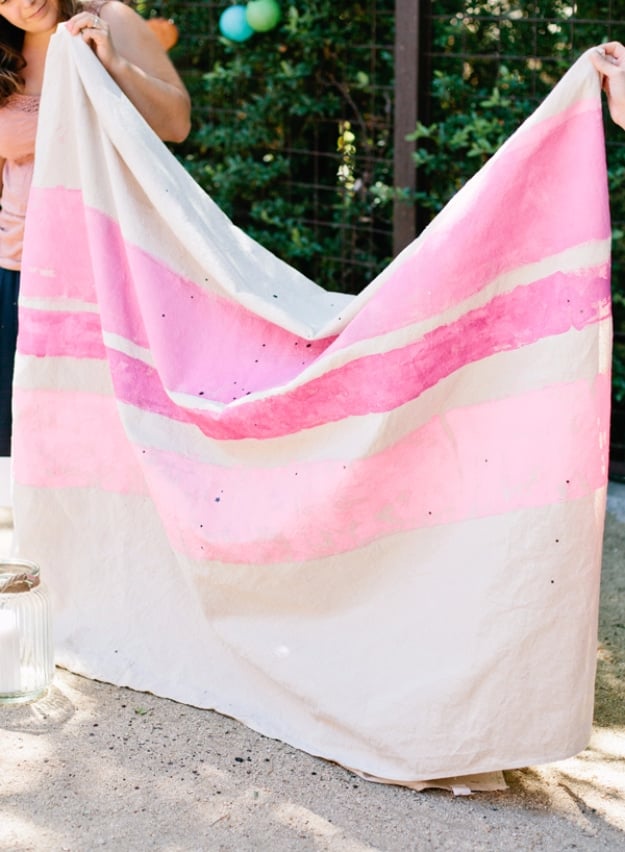 34. Chunky Knit Blanket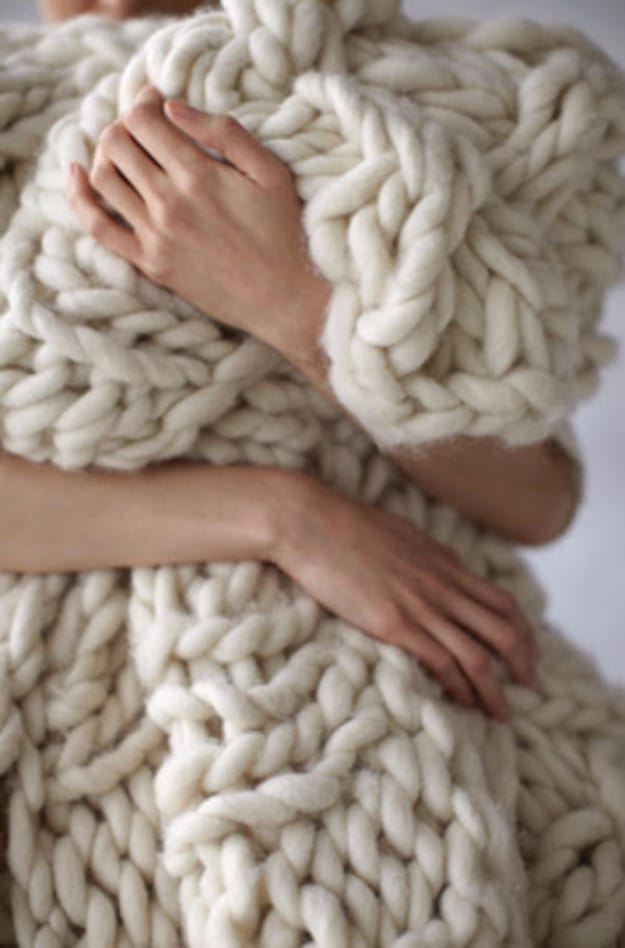 35. Drop Cloth Fruit Blanket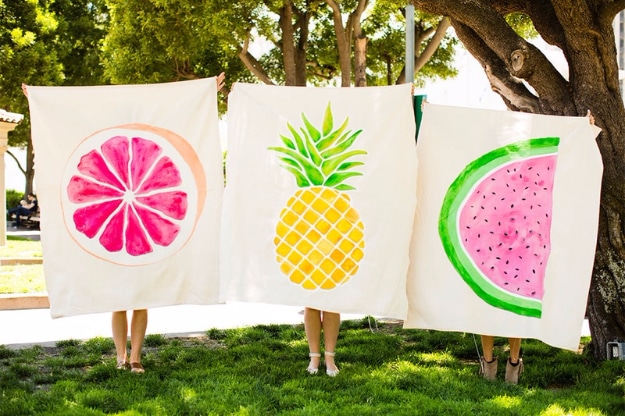 36. Denim Triangle Quilt