Tired of sleeping on that mattress on the floor or the old frame you've been dragging around since college? Maybe it is time to upgrade your bed frame from the IKEA version you built a few years ago? DIY your way into the bedroom of your dreams, starting with one of the cool ideas for a DIY bed. Build something spectacular and inexpensive while keeping your bedroom decor goals intact. From rustic, farmhouse decor to clean, modern styles, you're sure to find something you'll love here. Make your own bedframe instead of buying. Learn how with these easy to follow step by step tutorials. Whether you are looking for a modern full sized bedframe to go in the guest room, a farmhouse style wooden king sized bed for your master bedroom, or something simple and easy to put in the kids' rooms, twin sized, we have the perfect DIY bed frame tutorial for you here. All are complete with easy to follow step by step instructions, so you are guaranteed to get what you see. Check out these 34 awesome do it yourself beds and choose one to make this weekend. If you want to see lots of cool DIY platform beds, DIY night stands or DIY dressers, we have those too, along with tons of cool DIY bedroom ideas. Happy DIYing!
DIY Bed Frame Ideas
1. Build Your Own King Slat Bed for $150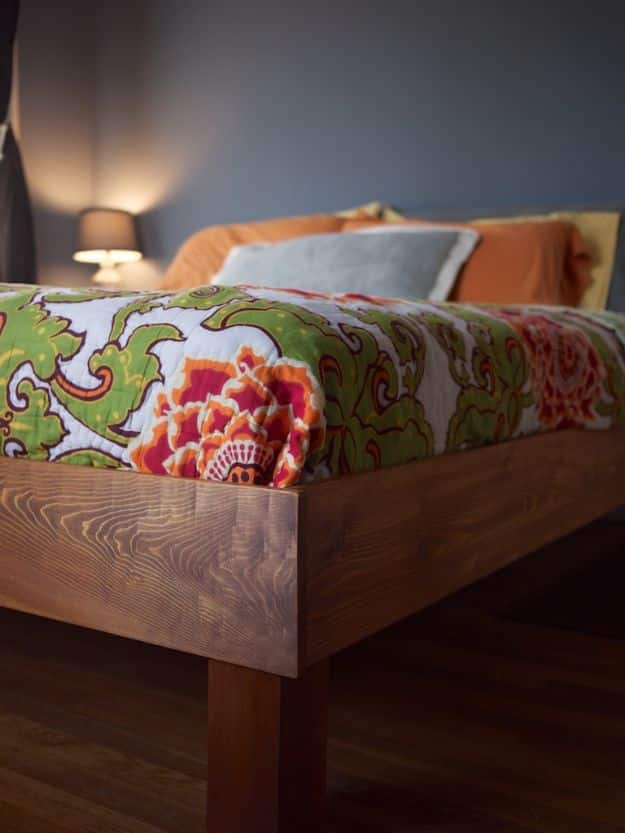 Need a new king bed frame in your bedroom? Buying a wooden king bed can be super pricey, but this inexpensive $150 DIY slat king bed frame is not. Easy to make, too, no serious woodworking skills are required to make this DIY project. Step by step tutorial included, so making this DIY furniture idea for your room is totally doable.
2. DIY Pottery Barn Farmhouse Bed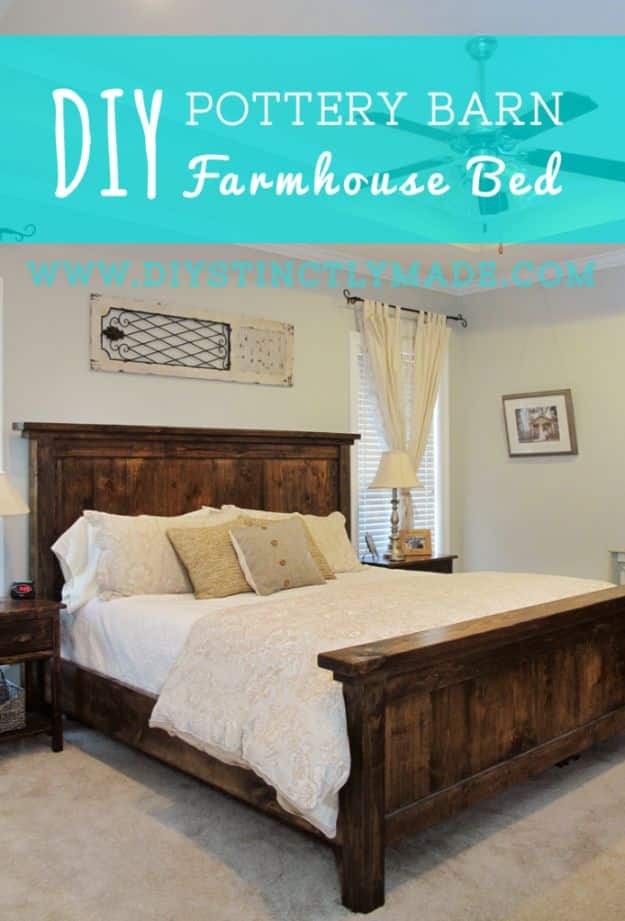 If you are looking to make an awesome bed to match the vintage, farmhouse look you've chosen for your decor, try this tutorial for a Pottery Barn inspired DIY farmhouse bed.
3. DIY Reclaimed Wood Platform Bed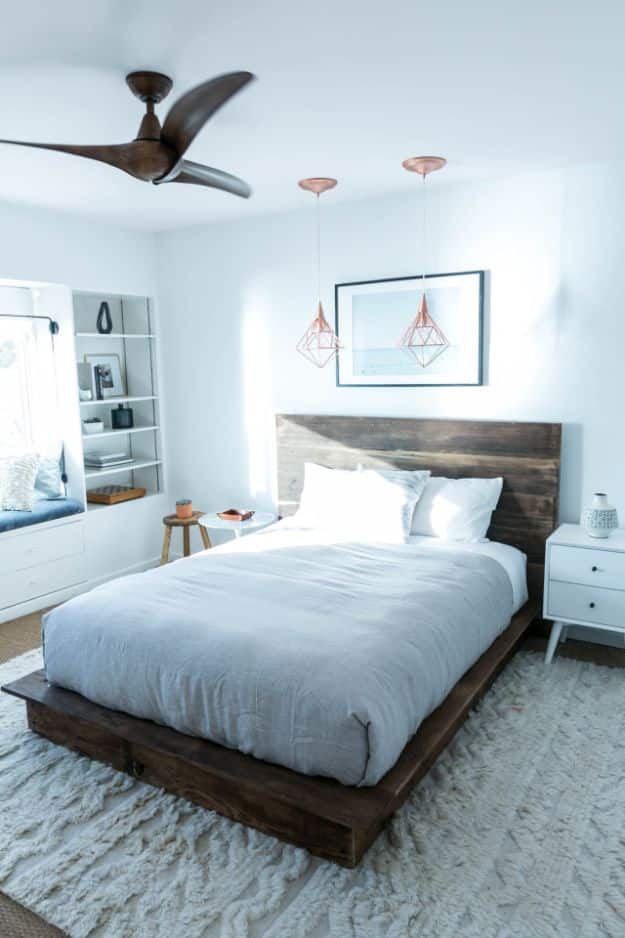 When I started looking for cheap DIY bedroom decor ideas, I realized many of the best projects were made from reclaimed wood. DIY your way into awesome room decor with this wood DIY platform bed. I made one earlier this year, and I think it may be my favorite piece of furniture in the whole house.
4. DIY Bed Frame From Tongue and Groove Planks

When I went looking for an all white DIY bed for my daughter's room, I came across this lovely white bed in the list of cool DIY bed frame ideas on Pinterest. After making two of them for her room, I can assure you that this tutorial is one of the most well done and easy to follow. Perhaps this is not surprising, considering the source, Home Depot, but I am now a bigger fan of the hardware store than I was previously, now that they have started supplying me with free DIY tutorials and videos. In appreciation, I picked up my wood from the nearby Home Depot store, and they even precut some of the pieces for me at no charge. Love, love, love this idea for DIY twin beds for children or adults.
5. Build a House Frame Twin Bed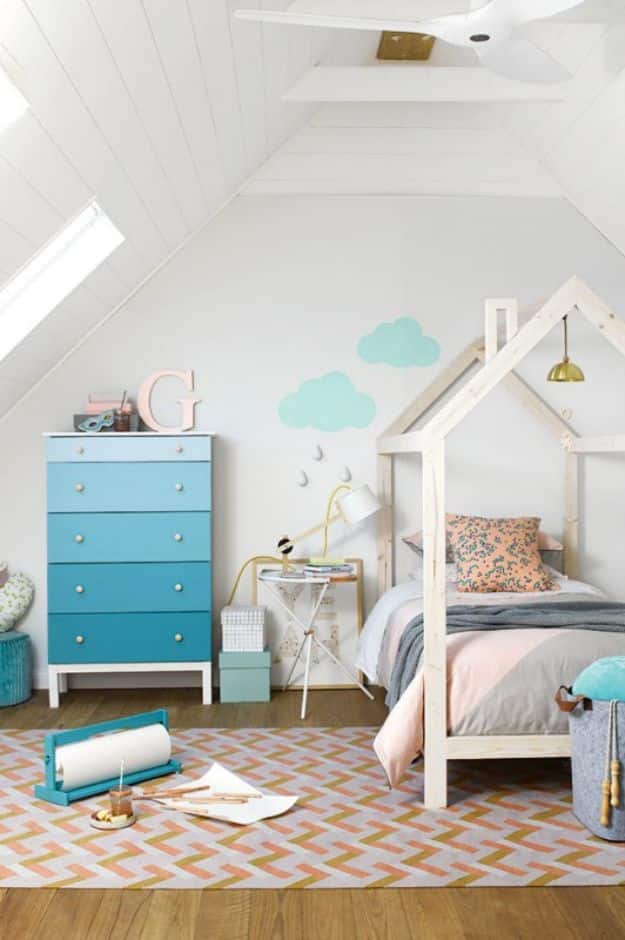 Now if you are indeed looking for DIY beds for kids, this super cute idea just may be the perfect choice for your son or daughter's room. Boys and girls both love this adorable "build a house" bed frame. My best friend just added one to her son's room, and every time I go visit, there are different blankets and sheets adorning the house. Build a house, indeed. Simple and easy to build, have some fun with your kid's room decor and make this cute DIY bedframe.
DIY Bed Frame Ideas for Master Bedroom
6. DIY Poster Bed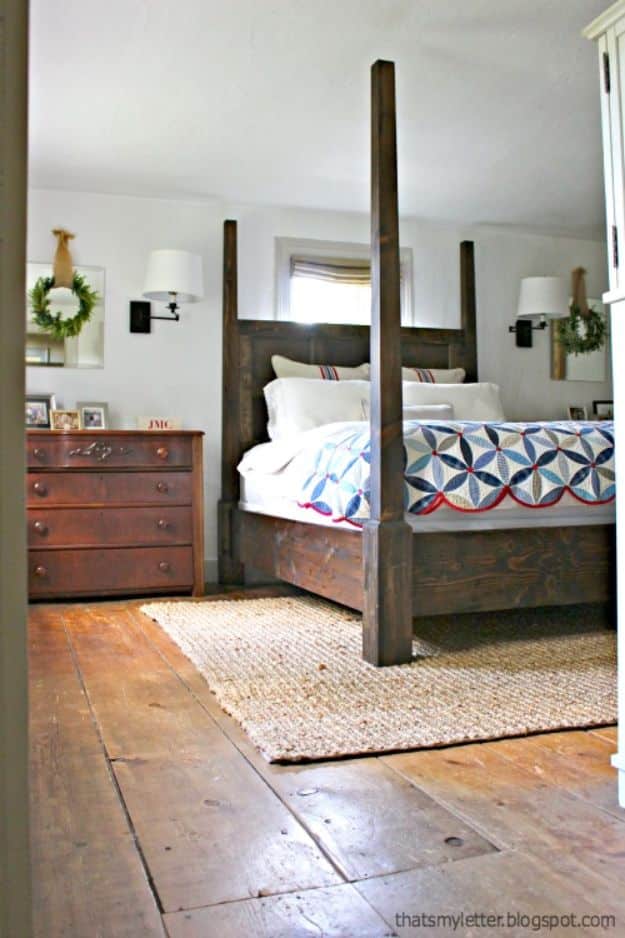 When it comes to decorating the master bedroom, and especially when you have a king sized or larger bed, the bedframe needs to make a statement, since it is a large focal point in the room. This DIY poster bed fits the bill perfectly when you are looking for an awesome statement bedframe to put in your room. Crafted from wood and stained dark like the photo or light if you prefer, this sturdy wooden bed is sure to last many, many years to come. I am certain it only gets better with age, too. Made by DIY blogger Jaime Costiglio with the help of some free DIY bed plans by Ana White, we think this Pottery Barn Dawson Creek inspired bed is one of the prettiest handmade beds you can make. (I also really want this beautiful quilt Jaime shows on the bed!)
7. DIY Full or Queen Size Storage Bed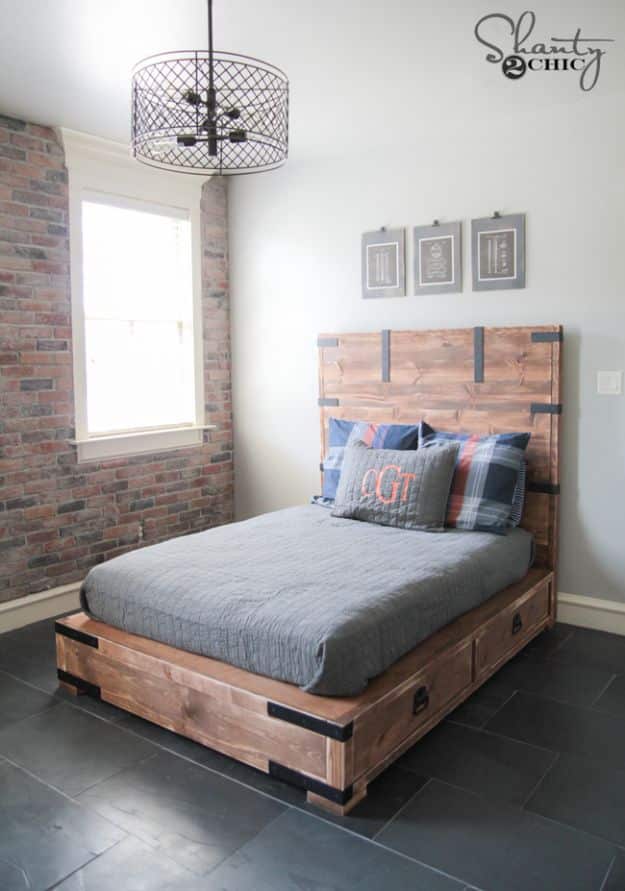 After the move, my teenage boys ended up with room for bigger beds. I was thrilled to be able to get rid of the too small twin beds until I started pricing the cost of new queen sized beds and dressers. My budget simply could not accomodate the expense. What to do? Get creative and crafty, of course. I found this DIY queen sized storage bed, which allowed me to avoid buying or making dressers to store their clothes. This was the perfect solution since we have a closet for hanging clothes and did not really need or want a huge dresser, much less two of them. We use the storage drawers for their winter things and sports equipment as well as some blankets and pillows for the unexpected sleepover guest.
DIY Bed Frame For Kids
8. DIY Beadboard Twin Bed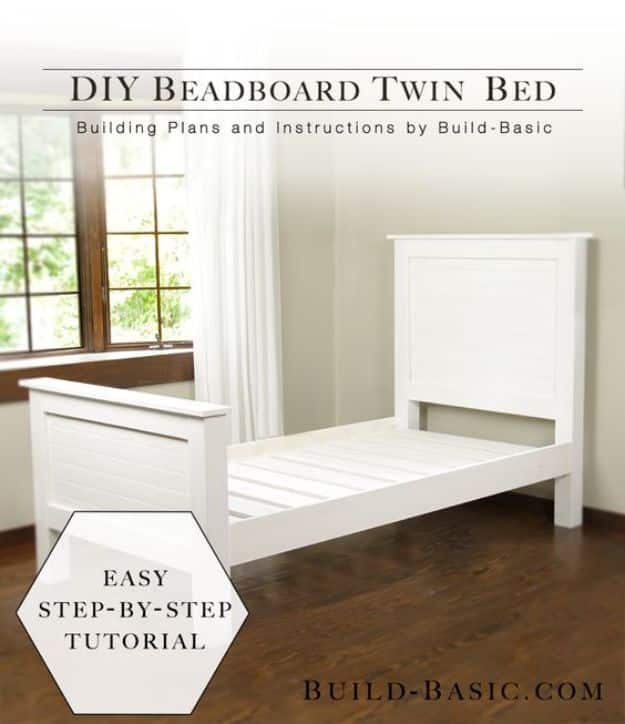 t
Need a basic DIY twin bed tutorial? I love that the name of this blog is called build basic, because that is exactly what they offer with this twin bed making tutorial. Easy instructions for building a twin sized bed out of wood, beadboard in fact. Make yours white like the one shown in the tutorial or paint the beadboard frame to match your room decor. This would be a cute bed to make as a set if you have kids that share a room or a pretty beginner bed for your toddler. However, this super simple but stylish bedframe could fit well anywhere.
9. Farmhouse Pallet Bed With Rolling Trundle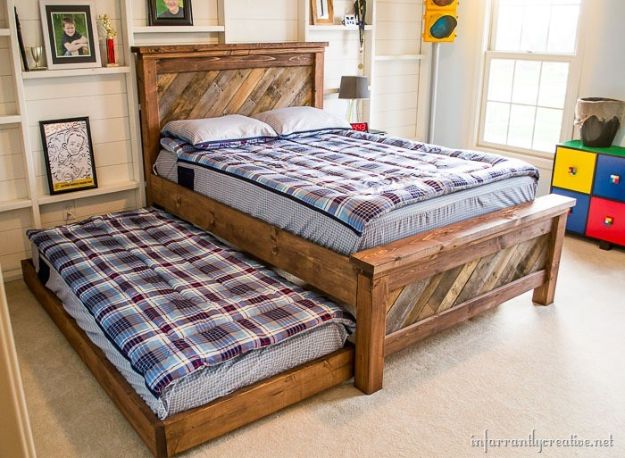 Oh wow, what a gorgeous looking bed! This is the perfect solution for any of your kid's room especially for when they have friends come over and do slumber parties. The instructions from Infarrantly Creative are so easy to follow and you will never get disappointed with the turn out. For a cheap DIY bed frame idea that looks like you spent hundreds or even thousands on it, here's your DIY project.
10. Expedit Re-purposed as Bed Frame for Maximum Storage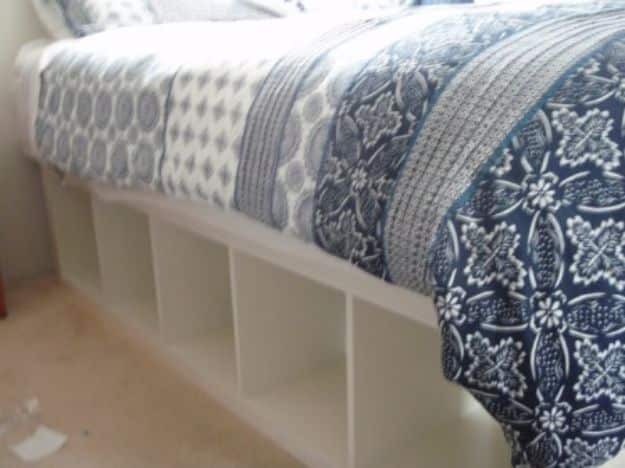 For only $200, you can re-create this bed frame from an Expedit IKEA furniture. Definitely a fabulous idea especially when you live from places to places. Easy enough to transport, this creative idea is a win-win.
11. Flush with Floor DIY Bed Frame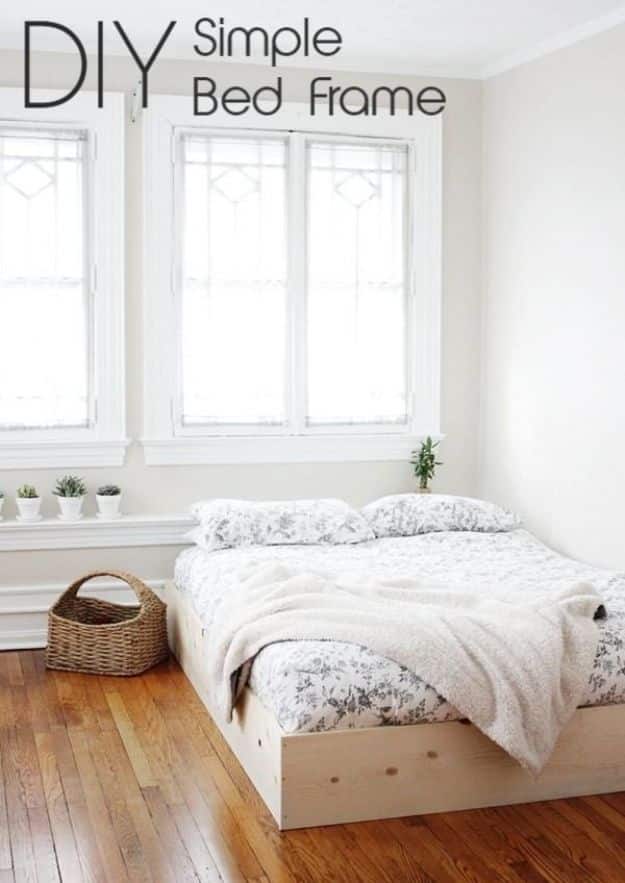 12. PB Teen-Inspired Double Bed