Add some beach vibes to your home when you make this DIY candle holder from Craft Amazing on Youtube! This DIY project has all the beach elements you'll think of; fine sand, seashells, glass shells, etc. It's a unique candle holder, and I'm sure you'll have fun making this with your kids. Watch the video tutorial below to learn the step by step instructions.
Materials:
wine glass
cardboard
seashells
pearl beads
mosaic glass gems
fine grain sand
rough grain sand (optional)
chipboard
candle
rope (5mm)
jute twine
pen (or pencil)
scissors
hot glue
ruler
Directions:
Step 1
To start, trace the lip of the wine glass onto the cardboard and cut it out with your scissors. Set it aside for later. Next, flip your wine glass back up, then place your seashells in the wine glass together with some pearl beads and glass gems. After this, cover everything in fine grain sand. Once you're done placing everything inside, seal it with the cardboard circle. Just put hot glue on the edges and glue it inside the glass. (Make sure to apply a generous amount of hot glue.) Flip the glass over once the glue is completely dry.
Step 2
Next, trace and cut your chipboard into a long strip, then place this around your candle to get its measurement. Cut off the excess chipboard and glue the edges together with hot glue. Set it aside. After this, glue the rope at the bottom of the wineglass and wrap it around three times. Cut off the remaining rope and hot glue the end of the rope to the glass. Next, wrap the rope around the stem in the same way as well as on the candle holder you made earlier. After this, hot glue the candle holder on top, then tie a bow below it with three long strips of twine. Lastly, place the candle a the top inside the candle holder.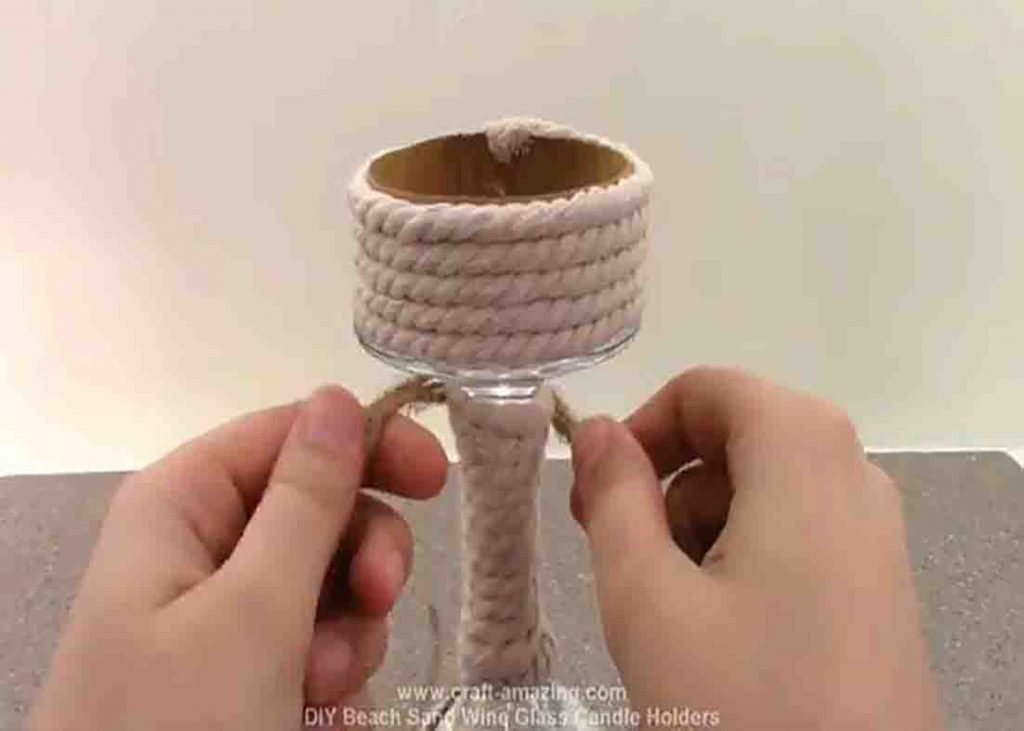 DIY Beach Sand Wine Glass Candle Holders