Need some ideas to update your bathroom decor? Whether you are going for a rustic, vintage look or something more sleek and modern, you can certainly DIY some awesome decor to add to your bath. From shower curtains to rugs to cool wall fixtures and art, our list has tons of easy step by step tutorials, and almost all will allow you to decorate on a budget. I especially love the hand painted signs, the adorable mason jar ideas and the fancy, fluffy shower curtain inspired by Anthrolpologie. Pick one or more and start making your bathroom awesome this weekend!
DIY Bathroom Decor Ideas
1. Antique Sewing Turned Seedbox Bathroom Display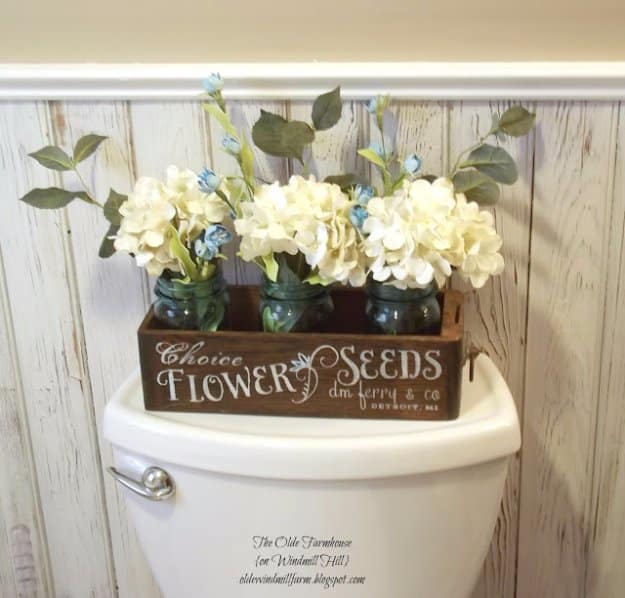 Of all the vintage decor ideas I have seen lately, this seedbox turned bathroom decor has to be the winner. Last year, when I was at this awesome flea market, I actually saw and wanted one of these, but it was too expensive. Imagine my excitement when I found this tutorial and learned I could make one myself!
2. Mason Jar Bathroom Storage Accessories

Not your average mason jar project when you get to use lots and lots of jars like this. I just love the look of distressed jars, but would never have thought to make a set of them to house items on my bathroom counter. I love the look of the simple white, but these would also be pretty in just about any color you choose.
3. Toilet Paper Holder With Shelf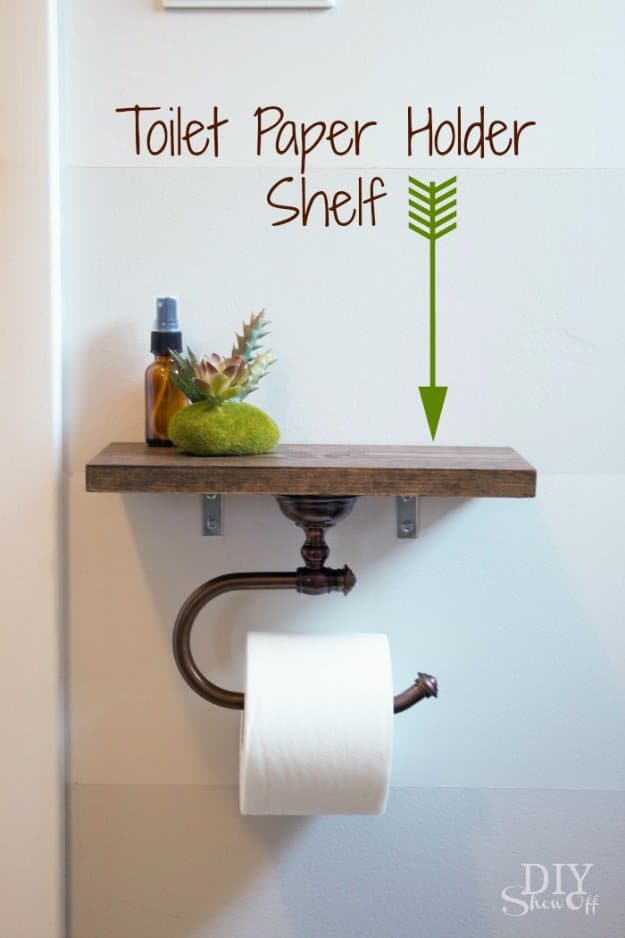 When it comes to bathroom decor ideas, this cool but functional toilet paper shelf is a lifesaver in small spaces. It will look great in a bathroom with rustic, farmhouse decor, industrial style or classic home decor. Easy to make and inexpensive, make this DIY toilet paper shelf this weekend. Complete with photo tutorial and step by step instructions, this do it yourself project is one of our favorites right now.
4. DIY Sliding Barn Door Bathroom Cabinet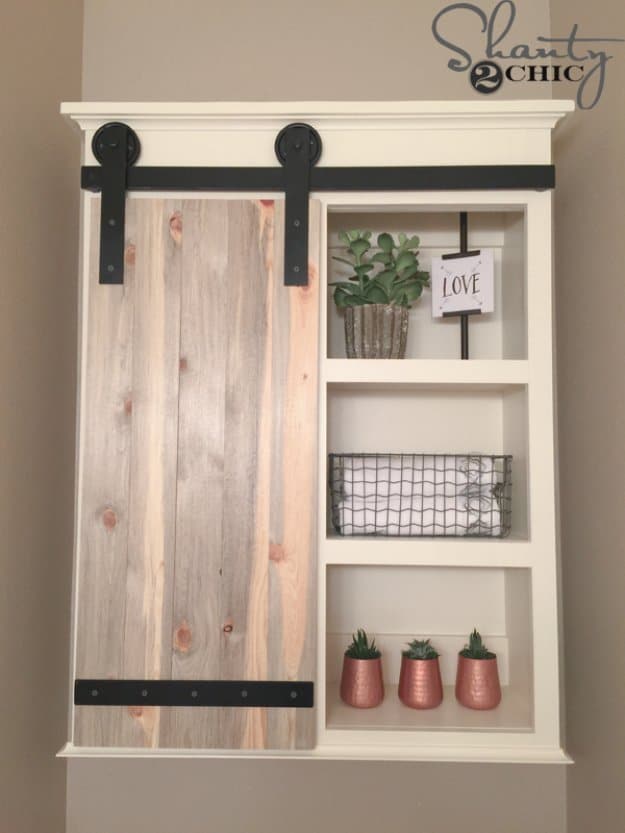 Sliding barn doors are not just cute as doors. They are a brilliantly creative touch to add to your bathroom cabinets. I love this idea because you can even add it to existing shelving!
5. Industrial Farmhouse Bathroom Sign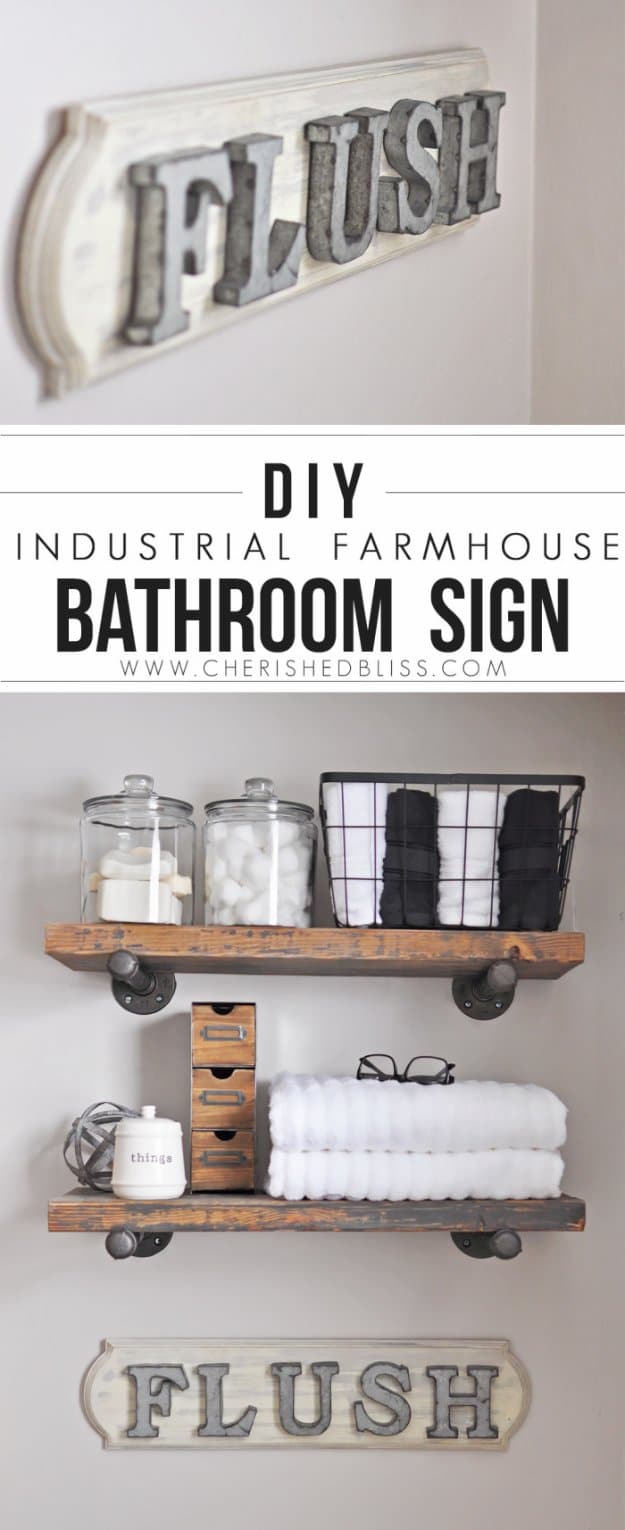 Create this adorable DIY Industrial Farmhouse Bathroom Sign with this easy to follow tutorial from Cherished Bliss. It's the perfect little reminder for men and children. Now you can hang your new industrial farmhouse bathroom sign above your toilet and hopefully everyone will flush when necessary.
6. Tub Time Photos and DIY Canvas Prints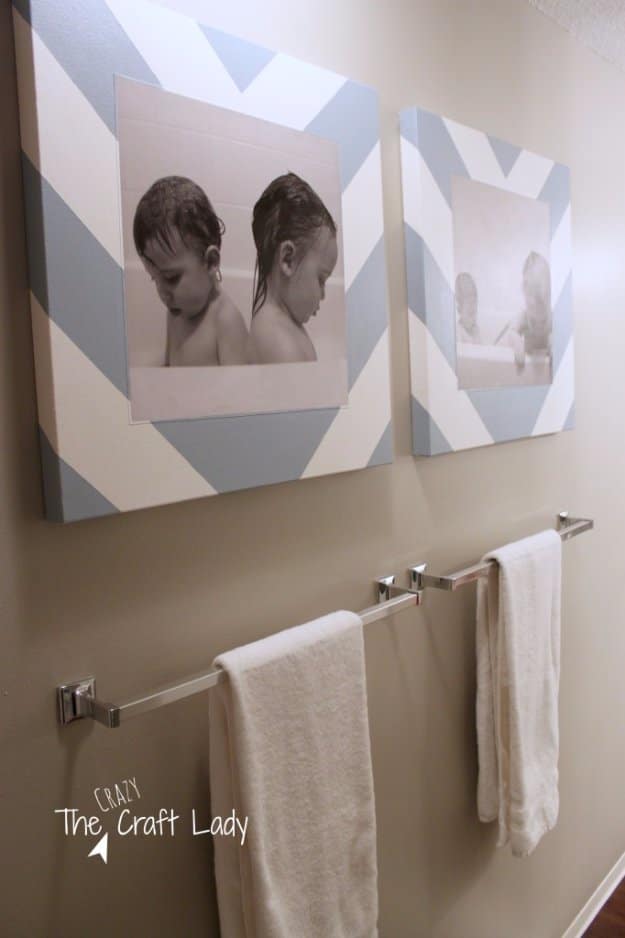 DIY photo canvases are easy to make and look just as great as expensive, store-bought options. They are fun and easy to make, and they are an incredibly affordable option. So, get those awesome photos off your phone or computer and start displaying them on your walls. Such cute decoration for a kid's bathroom.
7. DIY Bathroom Hallway Sign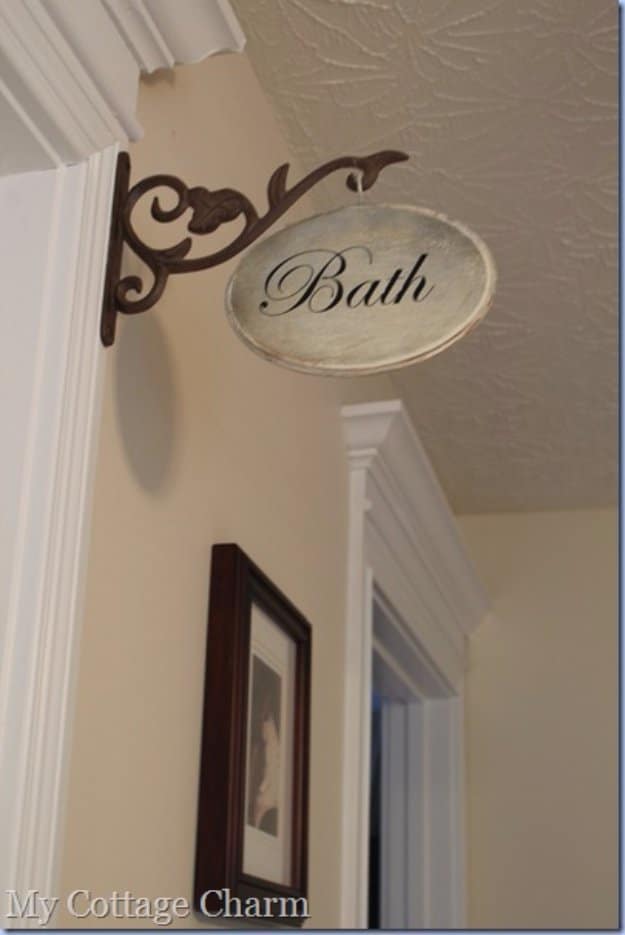 One thing that we should know in decorating a living room is that we don't have to make it look modern or fancy, sometimes DIY farmhouse living room wall will do just the trick. This is something I would love to do but it might be just a bit too much for our tiny dark hallway. Love it any way and plan to keep it for future reference.
8. DIY Bathroom Storage Ladder

Add sufficient storage to your small bathroom with this over the toilet shelf. You'll be happy by how simple this over the toilet ladder shelf is to make. This simple DIY version came in at around $30. If you wanted more storage baskets, it would obviously cost a little more, but still WAY cheaper than the store- bought alternative.
9. Homemade Potpourri For Your Bathroom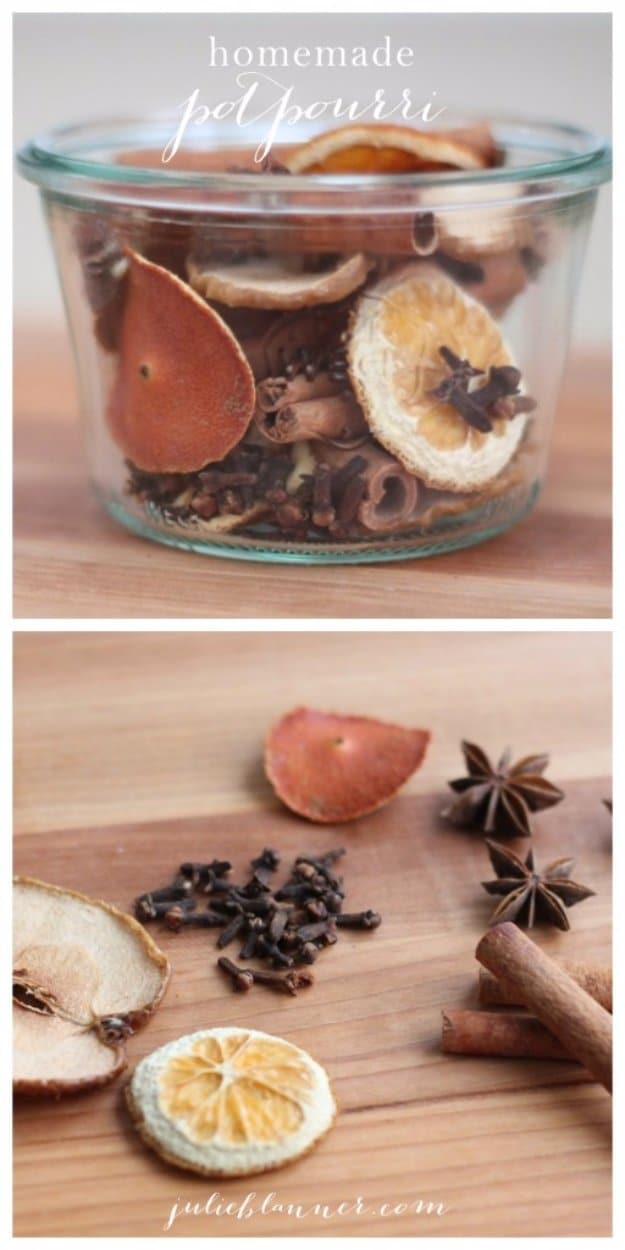 Because your bathroom should be just as pretty as all the other rooms in your house, make your home smell like fall with this easy recipe for homemade potpourri. This homemade potpourri can be enjoyed on the holiday itself simmering on a stove top or all winter long in a dish. It's a perfect project for a cold afternoon at home and will fill your home with fragrance.
10. DIY Antique Window Bathroom Cabinet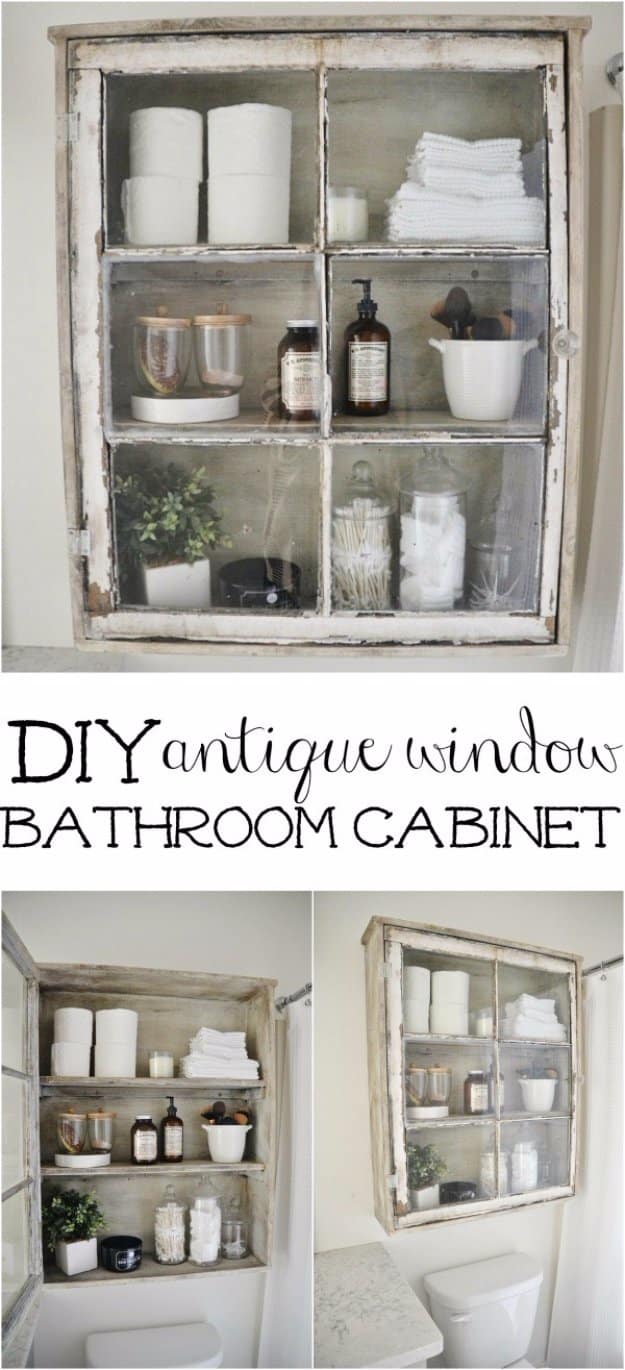 Add much needed storage to a typical empty space in a bathroom with this DIY Antique Window Bathroom Cabinet from Liz Marie Blog. We had a couple of old windows laying around so the idea of making a DIY bathroom cabinet out of an antique window became a reality. The rustic wood, his amazing paint job, & the antique glass just make my heart happy.
11. Enamel Mug Bathroom Organizer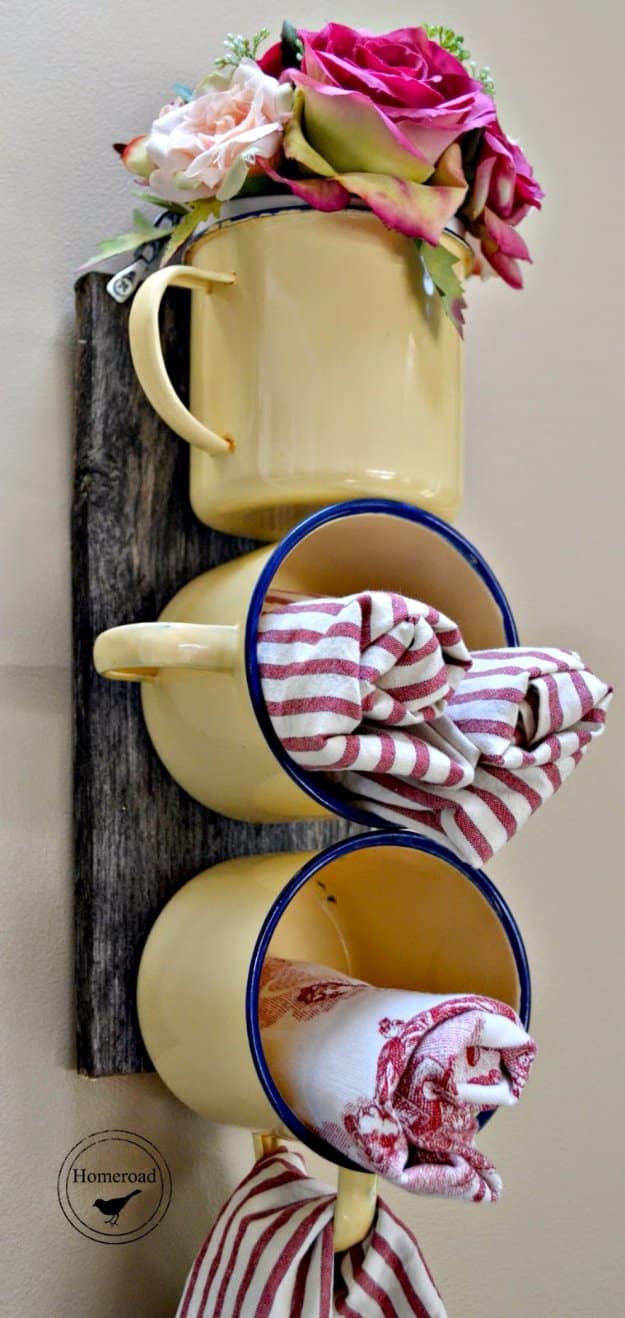 Personally, I cannot get enough of farmhouse look. It pushed me to learn new ideas and what is I discovered is most of them are really DIY ideas that you can cheaply make at home. And I cannot get over how pretty this Enamel Mug Bathroom Organizer is. This DIY is a convenient way to store your necessities.
12. Reclaimed Wood Branch Bathroom Shelf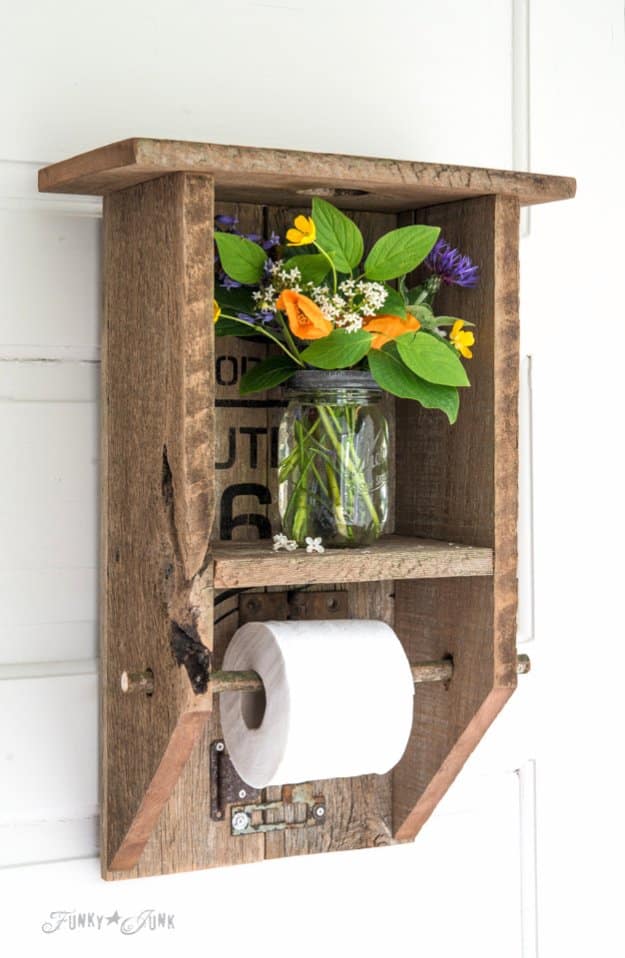 I absolutely love this shelf! I have some reclaimed lumber from our old dairy barn where I grew up and have been saving it to see what kind of neat ideas it can become. So love the rusty ole hinges. Such a great touch. I could think of many things I would use it for. Wonderful creation over-all from Funky Junk Interiors.
13. Mason Jar Wall Organizer

Do you need more space in your bathroom for all the little things you use every day? This project offers any space a little extra storage. If you're anything like me, I had jars all over my vanity. This cleared up my vanity area and got me organized, not to mention how cute this shelf is. You can use for your garage and put different nails and screw in the jars or use it in your art project room to put brushes in, use it on the wall as flower vases…the sky's the limit!
14. Repurposed Window Bathroom Towel Rack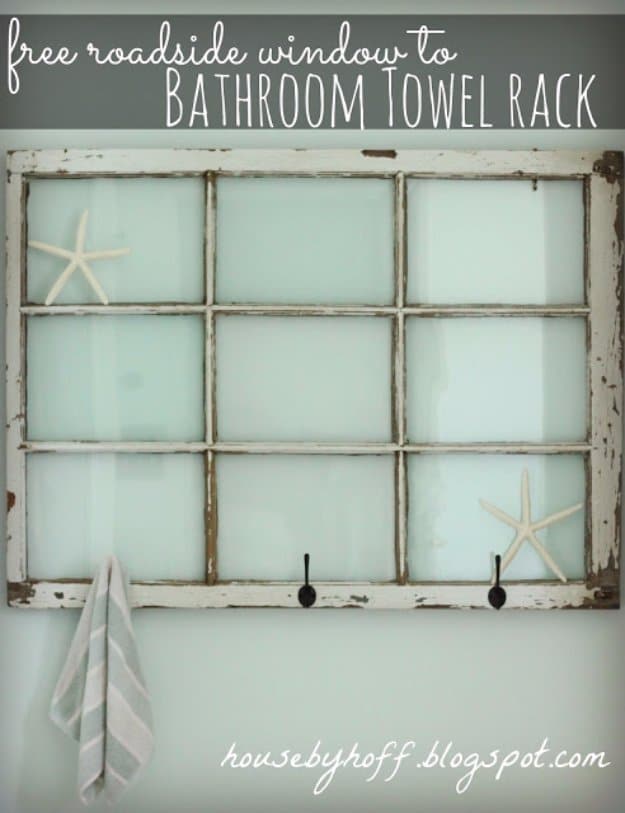 Looking to spruce up your bathroom, but don't have a big budget? This Repurposed Window Bathroom Towel Rack is simply gorgeous. It's like a shabby, antique piece of art! This towel rack is a brilliant way to use one of the windows. I saw a window at a flea market last weekend and was trying to think up a project for it. What a great idea!
15. DIY Faux Floating Shelves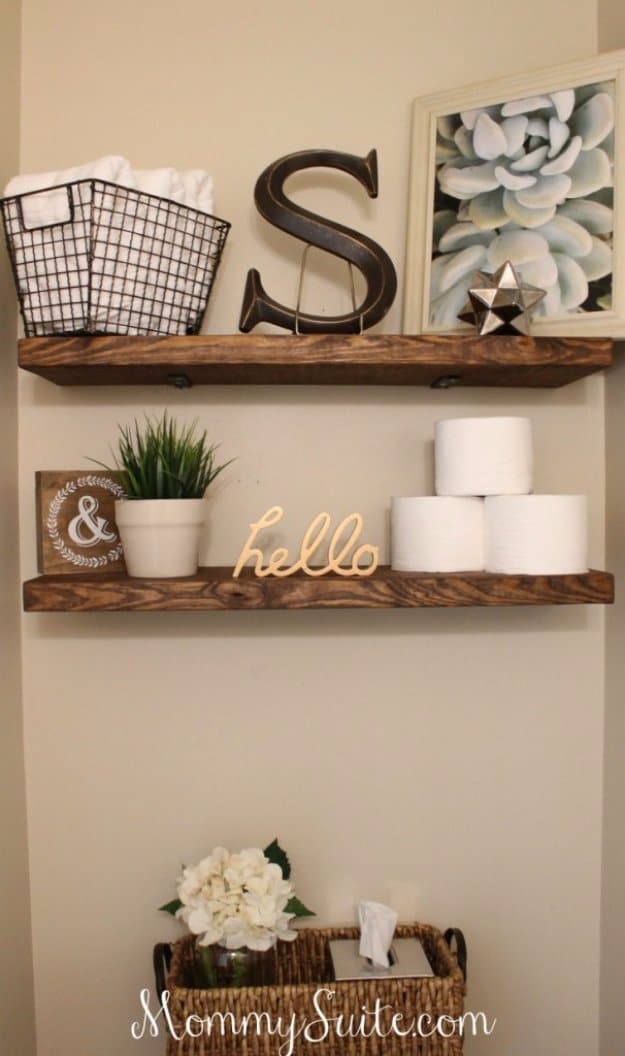 The easiest tutorial for DIY floating shelves. These reclaimed wood shelves are faux floating shelves and you won't believe how simply they are to install in the bathroom. This is way more inexpensive and they are the perfect inexpensive addition to any social space!
16. DIY Rope Towel Holder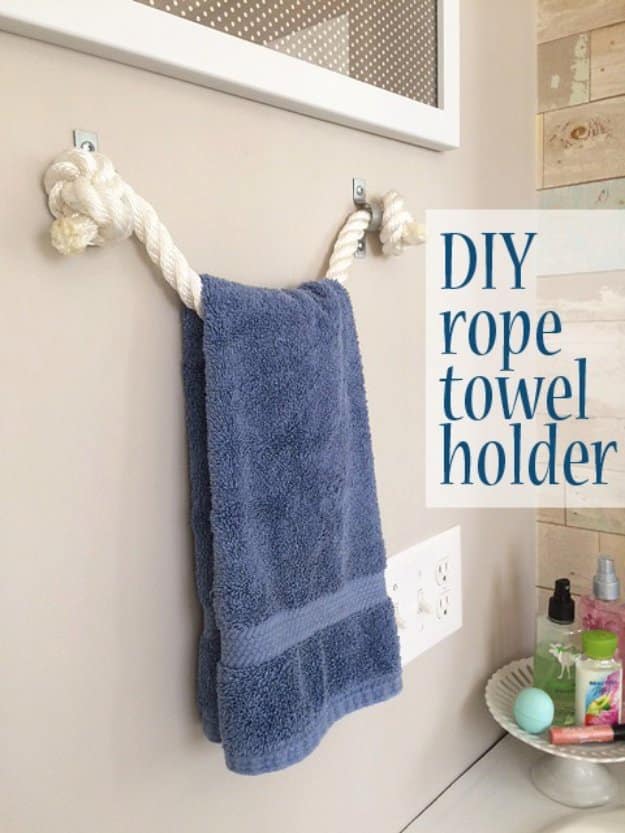 17. DIY Bathroom Hooks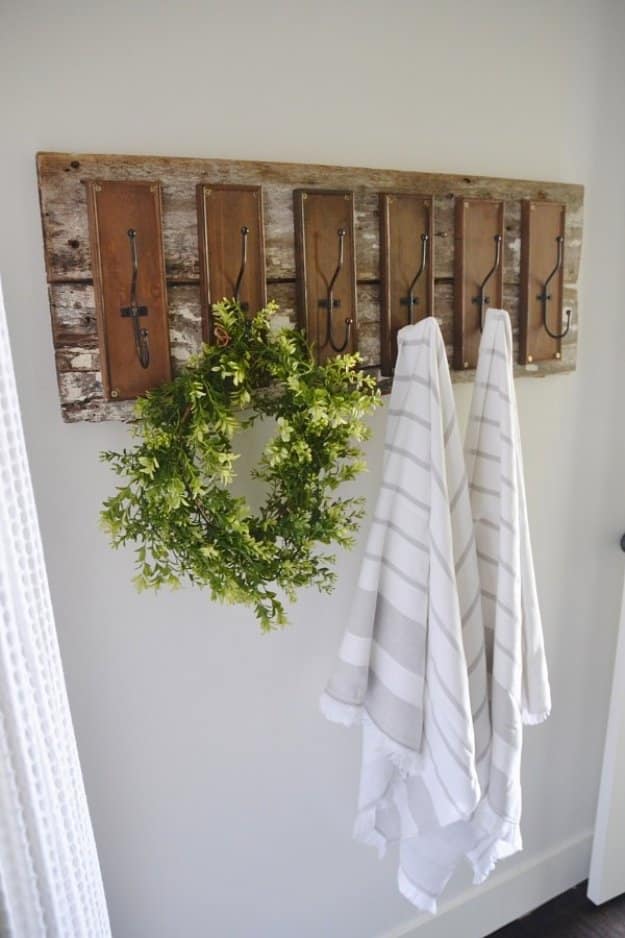 18. DIY Clipped On Bathroom Mirror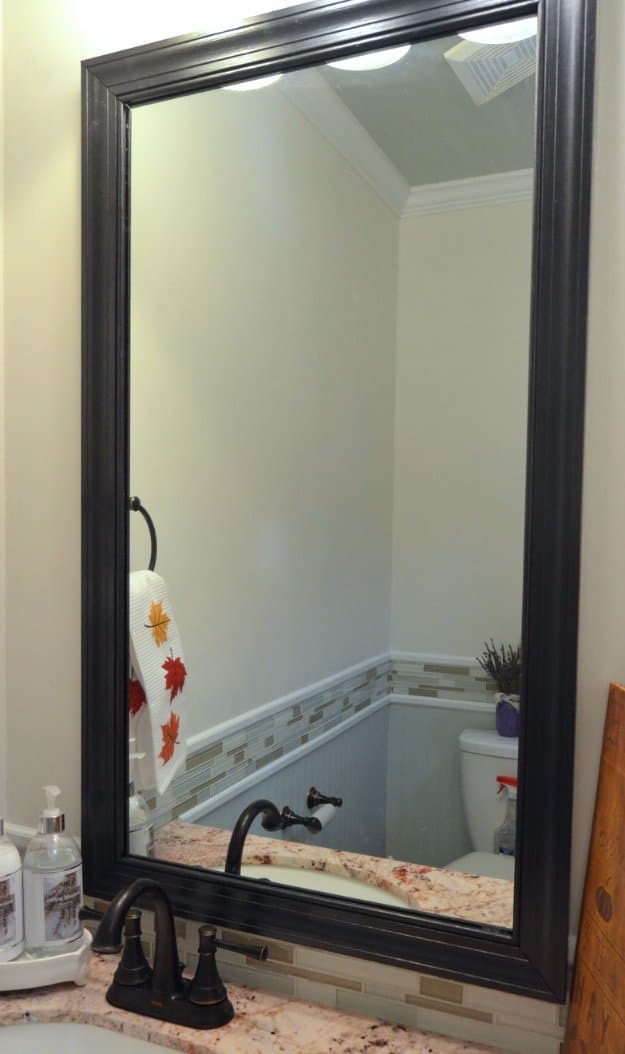 19. Rope and Braided Fibers Bathroom Rug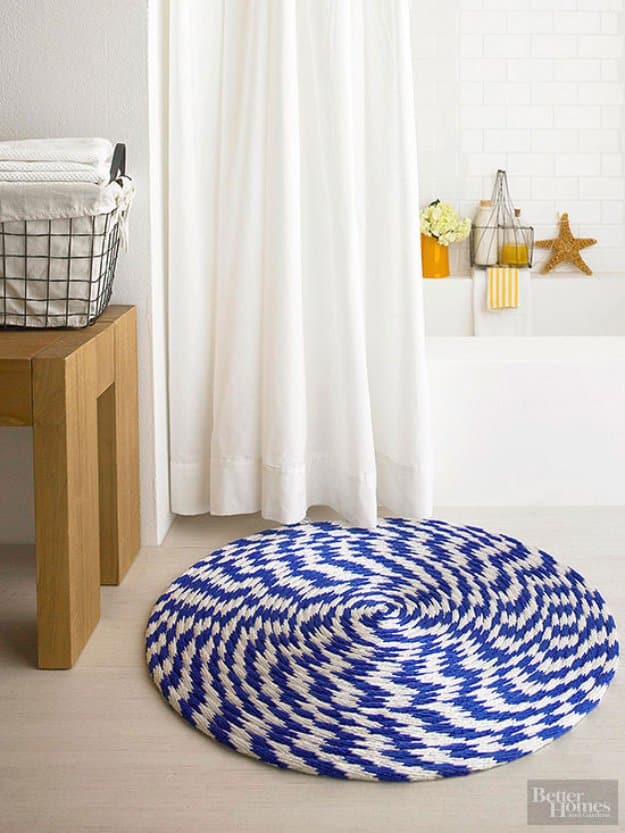 20. DIY Cedar Bath Caddy
http://sawdustgirl.com/2013/11/13/diy-gift-ideas-cedar-bathtub-caddy/
21. DIY Ruffled Shower Curtain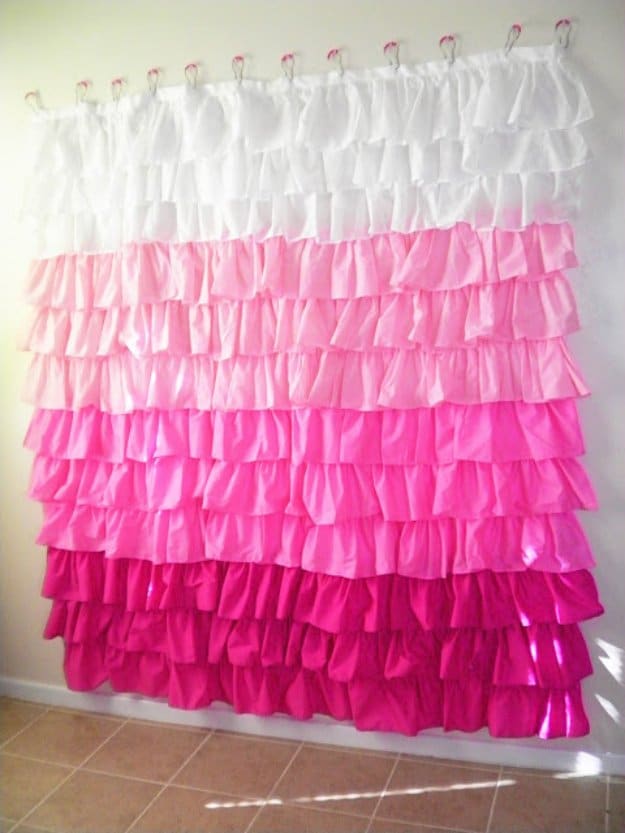 22. DIY Chalkboard Art Towel Rack and Bathroom Accessories Holder
23. Bathroom DIY Magazine Rack Tutorial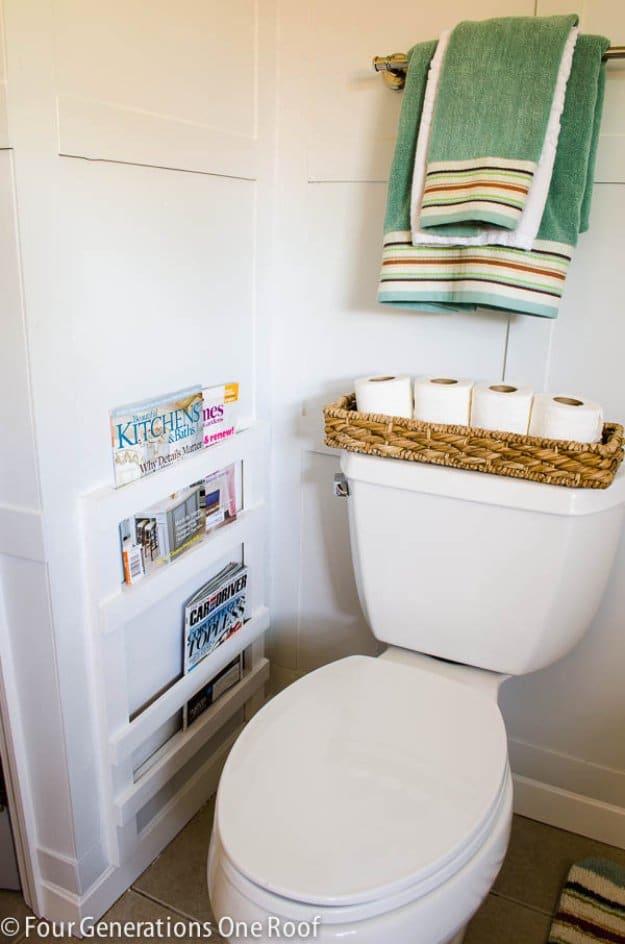 24. DIY Butcher Block Vanity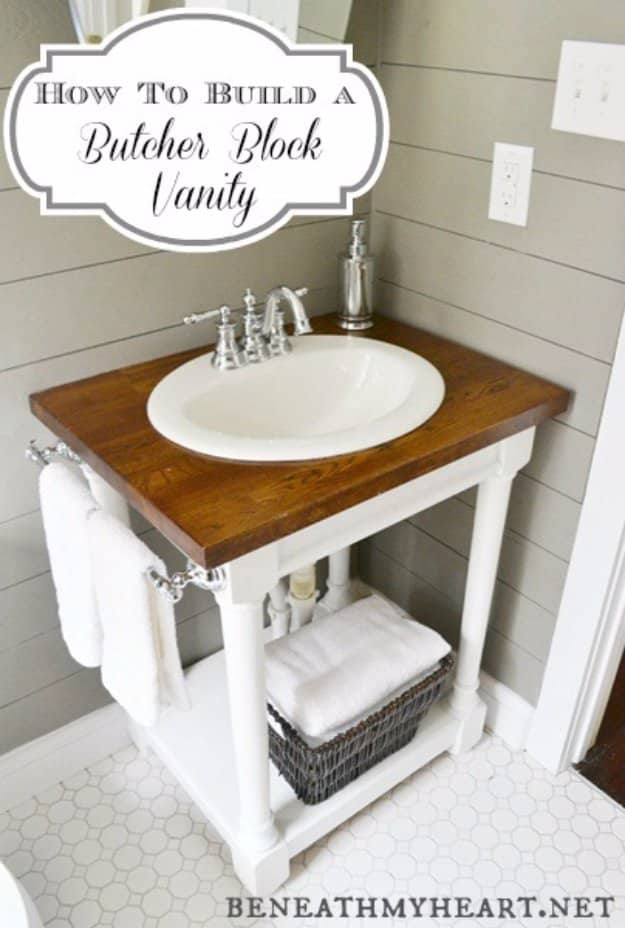 25. Wood Framed Bathroom Mirror Tutorial

26. Mason Jar Tissue Holder

27. DIY Rustic Tub Board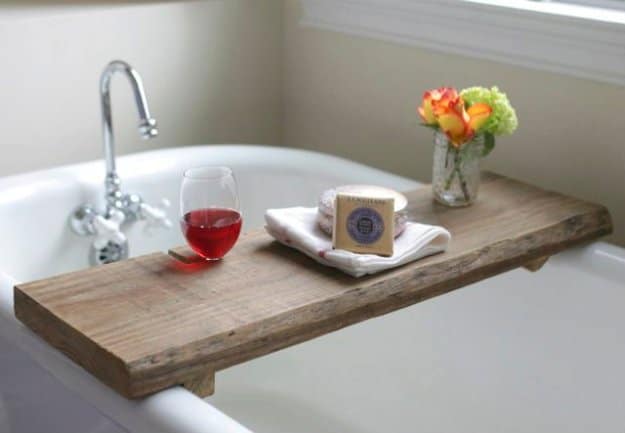 28. DIY Nautical Towel Holder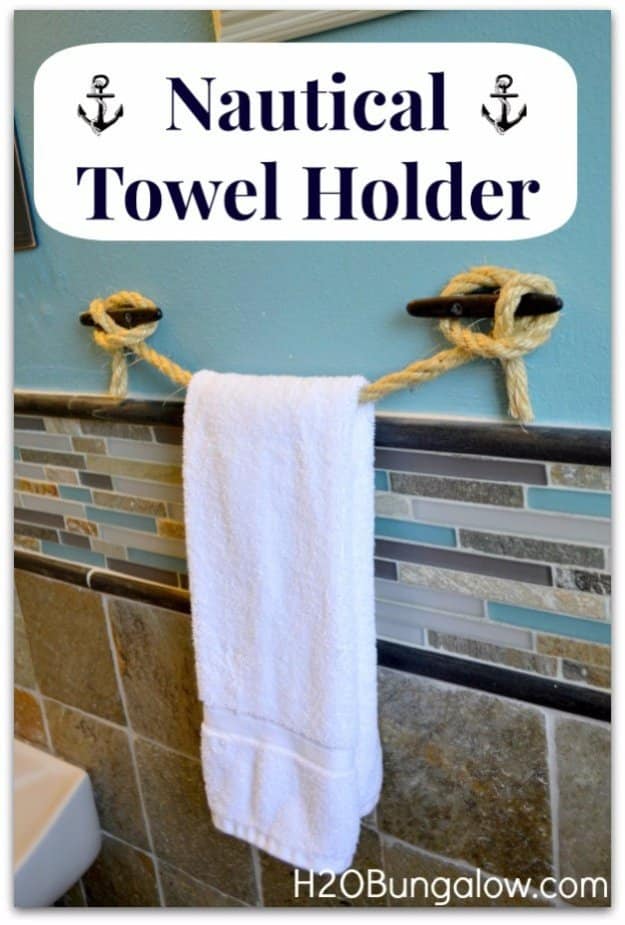 29. Vintage Metal Basket Towel Rack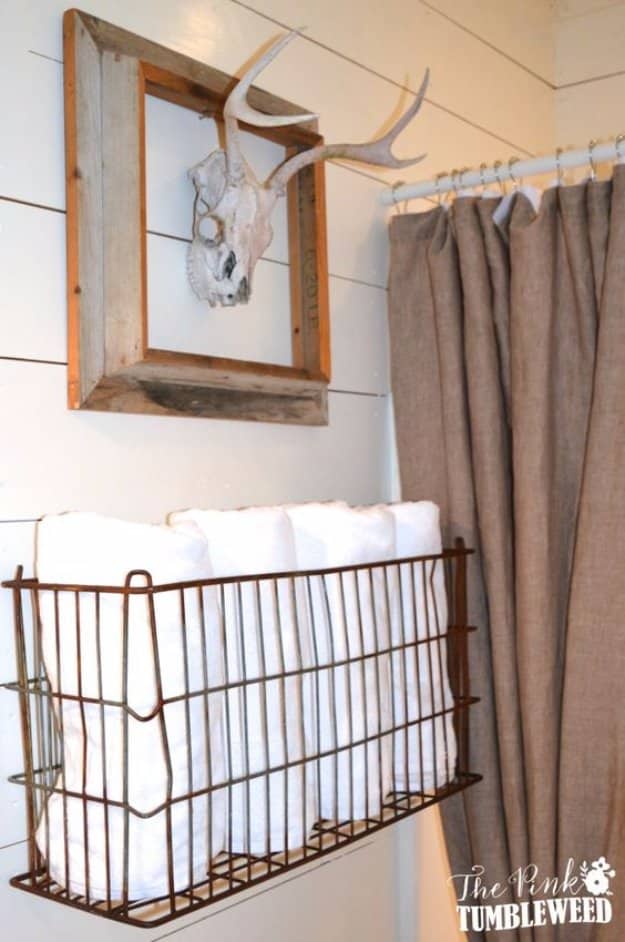 31. Nautical Rope Mirror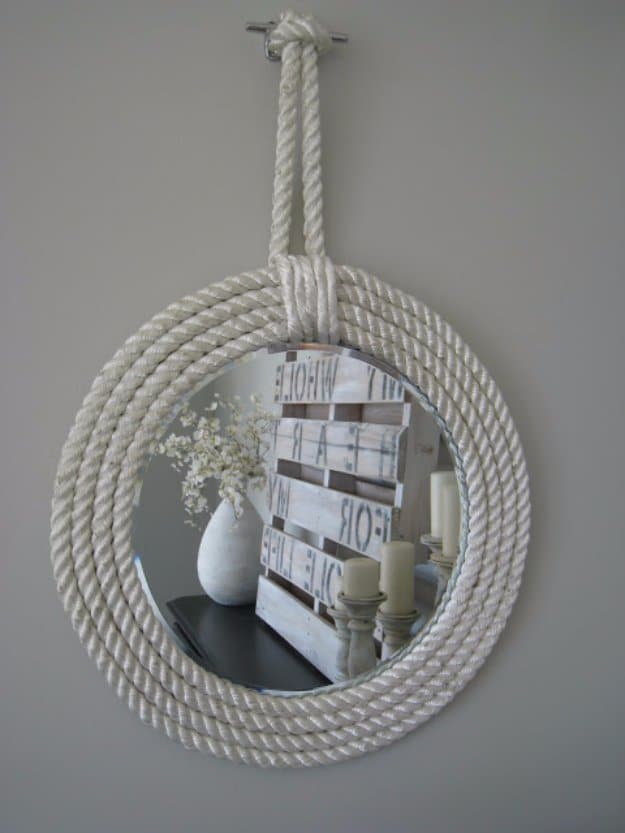 32. DIY Rustic Soap Dispenser
hartsdesirephotohartsdesirephoto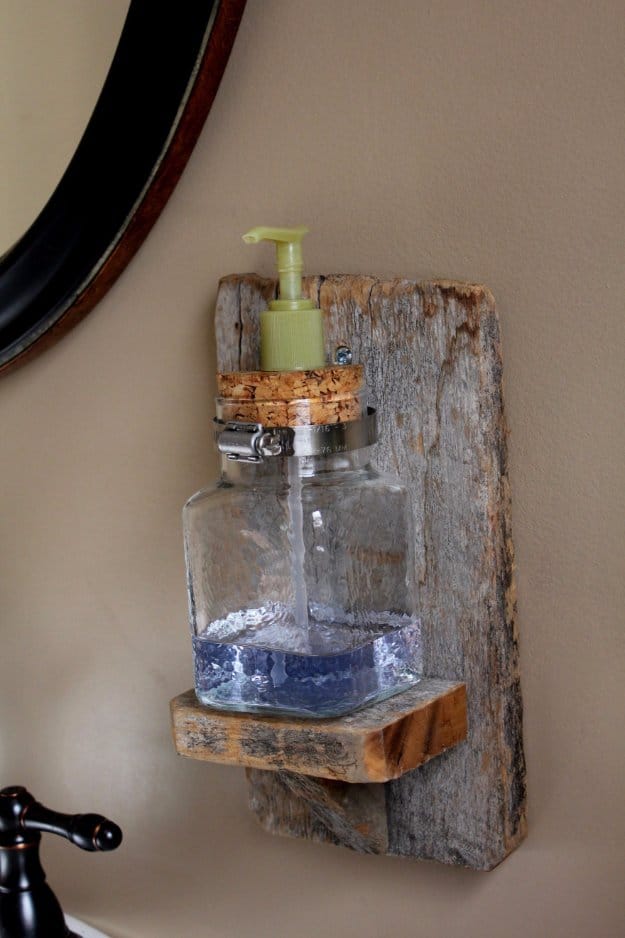 33. DIY Pebble Bath Mat