These delicious oatmeal breakfast bars will surely give you the energy you need to start your day. It's a straightforward recipe by Felu – Fit by cooking on Youtube. This only requires 5 simple ingredients and 5 simple steps. It has a fudgy texture and rich flavor that you will surely love. Watch the video below for full instructions.
Ingredients:
1 3/4 cups of rolled oats
4 tablespoons of cocoa powder (you can use natural or Dutch cocoa)
1/2 cup of vanilla protein powder or whey protein
3 1/3 tablespoons of peanut butter
2/3 cup of milk
salt (optional)
Notes:
1. Rolled oats are used for this recipe because they are thick and have a chewy texture. But if you want, you can also use quick oats.
2. The amount of milk will be enough if you use whey protein, but if you use vanilla protein powder, you need to add 3 tablespoons and 1 teaspoon of water.
Instructions:
Step 1:
Add 1 3/4 cup of oats in a big bowl. Next, add 4 tablespoons of cocoa powder, 3 1/2 tablespoons of peanut butter, 1/2 cup of vanilla protein powder, and salt. Mix until all dry ingredients are combined.
Step 2:
Add 2/3 cup of milk to the dry ingredients and mix with a spatula. No need to add water if you used whey powder, but if not, add 3 tablespoons and 1 teaspoon of water. Mix until it looks like a thick chocolate spread with oats.
Step 3:
Line a mold with parchment paper on all sides. Transfer the mixture to the prepared pan and spread evenly, especially on the corners.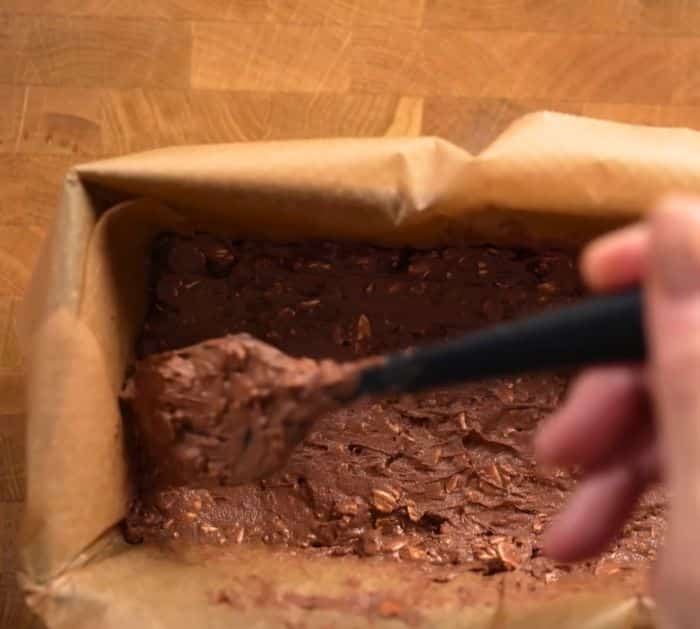 Step 4:
Place the mold inside the preheated oven at 400 degrees Fahrenheit and bake for 25 minutes.
Step 5:
Once done baking, remove it from the oven and place on a plate. Set it aside and let it cool down for about 20 minutes until it firms up. Slice into bars, and they are ready to serve!
Delicious Oatmeal Breakfast Bars Recipe