This creamy butternut squash soup by Natashas Kitchen is the perfect meal to warm you up during these cold months. Nothing beats the taste of this delicious soup – it's nutty, sweet, and comforting. Vegetables were perfectly seasoned and roasted, then pureed and simmered with spices. Read on or watch the video below for full instructions.
Ingredients
1 large butternut squash about 3lbs (peeled, seeded, and cut into 1″ cubes)
2 medium carrots (peeled and cut into 1-inch chunks)
1 medium yellow onion (quartered and separated into smaller chunks)
4 garlic cloves (peeled and ends trimmed)
4 tablespoons of extra virgin olive oil
1 1/2 teaspoon of fine sea salt (plus more to taste)
1/2 teaspoon of freshly ground black pepper (plus more to taste)
4 cups of chicken stock or vegetable stock
3 tablespoons of unsalted butter
3 tablespoons of real maple syrup (plus more to serve)
1/2 teaspoon of ground cinnamon
1/8 teaspoon of ground nutmeg
1/2 cup of filtered water
For garnish:
6 oz browned bacon bits
maple syrup
finely chopped fresh parsley
Instructions
Step 1:
Add the cubed squash to a rimmed baking sheet, followed by carrot chunks, sliced yellow onion, and garlic cloves.
Step 2:
Drizzle extra virgin olive oil, then sprinkle salt and freshly ground black pepper. Toss everything together until the veggies are evenly coated. Spread the veggies in a single layer for even roasting.
Step 3:
Transfer to a preheated oven at 400F in the center rack for about 30 to 40 minutes or until veggies are fork-tender and golden at the edges. You don't have to flip them halfway as you're going to use these roasted vegetables for soup and you're going to cream them too.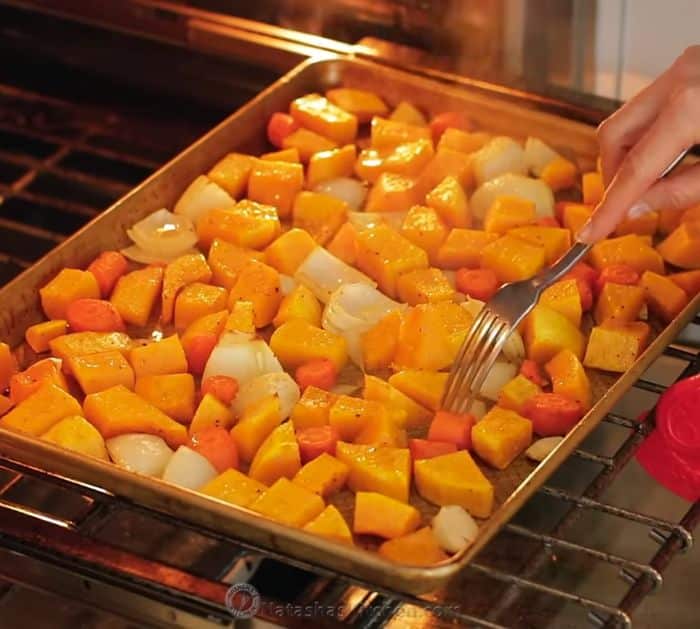 Step 4:
Transfer the roasted vegetables to a blender. Work in batches. Make sure you don't go beyond the max fill line. Start by adding half of the vegetables and half of the stock. Cover with the lid and blend until smooth. If the mixture is too thick, add more chicken broth. Transfer to a Dutch oven or soup pot. Repeat with the remaining vegetables.
Step 5:
Place the pot over medium heat and add half a cup of filtered water. Season with cinnamon and nutmeg and mix until well combined. Bring it to a light boil. Partially cover it and stir occasionally. Once it comes to a uniform boil, add butter and maple syrup. Continue stirring until the butter is melted.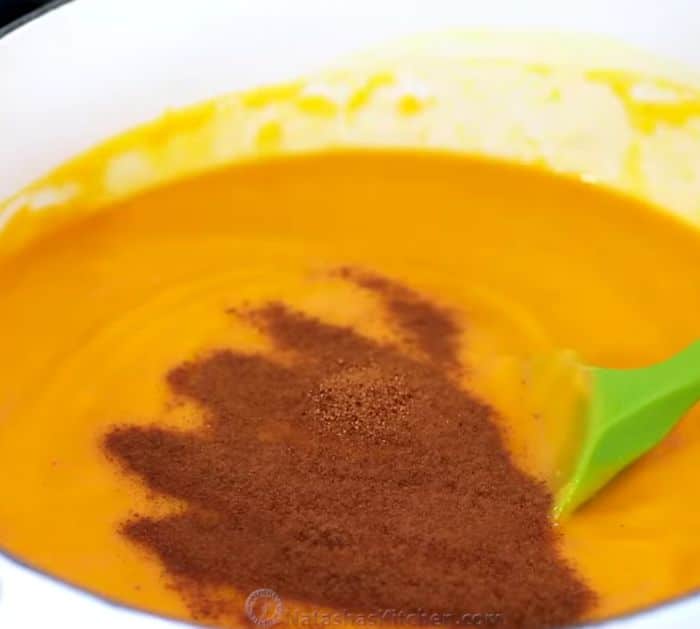 Step 6:
Ladle in bowls, garnish, and enjoy!
Creamy Butternut Squash Soup