DIY Mason Jar Fairy Lights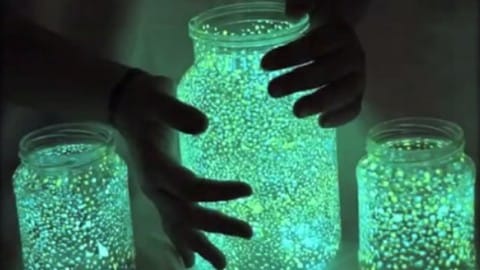 DIY mason jar fairy lights are surprisingly easy to make for the entertainment value they offer. Unlike many DIYs that have long lists of supplies you may or may not find readily available, this one just uses glow in the dark paint, glitter and pretty much any clean jar you can find. I do recommend you get a few different colors of glow in the dark paint to maximize the fairy cool factor, but any craft store and even Walmart will little jars or tubes of this type of paint. A fun and creative craft that can be enjoyed even if you do not do a "perfect" job painting it, this one is inexpensive enough that you can afford to throw it away or at least give it away when you get tired of it.
This cool glow in the dark craft is a neat project idea for kids and teens, but I have to admit that adults find glow in the dark fairies to be mesmerizing as well…. These fairy glow jars are much fun for after dark outdoors ideas, but they also make great DIY home decor for kids rooms or dorm decor (meaning they are great crafts for teens to make, too). I do so love this DIY project because it gives my kids an activity to do during daylight hours, and then something to play with and entertain them once the sun goes down and I have exhausted my entertainment ideas as well as patience for the day. If you are planning an outdoor cookout with your adult friends and your kids will be in tow, this project is a super one for the children to go off and play with after dinner. Check out the tutorial video for an easy to follow step by step instructions and be sure to save this one to your list of favorite mason jar crafts.
DIY Mason Jar Fairy Lights
Materials:
Jar (any clean jar will do)
Glow in the Dark Paint (use several colors if you can)
Paintbrushes (preferably longer ones that reach to the bottom of your jar)
Scrap Paper
White School Glue (optional)
Glitter (optional)
Here's How:
Step 1
So these jars are an easy DIY idea that you can complete in under 30 minutes. All you need to do is set up your supplies and get to work. Place a piece of scrap paper like an old magazine down and then and squirt some of your assorted glow in the dark paints onto the paper. You want to squeeze out enough paint so that you will be able to paint your jars from the paint on the paper. Place a liberal amount of each color on the paper (as shown below).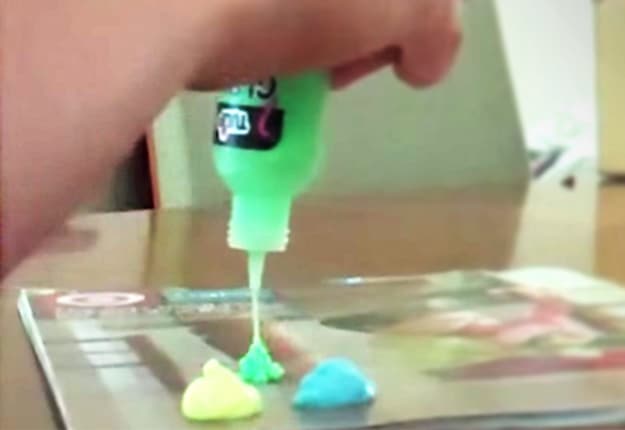 Step 2
I am assuming at this point you have a clean jar for each fairy lantern you will be making. If you do not, please go wash and dry a jar now. Mason jars work great as do old pickle jars and other repurposed glass jars.
Next, you want to start painting your jars with the glow in the dark paint. I recommend using a different paint brush for each paint color, but it is not imperative you do so. Your fairies will look most realistic if you do this (being the fairy painting expert I have now become) but you can always just wash the paint brush between each paint color. I also like to use several colors of glow in the dark paint for each jar, and I will even make some jars in shade of blues and purples, others in yellows and greens, oranges and pinks. Paint your jar starting at the bottom of the inside, dabbing small dots of glow in the dark paint using your brush. If you have several brushes, simply alternate your brushes/paint colors frequently so you get a nice random multi-color effect. I also like to vary the size of the paint dots a little for a more realistic fairy like glow.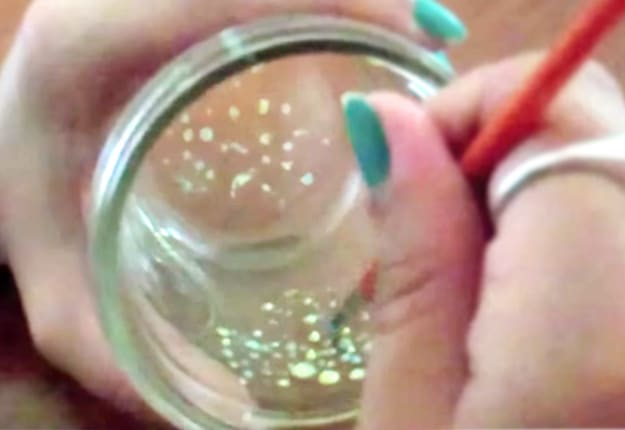 Love this DIY Idea?
Be sure to pin it to save and share on Pinterest

Step 3
Once you have finished painting the inside of your jar, it needs to dry. You can just leave them in a dry place overnight where they will not be bothered, or if you are in more of a hurry and it is daytime, place your fairy jars directly in the sun to dry. In order to activate the glow in the dark paint, you are going to need to allow your jar to soak up UV rays, so it is best to plan this project so that you have time to let it sit in the sun before dark. An hour in the sun should more than suffice for getting your jar to dry and also glow. A bright light bulb can also activate your glow paint, but the sun is going to work best.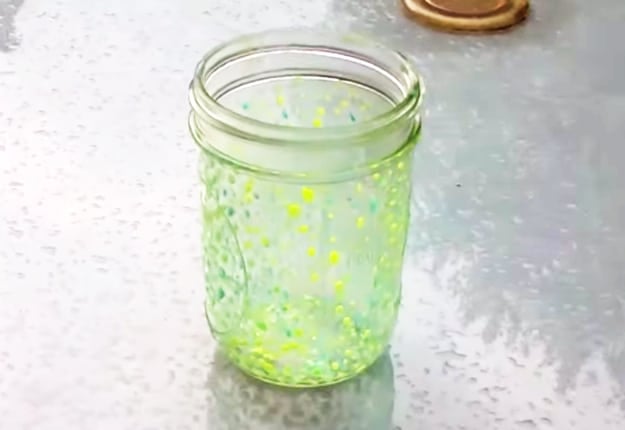 Share this on Twitter
Step 4 (optional)
This additional step is optional but adds a fun touch to your DIY fairy glow jars. Follow this step if you want a glittery lid like we have shown here. We are using a mason jar lid for this one, but you could also get the same effect by just painting the top of a regular jar with glue. Cover the lid with a thin layer of glue and sprinkle it with glitter. This is best done over a paper plate or something you can throw away. Your scrap paper will come in handy again for this step. Shake off the excess glitter and allow the lid to dry.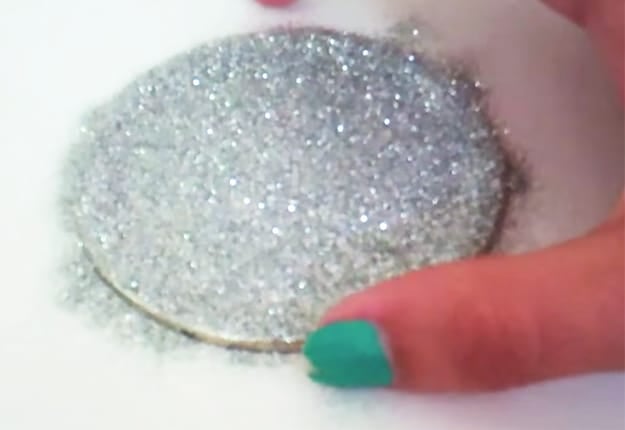 Once dry, place the inner lid onto your jar and tighten the unpainted ring of the mason jar around it.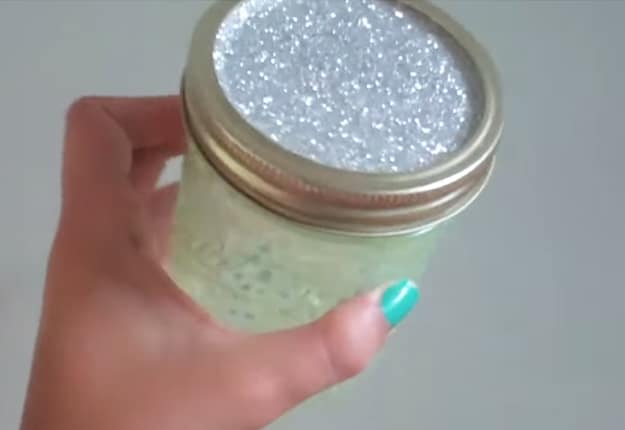 Your jar will be pretty but you don't truly get to see how incredible your fairy light jar looks until the lights are off.
This is what the fairy glow jars look like in the dark. WOW!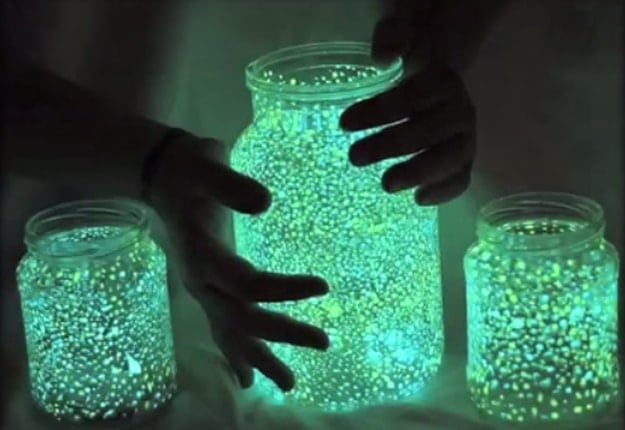 Any time you want to reactivate your glowing fairy jar, simple recharge the paint with a light bulb or sunlight.

Love this DIY project idea for kids? Try these creative crafts for kids, too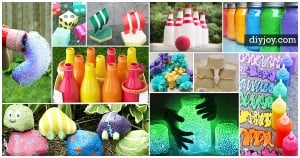 Don't Miss Out! Sign up for the Latest Updates