Wishing your craft room looked like all the gorgeous ones you see on Pinterest? I was, too, but my crafting supplies seem to have taken over the entire room and may soon encompass my entire house if I do not soon find a solution. Not everyone needs the same craft room organizing solution, since we all have our different DIY specialties. If you sew, then your problem is likely too many spools of thread or fabric scraps or buckets of random sewing notions. If you paint, then you may have piles or paint tubes, brushes, and 50 different shades of reds and blues that need sorting. Or, if you are like me, and you love woodworking, sewing, painting, decoupage, paper crafts and every other type of DIY under the sun, then you need a variety of organizing solutions (to say the least!) Most of these projects are inexpensive, too, and pretty quick to make. Leaves you with more time to craft! Check out these cool craft room organizing solutions to see which ones are right for you, then design the ultimate crafting space for yourself.
Cool Ways To Organize Craft Supplies
1. Scrap Fabric Wall Organizer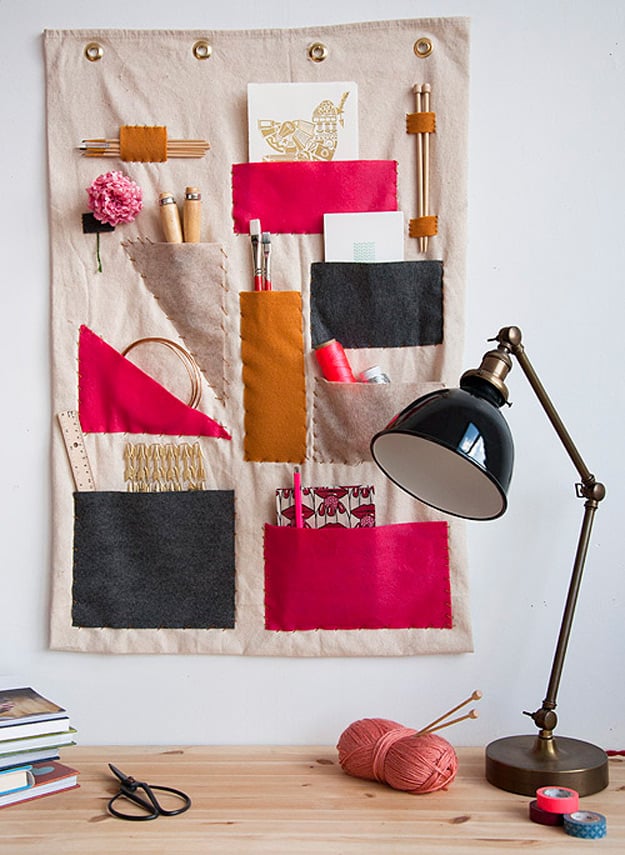 Not sure about what to do with that excess fabric laying around the craft room? Here's an idea from Design Sponge. You can start to sew a Scrap Fabric Wall Organizer made with simple canvas and colored felt to create pockets for some of your many craft supplies. I think I may just have to make one of these. Or more than one – I could see it as a great cat-safe jewelry organizer too.
2. Giant Peg Board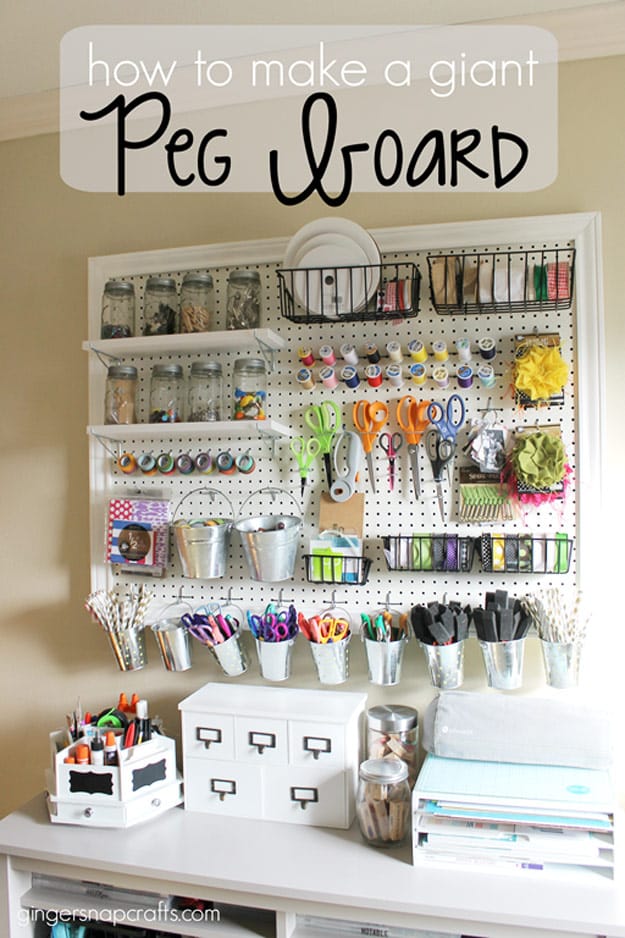 This giant pegboard accent wall is trendy and quite practical. Not only does it look great but its functional too. Learn to make this DIY giant pegboard by following along with the tutorial from Ginger Snap Crafts. It's definitely an afternoon project, & it doesn't take long to get up at all. This is going to be awesome for organizing all of your craft supplies, & it would make a great addition to any workspace.
3. Craft Paint Storage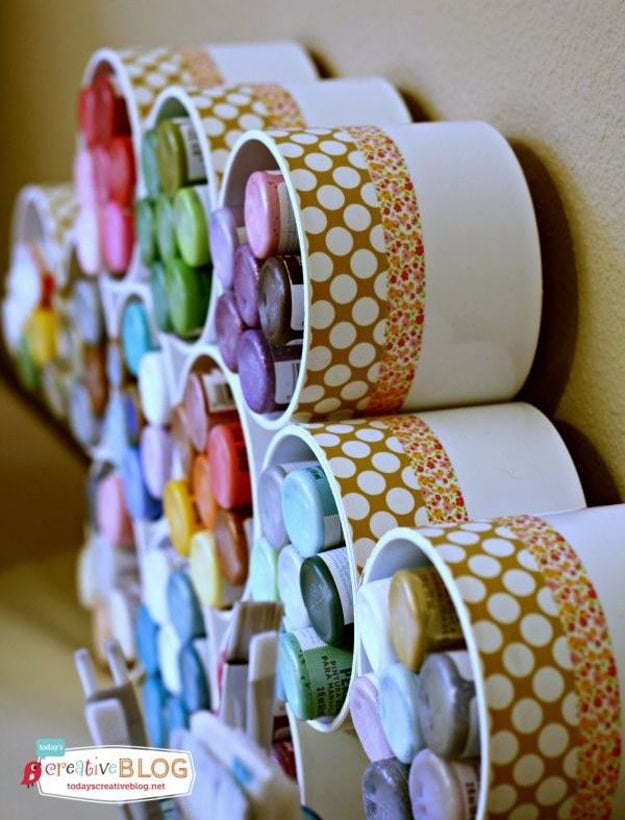 One of these would look awesome in your crafts room!
Wow, this is some serious nifty idea! Store your craft paints on the wall with this simple tutorial using wire shelves and PVC and of course, with the clever tutorial from Hometalk. Totally copying this idea! Wanted an idea for wall storage so I could take the big, space taking stand off my table.
4. Organizing Embroidery Floss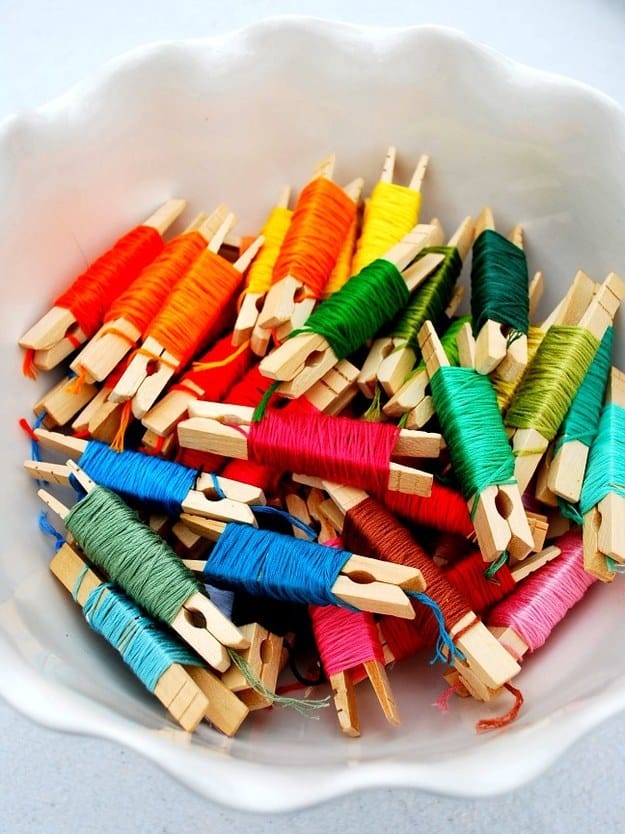 What a great and colorful idea! Mine are stuffed in away in a box, a waste of all those beautiful colors. But looking at how cool, colorful and organized this tip from Heather J's Life is, I would probably replicate this one. Now, I can have a much-organized embroidery floss.
5. Colorful Tin Can Organizer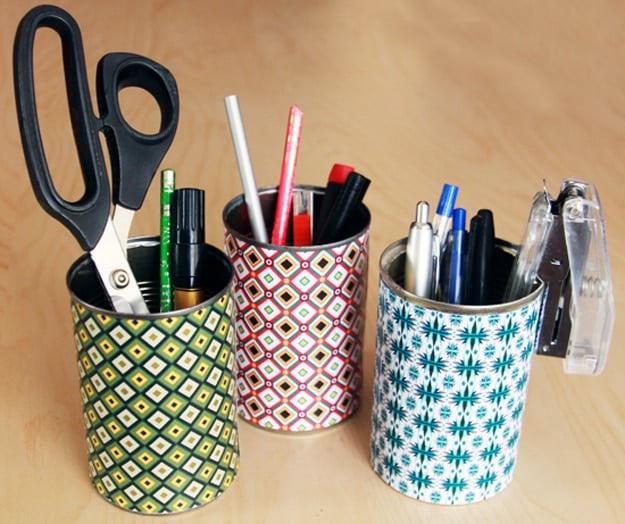 Keep craft supplies organized with this Colorful Tin Can Organizer. These are great for your home, office or studio and as a unique handmade gift as well. You'll need tin cans, printable scrap book paper, measuring tape, scissors and glue or double-sided tape. I just love the simplicity of this project, makes it actually do-able!
6. Craft Room Bucket Organization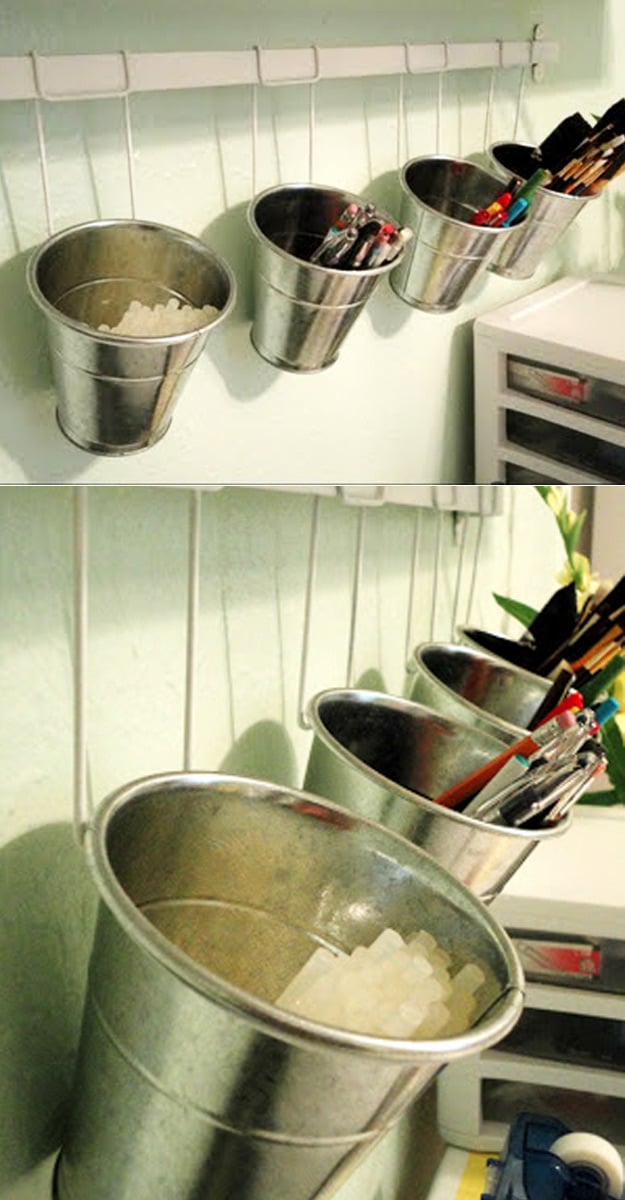 Do you have an area in your house dedicated for crafting? Crafting is messy. Creativity is a process – one that isn't always tidy. Even if the process of arts and crafts is messy, nothing feels like that amazing feeling when you walk into a clean, perfectly organized craft room. Spice it up with this Craft Room Bucket Organization and find inspiration with this tutorial from Clutter Keeper.
7. DIY Magnetic Pin Holder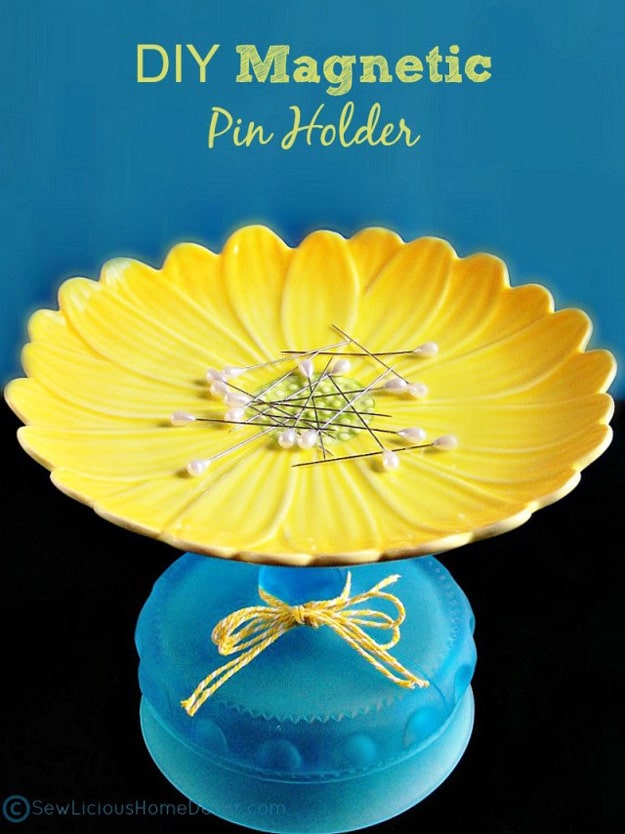 This magnetic pin holder will help you with any sewing projects and looks super cute on your sewing table! All you need is a candy dish and craft magnets. Just tape the magnet on the bottom of your plate and hot glue your plate onto your stand. Sewlicious Home Décor got the full instructions on how to create this awesome DIY.
8. Bobbin Bouquet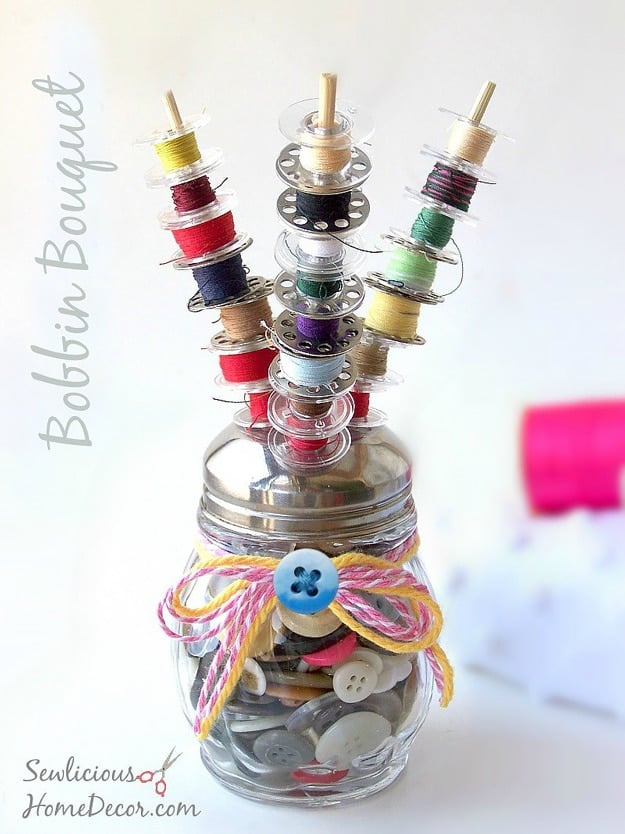 A Bobbin Bouquet is another perfect thing to have in your craft room. Just put a few skewers in a shaker jar and add your bobbins. By making a bouquet of bobbins you can set it by your sewing machine and when you need a bobbin you won't have to go searching for one! I definitely need one of these! My pins seem to end up everywhere.
9. Bakers Twine Organizer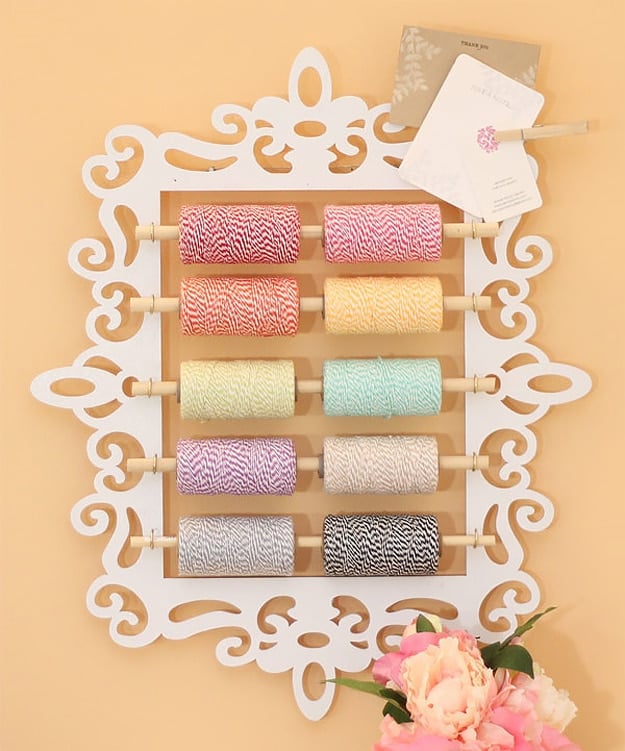 This Bakers Twine Organizer is seriously adorable! I need something to organize my twine, but I can't be trusted around power tools! This is going to the top of my to do list. I think that I might use the square dowel back idea with this frame but then add some chicken wire (or something similar) and create some lovely earring storage too.
10. Doily Pencil Cup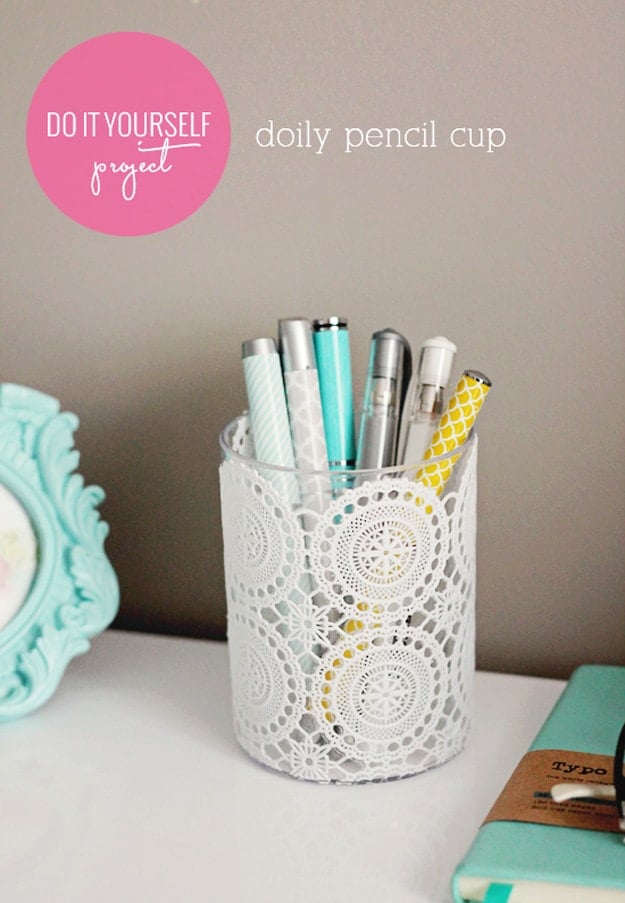 Give your workspace a pop of color by upcycling used doilies and cups. With just a little bit of time and creativity, your desktop will be clutter-free and ready for a seriously successful craft weekend. Pretty and feminine, this lacy DIY is perfect to hold all your pens and Sharpies.