Keep your kitchen tidy and utilize your spaces smarter with these clever hacks by BuzzFeed Nifty on YouTube. Go and watch the video tutorial for more kitchen hacks and see how many of those you think would work or are worth a try.
Materials:
Adhesive hooks
Basket
12-inch steel bracket
½-inch wood screw
Magnets
4-ounce mason jars
Oil
Empty shampoo bottles
Rubbing alcohol
Marker pen
Cutter
Sanding paper
Heat gun
Directions:
Organize using adhesive hooks
Attach a couple of adhesive hooks on the kitchen wall, then hang some baskets, and use them to place and organize your produce. You can also attach hooks to the door of your kitchen cabinets, then use them to place and organize the lid of your pots and pans. This is also very handy in holding your plastic wraps or aluminum foil boxes. Also, you can place an adhesive hook near your sink, then use it to hold your jewelry when you take them off temporarily.
Magnetic spice organizer
Place a 12-inch bracket underneath your hanging kitchen cabinet, then attach it with half-inch wood screws, and place a row of magnets on them. Fill the 4-0unce mason jars with spaces and close the lid, match each jar on each magnet and let the latter hold the spice jars in place.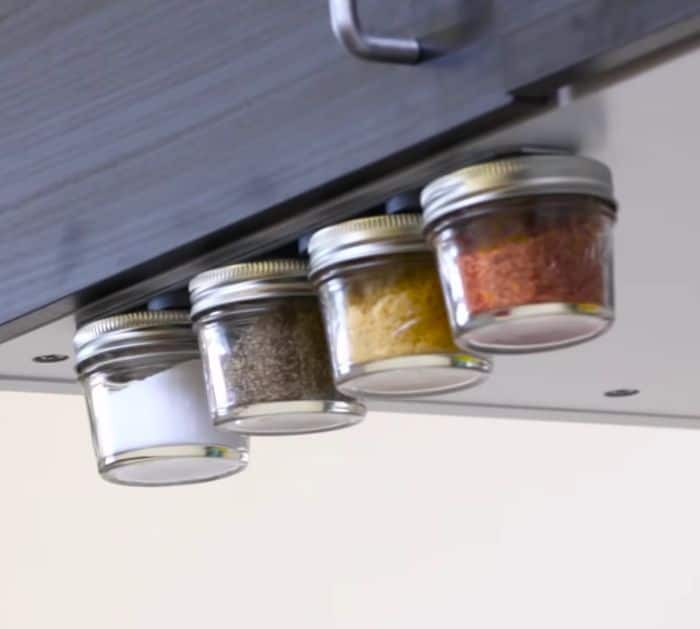 DIY sponge holder
Grab an empty shampoo bottle or similar, then peel off the sticker, and remove the residue using some oil. Rub the sticker off using a cloth, then wipe it clean or give it a good rinse to remove the oiliness. Draw a circle at the front of the bottle and a straight line across the body of the bottle separating it in half, make sure that the line is on the top part of the circle. Cut it out according to the marking, then get rid of the bottom part of the bottle. Use rubbing alcohol to erase the marking pen ink, then sand the rough edges of the bottle, and remove the cap. Place the sponge holder upside down and insert it at the base neck of the sink faucet, then place the sponge.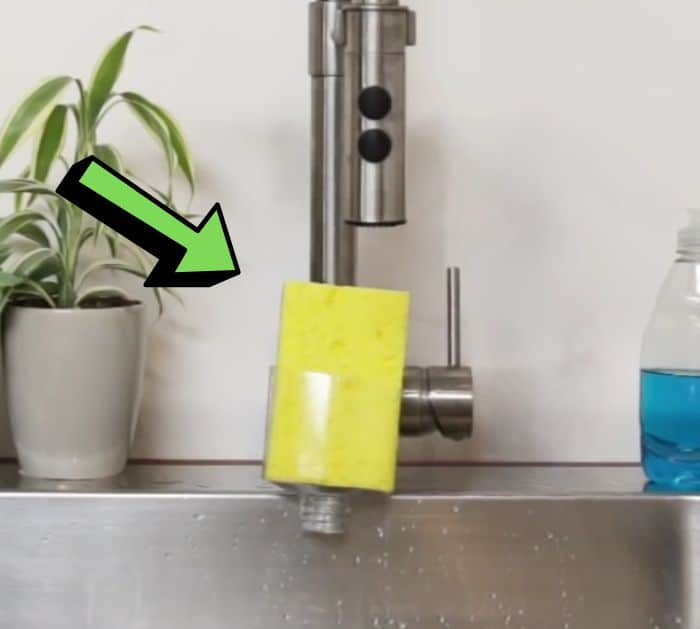 Double DIY sponge holder
Instead of drawing a circle at the front center, curve each side of the bottle, then cut it out creating an hourglass shape. Punch holes on the bottom part of the bottle for the drainage. Using a heat gun, blow on the narrow area or the bottle then bend it, and place or hang it on the barrier of the double kitchen sink. Place the sponges on each side of the holder.
*These amazing images are all credited to BuzzFeed Nifty via YouTube. Check their other content and follow for more!
4 Clever Kitchen Organization Hacks