We love making DIY gifts for Christmas, but learned that even making things can add up to a major expense. I thought by making handmade gifts last year that I would be saving a ton of money, and was I ever surprised to learn, when I totaled up my receipts, that I had spent almost as much making things as I would have to buy them. Now this surely does have to be the case, I think. This year, I went looking for some cheap DIY gifts, and was thrilled to find some awesome ideas that could be made on a budget. From cool dollar store crafts to easy ideas you can make from things you already have, we just love these incredible homemade presents. Check out the easy to follow step by step tutorials and get busy making!
Cheap DIY Holiday Gifts
1. Gold Leaf Paper Mache Bowls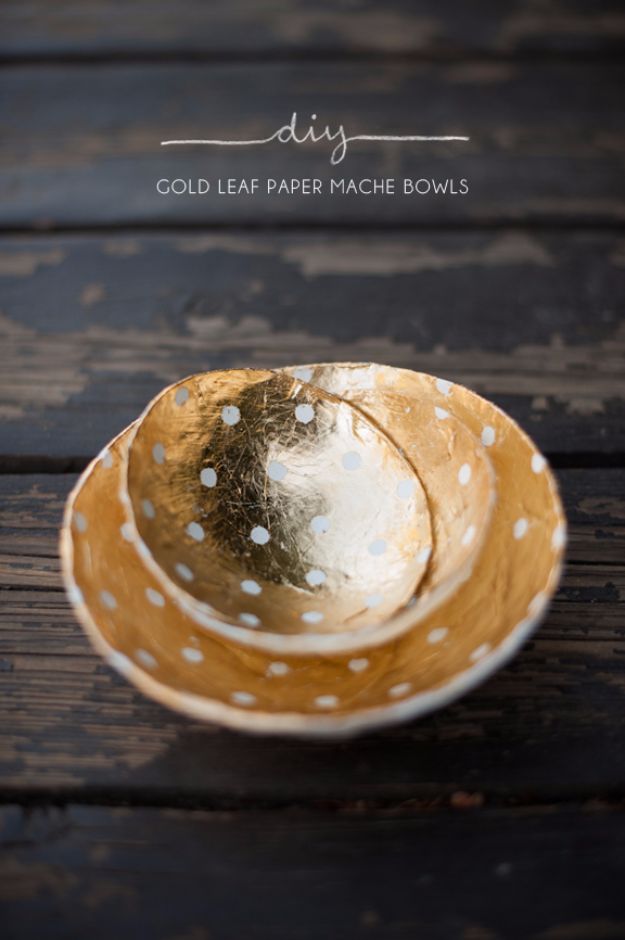 So, I think this might be my favorite DIY to date. It's just so practical and pretty! A few friends and I decided we would get together once a month for an all-day craft day to create some beautiful DIY Christmas presents for our friends and family. We had been wanting to try out gold leaf for a while now. And we thought these paper mache bowls would be a perfect application. Our intent was to use them as jewelry dishes. We used balloons, newspaper, and mod podge to make the bowls. We used the gold leaf as in the DIY tutorial, but craft paint does very nicely as well. This is a very rewarding project and will not disappoint on any level. One of my favorite easy DIY Christmas gifts to make for friends or just about anyone, this crafty idea always seems to turn out nice, even if you don't think you have much artistic talent.
2. DIY Ombre Kitchen Utensils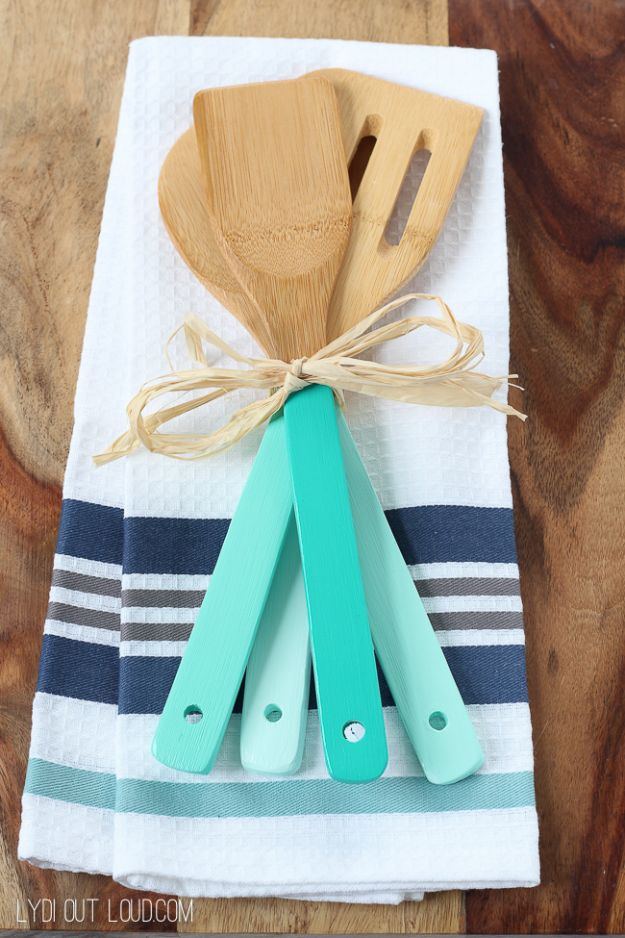 I really needed a quick gift for one extra guest this Christmas and I live in the country and had no time to drive to town and shop. So I had some bamboo utensils that had never been used and I decided to do a DIY craft paint job on the handles in an ombre style. I just used a Martha Stewart favorite 1950s kitchen color scheme and tied them together with a raffia bow. Instant success is what this DIY craft is, the unexpected guest felt very loved and welcome, which is the way I want everyone to feel. If you have people on your Christmas gift list who love to spend time cooking, these pretty DIY kitchen utensils should make them happy when they open their present. I love to keep these on hand in case I need them for last minute birthday gifts, too.
3. DIY Floral Embroidery Hoop Wreaths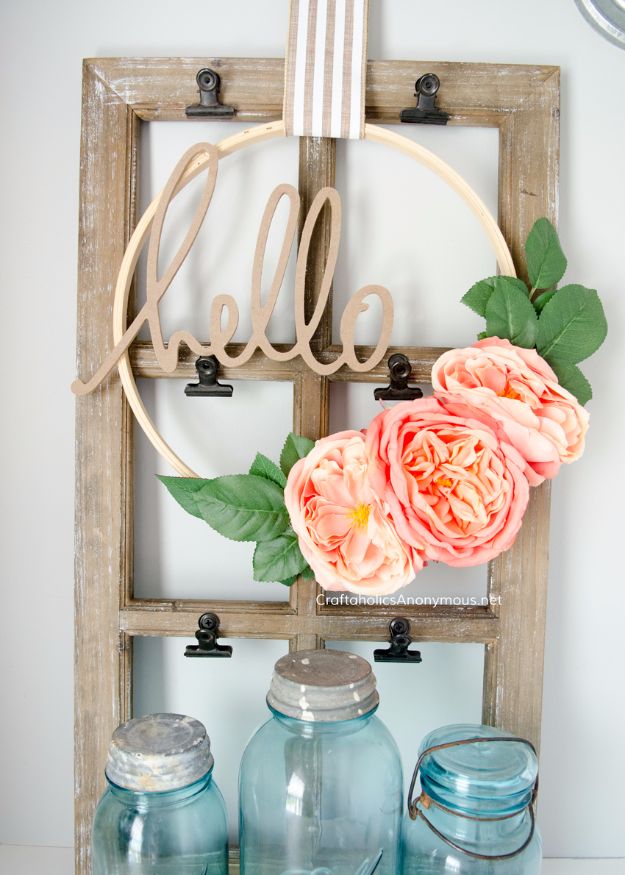 These DIY Embroidery Hoop Wreaths are so original and rewarding to make, I am seriously in love with this wreath. Borderline obsessed. I saw those pretty faux flowers in Michael's craft store when I was shopping for this month's Michaels Makers post and had to have them! And check out that awesome ribbon? I had to use that on ribbon with the flowers and add in my other still life elements. Its basically an anything goes DIY priject, the sky is the limit here, let your imagination run wild, there is no right or wrong way to do this one, 😉
4. Wood Burned Photo Frames DIY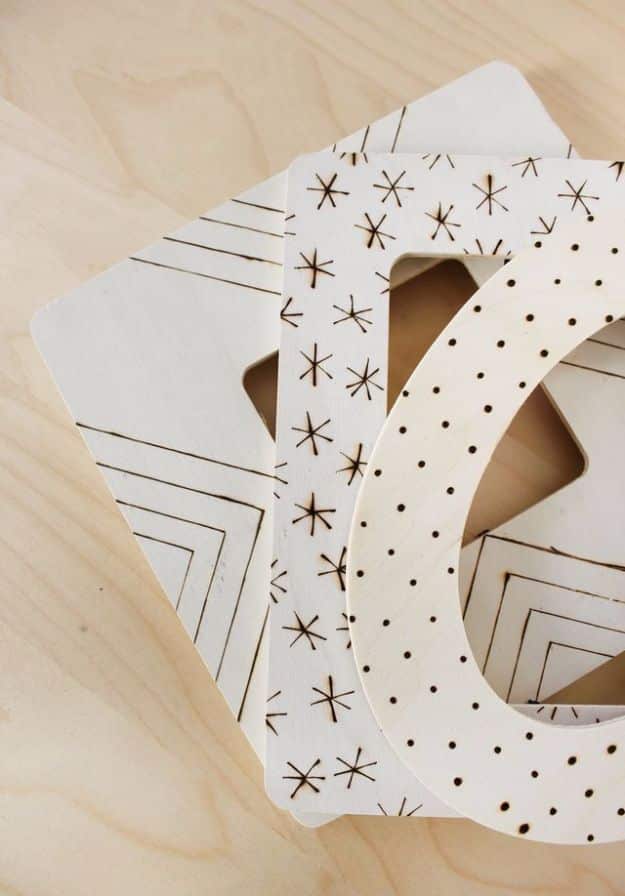 I love large black and white frames for a gallery wall, but when I'm creating a smaller, more intimate vignette with family photos, I like to add in details that compliment the rest of my space. This trio of wood burned frames ended up being the perfect way to showcase some family photos we had done before leaving England, and it was fun combining a rustic craft with some more modern designs.
5. DIY Monogram Soap Bottles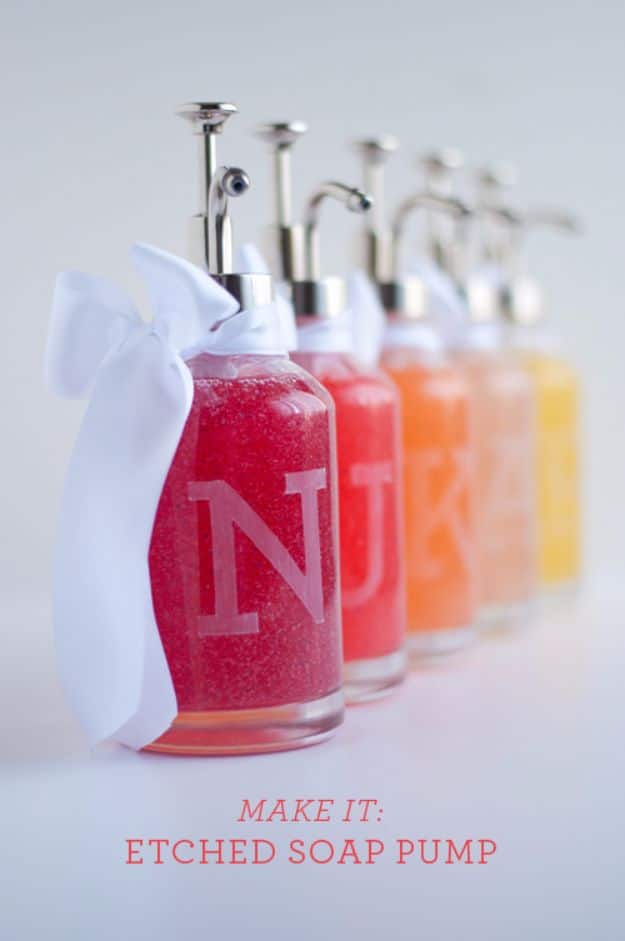 I needed an affordable DIY Christmas gift I could produce a few of for my kid's teachers. I found these pump bottles at the Dollar Store and made some delicious wholistic liquid soap using Dr. Bronner's as a base. Teachers buy so many things for their students from basic food, to warm coats, to field trips and there are so many good, straight out of the box, practical items that would make great gifts. But I know sometimes it feels special to give a handmade gift, so I thought it would be fun to come up with something that would work at school or at home, and that could be personalized too. Etched soap pumps fit the bill wonderfully! They're easy to make, they look great, and you can pair them with a classroom donation, or give them as a stand-alone DIY Christmas gift.
6. DIY Marble Dipped Mug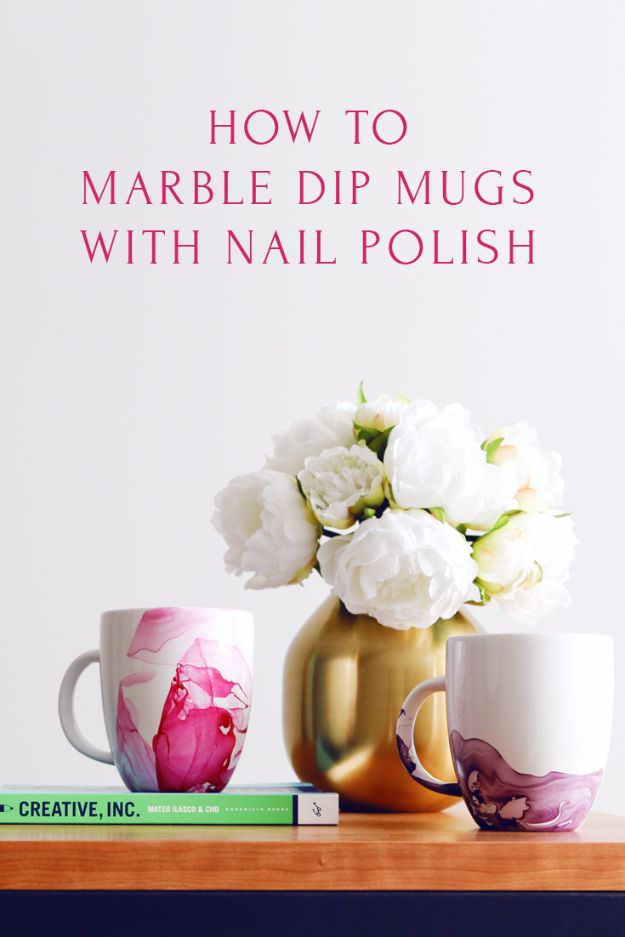 Pinterest! I've been meaning to do a quick and easy DIY on the blog and was looking for some inspiration when found this DIY watercolor mug project. The DIY mugs were so awesome looking, I had seen marbling techniques on nails but on household items, but these were really different. That's when the lightbulb lit up above my head while sipping on tea and honey out of plain white boring mugs. These little guys could use a bit of pep, so here we go! Get some nail polish and create a DIY Watercolor Mug!
7. Easy Pineapple DIY Bookends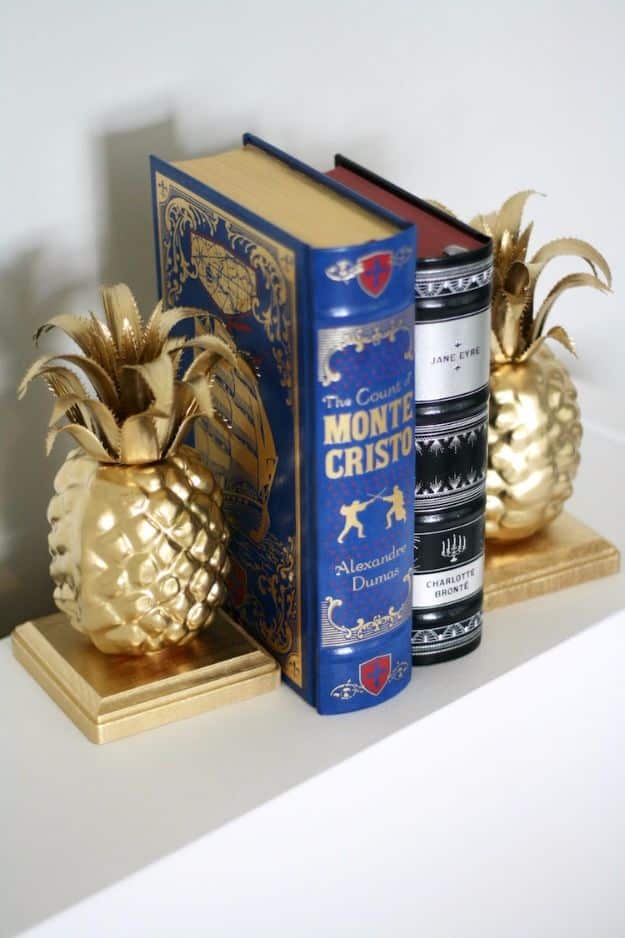 I love elegant home decor and I was in the process of redecorating my living room and knew I wanted to display some of our favorite classic books and needed some bookends to hold them in place. We, like everyone else, are obsessed with the pineapple trend right now, so that seemed like the natural choice. I saw this excellent idea on Pinterest and decided to give it a whirl, I just got two plastic faux pineapples, two pieces of wood and a can of Rustoleum from Michael's craft store. The results are amazing and the entire DIY project took about 45 minutes.
8. DIY Tea Towels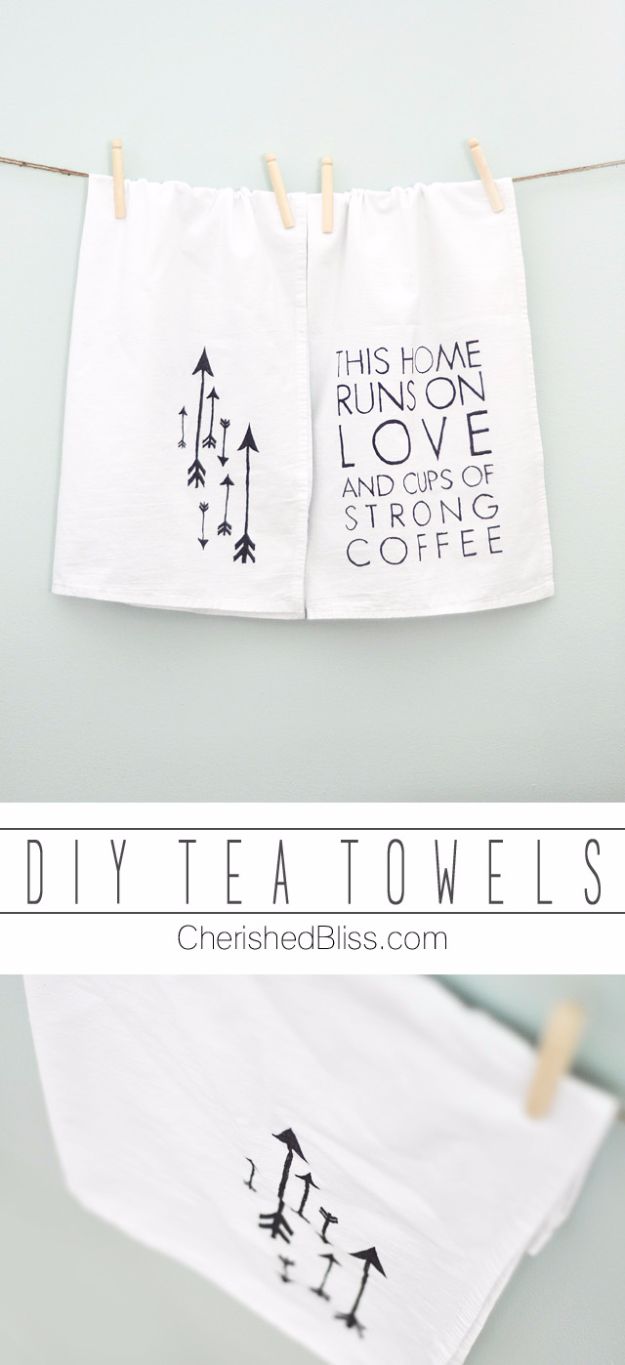 My best friend finally was able to buy her very own house. She had been living with her family, who she really loves, but it was a big step that she needed to finally take. Its a little Victorian style cabin by Lake Buchanan and she's doing her kitchen in a farmhouse country theme, shes even got a 1950s O'Keef and Merrit Gas range in bright red. I am so happy for her and so thrilled at her bravery to finally strike out on her own, I knew I had to make something extra special for the wonderful new kitchen. I decided on the handmade ink stamped dish towel, so they could be draped along the handles of that beautiful range. She cried when I gave them to her, she's so happy about her new place in the Sun.
9. DIY Wood Triangle Trivets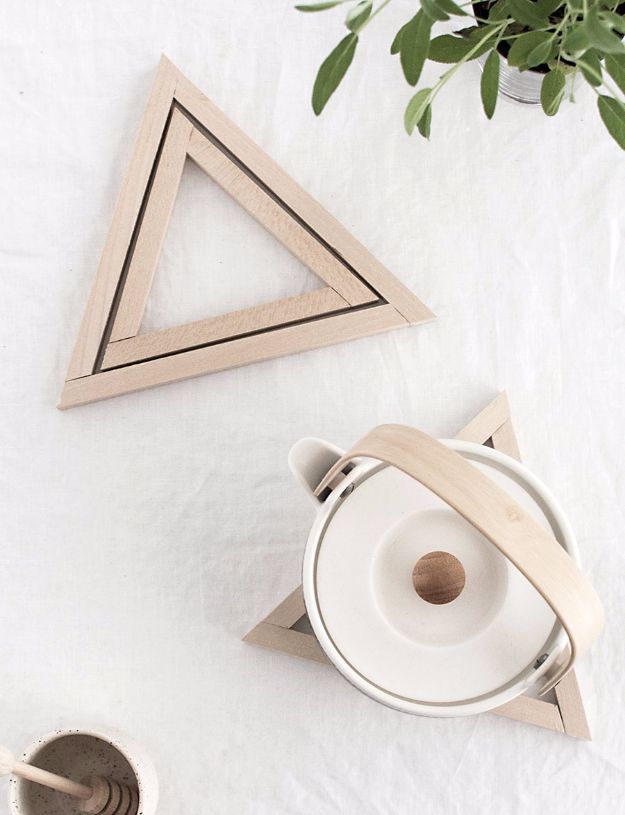 Is a home really a home without a trivet? Let me tell you, trivets are useful and they're good to have, that's all! I was inspired by this DIY craft idea and wanted to make my own natural wood version, which turned out to be even easier than expected. You could certainly stain or dye them, and you could also save yourself those steps and they'd be just as beautiful. They make excellent gifts and are a positive addition to any table.
10. $10 DIY Succulent Frame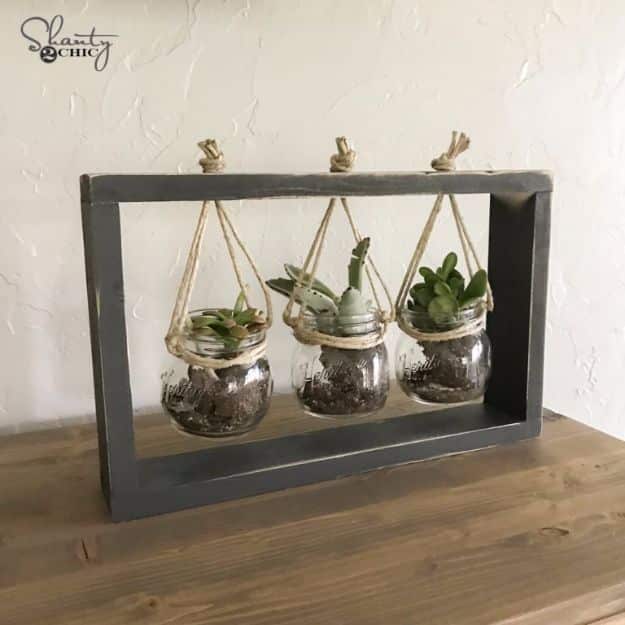 I love succulents and this frame with suspended mason jars is the cutest DIY craft I've seen in a long time. There are instructions to make the frame in the link, but I upcycled an old frame from the Salvation Army and it worked beautifully. I made one for my Mom for Christmas and she cried, she loved it so much! 😉