Have more weddings to go to than you can count and more wedding gifts than you can afford? Perhaps you are also looking for something super special and unique to give the bride and groom. For me, buying off a gift registry always leaves something to be desired. I understand couples sign up for and want these things, but I often want to give something that is memorable and one of a kind, especially when I know the couple well. DIY has come to mind before, but the last thing I want to give is something tacky and handmade that does not fit the occasion. So, I went looking for some classy, expensive looking and really cool DIY wedding gift ideas and found 37 awesome ones I wanted to share with you. These are so impressive, I am already wanting to keep a few for myself. Be proud to give one of these elegant but cheap wedding gifts, just choose your favorite and follow the step by step tutorials to learn how. We promise you can now expect a long thank you note in the mail 😉
Whether you are looking for something traditional to give as a wedding gift, something creative and unusual or something practical to give the newlyweds, we have the best choices here for cheap DIY wedding gifts. From kitchen accessories and serving dishes to a varierty of wall art ideas that will look great in the new home of the bride and groom, these crafty wedding gifts can be made inexpensively and without a whole lot of time. Make a handmade gift that stands apart from all the other wedding presents the couple receives, check out these awesome DIY wedding gifts…
Cheap DIY Wedding Gift Ideas
1. DIY Painted Wood Cut Platter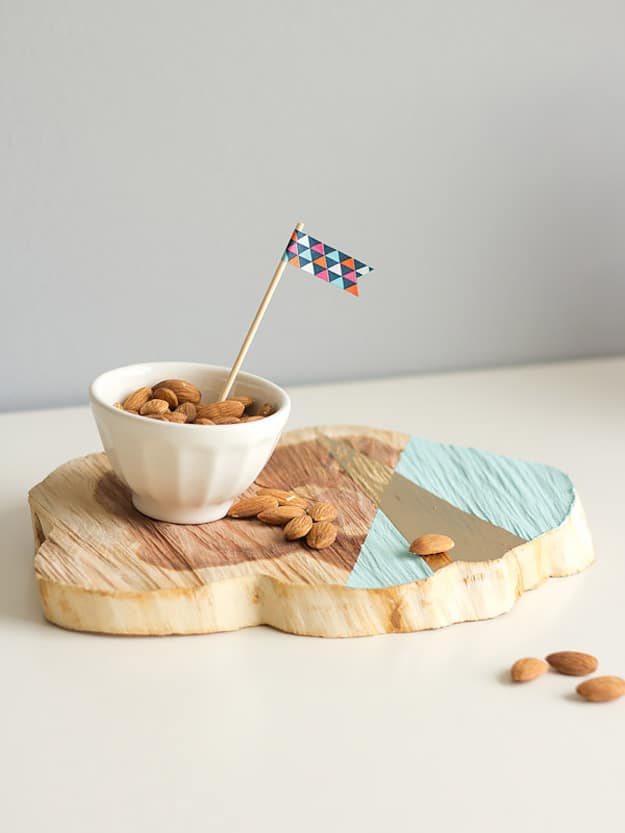 This pretty handmade wood platter is something close to a work of art but functions well as a lovely serving tray. When I first got married, serving pieces were some of my most valuable things in the kitchen, as it seems like we were always entertaining. This tray fits nicely in both casual and formal settings, so it is versatile and sure to be put to use. Perfect for cheese or meats, a tray for nuts or other munchies, this DIY project is quick to make and only costs a few dollars to make.
2. DIY Geometric Coasters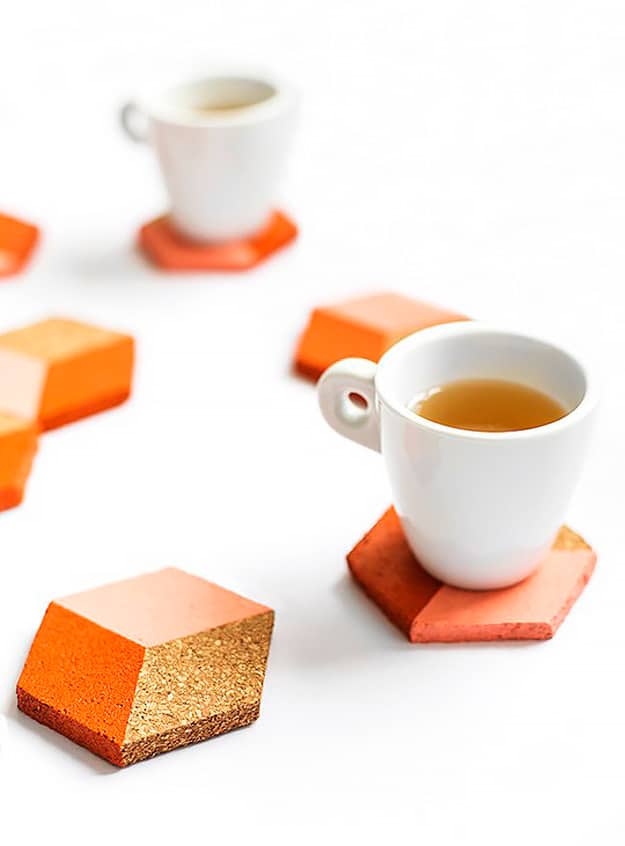 The bride and groom are sure to think of you fondly when they share coffee together over these cool geometric coasters. A thoughtful DIY wedding gift idea that looks anything but handmade, these coasters sell on Etsy for several dollars apiece. Make a set for less than $10 and wrap this gift up to proudly give to the happy couple.
3. Wire Wrapped Serving Utensils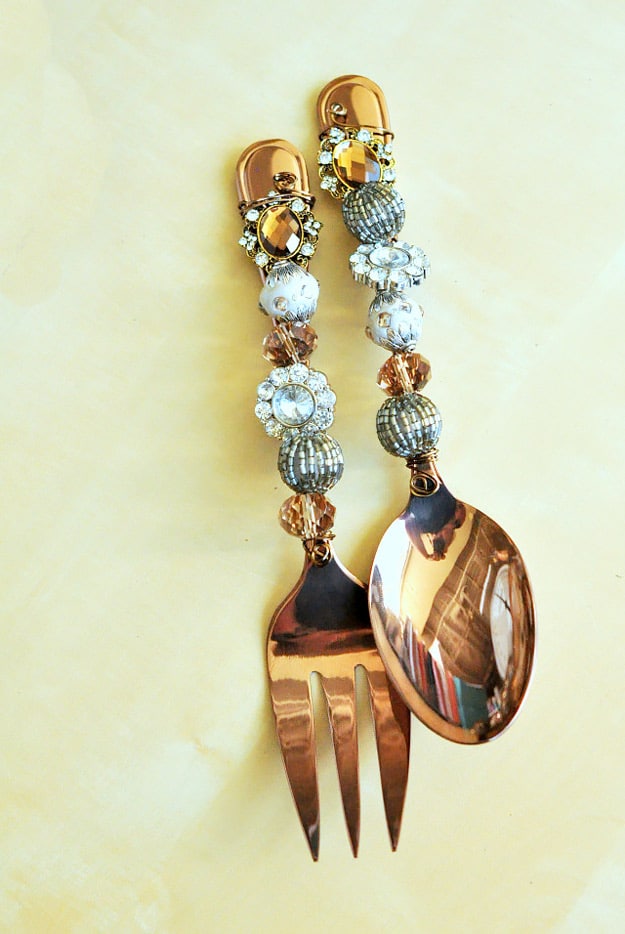 Salad tongs, they surprise me how much I love having nice ones. Seems such an afterthought, but when you love serving and eating salads, then what you toss them with really matters. I have acquired several cool wooden salad bowls over the years, and also several sets of pretty tongs. Give the newly married couple a set to cherish and use for many years. This fun set uses vintage inspired beads, or even real vintage beads and jewels to make for the prettiest of forks and salad spoons. A DIY wedding gift idea that you can be guaranteed not to see somewhere else, this is one of my favorite projects out there to make for people, married or not.
4. Modern Oil And Vinegar Bottles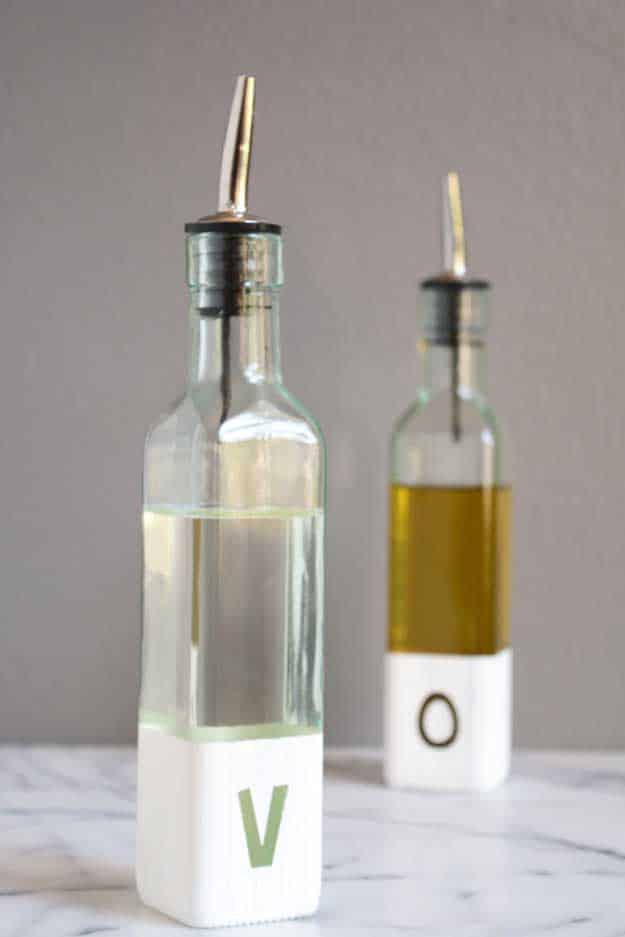 In an effort to eat healthier, I am cutting out a lot of processed foods. I'm going back to the basics, and dressing my salads with simply oil and vinegar is a good place to start. I like to keep these ingredients on my counter, ready to be used. But, if they are going to sit out on my counter, they have to be cute. So I customized a couple simple bottles I picked up at Target for $4 each. Simple letters in crisp white give these bottle a clean modern look and feel. It was super easy and they look very European on my counter. These DIY Oil and Vinegar bottles make wonderful gifts.
5. DIY Welcome Mat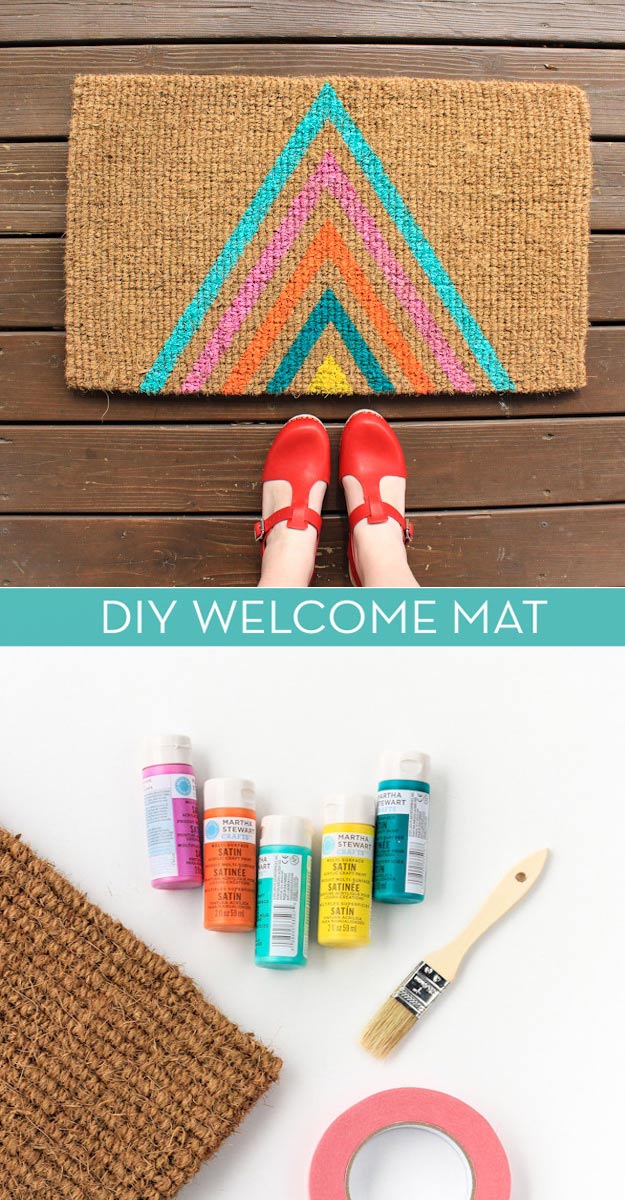 My coworker is getting married next week and I had no Earthly idea what to get her and her future spouse for a wedding gift. Then I thought, it's the time of year when we're all spending more time outdoors than inside them. Keep the threshold separating the two cheery and functional with this geometric welcome mat! I purchased the rope matt from Target and used some paint I had laying around to create this masterpiece. They loved it and it looks fabulous on their new front porch.
6. Dip Dyed Frosted Tumblers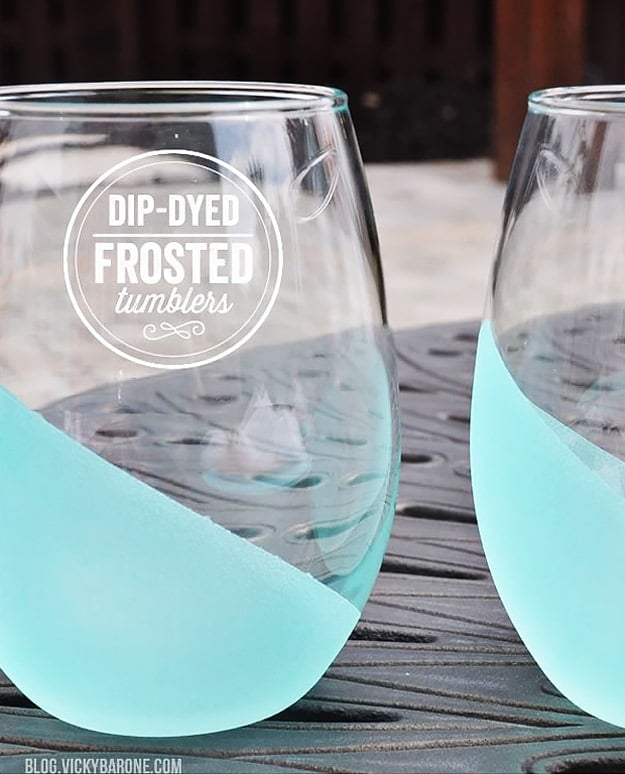 These DIY dip dyed frosted tumblers make the perfect wedding gift. I saw some at a Summer party and I liked them so much that I just had to make some more. Again I went with Martha Stewart's glass paint collection, but this time I tried the "Frost" paint. It is an awesome product and we're so happy with how these turned out!
7. DIY Wedding Wine Box Gift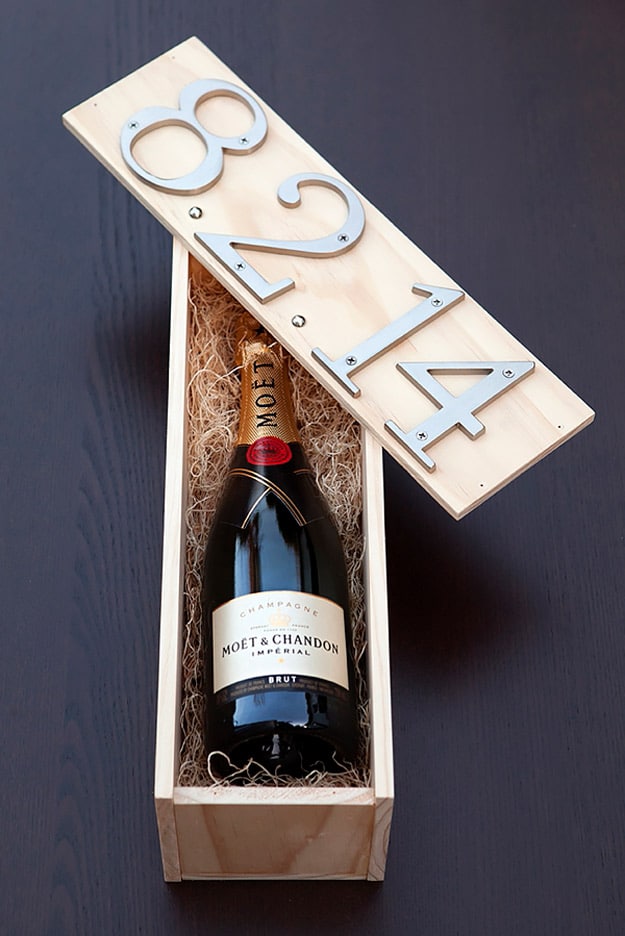 We absolutely love new traditions especially when they are this darling! It has become quite popular for wine loving couples to seal (by hammer and nail) a special bottle in a darling custom box during their ceremony – only to be opened on their first anniversary. Gaahhhh… are you dying ~ isn't it an adorable idea!!! Who wants to eat year old cake anyway!? Seriously, I would have done this in a second if it was a thing.. way back when we were married. So me and my Dad measured almost every wine bottle out there and made the perfect blueprint just for you… to make a very special, handmade keepsake wedding ceremony wine box…
8. DIY Cheese Knives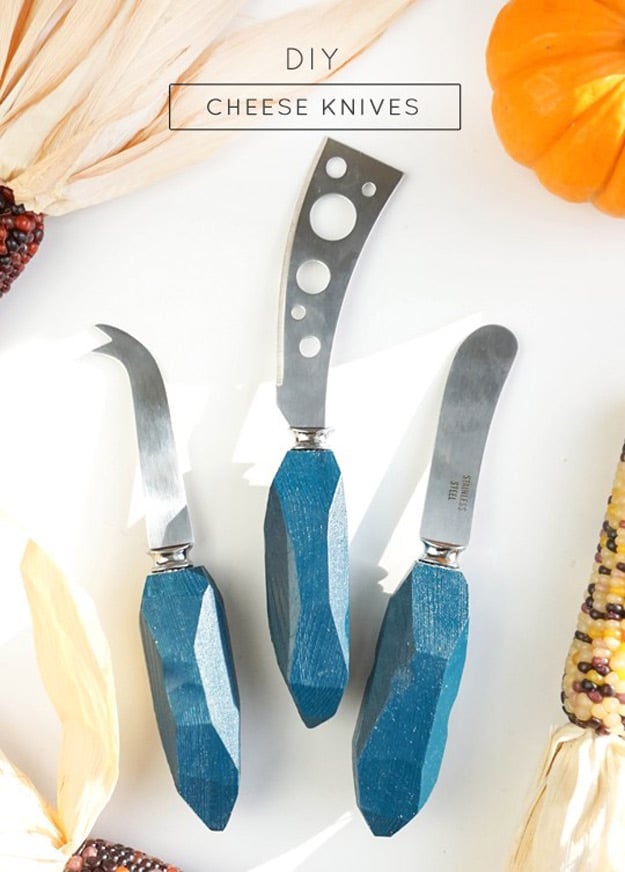 A well-appointed cheese plate is a staple at my house when entertaining. You see, they're easy to create (as simple as buying things and arranging them on a plate!), and they also look impressive when done up, so as my friends and family can attest, they've become my go-to over the years. With the Holidays on their way, you can bet I'll gladly be assembling a cheese plate or two, so I made myself a new set of DIY cheese knives to accompany the spread. (Pun intended!) The gem-like handles are inspired by faceted crystals and painted a deep, moody blue-green color, so they'll work beautifully for both Thanksgiving and Christmas, as well as all the other gatherings along the way! Click on the link and see how to make a set for yourself.
9. Metallic Salt and Pepper Shakers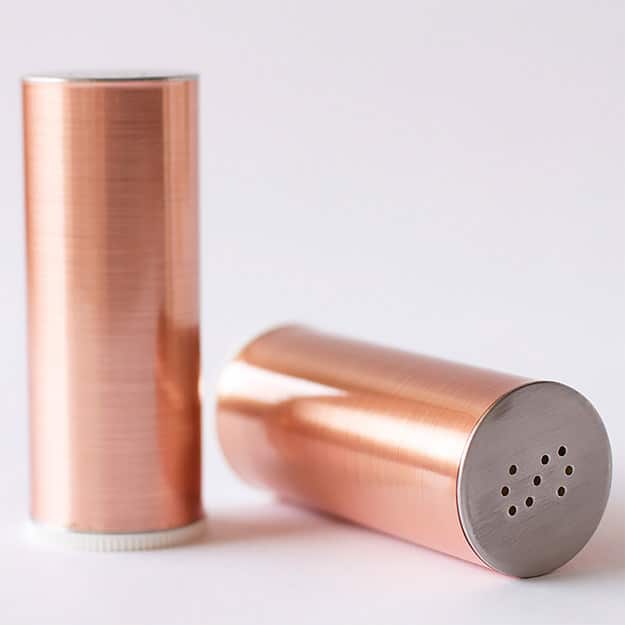 One detail that is often overlooked when it comes to kitchen design is the accessories, which if you ask us, are what make all the difference between a drab kitchen and a fab kitchen. So, get excited. We're showing you how to transform one of your kitchen staples, silver salt and pepper shakers, into cool mixed-metal vessels in just five minutes! Let's just say, our super speedy DIY definitely won't salt your style. 😉
10. Mini Beer Crate

This DIY mini beer crate makes the perfect DIY for your Groomsmen at the rehearsal dinner. My nephew got married recently and he was pretty young and all his friends in the wedding were a little on the immature side… I was in charge of making them a gift so I thought, what's the one thing they would be guaranteed to love? Beer, that's what!
11. Etched Monogram Pitcher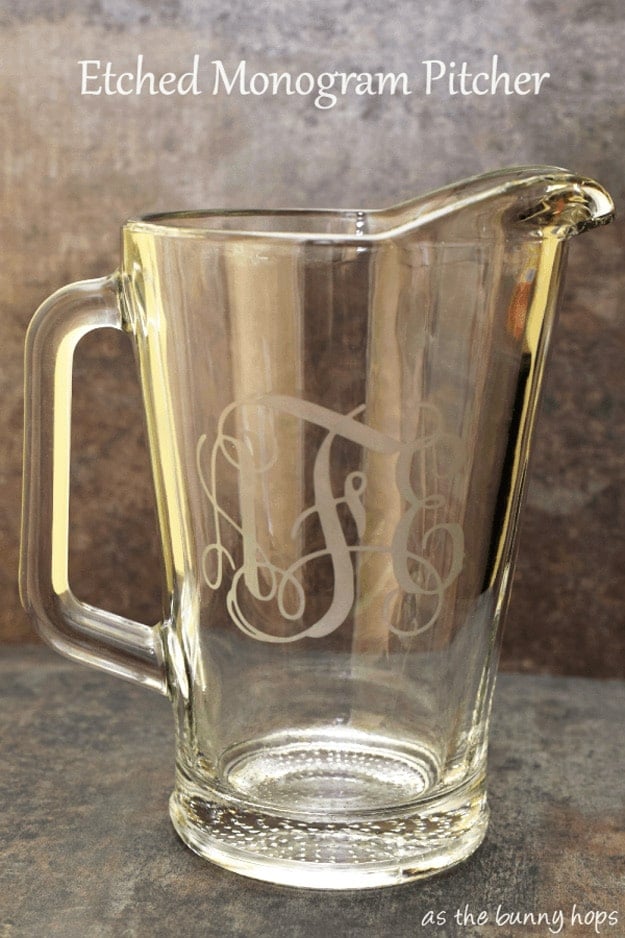 12. Rustic Serving Tray with Gold Arrow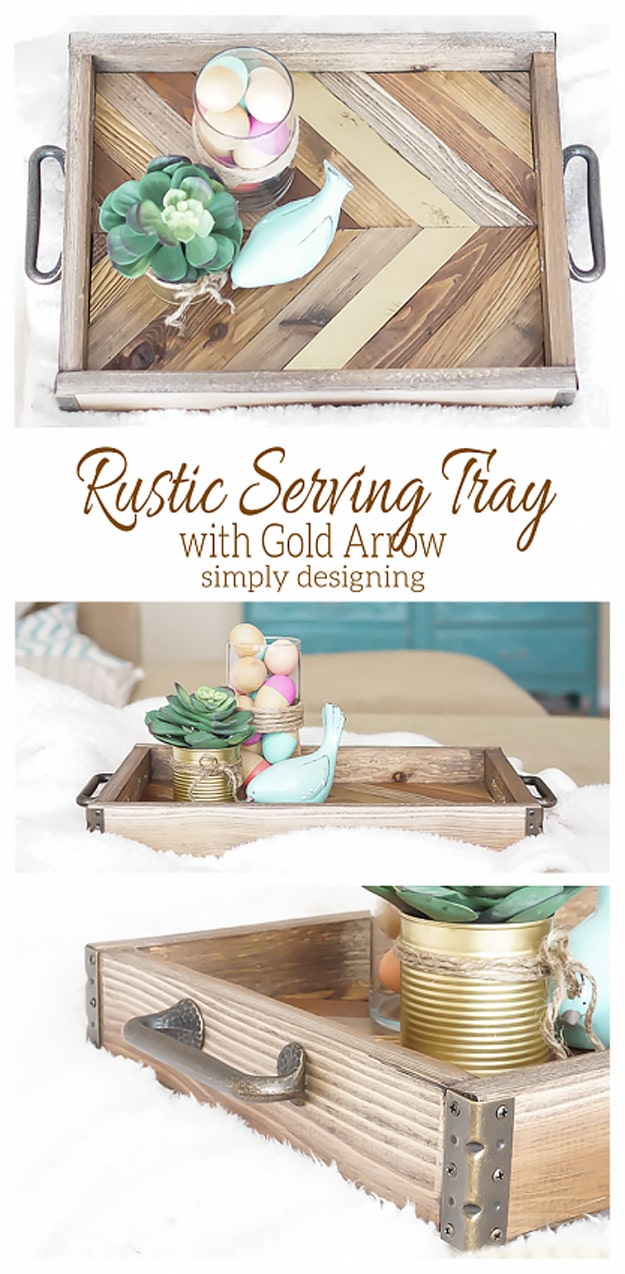 13. Sofa Remote Caddy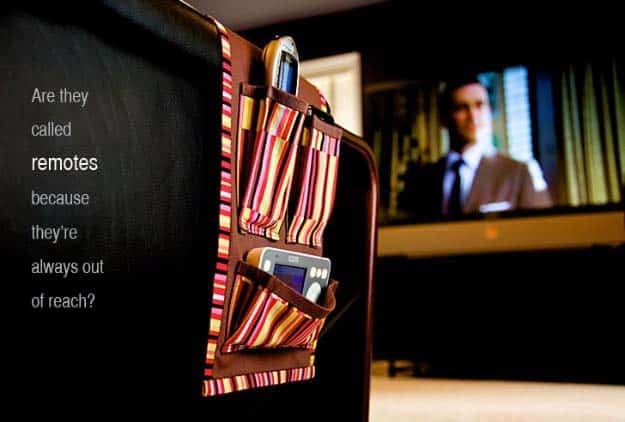 14. DIY Monogram Wedding Ring Dish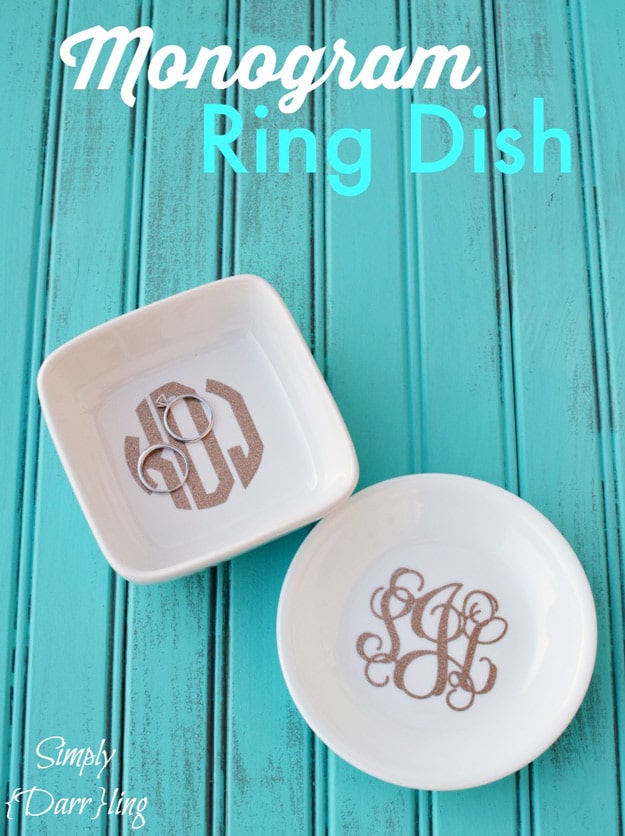 15. Etched Wooden Cutting Boards