Looking for some ways to make an statement on Halloween? Good makeup is the key to almost all of the best Halloween costumes we've ever seen. If you have a special party to attend or just want to get more likes than anyone else, then you absolutely need to check out this awesome list of DIY Halloween makeup ideas. With ideas for pretty and romantic to creepy and scary, you are sure to find the perfect compliment to your costume here. These cool makeup ideas actually can be all you need for an awesome costume. We found some neat last minute makeup ideas, too, for those in a hurry because they forgot Halloween was just around the corner. You don't need to be an expert to get amazing results with your Halloween makeup, either. Simply follow these step by step photo tutorials and you will get what you see in the pictures. We just love this holiday and can't wait. Once you see these fun ideas for Halloween makeup, you will be excited, too! Make a super impression with one of our 50 favorites. A simple click will give you step by step tutorials to show you how to create these amazing Halloween faces. Most of these Halloween ideas use makeup you already have so they are super inexpensive as well.
Once you choose your Halloween makeup, take a look at our fun list of last-minute DIY Halloween costumes, homemade costumes for couples and DIY Halloween party decor ideas. Whether you are going to a big Halloween party or throwing one yourself, be sure to whip up some goodies to share. We have some super lists of Halloween cookie recipes and Halloween party snack ideas to get you in the spirit of one of our favorite holidays.
Best Halloween Makeup Tutorials
1. Harlequin Doll Halloween Makeup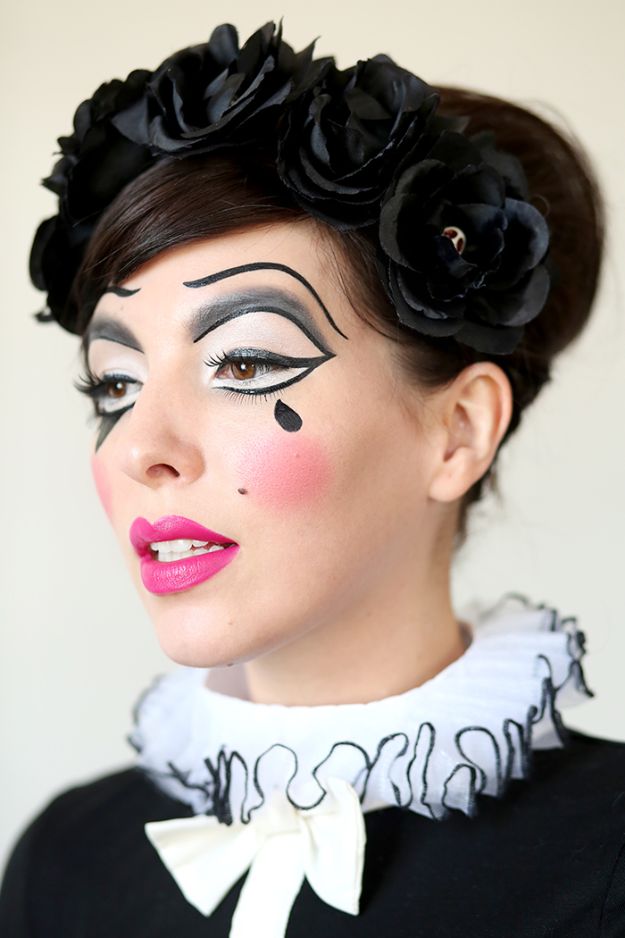 I love harlequin costumes at Halloween, but most people white out the whole face and I wanted something a bit more glamorous because I was on a Halloween date, so it was important to have my eyes, lips, and cheeks very pronounced. I used all my old makeup so the project was free. Liquid eyeliner really made a huge difference here, it was super easy and looked very alluring. Pink lips and pink cheeks really brought the whole look together. My date and I are still together and he stills asks if I can do the makeup again for him, he's such a character. 😉 If you are looking for a pretty Halloween makeup idea for your big date or party, look no further than this DIY harlequin doll makeup tutorial.
2. Pretty Ghost Halloween Makeup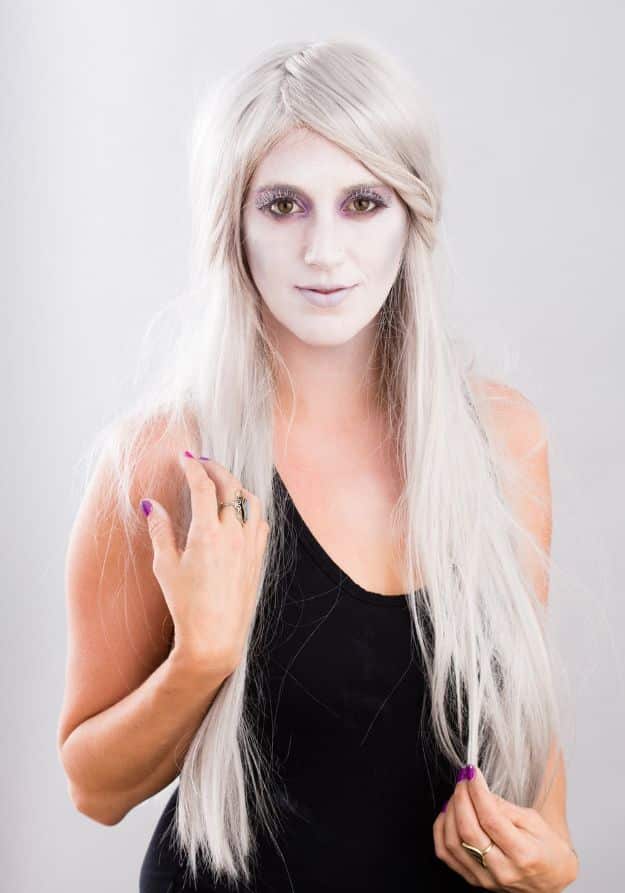 A glam zombie is big on spooky and big on glamour all at once. This is simple to apply, but you will need a white foundation, such as Ben Nye or Chanel. The rest is easy with purple eyeshadow around the eye area and lots of powder to the entire face. I added a wig that really set this in look motion, I was the belle of the apocalypse. If you want one of the easiest but coolest Halloween makeup looks, this easy ghost makeup idea is for you.
3. Half Zombie Scary Halloween Makeup Idea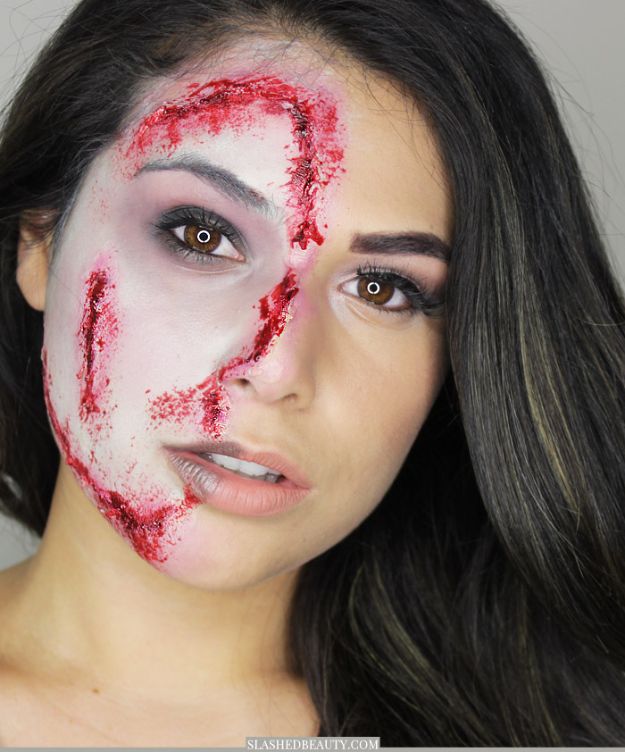 I really wanted to scare the pants off of somebody for Halloween and decided Zombie was the way to go. I still wanted to be alluring so I decided to go half and half. The clothes were so simple to put together, I bought a long dress from the thrift store and ripped it into long pieces so it really looked like swaggy fringe on the dancefloor. This FX makeup was super easy and the liquid latex looked phenomenal. I did the monster mash all night! If you need a scary idea for your halloween makeup for guys or girls, this may be your winning idea here. I think it is one of the easiest, best Halloween makeup ideas around, personally.
4. Owl Makeup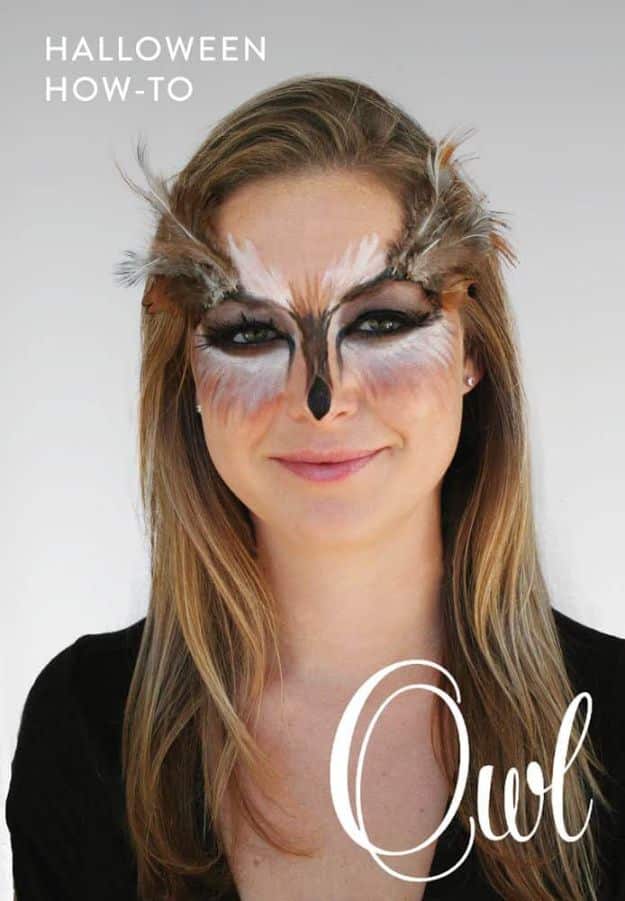 I got a pair of wings from a local costume shop and needed the right Halloween makeup to set this little dream of mine into motion. I found this Owl makeup on Pinterest and got some feathers and greasepaint from Michael's craft store. I used false eyelash glue to glue down the feathers and followed the easy step by step instructions in the link. I wore a corset under my wings and decorated myself with some leather jewelry. This turned out to be a very cute look overall, sexy but not in a vampy over the top way, a good choice for all.
5. Easy Cat Halloween Makeup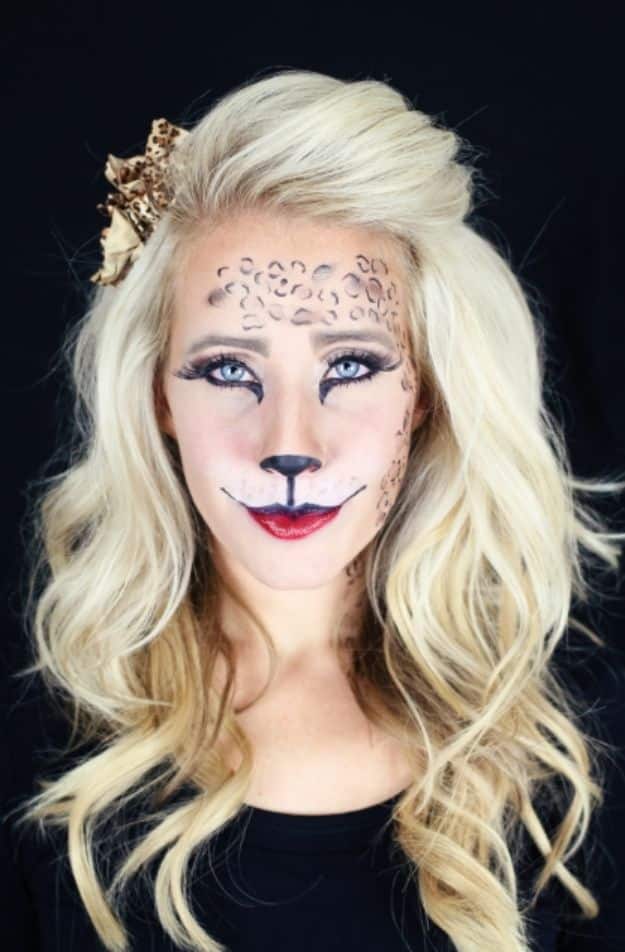 My nickname is Cheetah at work because I'm always running around at a rapid pace. So I thought what better way to really prove my inner cheetah than to dress up as one for our annual Halloween party. I found this tutorial that made it so easy, I was able to use all makeup I already had. I just wore a simple black leotard and some cheetah accessories from the local costume shop. I managed to find a pack of accessories for $15.00, that included ears and a tail. My name is now in the cheetah hall of fame forever. If you want a cute Halloween makeup idea, this adroable cat just may be your thing. Cut and easy cat Halloween makeup can be yours in less than an hour.
6. Sugar Skull Halloween Makeup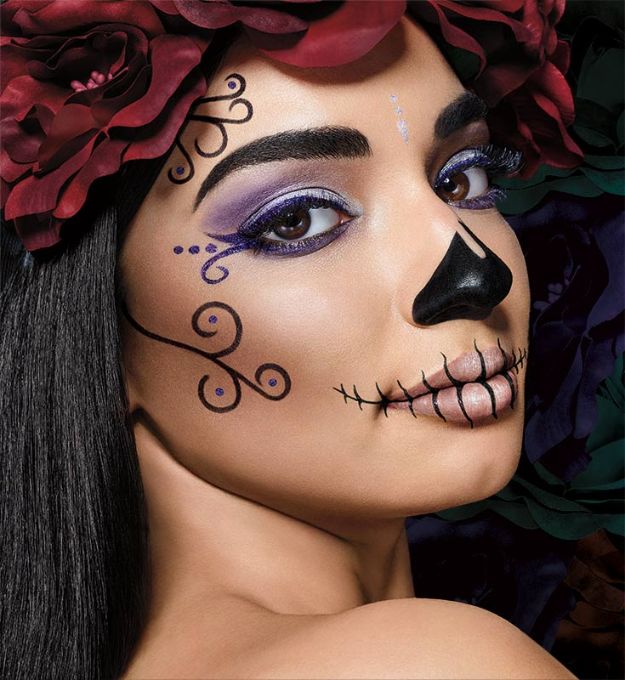 I love the sugar skull look and I found this Maybelline tutorial that made reproducing this look so easy. You don't need special Halloween makeup products, either. You just need liquid eyeliner, black lipstick, and your favorite color of eyeshadow will do nicely. The fabulous thing about this makeup is that the face is the costume, you may juxtapose any clothing type with this show-stopping Halloween makeup and it will not detract from the central idea. This easy Halloween makeup look is pretty and sexy, and you don't have to be an expert at makeup to pull it off. Make 2018 the best Halloween ever with this cool makeup for your costume idea.
7. Angel of Death Look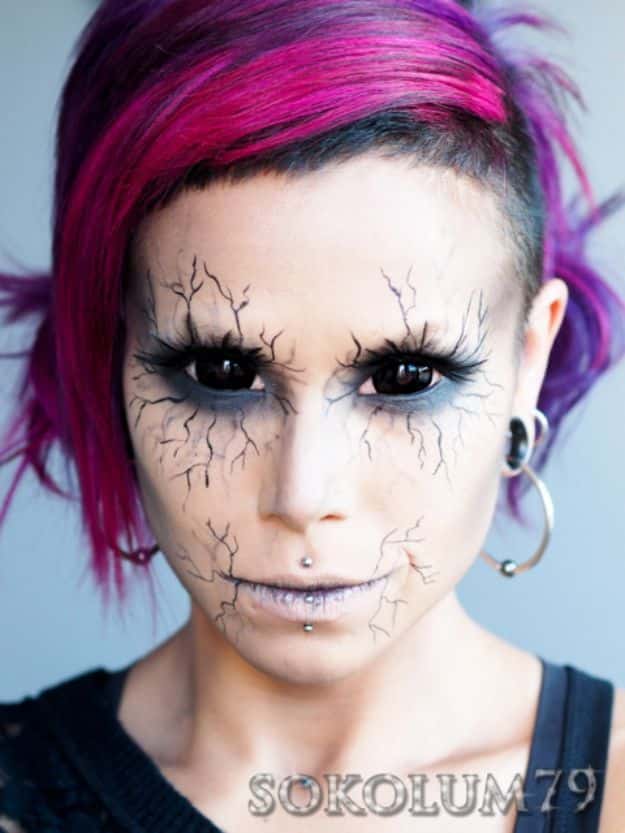 Sclera contact lenses are so spooky! If you've ever been accused of being an alien and want to give them a run for their money, this is the look for you, just slap those glossy black eyes in and they are in the driver's seat. Put some white base makeup on and draw some cracks and you are the spookiest gal at the shindig! Piercings optional. 😉 If you are in the market for one of the creepiest, scary halloween makeup ideas for girls or guys, try this face with your costume.
8. The Porcelain Doll Makeup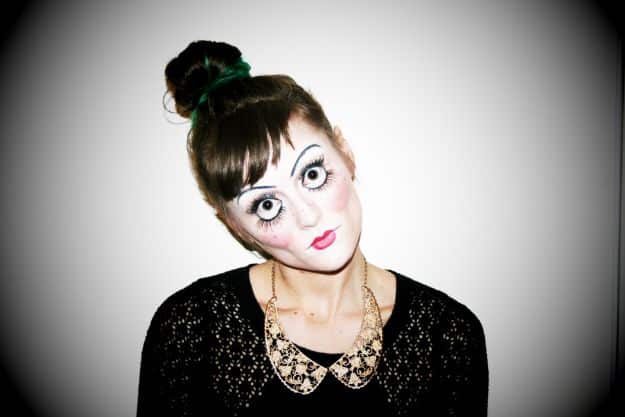 The porcelain doll makeup is really a cute costume starter, it's young and fun. Halloween will be a blast in this makeup idea and it's so easy to do practically anywhere. Again this is a superb makeup idea where the makeup kind of is the costume and doesn't dictate a specific outfit. I wore black pants, a black shirt, and some flats. I stayed really warm that chilly Autumn night and could walk all over the neighborhood to do some trick or treating. If you are searching for the best Halloween makeup ideas for girls, pretty ones, here is a good pick.
9. Cute Fox Halloween Makeup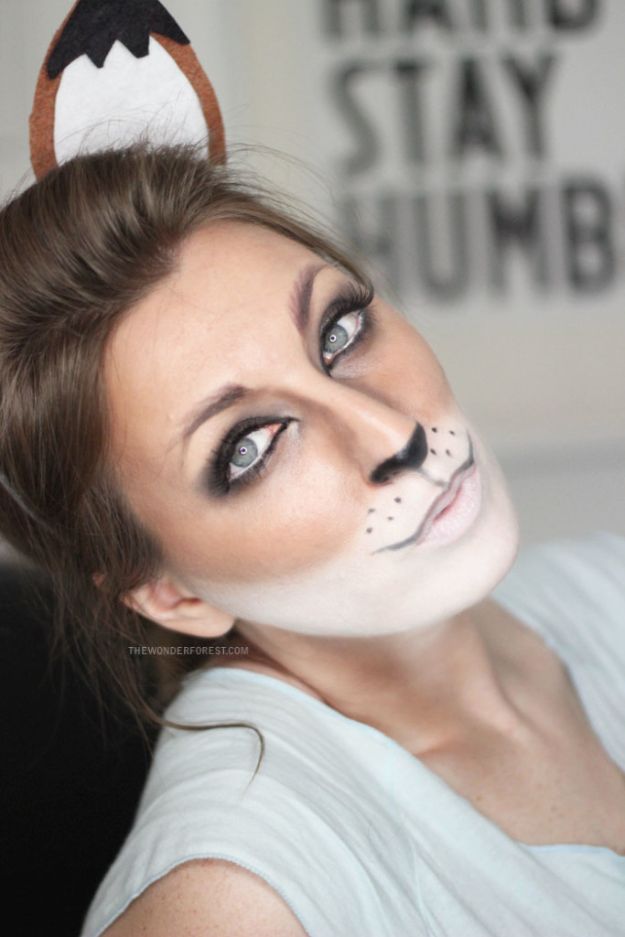 Oh, so foxy is what they will all be saying this Halloween when you show up in this cute makeup. The fox is an excellent costume for many reasons, it's so darn cute being the main reason and it's super easy. I used my own makeup except for the white greasepaint, I got from Michael's craft store. The costume itself can be a leotard or something plain with a fox tail and ear pack from the local costume shop or go full on furry if you dare. For easy Halloween makeup that gets noticed, try out this tutorial that shows you how to do fox makeup. Get or make a fox costume, or for a last minute costume idea, cute out some paper ears and glue them on a headband. Instant Halloween outfit for free!
10. Black and White Grayscale Makeup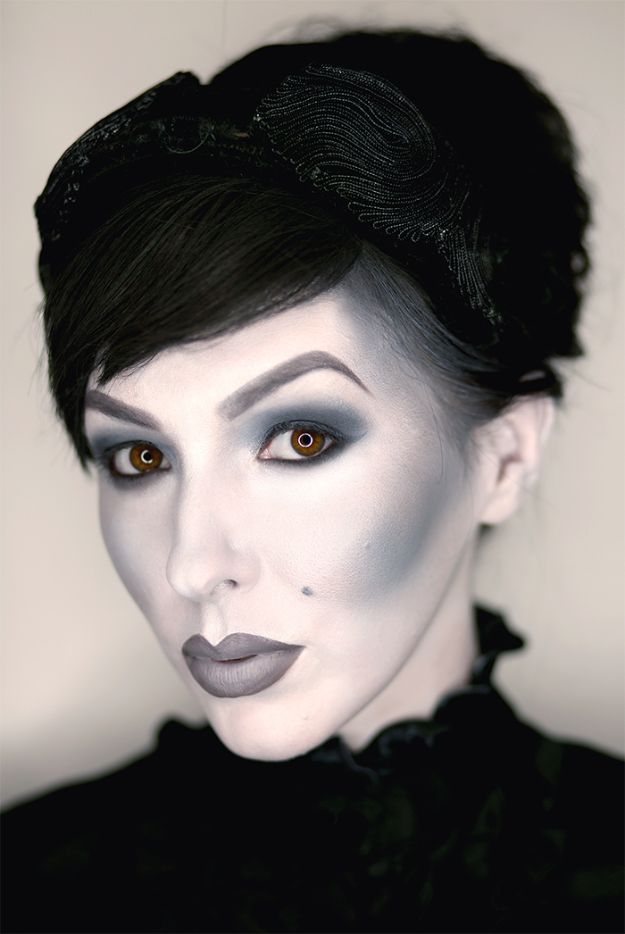 The greyscale makeup is one Halloween idea that will leave all the partygoers shaking in their boots and it's really easy. I did buy the Ben Nye clown white base because it has such a flawless look, but I used my own black and grey eyeshadow for this show-stopping special effects look. It reminded me of nostalgic old black and white films, yet it was very eerie for my Halloween endgame and also very glamorous when I paired it with a Victorian style black beaded dress. So spooky, I scared everyone last year when I walked into the party sporting this Halloween makeup idea.