Love mason jar gifts? Gifts in a jar are some of the cutest and easiest things you can make for people on your gift giving list. Perfect places for storing and giving other gift items, gift cards and cool sets of things your friends and family like mason jars can be gifted for just about any occasion. Whether you need a gift for men, women, kids or a few things on hand for neighbors that stop by during the Christmas holidays, these cool DIY projects are super creative and easy to make. I've made so many mason jar gifts for my kid's teachers, ladies in my gardening club, and so many others. When time and money are both tight, the mason jar DIY craft idea makes an excellent option for the group gift needs of a wedding or baby shower. What better way to say I care to anyone you love and respect, its time to let them know they are truly appreciated.
DIY Gifts in A Jar
1. Drawing Kit In A Jar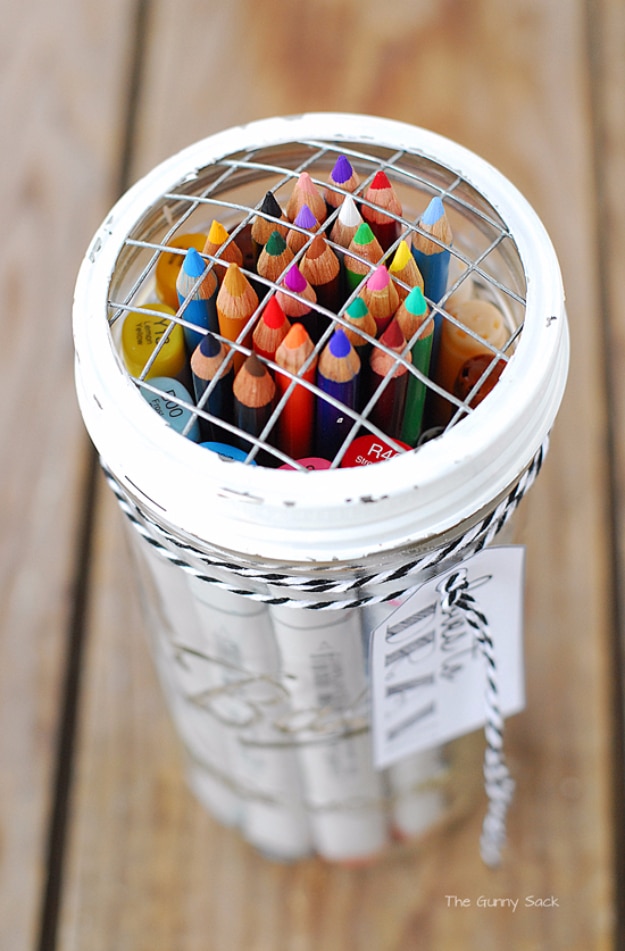 My Son is a budding artist and I needed to get his art table organized, so what better way to get him in the mood than with a new set of Prismacolor pencils? The Prismacolor pencils were too long for the jar and since they are high quality and pretty expensive, I didn't want to sharpen them down so that they would fit into the jar. Instead, I made a wire cover using wire mesh was my first time using these Ball wide mouth mason jars and I love them. They are a little taller and more narrow than the 1-quart jars. I wrapped a piece of baker's twine around the jar. My Son loves me even more, his desk is tidier and more organized, the entire project was a big win all around and in this family, we don't ever get tired of winning! 😉
2. Mason Jar Pineapple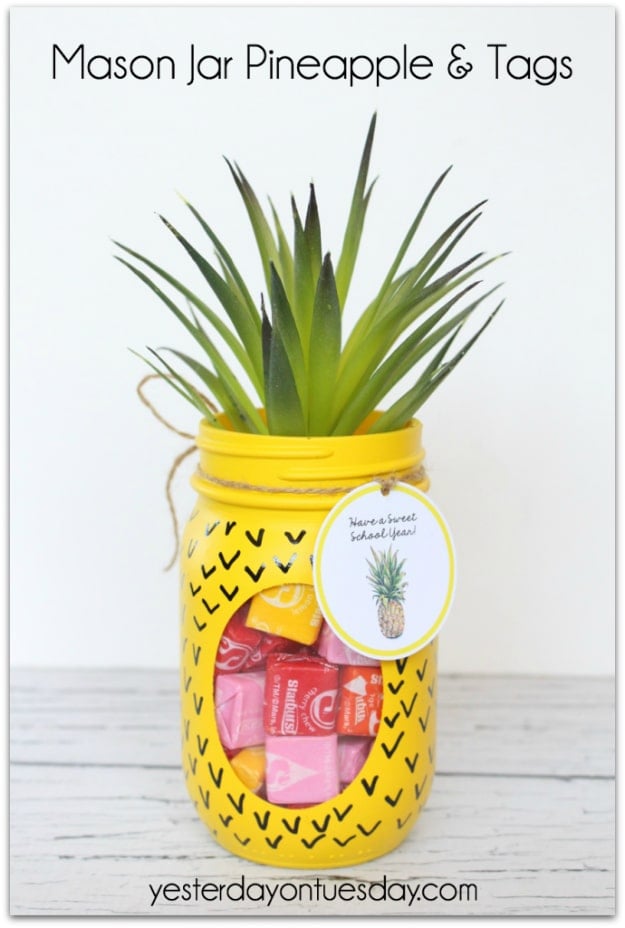 The perfect gift for my daughter's teacher popped into my mind as I was staring at the pineapples at Randall's grocery store. I had this cute faux succulent pen that I always thought looked like a pineapple, so I realized that was my top. I painted my mason jar yellow and drew on the pineapple husk with my paint pen, filled it with some leftover Halloween candy I had lying around and I had the most beautiful gift that cost no money to put this together. I now get consulted by my daughter's teachers on best DIY projects for the children's craft hour.
3. Herb Kit Gift In A Jar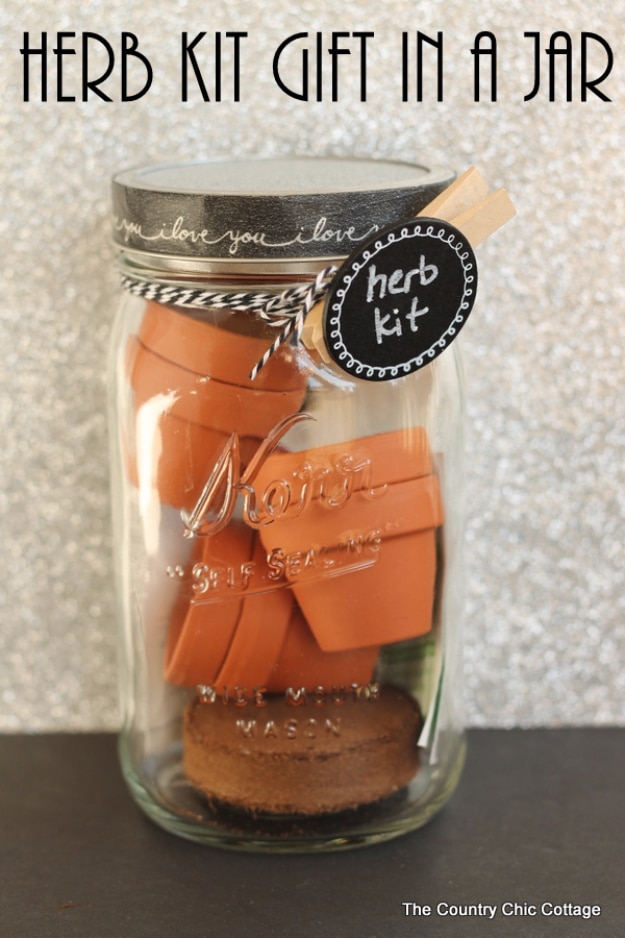 The mini herb garden kit is a lovely gift for anyone of any age. I started mine with a little seed starter at the bottom of the mason jar and added packs of seeds and these cute mini terracotta clay pots. You can find little chalkboard themed markers at Michael's craft store so the new gardener can label all their lovely new plants. This is so well liked, it's my go-to standby DIY gift idea for almost any occasion.
4. Girls Weekend Gift in a Mason Jar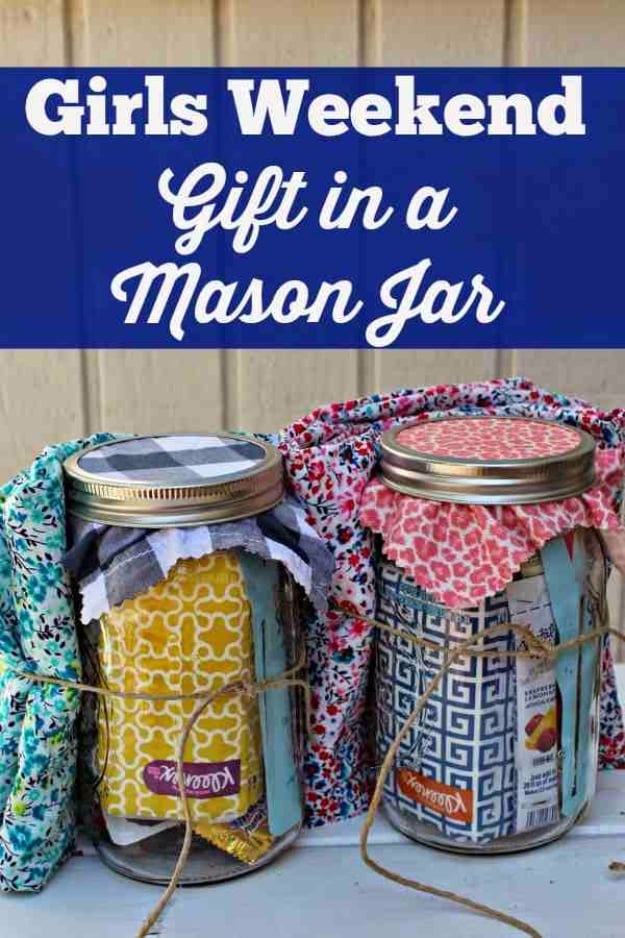 Girls weekends are a blast, my friends and I usually shop, eat, play fun games that we used to play in Jr. high like charades. Since the ladies that join in on the fun come from all over and I am local, I like to have a little something special for them when they arrive. I will never forget how hard we laughed when our charade game turned into impersonating our teachers like Coach Heldman, my friend Beatrice was cracking us all up as she walked around the room stomping like Lurch on the Adams Family. We all wore matching pajama pants- compliments of me! You could not believe the sight of Beatrice leading a team of Lurches around the room stomping in unison wearing matching pajama pants. Thinking outside the box with help from my trusty friend the mason jar provided a lovely DIY packaging presentation for my school chums and they loved them. Who wouldn't love receiving a girls weekend gift in a mason jar? Especially when there are matching pajama pants for everyone to wear all weekend!
5. Mulled Wine Kit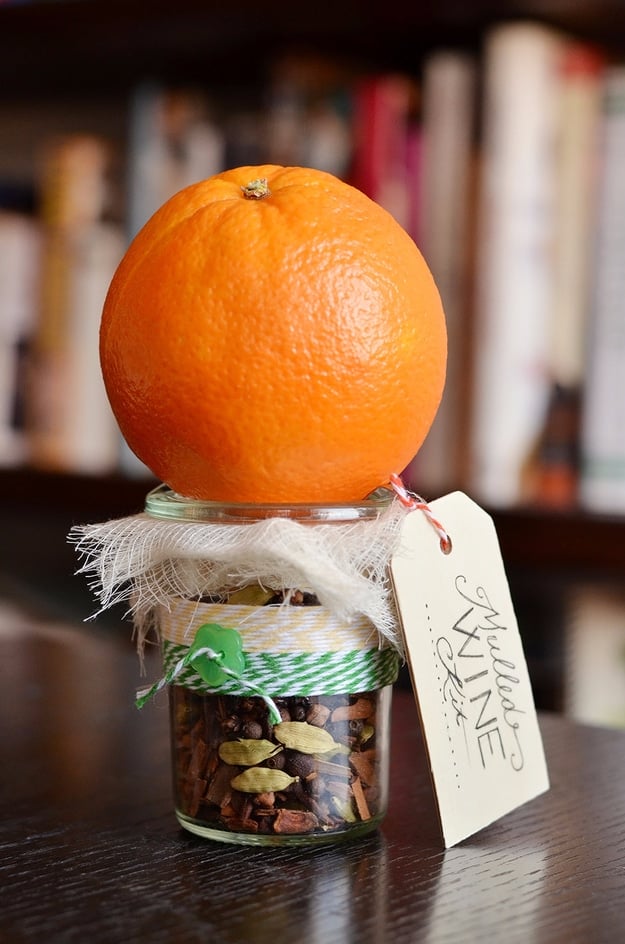 The first time I ever tasted mulled wine was in England at the BBC studio for a live taping of the Little and Large Show. I was with my amazing British friends who came to visit me in America last month. They had such a laugh when I told them I did not know what mulled wine was, so I really wanted them to know how much it meant to me to be introduced to such a cultural delicacy. My British friends also did not know what American mason jars were so what an excellent opportunity I had to give them a mason jar to take home and my own personal mulled wine ingredients to relive our fun evening. They were so appreciative and I hope to go and visit them soon. They told me we will be having mulled wine whether its Christmas or not, what a couple of characters. 😉
6. DIY Beginner Sewing Kit Mason Jar Gift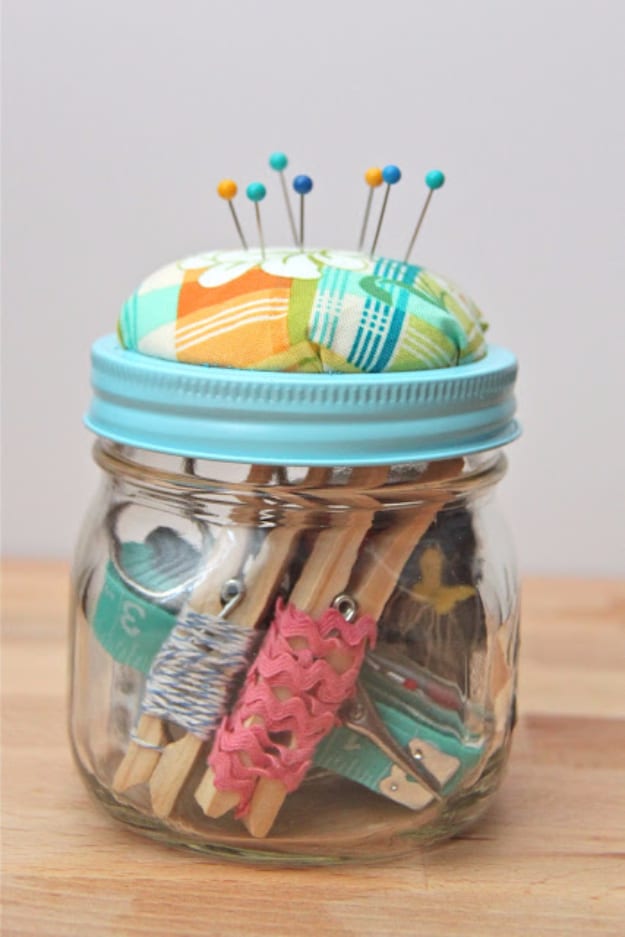 It's that time when your kids and their friends go off to college. I was so worried about some of my daughter's friends, not having any sewing knowledge and my daughter said, Mom, we all can use Youtube. I laughed but reminded her they still needed supplies. So I turned to my old friend the trusty mason jar to make a darling sewing kit for these precious girls. The kits included straight pins, a seam ripper, scissors, a tape measure, trim, twine, and buttons. I made a little pincushion for the top, but the sky is the limit on how you want to put this DIY mason jar project together. I can't wait for feedback when they come home for Thanksgiving.
7. Tea Time Mason Jar Gifts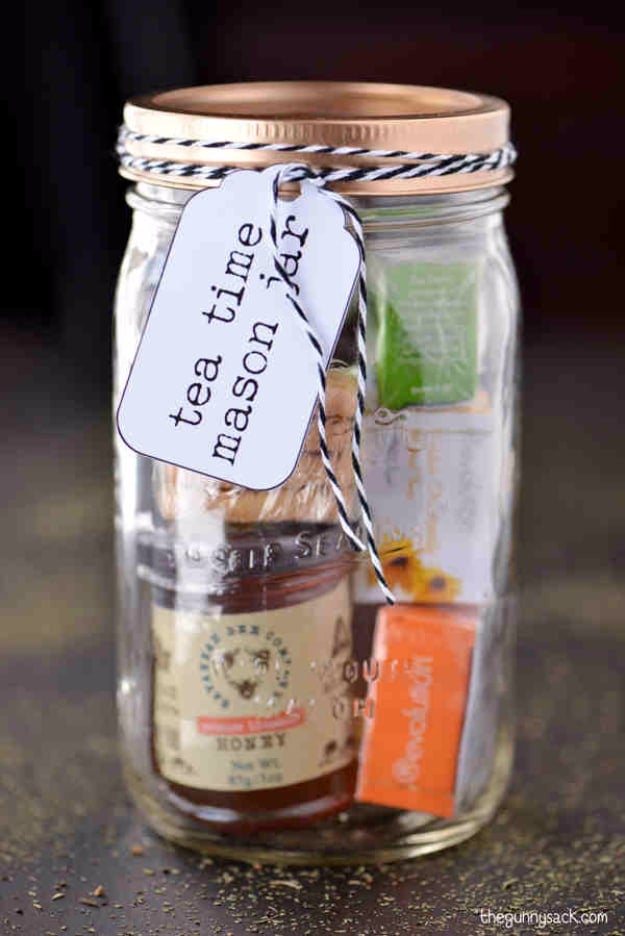 I lived in England for 10 years and I learned so much about their culture. Nothing says welcome to the UK like a nice hot cup of tea, there is even a tea lady who goes around the hospital with a cart making all the sick patients nice cups of tea to aid them on their road to recovery. I always said the British would prescribe a cup of tea for a shark bite. We would have these lovely afternoon teas in the Suffolk countryside with crumpets and jam while watching butterflies settling in the evening Sun. So as much as I love DIY gift ideas in mason jars, I thought it would be excellent to bring this treasured cultural experience to my friends this holiday season. I got tiny sizes of Earl Grey and English breakfast teas and some small jars of Twinings Tiny Tip marmalade and stuffed and decorated the jars. Everyone was not totally convinced until they tried it, with milk of course.
8. Bloody Mary Gift In A Jar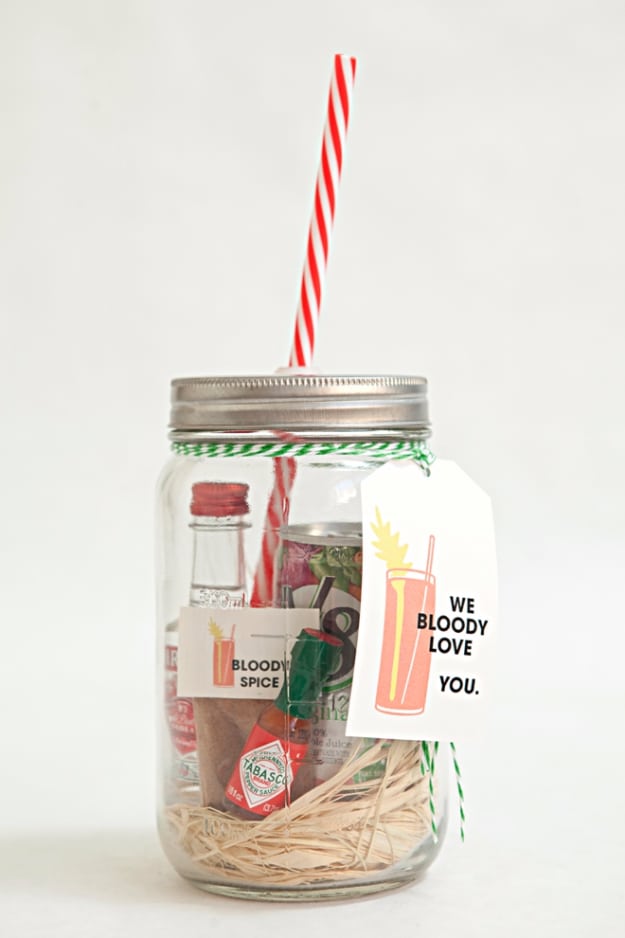 The Bloody Mary DIY mason jar gift idea is fantastic for your adult friends who drink. I made them for my friends who run a local club by where I live and they loved it. I just put some straw at the bottom to make it look really rustic and found some tiny tabasco bottles that gave it an old world look. The DIY Bloody Mary gift can also be a funny gag gift to someone arriving at your party who you know will drink too much. 😉
Mason Jar Gift Ideas
9. Go Fishing Mason Jar Gift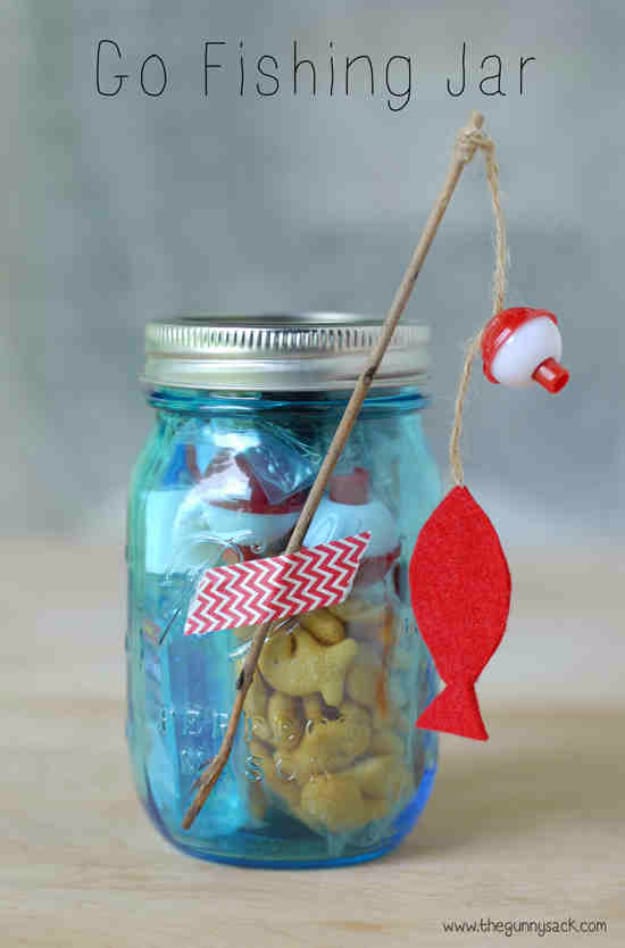 My Brother is a champion fisherman, he fishes off the jetties in Galveston and brings home the bounty to his family. He also is the one person you can never find a gift for. So I turned my DIY gift ingenuity into gold when I decided to make him a mini fishing pack in a mason jar. He laughed so hard, he ate the goldfish and set it in his office as a part of his cute coastal fishing decor and that was a very proud moment for me.
10. Pedicure In A Jar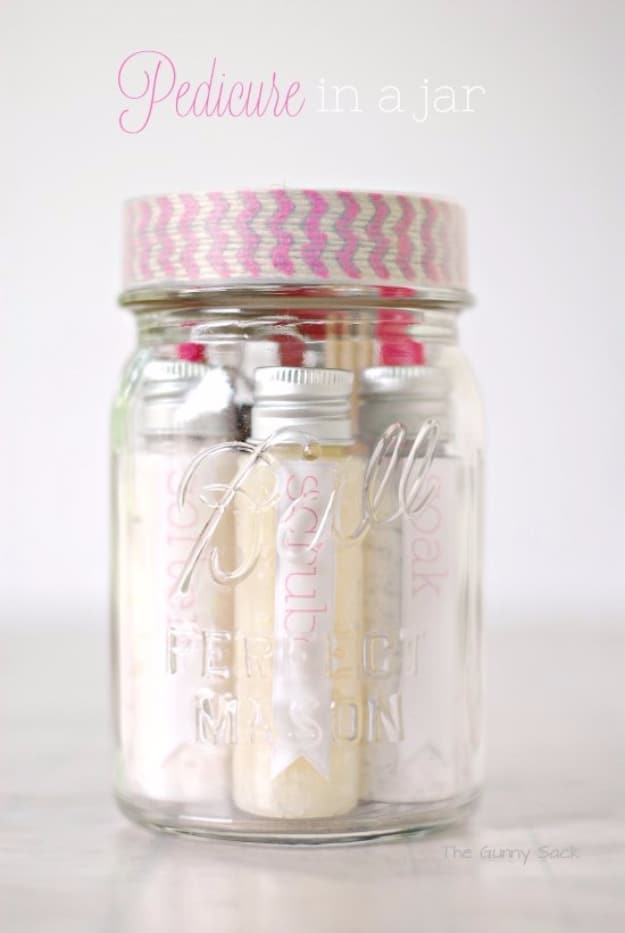 I had invited some friends from college over to have lunch at my new house and at the last minute, I decided to run to Sally's beauty store where I saw these mini pedicure kits on sale. I thought of all the DIY mason jar gifts I had made in the past and decided to give it a go. I went to Michael's craft store to purchase some little plastic bottles so I could siphon off some of the wonderful pedicure products I bought from the salon. My college friends loved it and wanted to start on their feet immediately.
11. Homemade Milk Bath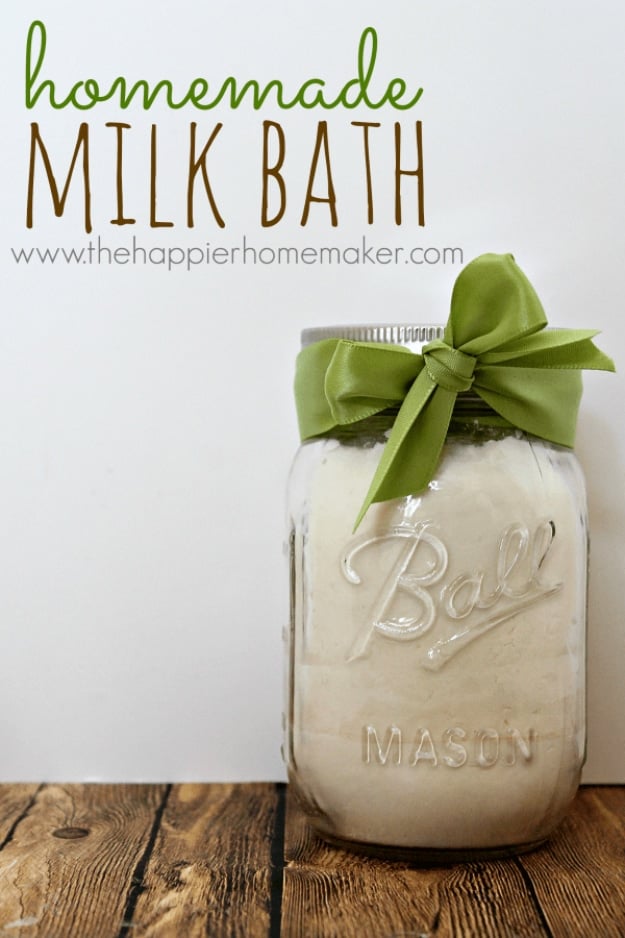 12. DIY Leopard Mason Jar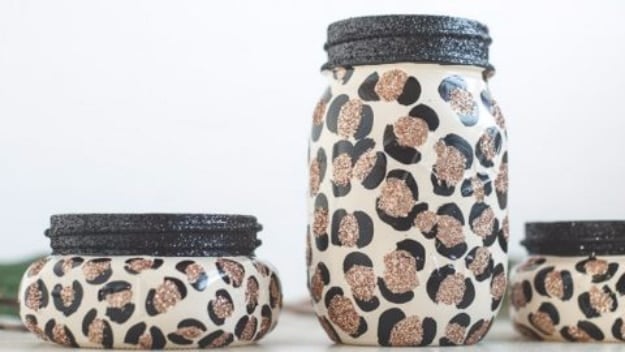 13. Mason Jar Cocktail Gifts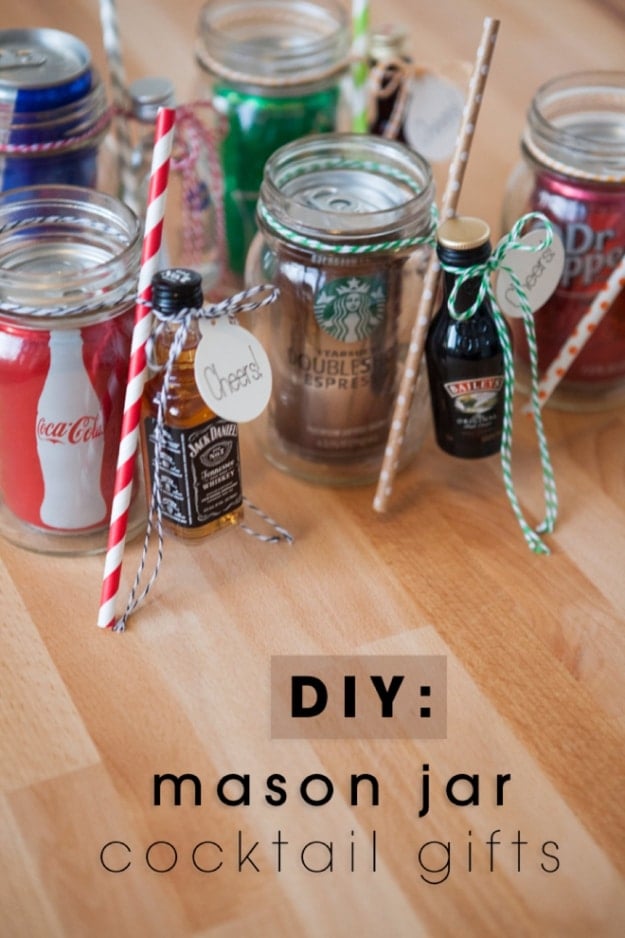 14. Hot Chocolate In A Jar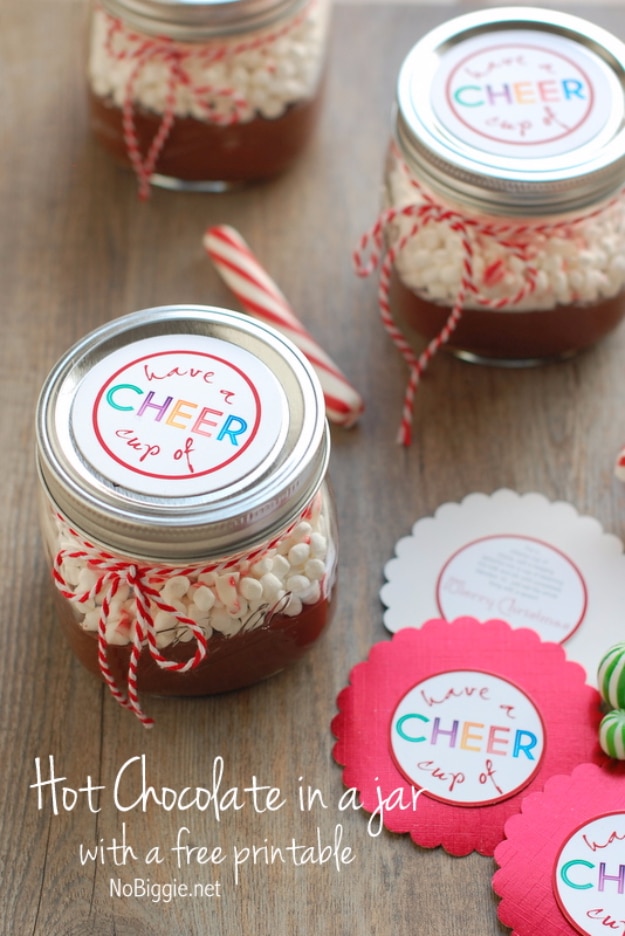 15. Spa And Pampering In A Jar