Looking for a beginner-friendly quilt? Try this mime pattern by Sew Yeah. It's super easy to make and can be done in just 10 minutes. Read on or watch the video below for full instructions.
Materials:
fabric A:
12 pieces of 6″ x 12.5″ rectangles
11 pieces of 4.5″ x 4.5″ squares
fabric B:
44 pieces of 4.5″ x 4.5″ square
8 strips of 3″ x wof for optional border
fabric C:
16 pieces of 6″ x 12.5″ rectangles
6 pieces of 10″ x 10″ square
fabric D:
6 pieces of 10″ x 10″ square
10 pieces of 12.5″ x 12.5″ square
Instructions:
Step 1:
Create half-square triangles. Take one 10″ square fabric D and one 10″ fabric C. Place them right sides together. Draw a diagonal line from corner to corner in both directions to make an X. Sew 1/4″ away from both sides of the lines. Cut it in half horizontally and vertically. Next, cut on the drawn line on each square. Open them and square them to 4.5″ x 4.5″.
Step 2:
Arrange the blocks by following the arrangement in the photo below. Sew them in rows first. Once done, press the seams on the top and bottom row in one direction and the middle in the other direction. After that, sew the rows together. You need 11 blocks.
Step 3:
Once you are down with the blocks, arrange the rows. There will be two pieced blocks and one 12.5″ square fabric D for the first row. Alternate the next row, so there will be 1 pieced block and two solid squares. Repeat until you have 7 rows.
Step 4:
Take your 6 x 12.5 rectangles and make your sashing. This will be sewn vertically, alternating between fabrics A and C. All sashings should begin and end with C. You should have four strips of sashing.
Step 5:
Sew the sashings to your vertical rows with a 1/4″ seam allowance.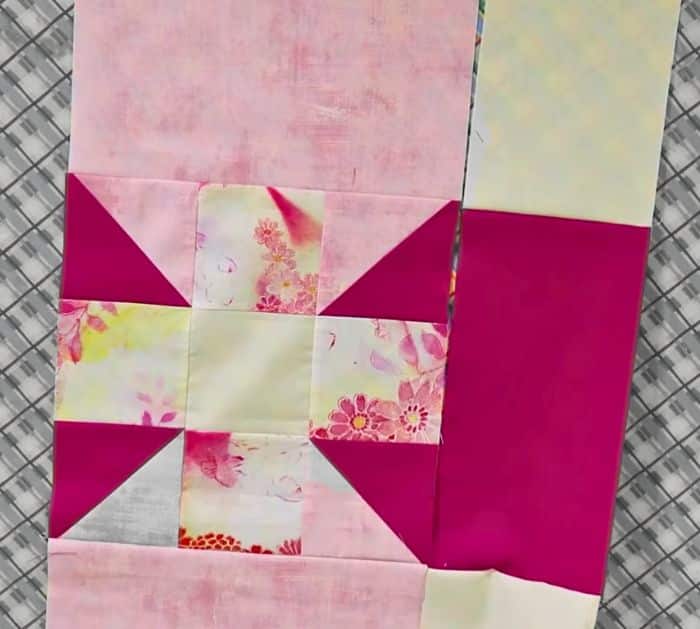 Step 6:
Connect all 8 strips of 3″ x WOF of fabric B for the borders.
Beginner-Friendly Mime Quilt in 10 Minutes