This bang bang shrimp tacos recipe by Natashas Kitchen is the best-tasting seafood dish I have ever tried. The breaded shrimps are super crispy and flavorful. That doesn't end there – they are wrapped in a warm corn tortilla and drizzled with homemade chili mayo sauce, then topped with sliced tomatoes, cabbage, and cilantro for a perfect dinner.
Ingredients:
1 lb of large shrimp (peeled, deveined, and tails removed)
1/2 cup of buttermilk
1/4 teaspoon of salt
1/4 teaspoon of black pepper
1/4 teaspoon of onion powder
1/4 teaspoon of garlic powder
3/4 cup of cornstarch
canola oil
For the sauce:
1/2 cup of mayonnaise
3 tablespoons of sweet chili sauce
3 teaspoons of Sriracha hot sauce or to taste
For the taco fixings:
small white corn tortillas
red or green cabbage (thinly sliced)
diced tomato (optional)
cilantro (coarsely chopped)
Instructions:
Step 1:
Make the sauce. Get a small bowl and add the mayonnaise, sweet chili sauce, and sriracha hot sauce. Stir everything well, then set aside.
Step 2:
Make the marinade. In a different bowl, combine buttermilk, salt, pepper, onion powder, and garlic powder. Add the prepared shrimp and stir until well-coated. Set aside.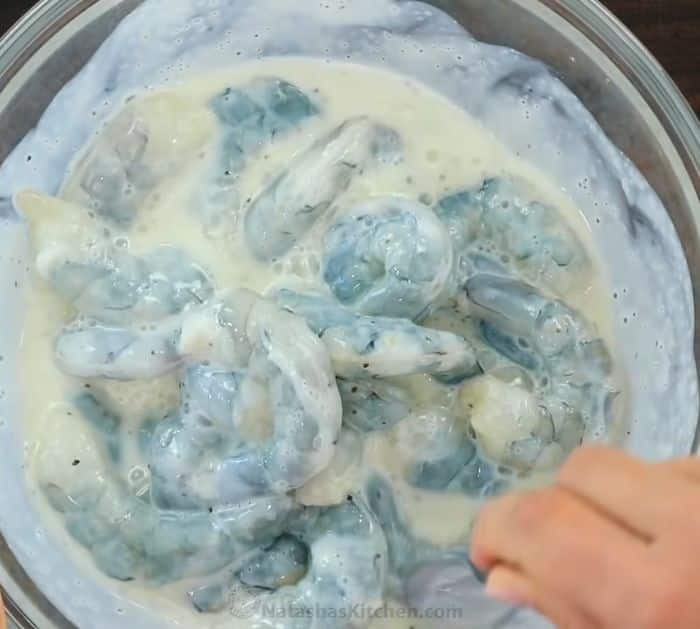 Step 3:
Remove the shrimp from the marinade one at a time, letting the excess drip, then coat both sides with cornstarch. Tap off excess and arrange it on a platter.
Step 4:
Fill the Dutch oven or pot with about 1 1/2″ of oil and heat at 375F. Fry the shrimp in 3 batches. Cook for 2 1/2 to 3 minutes until golden brown and crispy. Once cooked through, use a strainer to remove the shrimp and transfer them to a paper towel-lined plate for a few minutes.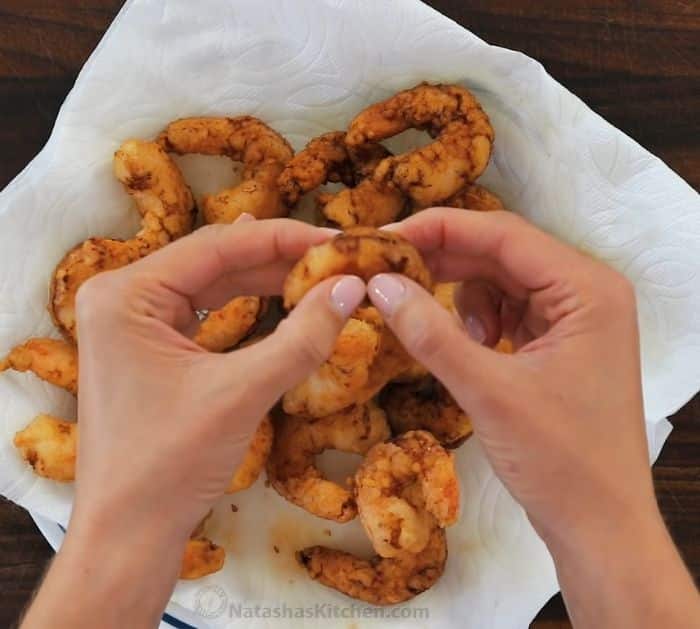 Step 5:
Put the shrimp in a bowl and drizzle half of the sauce. Gently toss until everything is well coated, then let it rest for 10 minutes to absorb the sauce.
Step 6:
Toast the corn tortillas on a griddle. Heat 30 seconds per side or over a gas flame for some charring.
Step 7:
Add desired taco toppings, top with 2 to 3 shrimp per taco, and drizzle with remaining sauce. Serve with a sprinkle of cilantro then squeeze fresh lime juice.
Bang Bang Shrimp Tacos Recipe