I love cooking any kind of casserole type dish in my cast iron skillet, why I had never thought of making a Bacon and Eggs Casserole is beyond me because bacon and eggs are two of my favorite foods in the whole wide world. I saw this recipe for Bacon And Eggs Casserole on Youtube and had to try it, after all, I love breakfast food and I also love any kind of casserole so it was an obvious match made in Heaven for me. The recipe couldn't be easier, first, preheat the oven to 375 degrees then you just pre-cook the bacon in a skillet, then you break delicious fresh eggs in your cast iron skillet, I then twirled the partially cooked bacon into rosette shapes and set them inside the skillet also. I could not wait to make this and I already had all the ingredients in my pantry and refrigerator. Note that you can also cook this delicious Bacon and Eggs Cast Iron Skillet Casserole on a BarBQ Pit, so this recipe also makes a perfect meal idea for a group of campers or any group enjoying outdoor activity.
Ingredients:
2 pounds of Bacon (partially cooked then twirled into spirals)
1/2 tsp salt
12 to 24 Eggs
2 (8 ounce) blocks sharp cheddar cheese (shredded/ grated)
1/4 tsp garlic powder
1/4 tsp black pepper
Bag of Potato Chips
Cooking spray (or good old Hog Lard)
Directions:
First, fry (sautee) your bacon lightly (partially cooking it) in a skillet, then twirl into rosette shapes and stand them on their sides. Then add all your eggs, cracking them one by one.

Then add onions, salt, and black cracked pepper.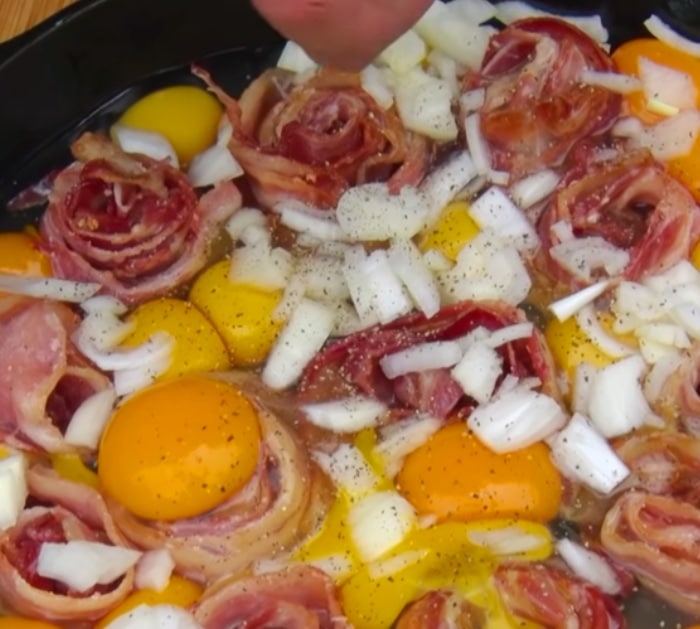 Then crush potato chips and mix them with grated cheese, sprinkle on top and melt.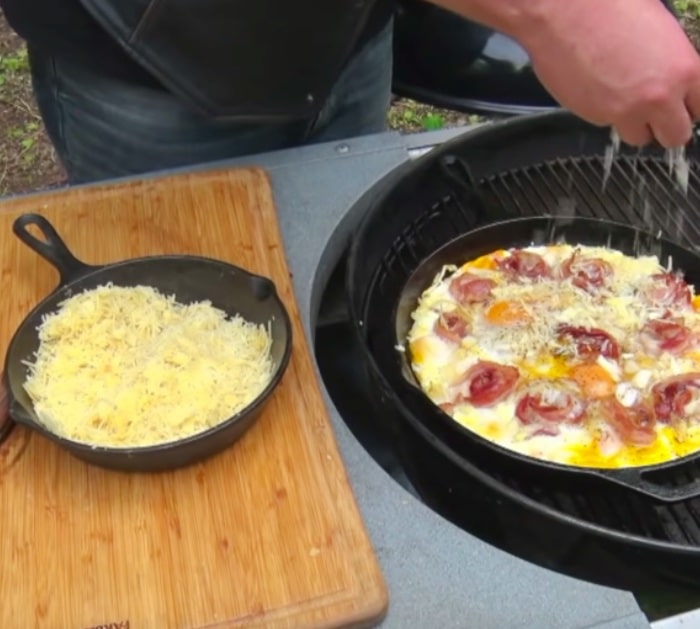 Then cut into pie wedges and serve.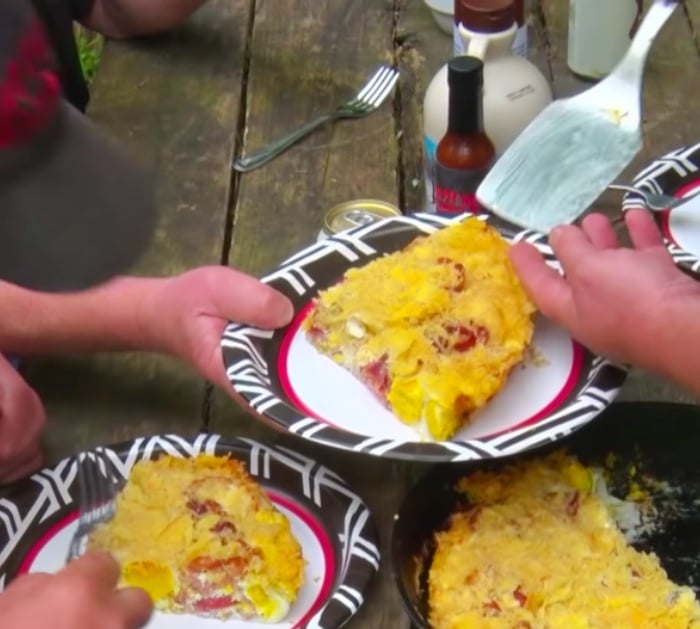 This casserole is excellent, I highly recommend it.
Bacon And Eggs Skillet Casserole Recipe