I love making sandwiches for my family, and this chicken pesto sandwich recipe from Chef Jack Ovens on Youtube is a staple in our home. I swear – this is one of the best sandwich recipes I've ever tried. It's juicy, flavorful, and easy to put together. I make this sandwich almost every day, and my kids love having them as their school lunch. Try this recipe today and see for yourself. Watch the video below to learn the step by step instructions.
Ingredients:
Chicken & Seasoning:
1 tbsp olive oil
2 chicken breasts, butterflied & halved
1 tsp garlic powder
1 tsp sweet paprika
1 tsp dried oregano
1/2 tsp chili flakes
seasoning to taste
Pesto:
1 garlic clove
0.5 oz parmesan cheese, freshly grated
0.5 oz pinenuts, toasted
1 large bunch of fresh basil, picked
2 1/2 tbsp extra virgin olive oil
1/2 lemon, juiced
seasoning to taste
extra virgin olive oil, to adjust the consistency
Bread & Fillings:
2 tsp olive oil
2 ciabatta rolls, or bread of choice
1 – 2 tomatoes, thinly sliced
4 – 5 mozzarella slices, per panini
seasoning to taste
Directions:
Step 1
To start, make the pesto. Add a bunch of basil to your food processor followed by 0.5 oz pinenuts, 1 clove of garlic, juice of half a lemon, and 0.5 oz parmesan cheese. Blend them until fully combined and thick. After this, add in extra virgin olive oil as desired and season to taste. Transfer to a container and set aside. Next, open the chicken into a butterfly, then start seasoning it. Rub 1 tsp garlic powder, 1 tsp sweet paprika, 1/2 tsp chili flakes, 1 tsp dried oregano, and 1 tbsp olive oil. Mix it with your hands, making sure the chicken is evenly coated. Place a large pan over medium-high heat and add 1 tbsp of olive oil. Once it's hot, add the chicken breasts and sear each side for three to three and a half minutes. After cooking, transfer to a plate and set aside.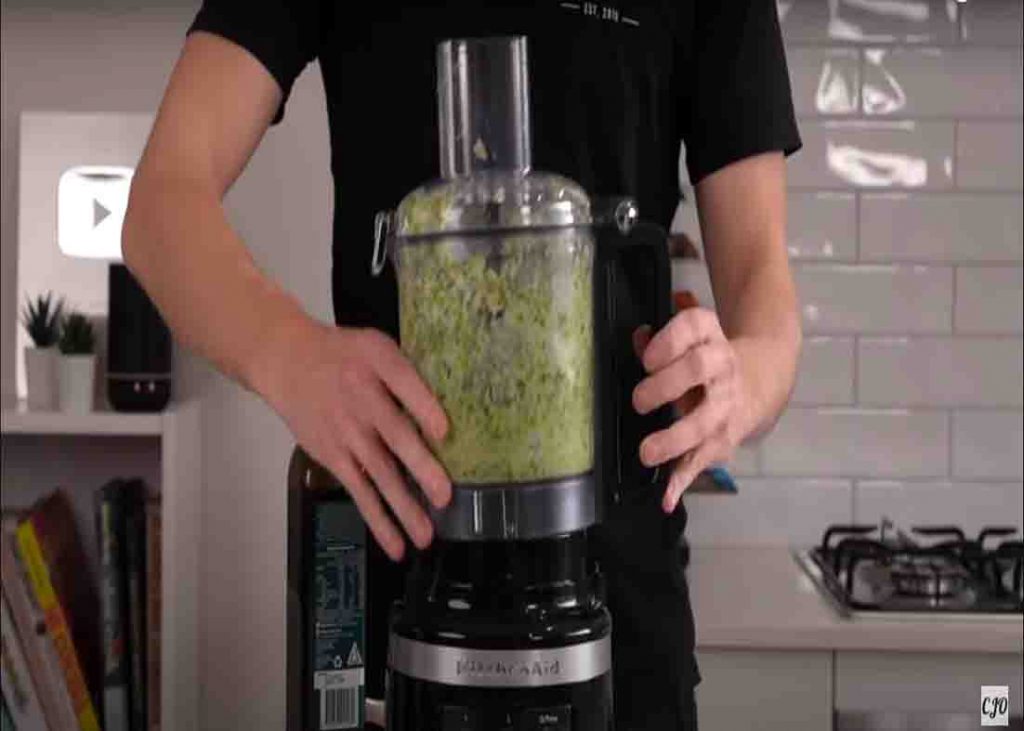 Step 2
Next, slice your bread of choice in half and set aside. After this, prepare your veggies and cut them accordingly. Now, start assembling the sandwich. Spread the pesto onto both of your bread, then add the seared chicken followed by the sliced mozzarella cheese, and five pieces of tomatoes. Season everything with salt and pepper to taste. Place the top bread, push it down, then toast it in the broiler, stovetop, or griller. Serve and enjoy.
15-Minute Chicken Pesto Sub Sandwich Recipe