Watermelon is in season again! My daughter and I love watermelon more than any other fruit and honestly more than most all foods. In summer, when you can get the best watermelons of all, we love making all sorts of new dishes with our favorite treat. From healthy salads to creative smoothies to a must try soup recipe, you can't go wrong with any of these watermelon recipes. Try them all! We did, well not the fruit leather. She says we have to try that one this weekend…or else. Gotta love watermelon!
Best Watermelon Recipes
1. Watermelon Poke Bowls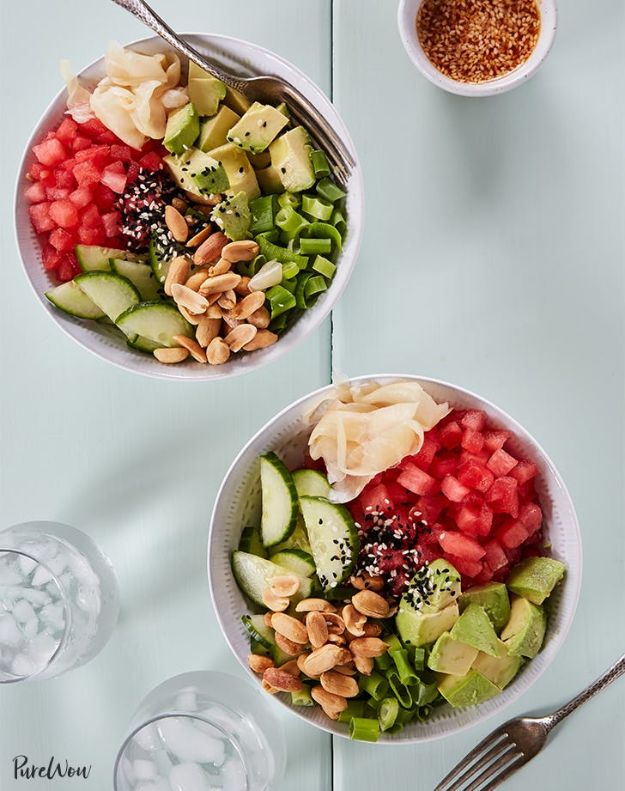 Craving for some cool and crunchy vegetarian salad for lunch or dinner? The watermelon poke bowl is a delicious, heart warming and tasty dish you can try to satisfy your vegetarian salad cravings. It's super light you won't hesitate to ask for seconds.
2. Curried-Shrimp Salad with Grilled Watermelon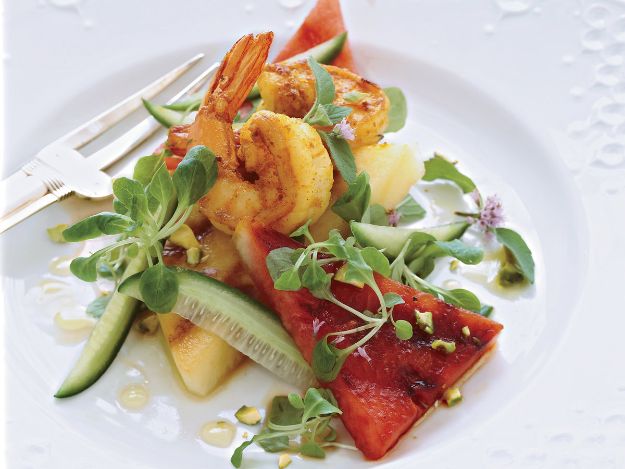 I never knew watermelon could work really well with seafood especially shrimp. I also learned that grilling watermelon can give it a nice, sweet and smoky flavor. The trick is to put a little sugar to get that perfect charring. This looks restaurant-grade and I can't wait to try it!
3. Watermelon Caprese and Goat Cheese Salad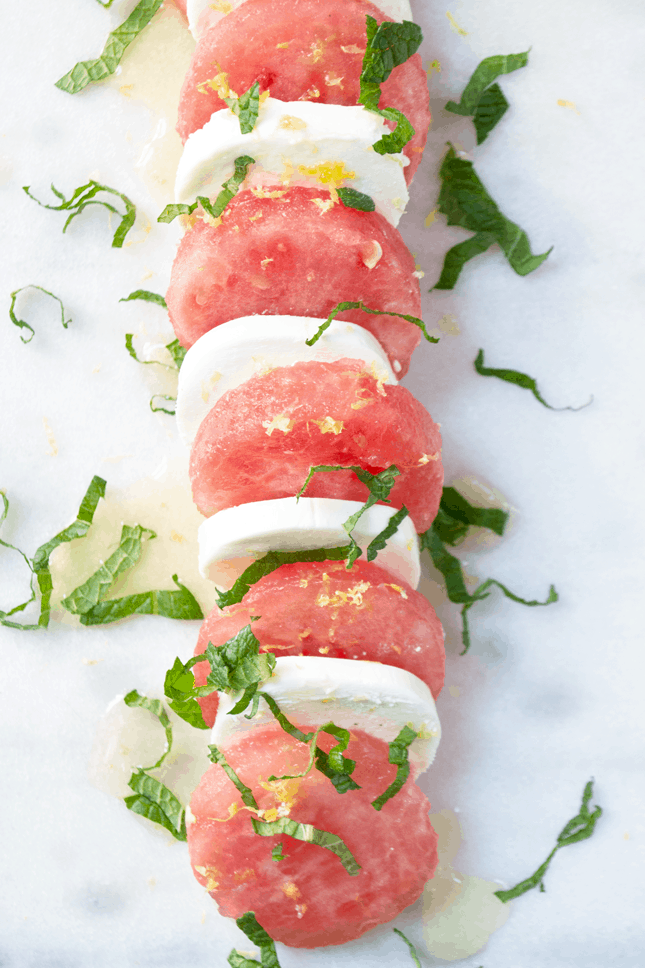 I love the color on this Caprese salad! It's simply mouthwatering and delicious to taste. This is a refreshing salad to serve especially on those hot summer months. Perfect for any potlucks, cook-outs, and barbecue parties.
4. Chilled Watermelon Soup With Coconut Cream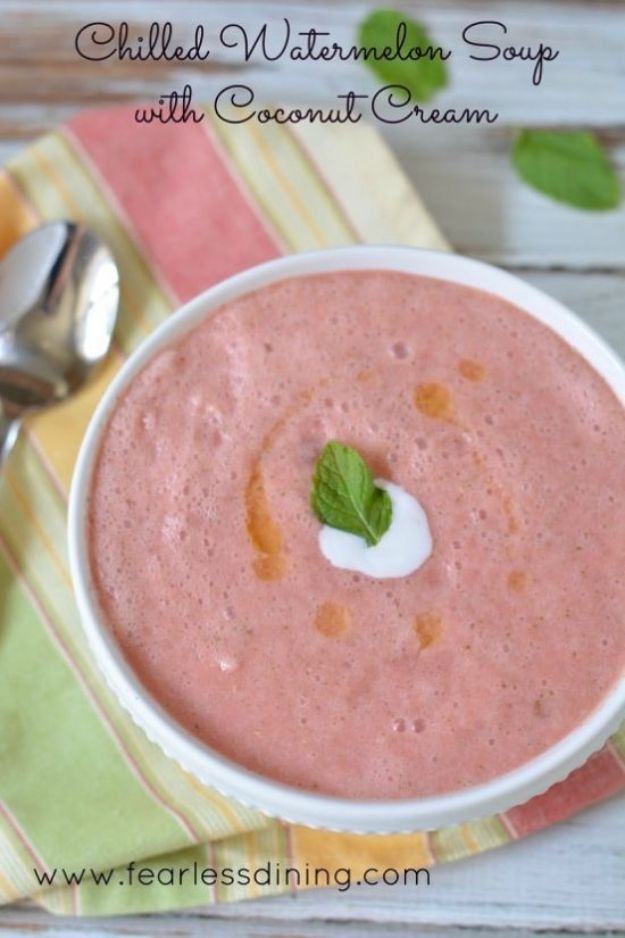 Keep it cool this summer with a healthy serving of this wonderful chilled watermelon soup with coconut cream. Personally, I'm not a fan of cold soup but reading up on the post I think I am about to change my mind. Watermelon is the obvious star of the recipe and I love watermelon so much, I will be trying this recipe soon.
5. Watermelon Canapés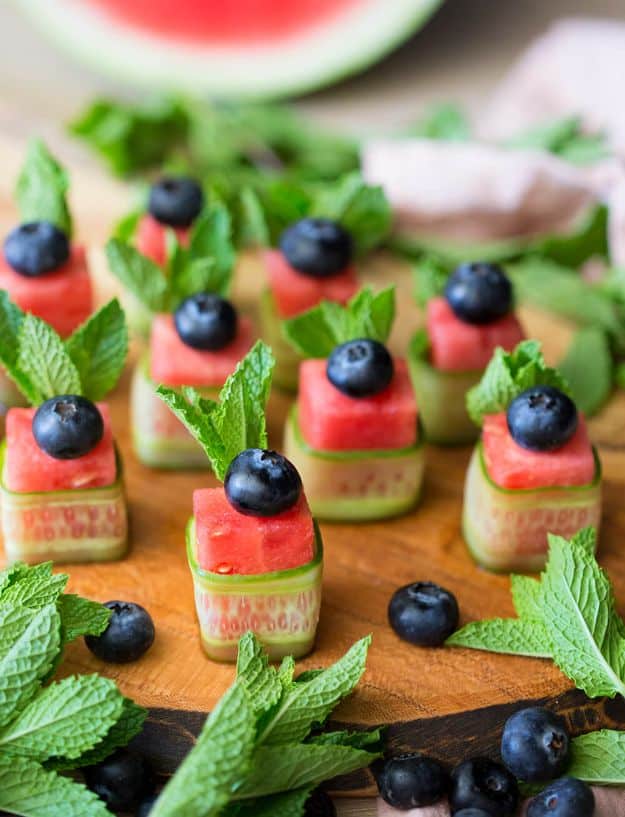 This watermelon canapes are taking appetizers to a whole new level. It's almost hard to believe it's crazy simple to make but its really healthy and delicious. I just love how refreshing they are – perfect for a hot summer day. Totally making it soon!
6. Watermelon Feta Blueberry Salad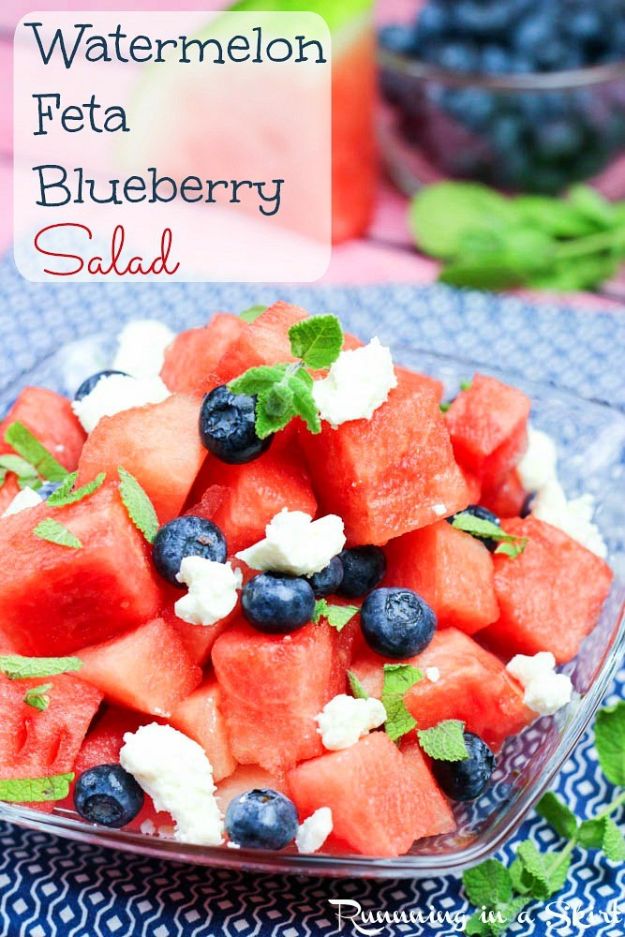 Here comes the star of the summer party. Made with fresh sweet watermelon, plump blueberries, combined with feta cheese and fragrant mint, this will be hands down a hit every time you make it. Put them in a fruit bowl with a hint of lemon dressing and it's ready to serve. How simple is that?
7. Grilled Watermelon-Feta Skewers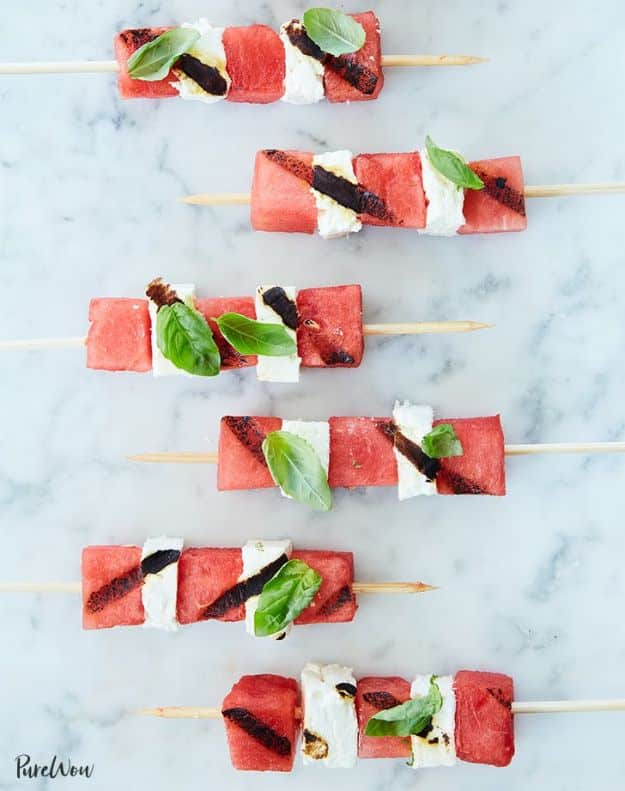 Purewow has a fresh new twist to this appetizer and that is grilling the watermelon. When it comes to serving, drizzle each salad with 1 to 2 tablespoons olive oil and 2 teaspoons balsamic vinaigrette. What a fantastic treat to serve your guests at a pool party!
8. Cucumber Basil And Watermelon Salad With Love & Lemons
Healthy eating never looked this good! This salad looks so gorgeous and the combination of the flavors is so refreshing. It's all about the salad base which is composed of watermelon, cucumbers, and mango. The trick is to cut watermelon into balls, cucumber in pie shapes and the mango in smaller triangle shapes. Tada! What a pretty salad!
9. Watermelon Prosciutto Bites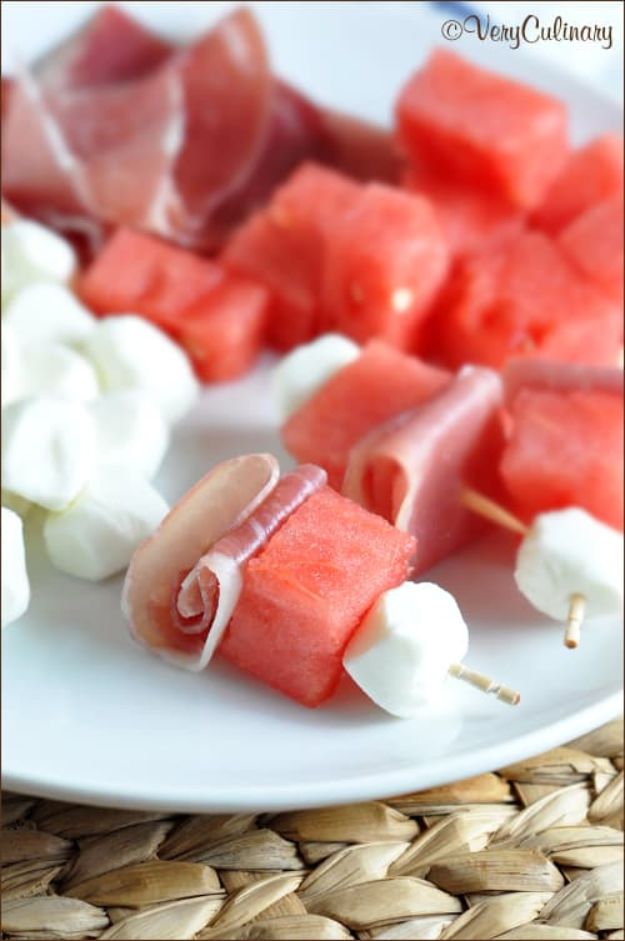 I never thought of putting watermelon with prosciutto and I love this idea! It's surprising that the whole sweet/salty combo go really well together. It looks perfect for summer and sure is a great party treat snack.
10. Watermelon Fruit Leather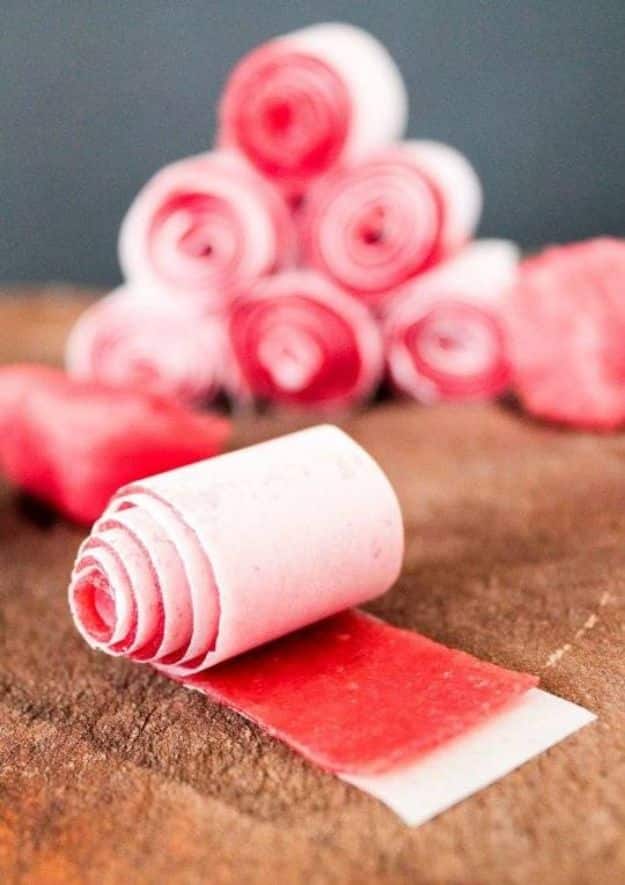 Did you eat Fruit Roll-Ups as a kid? I sure did and as an adult too! It always brings back good childhood memories. This homemade version of watermelon fruit leather is a special treat that will be an instant favorite among your kids. The best part is that they are so easy to make, great for lunches or a snack, and you'll only need 2 ingredients!
11. Honey Drizzled Watermelon and Yogurt Parfait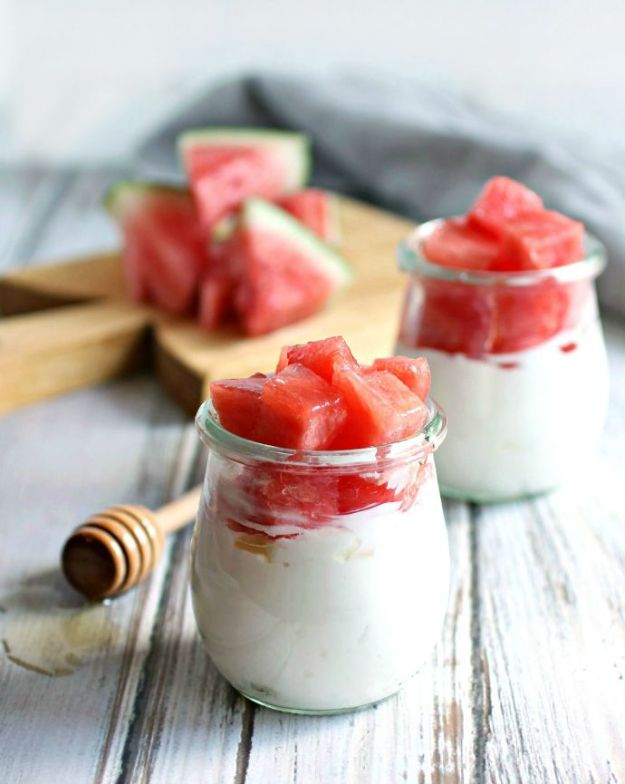 12. Cilantro Lime Grilled Watermelon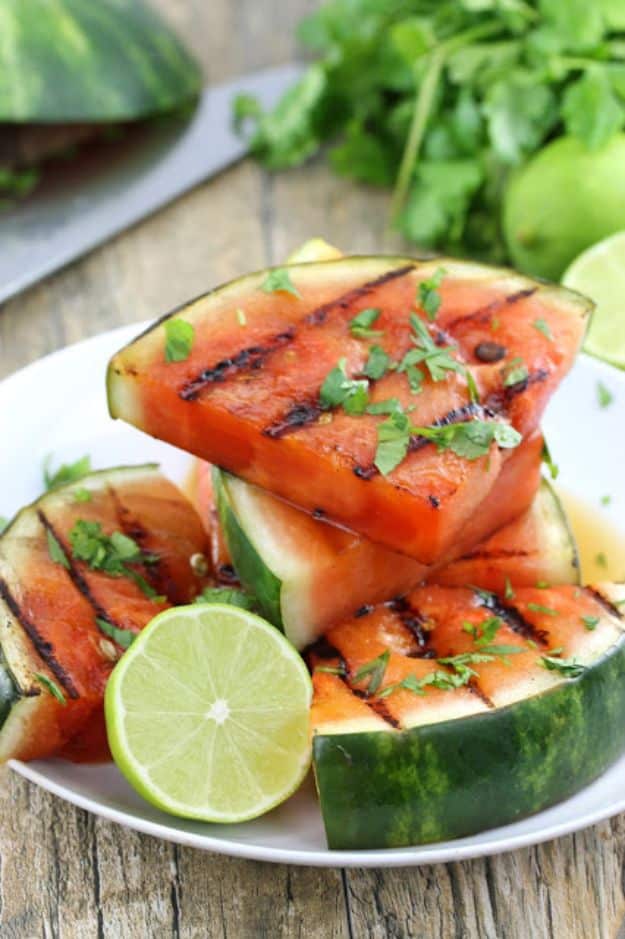 13. Tomato Watermelon Gazpacho with Pistachios and Basil Oil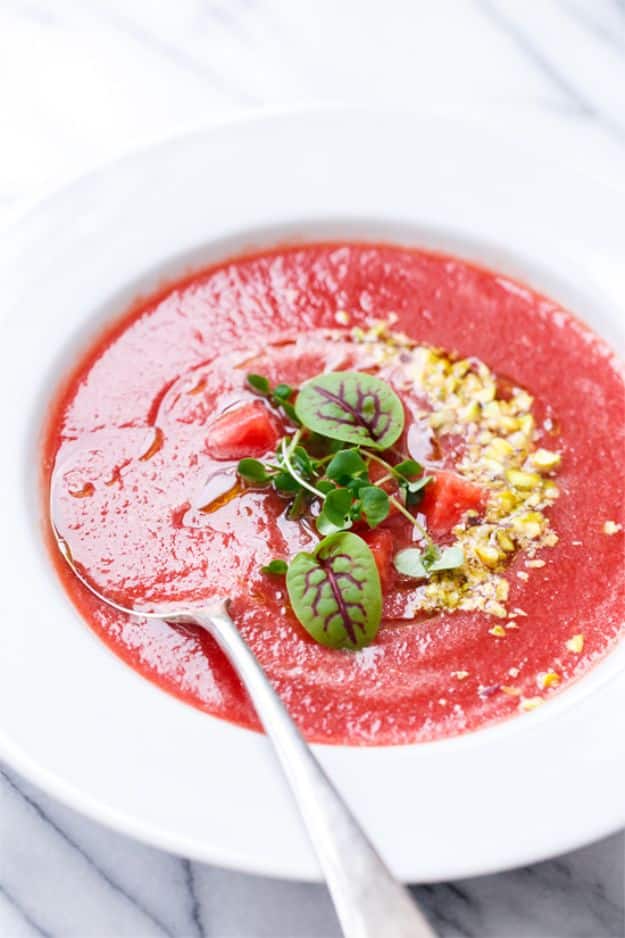 14. 3-Ingredient Watermelon Raspberry Popsicles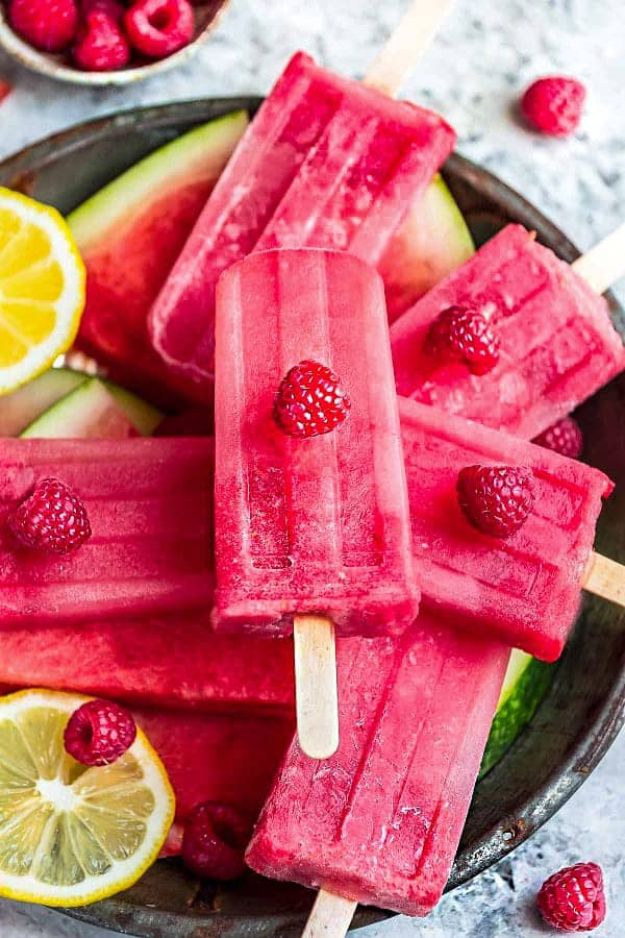 15. Basil Watermelon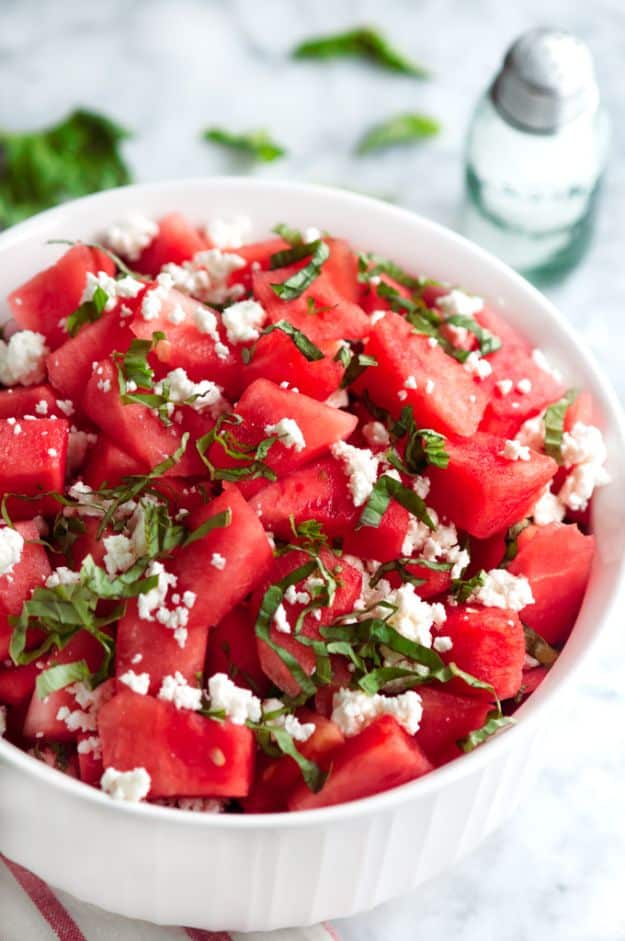 16. Easy Watermelon Gazpacho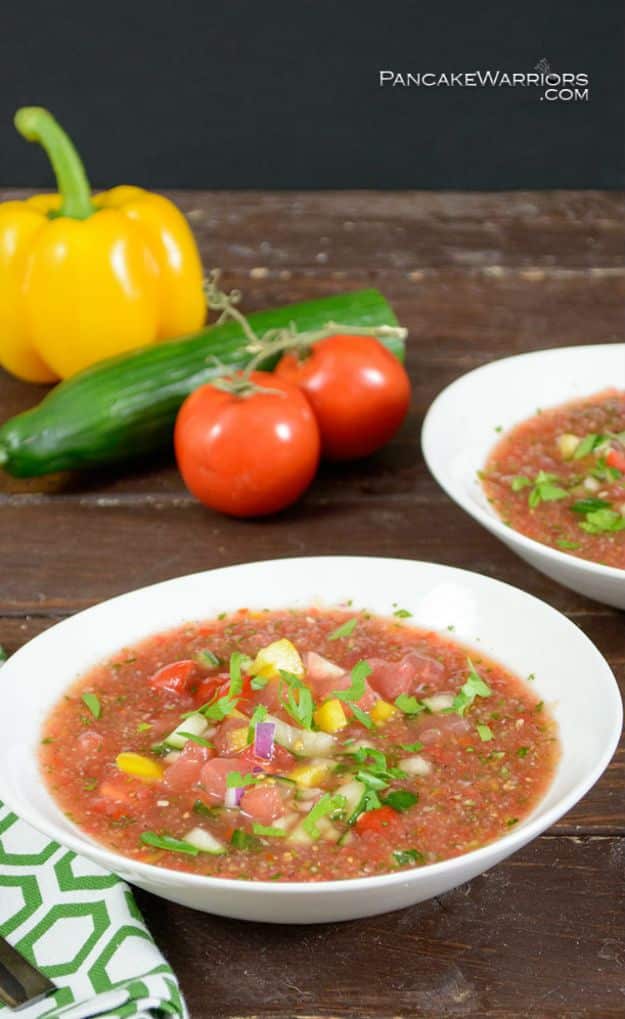 17. Grilled Halibut Tacos with Watermelon Salsa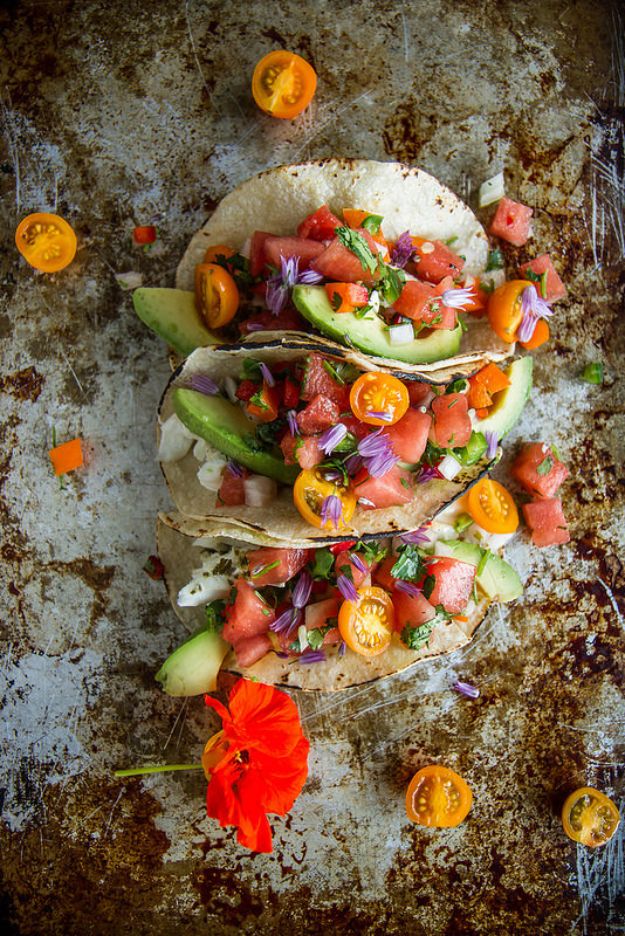 18. Layered Watermelon Cake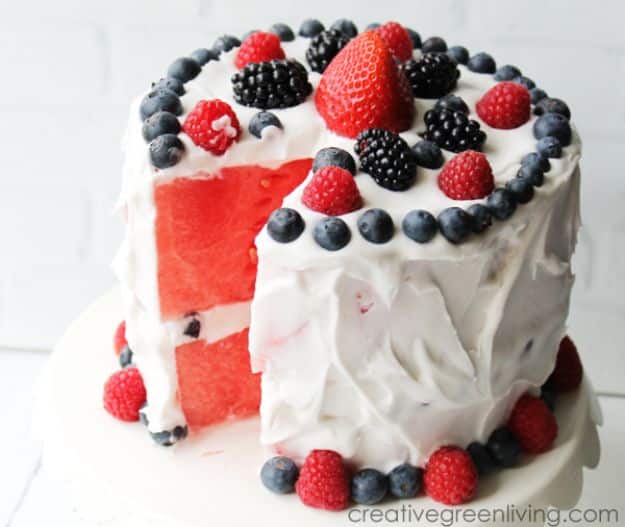 19. Watermelon Feta Blackberry Skewers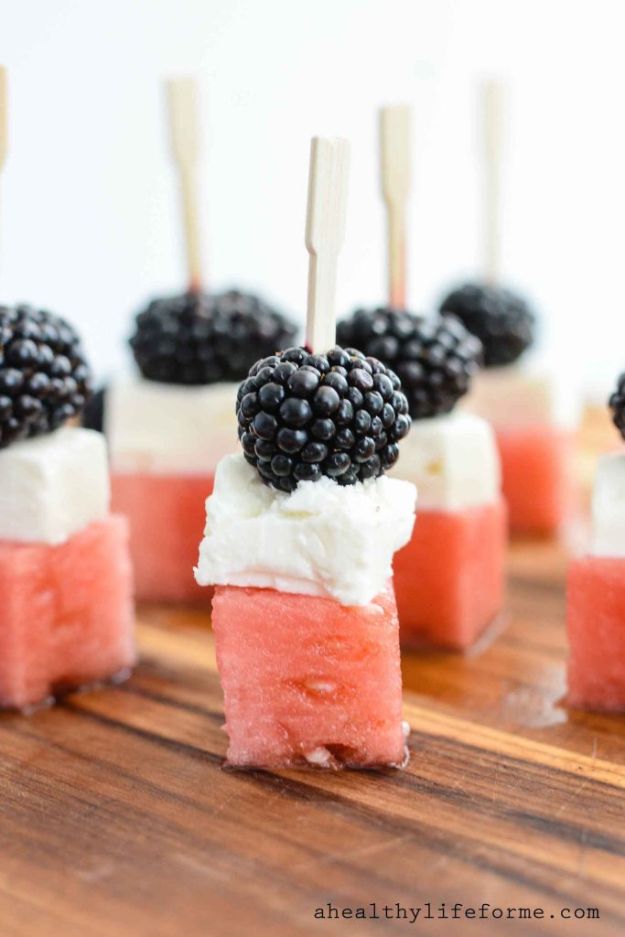 20. 3-Layer Watermelon Gelatin Cubes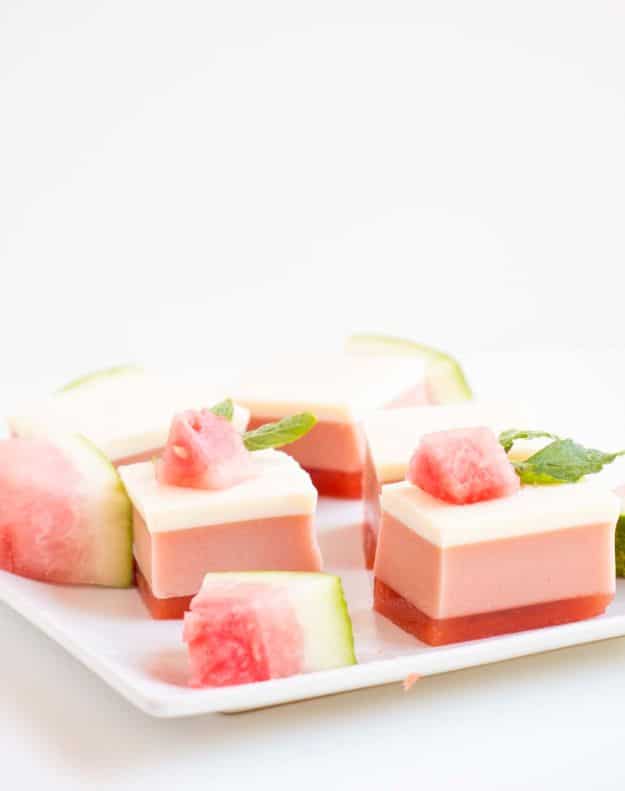 21. Grilled Shrimp and Watermelon Chopped Salad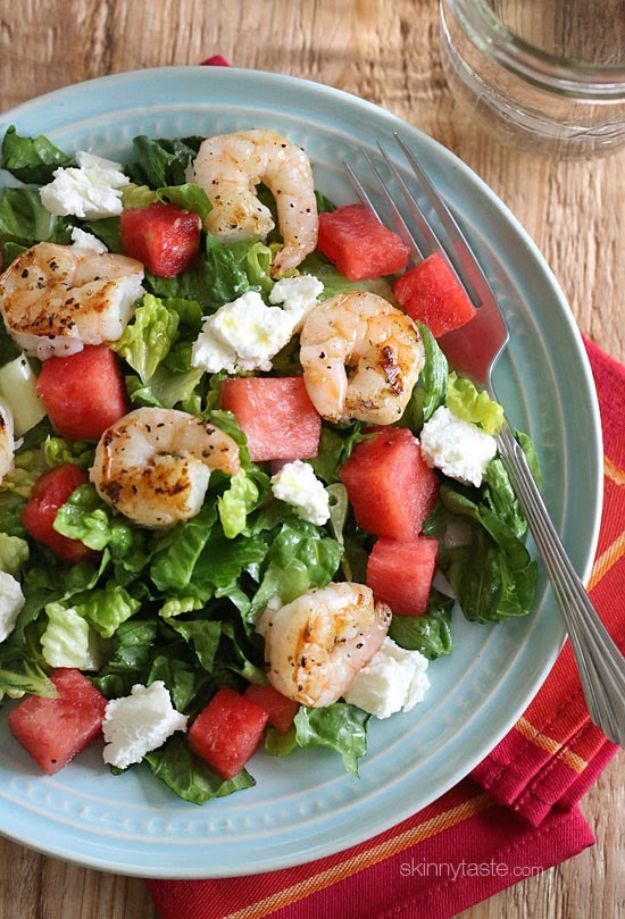 22. Watermelon Chia Seed Muffins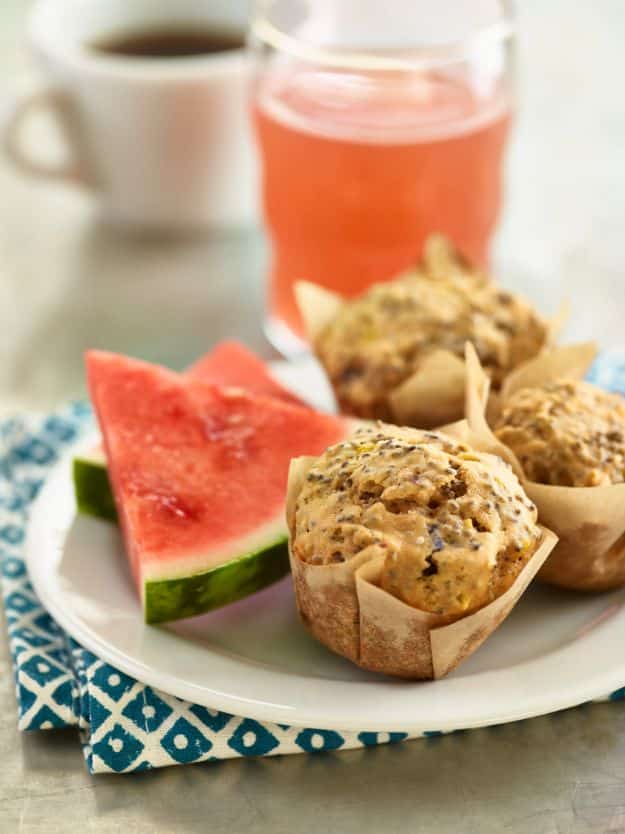 23. Watermelon Bruschetta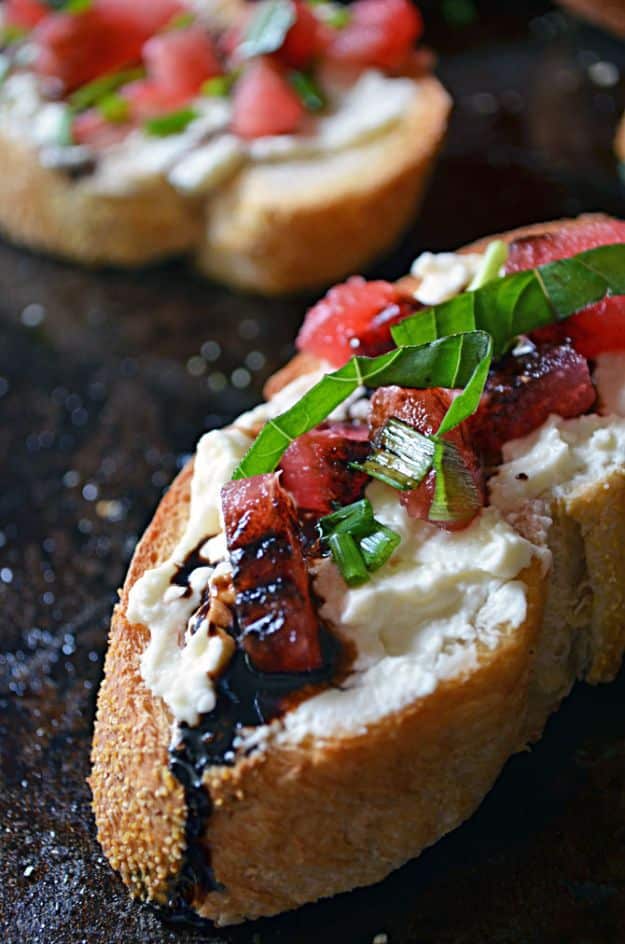 24. Honey Grilled Watermelon Caprese Salad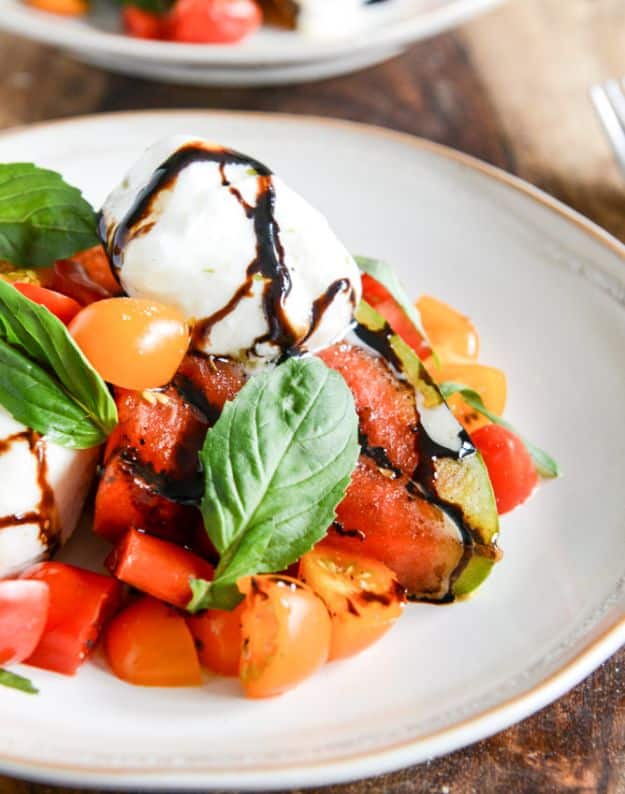 25. Watermelon Mango Pico de Gallo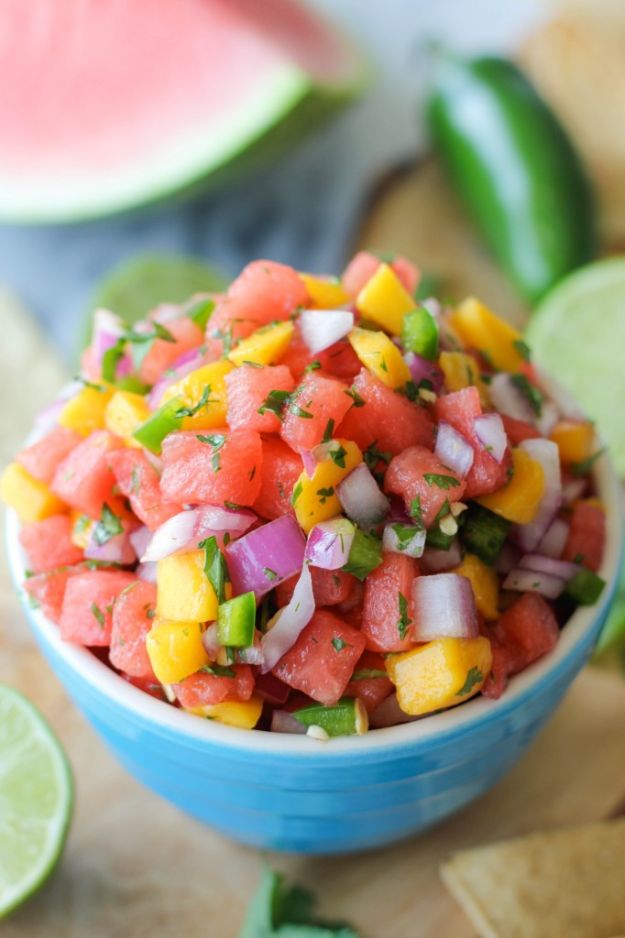 26. Watermelon Feta Orzo Salad with Lemon and Basil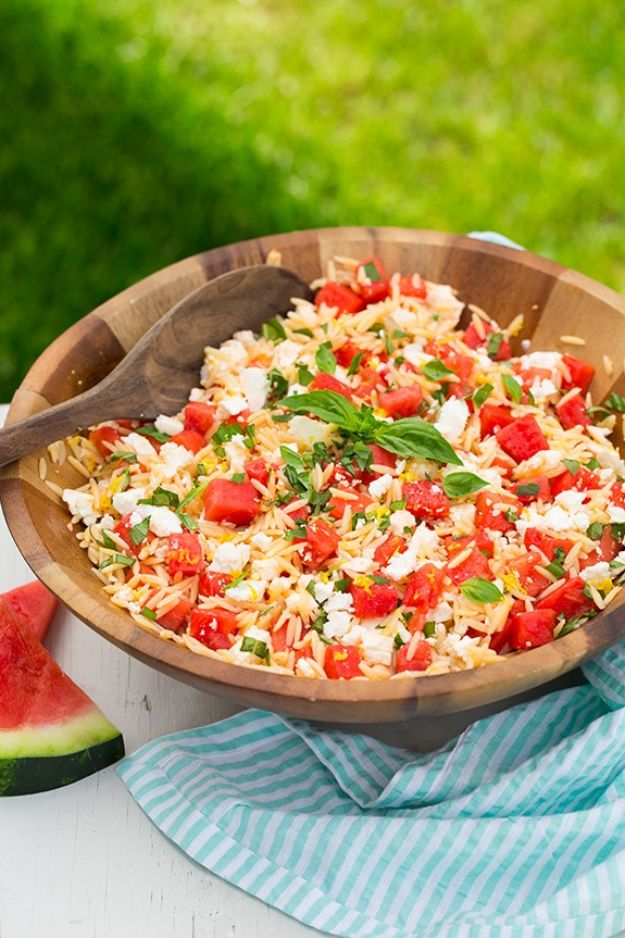 27. Mexican Watermelon Salad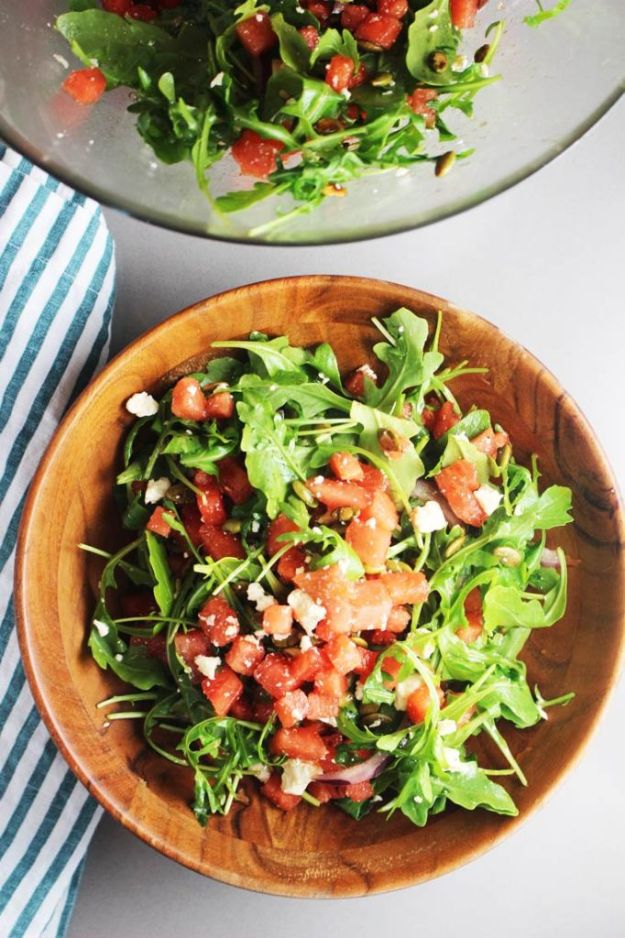 28. Watermelon Benedict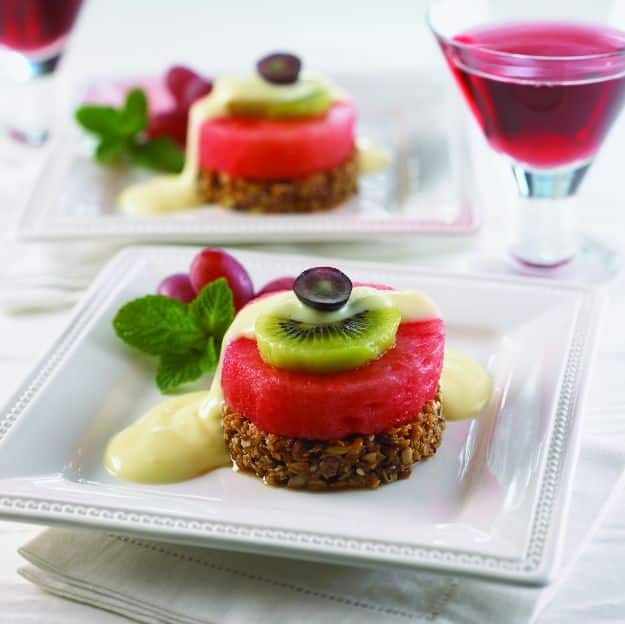 29. Watermelon, Jalapeno, and Lemon Soup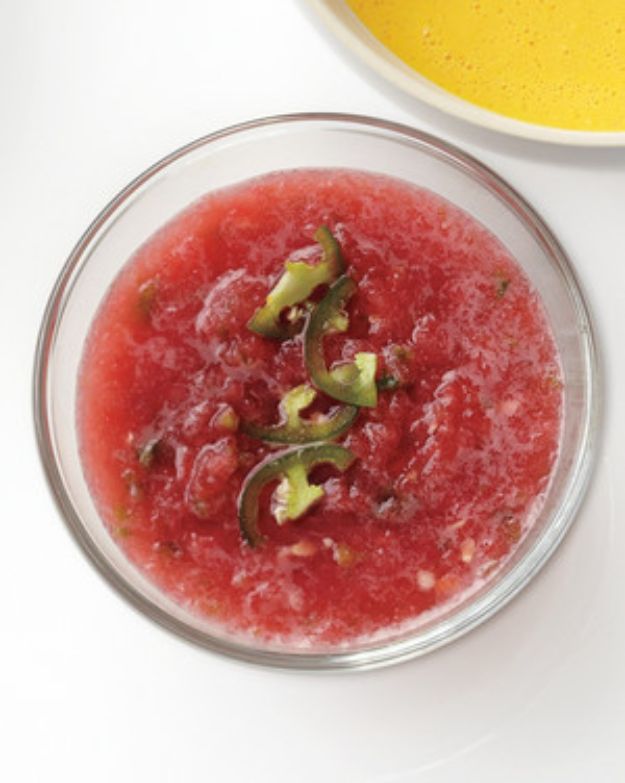 30. Watermelon Guacamole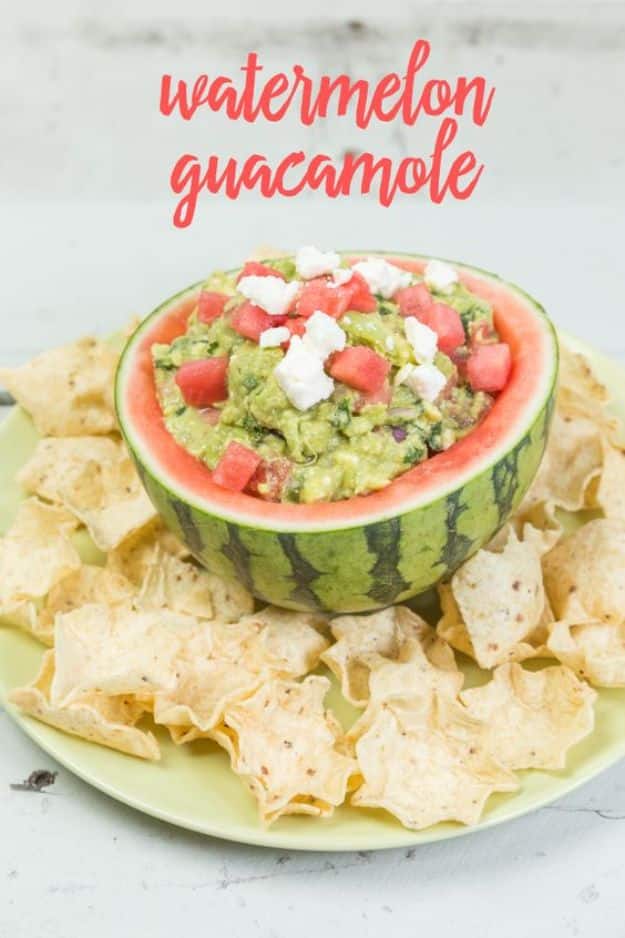 31. Watermelon Pizza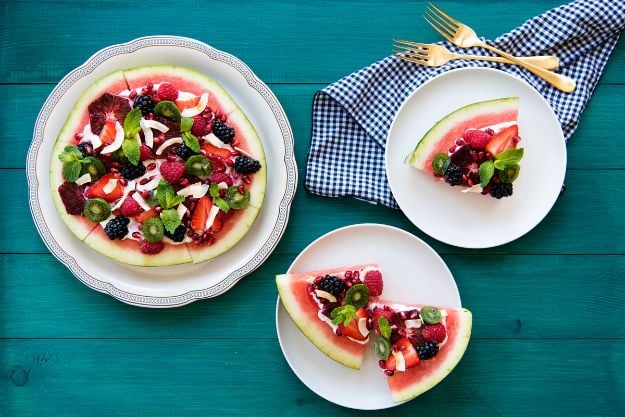 32. Watermelon Tart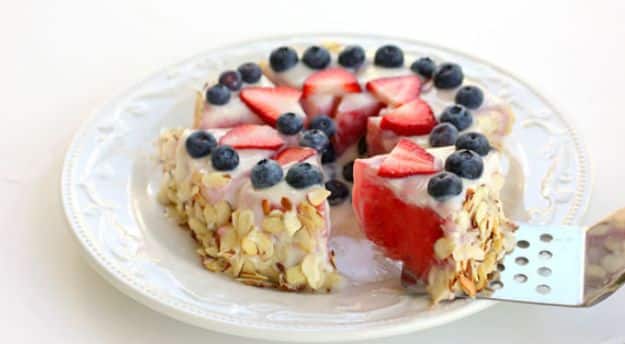 33. Watermelon Steak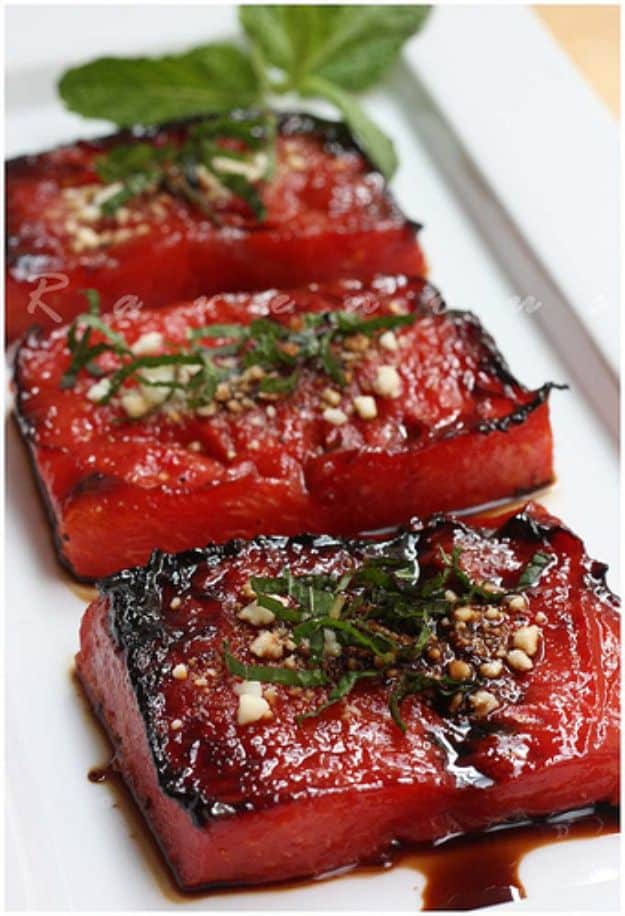 34. Watermelon Jam