With a little bit of creativity and help from Roxy Nimmiz, you can transform a plastic chair into an accent chair! How amazing is that? These kinds of chairs are not cheap, so if you are looking for an alternative way to have one, this may be it. Watch the video below for full instructions.
Materials:
plastic chair
cardboard
1″ foam
1/2″ foam
contact glue
fabric
gold spray paint
rhinestones
sunflower mesh
skewers
hot glue
Instructions:
Step 1:
Measure the back of your chair. Trace it into the cardboard and cut it. Secure it in place with tape. Make sure that you wrap it well with tape. Do the same for the apron of the chair. It should look like this.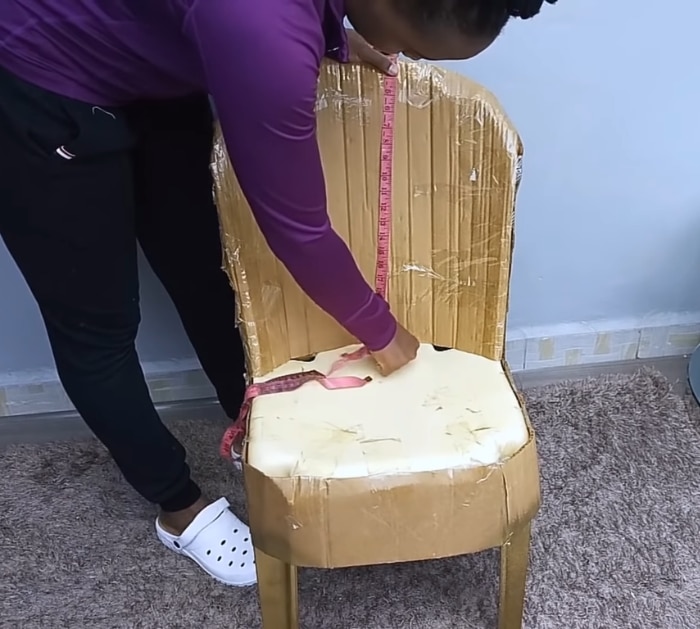 Step 2:
Spray paint the legs of the chair.
Step 3:
Spread contact glue to the back of the chair. Let it dry for about 10 minutes then attach the foam. Cut excess. Do the same on the apron of the chair.
Step 4:
Draw the lines for the tufting and make points. Here are the measurements for diamond tufting:
diagonal 5″
horizontal 6″ apart
vertical 4″ apart
Step 5:
Cut holes on the points. Next, add batting on top of the foam using contact glue.
Step 6:
Fix the fabric, poke the needle into a hole, place the thread with the button on the back part of the needle, and pull it. Repeat with the other holes. Use skewers and hot glue to tie the threads on the back. To attach the edges of the fabric to the chair, use hot glue.
Step 7:
Once you are done with the top part, cover the sit with foam using contact glue. Next, use the same fabric to cover the foam. Glue the ends using contact glue.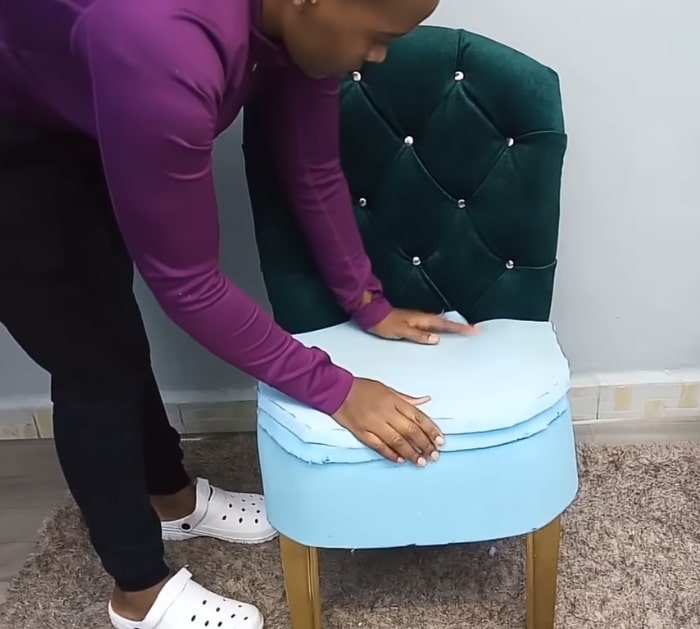 Step 8:
Cover the remaining parts with the same fabric. Glue the sunflower mesh on the joints.
Step 9:
Add rhinestones on the silver buttons.
Transform a Plastic Chair into an Accent Chair