A lot of people love the taste of cinnamon with its sweet, earthy, and woody flavor. It has been one of the top spices used for baking different pastries. If you are one of those who like this ingredient, you should try this super soft pull-apart cinnamon bread by How Tasty. You will surely finish this delicious treat in no time. It's an easy and simple recipe that will make your house smell really good. Read on or watch the video below for the full instructions.
Ingredients:
For the dough:
3 cups of all-purpose flour
1/2 teaspoon of salt
3 + 1/2 tablespoon of sugar
2+1/2 teaspoon of active dry yeast
2/3 cup of milk (lukewarm)
1/4 cup of unsalted butter (melted)
2 eggs (beaten)
For the filling:
1/3 cup of unsalted butter (softened at room temperature)
2/3 cup of dark brown Muscavado sugar
1 big tablespoon of ground cinnamon
Extra ingredients:
flour for dusting the work surface
1 beaten egg for brushing the top
melted butter for brushing the top (optional)
Instructions:
Step 1:
In a large bowl, add all-purpose flour and salt. Whisk them together. Next, add sugar, and active dry yeast, and combine.
Step 2:
Combine the wet ingredients. Add lukewarm milk, melted butter, and beaten eggs to a medium-sized bowl. Mix them all.
Step 3:
Pour the wet ingredients into the dry ingredients in two batches. Mix with a spatula after each set until almost combined.
Step 4:
Start kneading the dough using your hands until it pulls away from the edges of the bowl for about 1 minute. If the dough is too wet, add some extra flour but if it's too dry add more lukewarm milk. The dough should be soft and a bit sticky.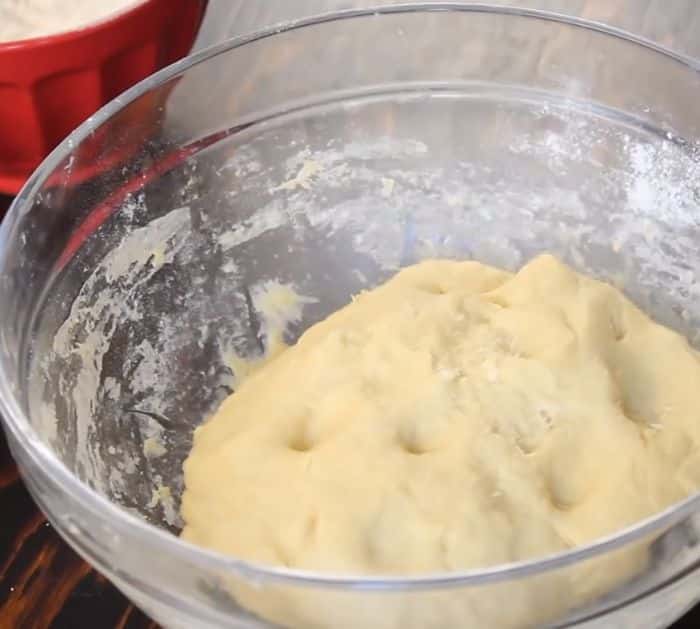 Step 5:
Cover the bowl with plastic wrap and a tea towel. Let it rinse in a warm place until it doubles in size for about 1 1/2 hours.
Step 6:
For the filling, combine the softened butter, sugar, and cinnamon in a medium-sized bowl until creamy.
Step 7:
Assemble the bread. Sprinkle some flour onto your working surface. Roll the dough to a rectangle of about 20×14 inches. Spread the butter and cinnamon mixture evenly using a spatula, then cut into 6 long strips.
Step 8:
Stack three strips on each other to get 2 stacks of three strips. Next, cut each stack into 4 squares. Transfer them into a 4,5 x 9-inch loaf pan lined with parchment paper and greased. Once done, spread apart every layer using your hands.
Step 9:
Cover it with a tea towel and let it rise at room temperature for about 30 minutes. After 30 minutes, brush the top of the bread with beaten egg and place in a preheated oven at 350 degrees F. Bake for about 30-35 minutes. After 20 minutes, cover the top with aluminum foil to prevent burning.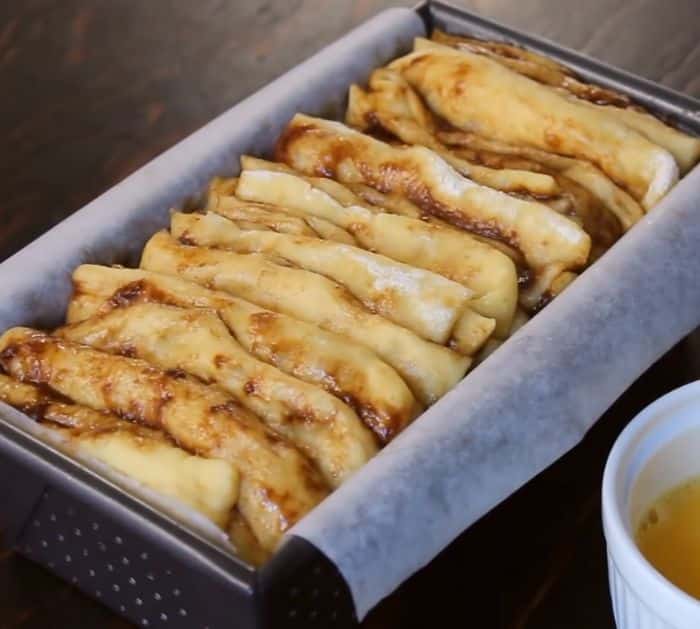 Step 10:
Once done baking, remove from the oven. Brush melted butter on top while it's still hot (optional). Serve while warm. Enjoy!
Super Soft Pull Apart Cinnamon Bread