Aren't fishes one of the cutest creatures? We have an aquarium at home, and I love staring at them. They make me feel relaxed and calm after a tiring day. That's why I wanted my next project to have a fish pattern. Timingly, I found this summer school quilt by Missouri Star. It's like how I imagined it to be! I had so much fun making this project – I am sure you'll enjoy it too.
Materials:
1 pack of 5″ print squares
1 3/4 yards of background fabric
3/4 yard for the border
1/2 yard for binding
2 3/4 yards for backing
Instructions:
Step 1:
Take one of the 5″ print squares. Cut it into half two times to make 4 pieces of 2 1/2″ squares. Set one aside, press another one in half diagonally, then cut the two remaining into 1 3/4″ squares. Iron the 1 3/4″ squares in half diagonally.
Step 2:
Get one white strip and cut 3 pieces of 2 1/2″ squares.
Step 3:
Take one of the 1 3/4″ squares and line it up on the top corner and sew right across the line. Repeat with the other 1 3/4″ square. Trim off the edges and press them open. These will be the fins.
Step 4:
Assemble the fish. Get the printed 2 1/2″ square you set aside earlier and place the two fins on the side and bottom. Place the white 2 1/2″ square to make the four-patch, then take the remaining folded print square and place it on top of the inner corner. Sew the fish together. Make sure the folded triangle is loose. Press it open.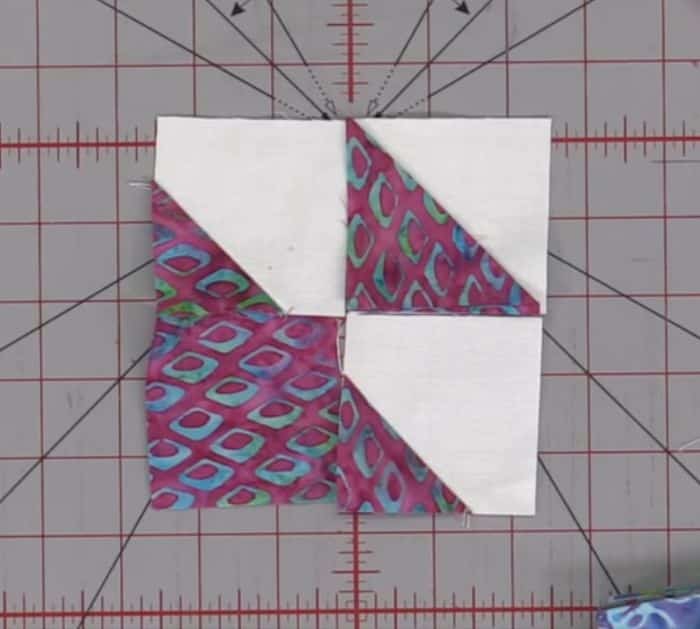 Step 5:
Fold the loose triangle towards the center to make it into a fishtail. Top stitch along the edge. Now you have the curve. Press it with an iron.
Step 6:
Take 2 pieces of 4 1/2″ squares from your yardage. Cut them diagonally in half. Add them to the sides two times at a time. You can fold them in half to make a crease and match them to the center seam. Press it out open. Trim off excess to make a 6 1/4″ square. You need 6 across and 7 down for a total of 42 blocks.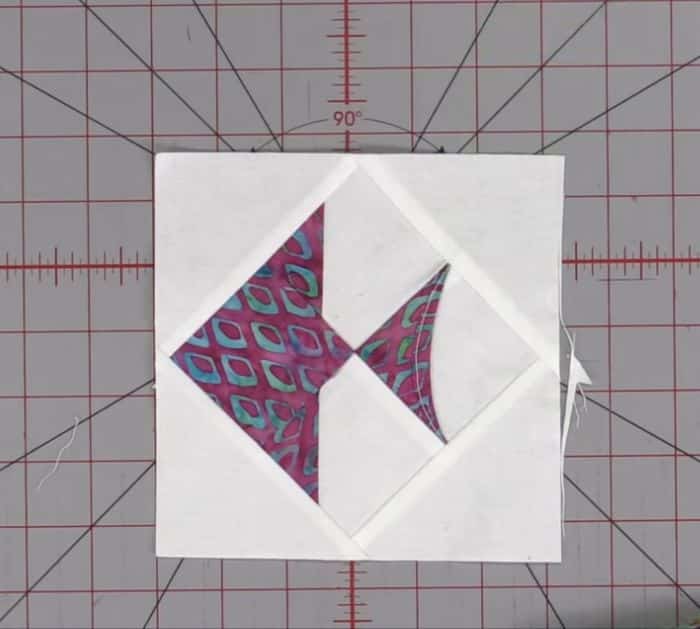 Summer School Quilt