If you love brownies, then you have to try these strawberry brownies from The Country Cook on YouTube! I swear, these brownies taste as good as they look. It's also a bonus that they're strawberry-flavored because who doesn't like this flavor; right? So, if you're getting tired of traditional chocolate brownies, you might want to try this recipe. These will become a staple in your home once you try them. It's also super easy to make and budget-friendly, so these will make a good after-school snack for your kids. Try these today and see for yourself. Watch the video below to learn the step by step instructions. Thanks to The Country Cook for this fantastic brownie recipe. Make sure to check the channel for more recipes just like this.
Ingredients:
For the Brownies:
15.25 oz box of strawberry cake mix
2 large eggs
1/3 cup of salted butter, melted
1 tsp strawberry extract
For the Glaze:
3/4 cup powdered sugar
2 tbsp strawberry preserves
1 1/2 tbsp milk
Directions:
Step 1
Preheat the oven to 350 degrees F and grease your baking dish with nonstick cooking spray, then line it with parchment paper. Set it aside. Next, in a large bowl, add the strawberry cake mix, 2 large eggs, 1/3 cup of salted butter, and 1 tsp strawberry extract. Mix well to combine, then transfer it to the prepared baking dish. Spread the batter nicely and evenly and bake in the preheated 350 degrees F oven for 18 to 25 minutes.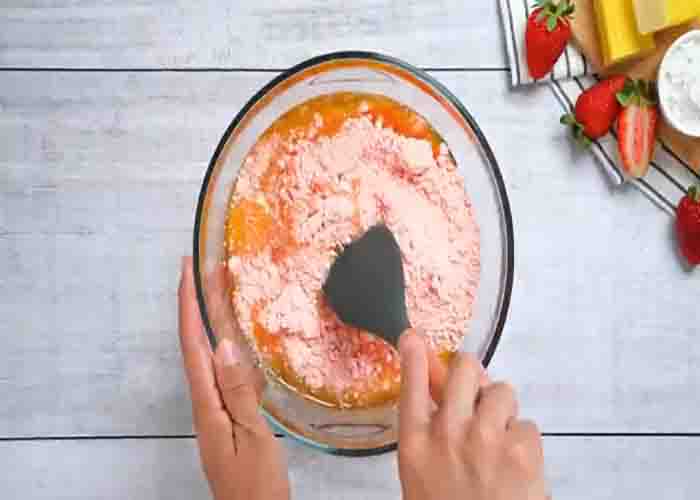 Step 2
In the meantime, make the glaze. In a bowl, combine 3/4 cup powdered sugar, 2 tbsp strawberry preserves, and 1 1/2 tbsp milk. Mix until well combined. Once the cake is done baking, spread the strawberry glaze over the top. After this, cut it into small size pieces. Serve and enjoy!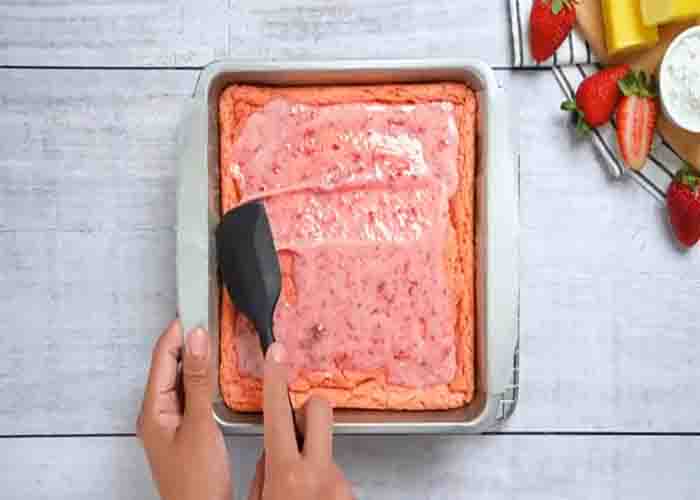 Strawberry Brownies Recipe