Slow cooker recipes are the best. They are so easy and fast to make – perfect for busy individuals like me. One of my go-to dinner recipes is this slow-cooker chicken broccoli stuffing casserole by The Magical Slow Cooker. No complicated steps are required for this dish. Just mix the ingredients, place them inside the crock, and turn it on. Leave it and let it do its magic. After a few hours, it's ready to be enjoyed! Read on or watch the video below for full instructions.
Ingredients:
2 to 2.5 lbs of boneless chicken breasts (diced into 1-inch cubes)
21 oz of cream of chicken soup (two 10.5 oz of cans)
12 oz of cornbread stovetop stuffing (two 6 oz boxes)
2.5 cups of chicken broth or water (room temperature or cold)
1/2 cup of salted butter (1 stick)
1 head of broccoli (cut into florets)
8 oz of shredded cheddar cheese (divided)
Instructions:
Step 1:
Get a large bowl and add 2 boxes of cornbread stovetop stuffing.
Step 2:
Add the chicken broth to the bowl. You can also use water as a substitute. Next, add the melted butter and 3/4 cup of cheese. Stir everything gently until well combined.
Step 3:
Fold in the broccoli florets and set the bowl aside.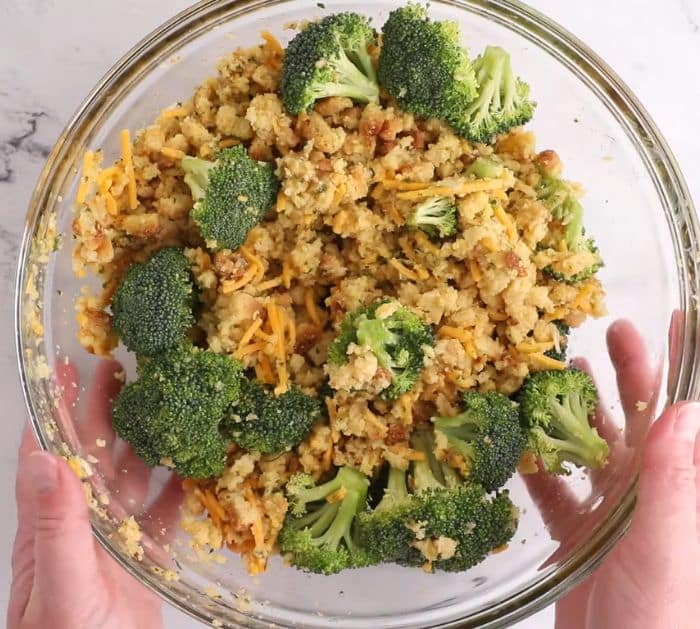 Step 4:
Add the diced boneless chicken breasts to the slow cooker. Next, pour the cans of cream chicken soup. Stir everything until well combined.
Step 5:
Pour the stuffing mixture over the chicken. Make sure not to mix it into the chicken. Gently spread the stuffing layer into a smooth layer on top.
Step 6:
Sprinkle over the remaining cheese on top.
Step 7:
Place the lid of the slow cooker and cook the casserole on low setting for about 4.5 to 5 hours or until the chicken is cooked through and the sauce is hot and bubbly.
Step 8:
Serve on a plate and enjoy while warm.
Slow Cooker Chicken Broccoli Stuffing Casserole