This rich and creamy homemade lasagna recipe by Yummyyy y is always a crowd favorite in any gathering we have at home. Each layer has the perfect balance of flavors. It's moist and cheesy, just how my family likes it! Read on or watch the video below for full instructions.
Ingredients:
Meat sauce:
2.65 lb of ground meat
2 medium-sized onions (sliced)
5 to 7 garlic cloves (minced)
2 to 3 tablespoons of olive oil
3 cans (14.1 oz each) of chopped tomatoes
salt to taste
1 teaspoon of red chili powder
1 teaspoon of crushed black pepper
2 teaspoons of dried basil
2 teaspoons of dried oregano
4 cups of water
Bechamel sauce:
1/3 cup of butter
4 tablespoons of all-purpose flour
3 1/3 cups of milk
1 teaspoon of salt
1/2 teaspoon of nutmeg
For the layers:
1 can of 14.1 oz of chopped tomatoes
3 teaspoons of olive oil
no-boil lasagna noodles
fresh mozzarella cheese
fresh parsley and basil leaves (chopped)
parmesan cheese
Edam cheese
Instructions:
Step 1:
Make the sauce. In a pan, add sliced onion and minced garlic cloves. Next, add the olive oil and saute until the onions become translucent. Add the ground meat and break it into small pieces. Cook until browned. Season the meat. Add the salt, red chili powder, crushed black pepper, dried basil and dried oregano. Mix until well incorporated with the meat. Next, add the chopped tomatoes and water. Stir the sauce and bring it to a boil. Once boiling, lower the heat and cover it. Slowly simmer for about 2 hours. You can add some broth if the sauce ended up being thick.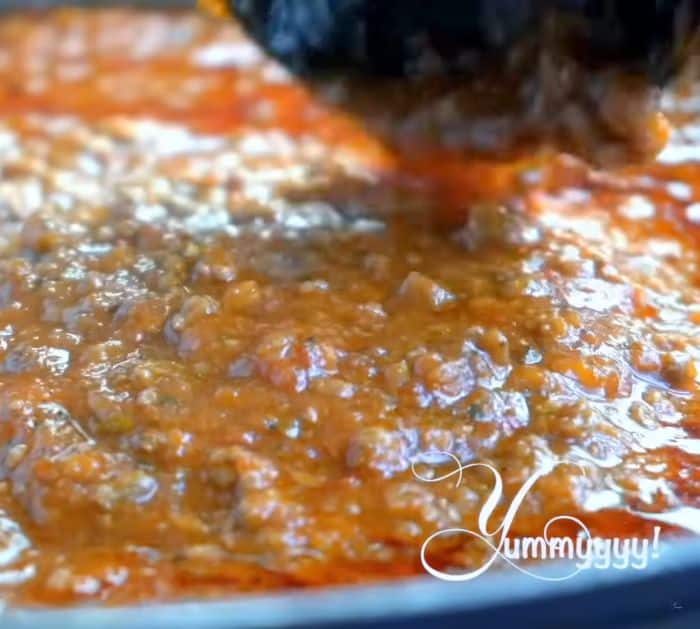 Step 2:
Make the bechamel sauce. In a pan, add the butter and all-purpose flour. Stir and cook for a few minutes. Next, add the milk while continuously stirring. Keep stirring until the sauce slightly thickens. Add salt and nutmeg. Mix and it's done.
Step 3:
Use a deep dish. For the first layer, add the chopped tomatoes and 3 teaspoons of olive oil. Make sure to spread them evenly. This will keep your lasagna moist and prevent the bottom layer of lasagna from sticking to the pan. For the second layer, add a layer of lasagna noodles, followed by meat sauce, parsley, basil, parmesan cheese, bechamel sauce, and mozzarella. Repeat the second layer and make 2 more. For the last layer, add noodles, followed by meat sauce, bechamel sauce, and Edam and mozzarella cheese on top. Cover it with foil. Make sure the bottom of the foil is generously coated with non-stick spray.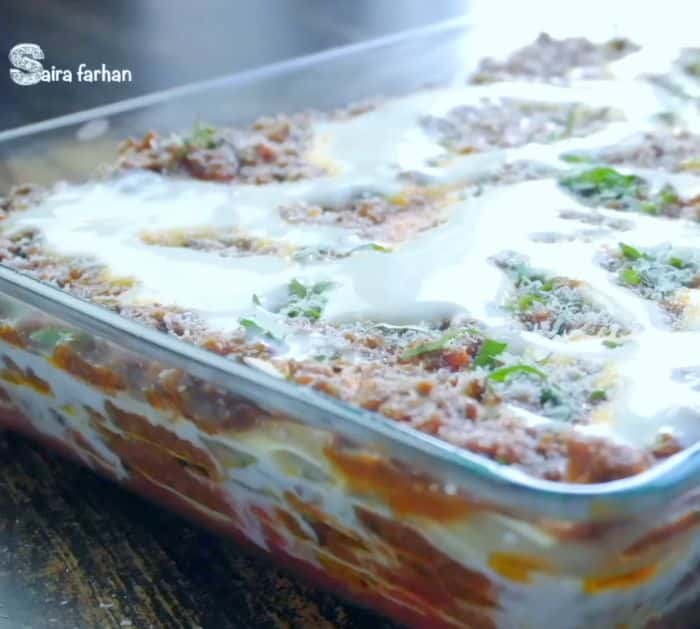 Step 4:
Place in a preheated oven at 375 degrees F for about 60 minutes. Once done, remove the foil and broil for 5 minutes.
Rich and Creamy Homemade Lasagna Recipe