This DIY project idea by Kevin's Garage on YouTube is a great way to repurpose an old wine barrel. With only about $200 you can make 2 cabinets for you to store your wine or liquor! This fun project is perfect to keep you busy for the weekend, you might also want to find a partner to help you build this, or you can do it on your own if you're up to it. Either way, you'll surely enjoy the process of building this and even more the results!
Materials:
LED lights
Door catch and pull
Felt pads
Brads and screws
Plywood backing
Hinge
Corner braces
Interior door braces
Stain
Foam brush
Tack cloth
80 grit sandpaper
Sander
Drills and drill bits
Oscillating tool
Jig saw and jig saw bits
Angle grinder
Hammer
Directions:
Step 1
Take off the center rings around the barrel, then sand it down, and wipe clean with a tack cloth. Stain the top of the barrel, then stain the sides as well, and let dry completely. Put the rings back on the barrel, then fasten them securely, and remove the top and bottom plates. Cut the barrel in half, then scrape the inside, measure the top and bottom plate, and cut them out as well. Screw the half discs in place, then lay down the barrel over the plywood, trace, cut out, and sand nicely.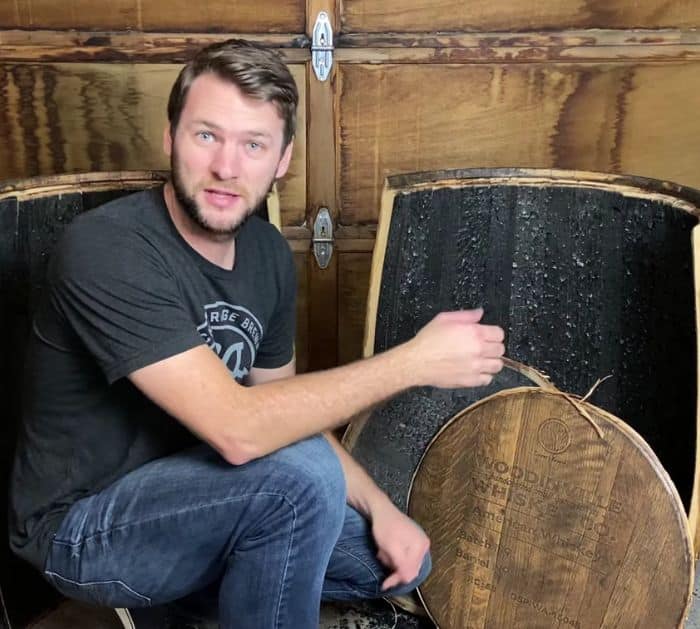 Step 2
Secure the plywood to the barrel with nails, then proceed to cut the curved side of the barrel to create the door, and make sure to file any sharp edges. Glue every stave of the door to each other to secure, then measure the desired height of the shelf, and install it. Next, attach the door using a hinge, then add a door knob as well, and place some felt pad all over the bottom of the barrel so that it won't scratch the floor. Add LED lights inside, then start storing your whiskey bottle, and you're done!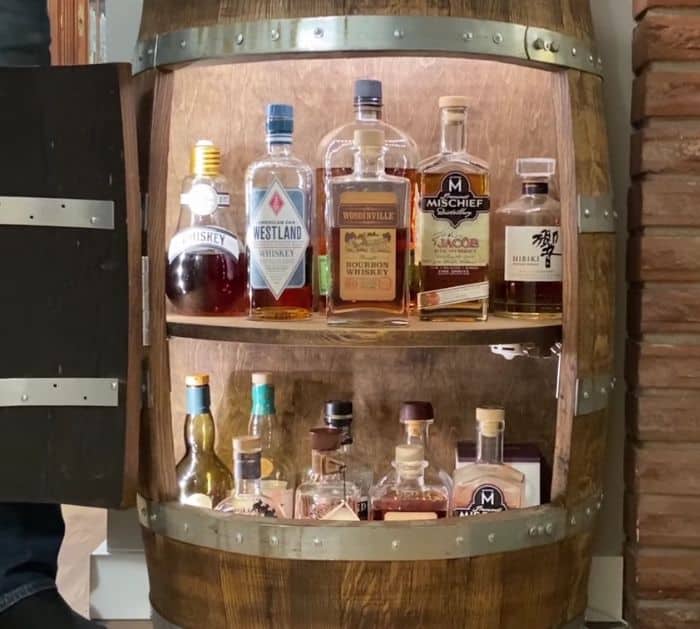 *All image credit belongs to Kevin's Garage via YouTube. Follow and subscribe to his channel for more!
How To Build A Cabinet Using An Old Wine Barrel