This puffy tacos San Antonio-Style recipe by Rachel cooks with love is unlike anything I have ever tried. It's incredibly flavorful and delicious! She just proves that making everything from scratch is way better than buying the premade ones at the store. Try this at home– I'm sure your whole family will love it.
Ingredients
1 large chicken breast (with bone)
3 boneless chicken thighs
For boiling the chicken:
garlic cloves
small onion
pepper
garlic cloves
Taco filling:
1 teaspoon dried oregano
1 teaspoon of sweet paprika
1 1/2 tablespoons of tomato paste
1/4 cup of yellow bell pepper
1/4 cup of green bell pepper
small bunch of chopped cilantro
2 diced Roma tomatoes
3/4 chopped medium onion
For molcajete:
1/2 teaspoon of dried cumin
1/2 teaspoon of peppercorns
2 large garlic cloves
1/2 to 1 cup of water
Note: you can also use the powdered molcajete
Masa for puffy shells:
1 1/2 cups of maseca
1/2 teaspoon of salt
1 cup of warm water
For toppings:
guacamole
tomatillo salsa
grated cheddar cheese
lettuce
diced tomatoes
thin slices of red onion
Instructions
Step 1:
Place a pan over heat, then add the chicken, garlic cloves, small onion, and pepper. Fill it with water just enough to cover the chicken. Cover it and bring it to a low simmer for approximately 45 minutes. Once done, turn off the heat and remove the chicken from the pot. Let the broth and chicken cool down. Reserve a ladle of the broth, then set aside the remaining for other recipes.
Step 2:
Once the chicken has cooled down, shred it into small pieces. Wrap it with cling wrap for later.
Step 3:
Make the taco filling. Add 2 1/2 tablespoons of oil into a heavy pot. Next, add the chopped onion and saute until clear. Add yellow and green peppers and saute for a few seconds. Next, add the chopped Roma tomatoes. Cook until the tomatoes become soft and release their liquid.
Step 4:
Combine the ingredients for molcajete then add to the pot with the peppers. Next, add the paprika, oregano, onion powder, cilantro, tomato paste, and a ladle of chicken broth. Mix everything together. Cook for a few minutes, then season with salt. Let it come to a boil, then turn the heat to low and let it simmer for about 10 to 15 minutes.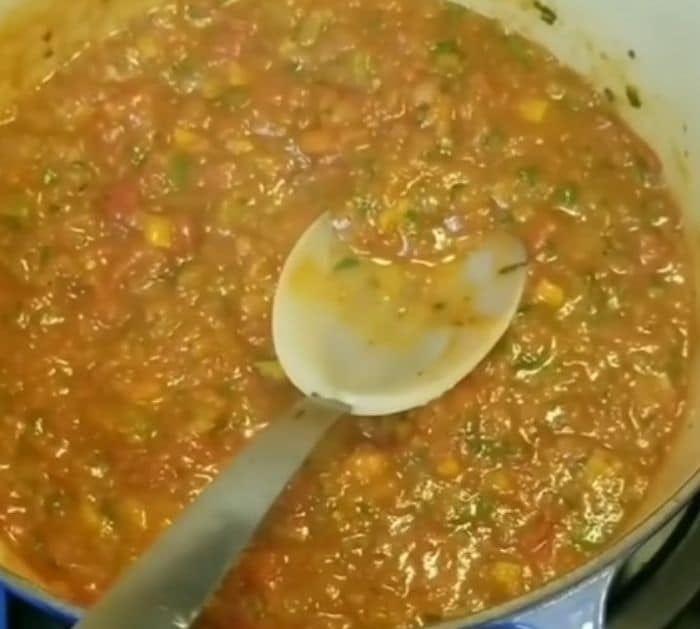 Step 5:
Make the puffy shells. Combine the maseca and salt in a bowl and mix. Pour the warm water gradually and slowly, mixing after every addition. Knead 8 times and form it into a ball. Cover it with cling wrap and let it sit for a little bit.
Step 6:
Add the chicken to your sauce in the heavy pot and mix until well-coated. Cover it with the lid and let it simmer for about 15 to 20 minutes.
Step 7:
Add oil to a medium-sized pot about halfway full and heat it.
Step 8:
Roll your dough and slice it into 8 equal pieces. Roll them into balls and flatten them into a circle. Repeat with the remaining balls.
Step 9:
Drop the taco into hot oil and cook until it pops up. Flip it over and cook the other side for about 45 seconds. Hold it down with a spatula in the middle while cooking, then transfer it to a wire rack with a baking sheet lined with a paper towel on the bottom. Repeat with the remaining tacos.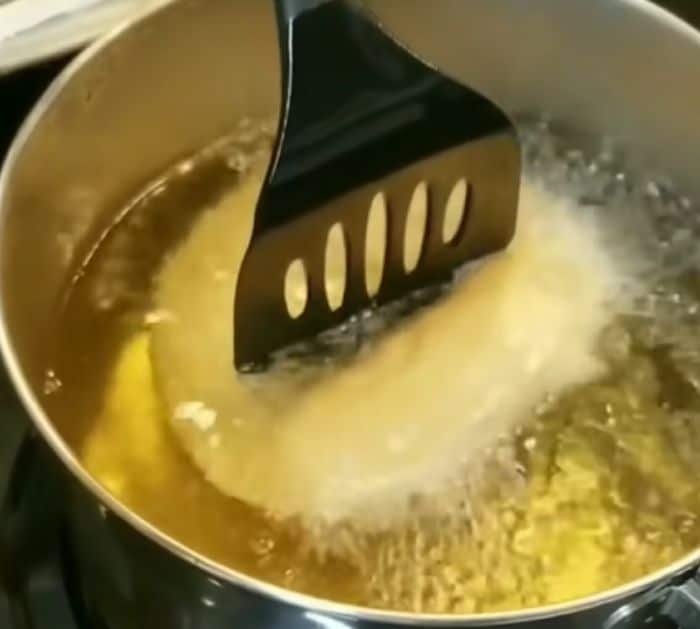 Step 10:
Fill the taco with the chicken mixture and toppings. Serve and enjoy!
Puffy Tacos San Antonio Style