If you're looking for a flexible potato dish that you can serve any time of the day, try this potato crust quiche from Home Cooking Adventure on Youtube. It's an easy potato recipe that is both creamy and savory. I'm sure everyone will love this comforting dish and will ask for more. Learn the full recipe by watching the video below.
Ingredients:
For the potato crust:
1 1/2 lb red potatoes, grated
2 tbsp olive oil
1 tsp salt
1/2 tsp garlic powder
1/4 tsp ground black pepper
For the Quiche filling:
8 oz bacon, cut into small pieces
4 eggs
1/2 tsp salt
1/2 tsp ground black pepper
2 – 3 chopped green onions
a pinch of nutmeg
1 cup cooking cream, 30% fat
1 cup gruyere of cheddar cheese, grated
Directions:
Step 1
Preheat your oven to 400 degrees F and grease your pie pan with butter. Next, grate your potatoes using the large holes of your box grater. Transfer it to a bowl and add cold water. After this, rinse well and drain. Next, put them by batch in a kitchen towel and squeeze out as much liquid as you can. After this, season the shredded potatoes with 1 tsp salt, 1/4 tsp ground black pepper, 1/2 tsp garlic powder, and 2 tbsp olive oil. Mix well to combine, then transfer them to your greased pie pan. Spread the grated potatoes over the base and sides of the pan. Bake this in a preheated 400 degrees F oven for 30 minutes.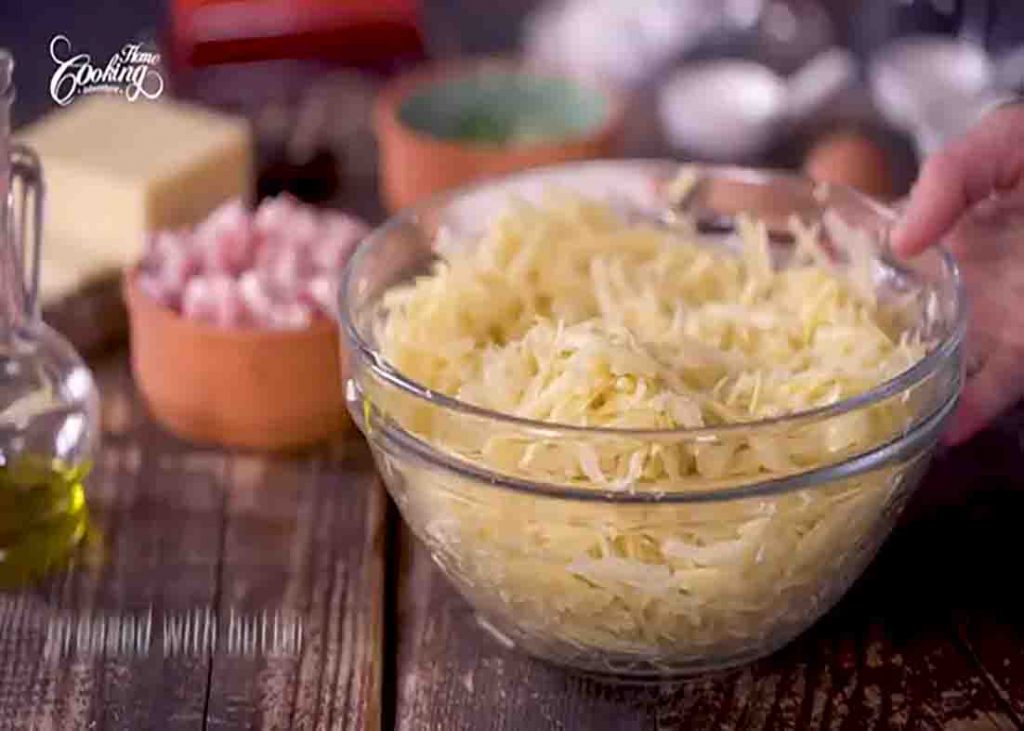 Step 2
After baking, remove the pan from the oven and let it cool a bit. Next, heat a skillet over medium-high heat, then fry the bacon until crisp. Remove and drain on a paper towel. In a bowl, crack four eggs, then add 1/2 tsp salt and 1/2 tsp black pepper. Whisk to combine, then, add two chopped green onions, 1 cup of cooking cream, and a pinch of nutmeg. Stir together well. Now, add 1 cup of shredded gruyere cheese to the potato base, followed by the fried bacon, then pour the egg mixture. Bake at 350 degrees F oven for 30 to 35 minutes or until set and golden.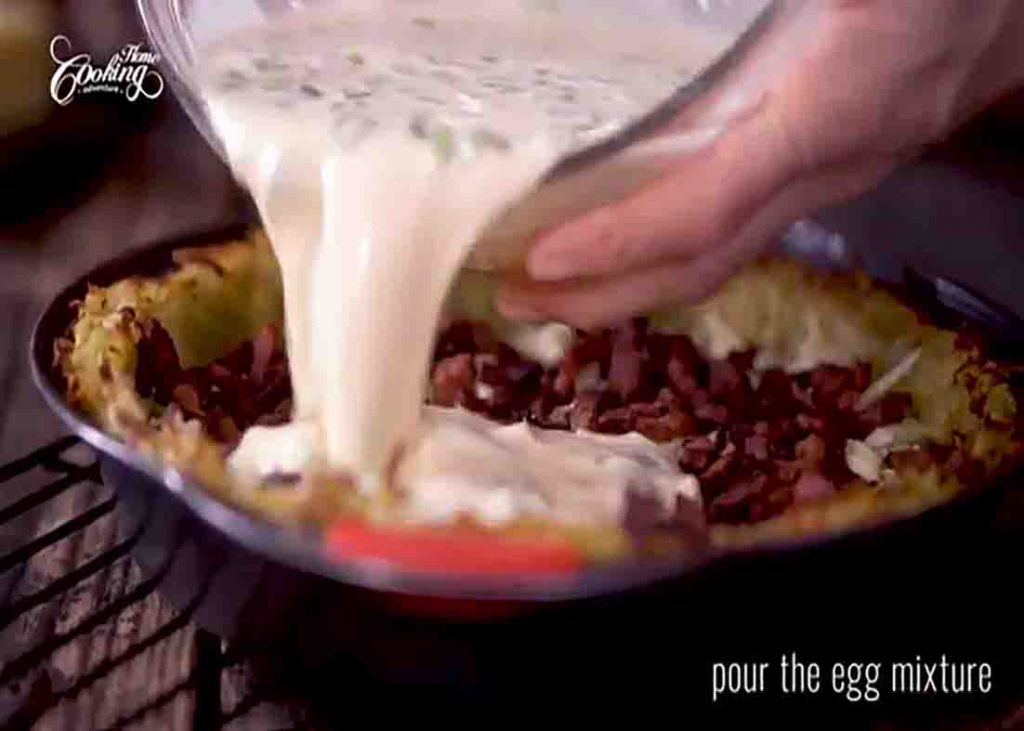 Potato Crust Quiche Recipe