A peach cake on a summertime table is one of my favorite things in life. Peach season is a big deal in Texas and if you are driving through the Texas Hill Country, there are peach stands all along the highways and byways selling buckets of fresh peaches. I found a peach cobbler pound cake recipe by Love Meets Cake on Youtube and had to make this delicious looking cake immediately. This delicious recipe calls for canned peaches so the cake can be made year-round, no need to wait for peach season.
Ingredients:
The Scratch Cake:
1 cup butter (unsalted is best, softened)
1/2 cup butter-flavored shortening ( you can omit this by adding 1/2 cup more of real butter)
3 cups granulated sugar
A pinch of cinnamon
5 large eggs (room temperature)
1 teaspoon vanilla extract
3 cups all-purpose flour (sifted)
1/2 teaspoon salt
1/4 cup heavy whipping cream
1 cup 7-Up soda (Sprite or Sierra Mist)
Peach Topping:
Canned peaches
Brown sugar
Cinnamon
Icing Drizzle:
1 package of cream cheese (room temperature)
Juice from the canned peaches
1 cup powdered sugar
Bake cake at 325 degrees for 1-hour and 15 minutes
Directions:
First, you will place your cinnamon-flavored cooked peaches into the bottom of a greased bundt pan. Then add the cake batter, that you made from scratch, and bake at 325 degrees for one hour and 15 minutes.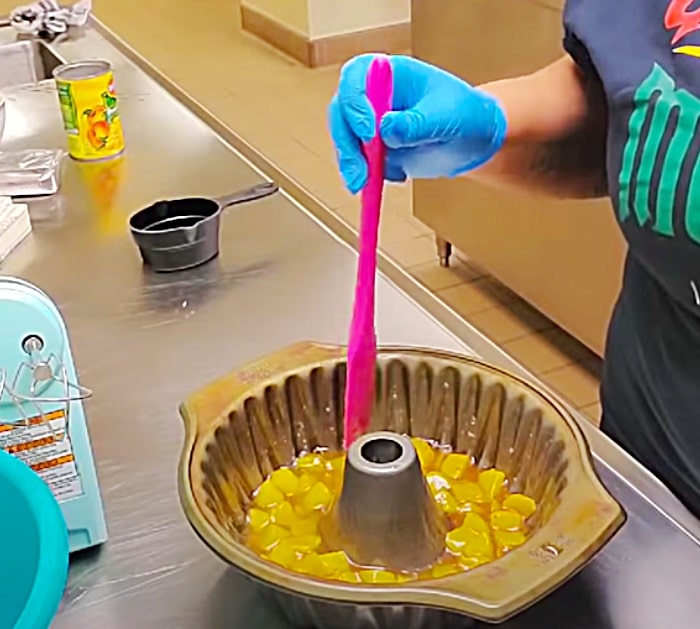 When your cake is done, turn it onto a plate. Now you can decorate the top with more peaches and your homemade icing drizzle. Serve this delicious peach cobbler cake with vanilla ice cream.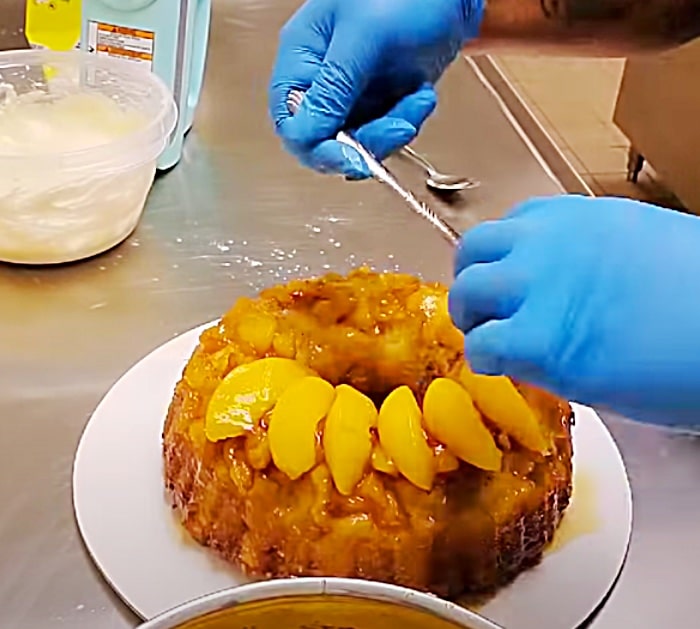 This cake looks so delicious, I cannot wait to make it!
Peach Cobbler Pound Cake Recipe