I've always loved eating cheesecakes, I don't think I will ever get tired of eating this, the texture, the flavor, the consistency is just perfect. This was one of my all-time favorite desserts that's why I thought I had to at least learn how to make it. I was lucky I found this tutorial on YouTube by Muddy Boots, believe me when I tell you, that it did not disappoint, that's why I'm sharing this with you. I hope you enjoy this recipe as much as I do!
Ingredients:
Crust
1 ¼ cup All-purpose flour
¼ cup Granulated sugar
3 tbsp Powdered sugar
¼ tsp Salt
10 tbsp Butter, unsalted (room temperature)
Filling
2 lbs Peaches, peeled and sliced
½ cup Granulated sugar
½ cup Brown sugar
1 tsp Cinnamon
1 tbsp Lemon juice
2 tbsp Corn starch
Cheesecake
3 packages (total 24 oz) Cream cheese
¾ cup Granulated sugar
2 tsp Almond extract
4 pieces Eggs, beaten
1/3 cup Sour cream
2 tbsp Corn starch
Cobbler
1 cup All-purpose flour
¼ cup Brown sugar
¼ cup Granulated sugar
1 tsp Baking powder
½ tsp Salt
1/3 cup Cold butter, unsalted
¼ cup Water, boiled
Directions:
Crust:
Combine all the dry ingredients; flour, granulated sugar, powdered sugar, and salt. Pulse using a food processor until well-combined. Add the cubed butter then pulse a few times until the mixture turns chunky and sandy. Transfer in a baking pan, press the crust at the bottom, and a bit up the side just to give it some edge. Bake in a preheated 325°F oven for half an hour.
Filling:
Place a pot in a medium heat stove then add the peaches, white granulated sugar, brown sugar, cinnamon, lemon juice, and cornstarch. Stir the ingredients until well-combined. Cook between 10-15 minutes while stirring often until the mixture thickens.
Cheesecake:
Using a food processor, pulse the softened cream cheese, sugar, and almond extract together until the consistency turns smooth and creamy. Add sour cream and cornstarch, work until ingredients are well-combined. Put the beaten eggs and combine but avoid overmixing. Take the pan with the crust in it and wrap the bottom of the pan in aluminum foil then put it in a bigger baking pan. Pour about half of the filling or just over 2 cups. Pour hot water on the big pan and submerge the crust pan just about halfway. Pop it back in the oven preheated 400°F for 15 minutes.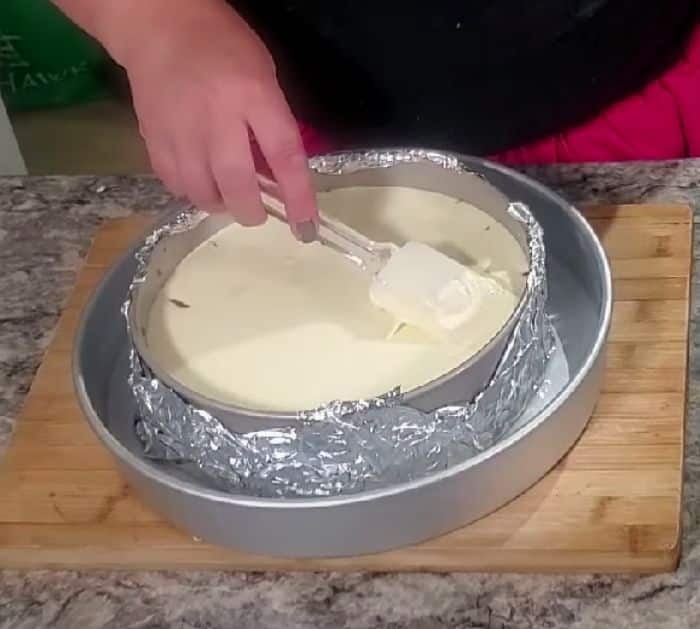 Cobbler topping:
In a large mixing bowl, add the flour, brown sugar, white sugar, baking powder, salt, and butter. Use a fork to crush the butter and stir the ingredients well. Add hot water, stir, and set aside.
Assembling:
Take the cheesecake and put a thin layer of the peach filling on top, gently pour the remaining cheesecake mixture and smoothen it out to cover the peaches. Put it back in a 350°F oven and bake for 45 minutes until it sets. Put another thin layer of peach filling on top while reserving a bit for the final topping. Add clumps of the cobbler topping and return in the oven for additional 25 minutes until the cobbler topping turns golden brown. Leave it in the oven with the door open for an hour then refrigerate as much as overnight for best results. After the cheesecake is well-chilled, transfer it onto a plate and top with the remaining peach filling. Cut and serve.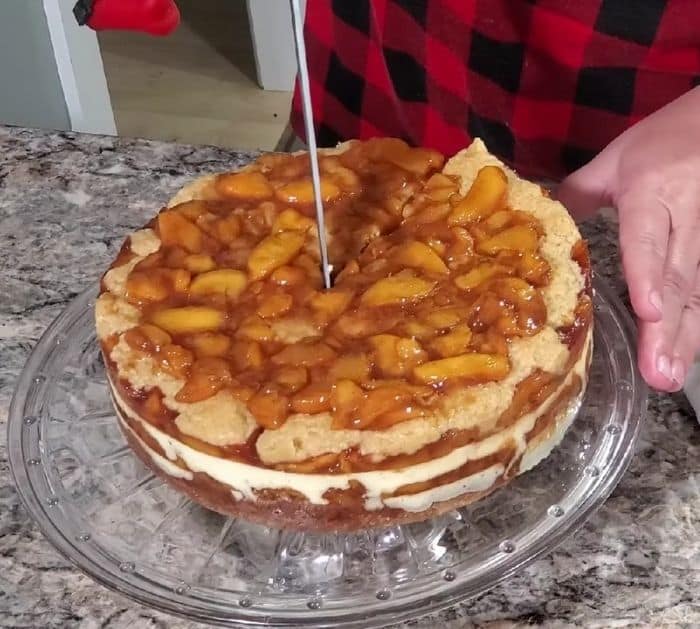 *Thanks to Muddy Boots on YouTube for these great images. Check out her other recipes and enjoy!
Peach Cobbler Cheesecake Recipe