If you're looking for a hearty breakfast dish for the family, I recommend this mountain man breakfast from What's For Din'? on YouTube! I'm telling you, this dish is loaded with all the ingredients you could possibly want in your breakfast. It's hearty, flavorful, and one of the best breakfast dishes out there. What's more, it is a one-pot recipe, so it's perfect if you don't have a lot of time in the mornings. Try this today and see for yourself! Watch the video below to learn the step by step instructions.
Ingredients:
7 slices of bacon, cut into bite-size pieces
1 cup of ground breakfast sausage
1 large onion, finely diced
1 green pepper, diced
1 red pepper, diced
5 potatoes, peeled and cubed
2 tbsp butter
10 eggs, scrambled and seasoned
1 1/2 cups of sharp cheddar cheese, shredded
1 tsp garlic powder
1/2 tsp cayenne pepper
salt and ground black pepper, to taste
Directions:
Step 1
In your oven-safe pot over medium heat, add the ground sausage and the chopped bacon. Break and cook them until browned. Once browned, remove the grease, then add the chopped onions. Stir and cook until the onions are soft, then add a little bit of water and scrape the bottom of the pan. Next, add the chopped bell peppers and season with 1/2 tsp cayenne pepper, salt, and ground black pepper to taste. Mix well and cook for about a minute.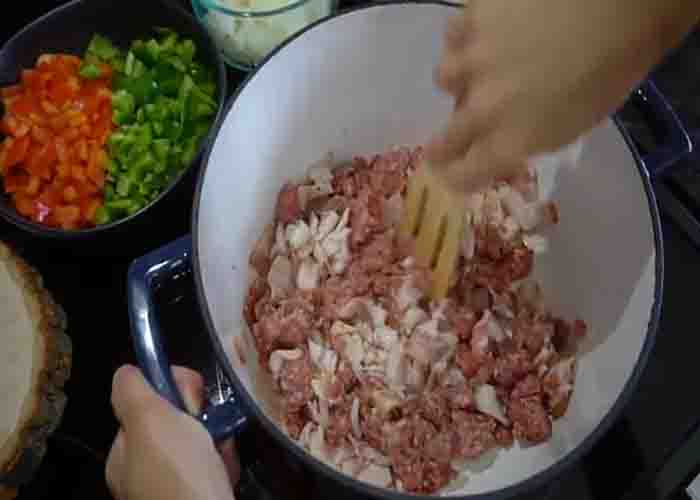 Step 2
After a minute, slightly push the mixture to the bottom and even out the top. After this, layer the cubed potatoes, and season with some salt, cayenne, and ground black pepper. Next, add the cubed butter and place the lid on. Place the pot in the oven at 425 degrees F and bake for about 25 to 30 minutes. In a separate bowl, beat the eggs and season however you like.
Step 3
Once done baking, remove the pot and add the shredded cheese, then pour the beaten and seasoned eggs. Put it back in the oven, lower the temperature to 325 degrees F, and bake for about 20 minutes. Serve and enjoy!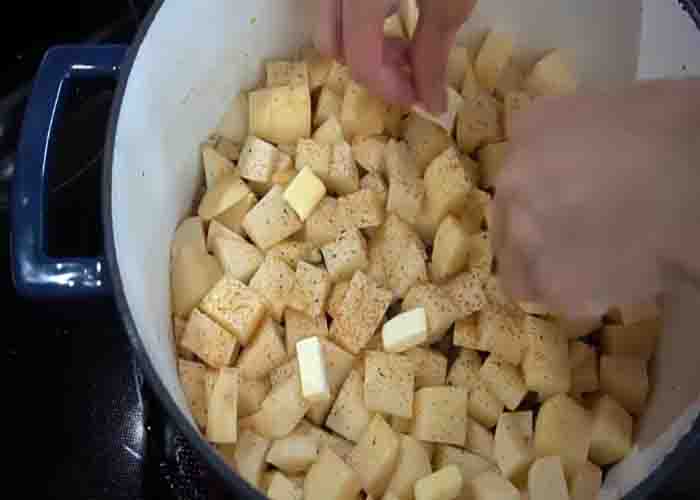 One-Pot Mountain Man Breakfast Recipe