This one-pan creamy herb mushroom chicken recipe by Natashas Kitchen is a straightforward dish that you can prepare in just 30 minutes. The chicken is tender, juicy, and flavorful! It's the perfect lunch or dinner meal for the whole family.
Ingredients:
1/2 lb of mushrooms (rinsed and patted dry)
1 lb of chicken tenders
1 1/2 teaspoon of garlic salt to taste (divided, plus more to taste)
1 tablespoon of butter (divided)
1 tablespoon of olive oil (divided)
1/4 cup of chopped fresh dill
1/4 cup of chopped fresh parsley
1/4 cup of chopped green onion
2 cloves of garlic (minced)
3/4 cup of heavy cream
Instructions:
Step 1:
Make sure to prep all of the ingredients first before cooking. Cut the mushroom into thick slices, mince garlic cloves, and chop the herbs.
Step 2:
Place a large heavy skillet over medium heat and add 1/2 tablespoon of butter and 1/2 tablespoon of oil. Once hot, add thickly sliced mushrooms, then season it with 1/2 teaspoon of garlic salt. Let the mushrooms cook for about 5 minutes while stirring occasionally until they turn golden brown. Remove from plate once done.
Step 3:
Sprinkle 1 teaspoon of garlic salt all over your chicken. Using the same pan over medium heat, add another 1/2 tablespoon of butter and 1/2 tablespoon of oil. Transfer the chicken to the pan in a single layer and saute for 2 minutes per side or until just cooked through.
Step 4:
Put back the mushrooms into the pan and add 3/4 cup of heavy cream. Stir it well, then bring it to a light boil. Continue to cook for 2 minutes until the sauce becomes slightly thick. Remove from heat. The sauce will thicken more as it cools. Taste the sauce and add more garlic salt if needed.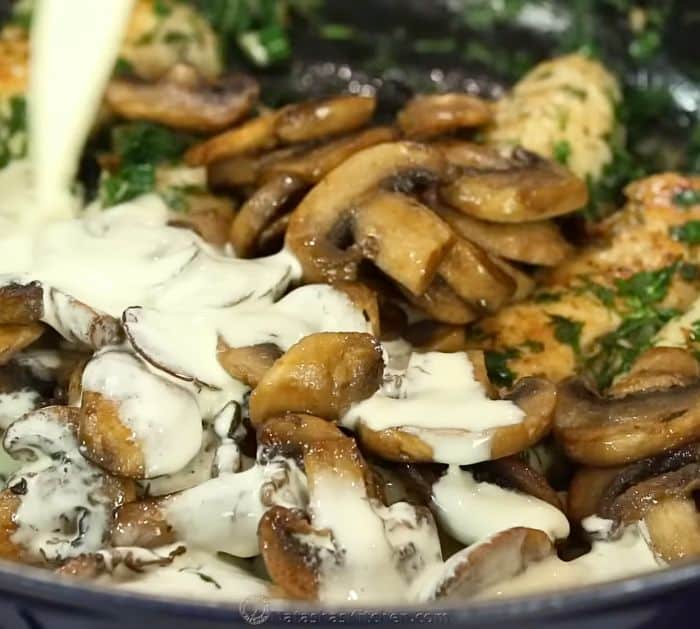 Step 5:
Serve and enjoy!
For more delicious and easy recipes like this, make sure to visit Natashas Kitchen on Youtube. She has a lot of wonderful dishes that will surely impress your family or guests.
One-Pan Creamy Herb Mushroom Chicken Recipe