This mirror mirror on the wall quilt pattern by Jordan Fabrics is a play on the different colors of fabric, making a beautiful 3D-like illusion. It's a fun and easy project you must try at home. This will surely get the attention of everyone! Watch the video below for detailed instructions.
Materials:
6 prints 1 yard each (colors should vary from light to dark)
ruler
fabric for fill-in triangles
Instructions:
Step 1:
Iron your fabric before you cut them. Layer the number of fabrics you're comfortable cutting. Line them up on the cutting board.
Step 2:
Cut 12 pieces of 2-1/2 inch strips from each fabric. Arrange them based on color from light to dark. Start with the lightest fabric and add the second lightest to the right. Put them right sides together and sew the edge with a quarter-inch allowance. Finger press the seam allowance toward the darker strip – do this for all of the strips. Continue with the rest of the strips.
Step 3:
Lay your strip fabric on a flat surface, smooth it out and iron it. Once done, cut 2 inches off the edge. Next, measure 12 1/2 inches then cut it. You will have 3 blocks for every strip unit. For the excess part cut 2 1/2 inches for the border.
Step 4:
Divide the blocks into 2. For the first set of blocks, cut them diagonally. For the second set of blocks, cut them diagonally in the opposite direction. Separate them into 4 sets: 2 sets with the darker shade and 2 sets for the lighter shade.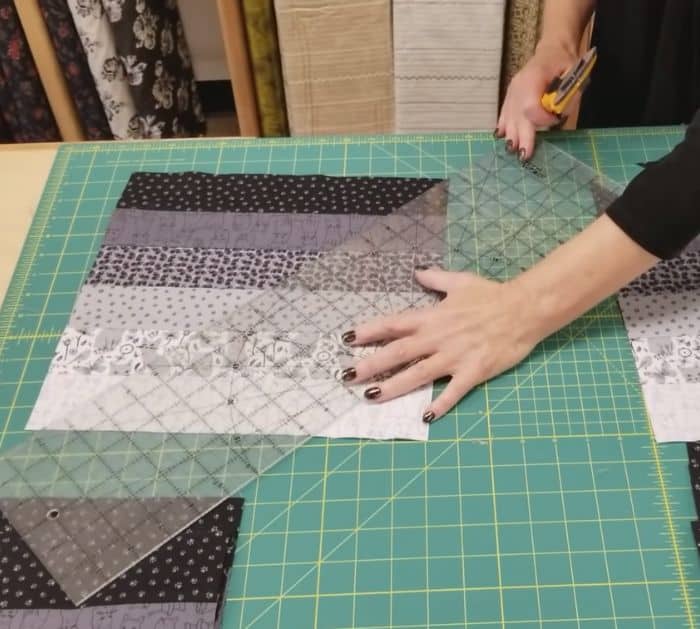 Step 5:
Grab 1 from the dark shade and place it on your table. Next, grab another one from the other dark shade, turn it around and place it on top, so the darkest strip will look like a V. Use 8 triangles for this row.
Step 6:
Do the same and make another row with the lighter sets. You will have 4 sets of light and dark rows. Then cut 9-inch squares from the fill-in fabric. Cut them diagonally and place them on the ends of each row.
Step 7:
For the first row, overlap each triangle and secure it with pins. Sew the triangles with the right sides together with a quarter-inch seam. Press the seam away from the patchwork. Continue for the rest of the triangles. Once done with the first row, do the same for the remaining rows.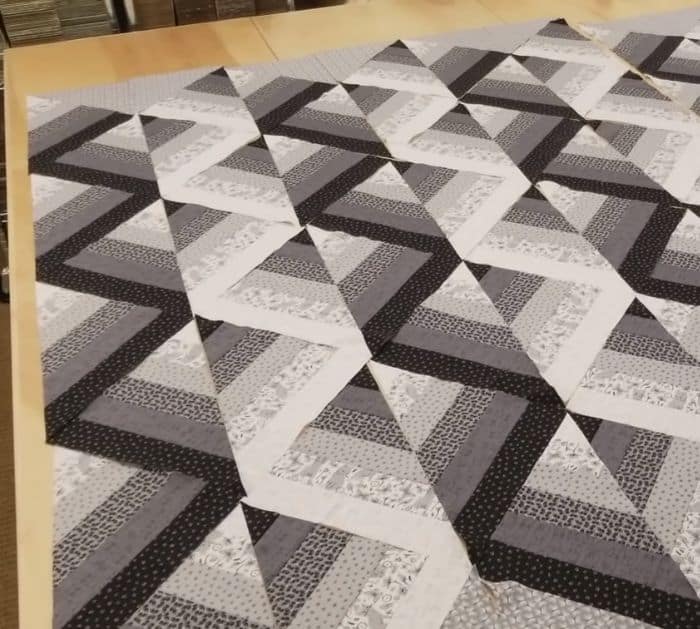 Step 8:
Take the first 2 rows and put them right sides together. Sew them together. Make sure that they are lined up. Be careful when ironing to not stretch the patchwork. Do the same for the remaining rows.
Step 9:
Get the 2 1/2 inch strips and place them on the top and bottom. Sew them on the block.
Mirror Mirror On the Wall Quilt Pattern