This mouthwatering mini strawberry cheesecake by Cooking with Shirani is super easy to make and only requires 8 ingredients! I am a big fan of cheesecake, and that's why when I learned about this recipe, I immediately went out to buy everything I needed. It turned out incredibly yummy and creamy. Try it at home – I'm pretty sure it will be gone in just a few minutes.
Ingredients:
Crust:
4.9 oz of biscuits or cookies
2 tablespoons of white sugar
5 tablespoons of margarine or butter (melted)
Filling:
2 packages (8-ounce each) of cream cheese (softened at room temperature)
2 eggs
1/2 teaspoon of vanilla
2/3 cup of white sugar
Topping:
Instructions:
Step 1:
Break the biscuits into small pieces and place them in a food processor. Crush until it turns into fine crumbs. You will need about 1 and 1/2 cups.
Step 2:
Add 2 tablespoons of white sugar and mix until well combined. Next, add 5 tablespoons of melted margarine or butter. Mix until incorporated.
Step 3:
Line your 12-cup tray with muffin liners. Evenly distribute the mixture to each cup. Using a small glass with a flat bottom or a spoon, press down the mixture to form the crust. Set it aside.
Step 4:
In a different bowl, add the softened cream cheese. Beat until it's fluffy using an electronic mixer. Next, add 1/2 teaspoon of vanilla and 2/3 cup of white sugar. Beat again until well mixed. Make sure to scrape the bowl in between so you could get everything mixed together.
Step 5:
Add the egg one at a time to the mixture, beating after every addition. Be sure not to overbeat your mixture. Just mix until everything is combined.
Step 6:
Evenly spoon the mixture over the crust.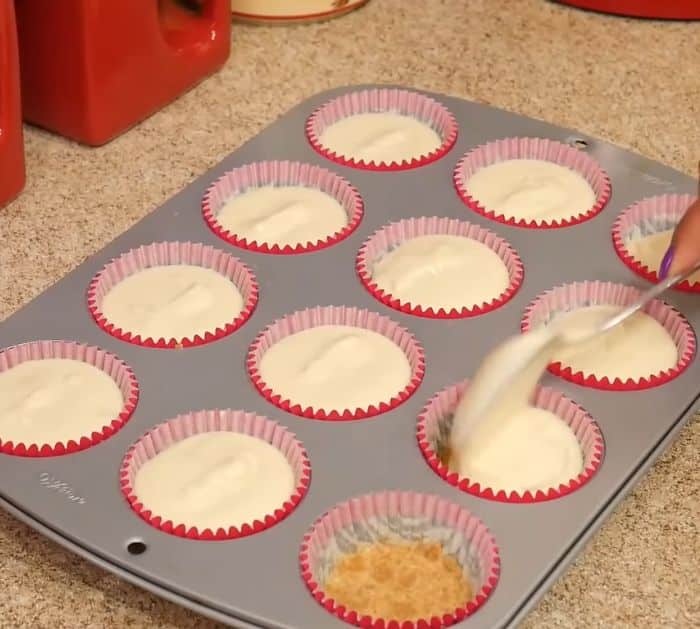 Step 7:
Place it inside the oven and bake it at 325 Fahrenheit for about 20 to 22 minutes. Keep an eye on them as you don't want to overbake them. If the cheesecake starts to crack that means you baked them for too long.
Step 8:
Once done baking, it should have a slight jiggle to it and it will puff up. Remove from the oven and let it cool down completely before placing it in the refrigerator. Add strawberry slices before serving. Enjoy!
7-Ingredient Mini Strawberry Cheesecake Recipe