Darling Mason Jar Tissue Holder Is So Easy!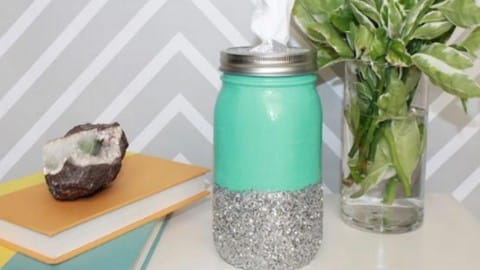 Handmade by Kelly
Have you ever put much thought into your tissue box? I know I have when I'm looking for one to match and spend way too much time in the store looking for exactly what I want! I love this clever idea It's a great way to add some zing to your bathroom, or anywhere in your home! So, no more wasting time in the tissue aisle!
This super cute DIY Mason jar tissue holder can be customized to go with any decor in your house. No more trying to find a tissue box that matches!
Materials:
Mason Jar (a wide mouth jar is the best to use)
Mason jar lid
Scissors
Scrapbook paper
X-acto Knife
Glue stick
Brush
Craft Paint (Multi-surface acrylic paint is what I've used)
Tissue
Glitter (if you choose to do this like the photo)
Watch this step by step video and you will see how it's done!
Mason Jar Tissue HolderThanks to one of our favorite bloggers, Handmade by Kelly, for the awesome photo used in the post. Check out their site for a tutorial and more awesome craft ideas!
Don't Miss Out! Sign up for the Latest Updates