Get your layer cake or charm packs and start making this lovely Kansas Dugout Quilt through this tutorial by Material Girl Quilts. Traditionally, it uses an English paper piecing method, but for this technique, you can do it straight in your machine! I had fun making this one because it was very easy to sew, so if you are a beginner, I suggest you try this pattern.
Materials:
one precut 10″ squares package or layer cakes (42 pre-cut 10-inch squares)
2 1/2″ background squares
Note: you can also use four separate charm packs. The 10-inch on some of your squares sometimes finishes at the outside of the pinked edges and sometimes inside. Make sure to measure your squares in your packet so that you know where to start when you are cutting the squares.
Instructions:
Step 1:
Cut the 10-inch square in the middle horizontally and vertically to get four pieces of 5″ squares using your ruler and rotary cutter. Do this for all the 10″ squares.
Step 2:
Get two pieces of 2 1/2″ background squares and one 5″ square. Draw a diagonal on both background squares. Place one on the corner of the 5″ square and sew directly on the line. Repeat on the opposite corner on the bottom. Trim 1/4″ away from the seams and press them out towards the background triangles and that will give you another 5-inch square. Repeat this process for the remaining 5″ squares to get a total of 168 pieces. Make sure to press all the seams open so that they lie nice and flat.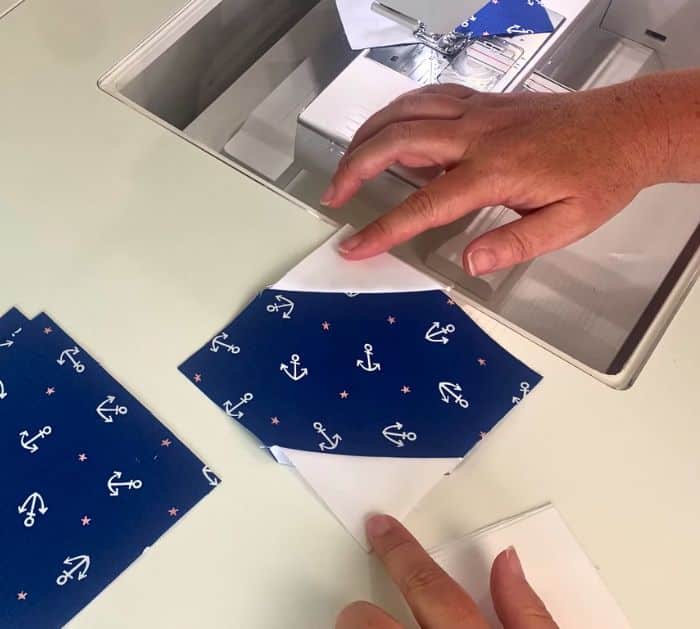 Step 3:
Arrange the blocks. Lay 14 rows with 12 blocks each, alternating the direction of each of the blocks as shown in the diagram below. Sew all your blocks into rows, then sew the rows together to complete the center of the quilt top. Complete it by adding a 5-inch border. Quilt, bind, and have fun making this pattern!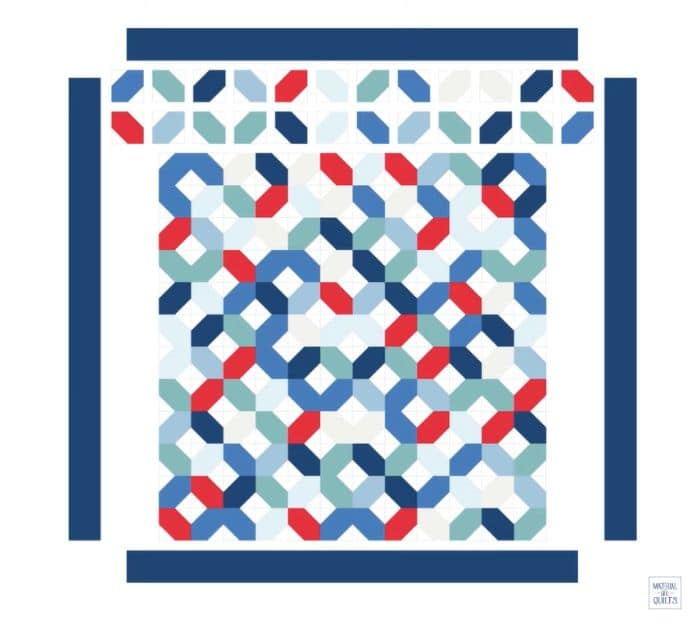 Kansas Dugout Quilt