Are you looking for a beginner-friendly quilt pattern to make? Look no more; this jolly bar bakewell quilt from Fat Quarter Shop on Youtube is perfect for you. This quilt project is not just gorgeous, but it's also a shortcut quilt that comes together so fast. It's the perfect gift, especially for newborn babies. Watch the video tutorial below to learn the step-by-step instructions.
Materials:
one jolly bar or forty 5″ x 10″ rectangles
7/8 yard background
2/3 yard borders
5/8 yard binding
2 & 7/8 yards backing
(click here for the free pattern)
Cut each 5″ x 10″ rectangle into:
2 – 2 & 1/2″ x 3 & 1/2″ rectangles – 80 total (fabric A)
2 – 2 & 1/2″ squares – 80 total (fabric B)
Cut background fabric into:
40 – 2 & 1/2″ x 3 & 1/2″ rectangles (fabric C)
40 – 2 & 1/2″ squares (fabric D)
40 – 1 & 1/2″ x 2 & 1/2″ rectangles (fabric E)
Cut border fabric into:
4 – 4 & 1/2″ x 40 & 1/2″ strips (fabric F)
Cut binding fabric into:
6 – 2 & 1/2″ x WOF strips (fabric G)
Directions:
Step 1
Cut everything in the pattern before you get started. Now, put one from each set of B's and a D. Stitch with a quarter-inch seam allowance to form the first unit. The second unit is going to be a fabric A rectangle and a fabric C rectangle. Sitch with a quarter-inch seam and this will be your second unit. Now, take the two units you just made and stitch those together. Make 40 pieces of these. Next, sew a fabric E rectangle to a fabric A rectangle, then attach it to the previously sewn unit. You'll gonna have enough matching units and you're gonna put those together.
Step 2
After making your blocks, trim them up so they go together nicely. To assemble your quilt, place four blocks in a row and make five rows. Sew your rows together next, then attach your side borders, then attach your top and bottom borders.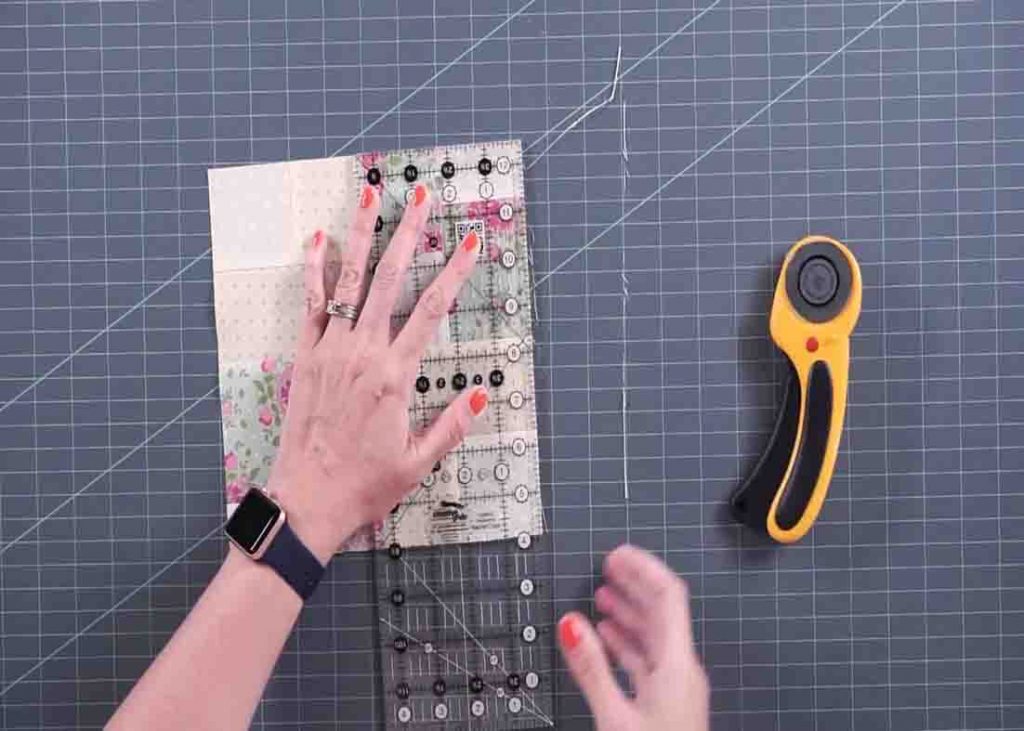 Jolly Bar Bakewell Shortcut Quilt Tutorial