This beautiful tree skirt sewing tutorial by Jordan Fabrics on YouTube is super fun to make and perfect for those who are looking for a more challenging project to try their hands on. If you haven't done something like this before, then you'll surely enjoy the process of sewing this skirt which is also similar to quilting because you'll be piecing diamond shape fabrics together and turning them into one.
Materials:
1/3 yard of light print fabric, for diamond A
2/3 yard of red print fabric, for diamond B
1/3 yard or green print fabric, for diamond C
5/8 yard of big squares, or 8 layer cake squares, or 8 patchwork blocks that measure 10"
3/4 yard of fabric, for the border
4 yards of backing fabric
72 x 72" of batting fabric
Directions:
Step 1
Cut the fabric accordingly and refer to the video as well as the pattern guide, then start stitching together 1 diamond A, 2 diamond B, and 1 diamond C, trim off the dog ears, and press the seams to one side. Repeat this process until you have 8 pieces. Lay the pieced diamond at the center, then trim diamond A 3 inches from the point toward the opposite point, and then stitch the border into two sides of big squares.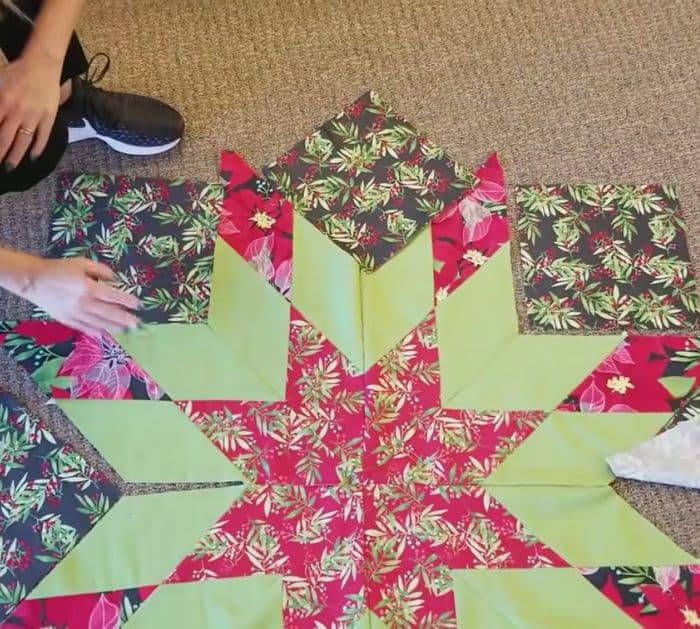 Step 2
Next, stitch together the pieced diamonds, then press the seams open, and repeat with the rest. Sew the bordered squares onto the star unit as shown in the video, then press the tree skirt flatly, and add the backing as well as the batting fabric to finish the tree skirt. Once done sewing the tree skirt, you can now quilt it however you want, and you're done!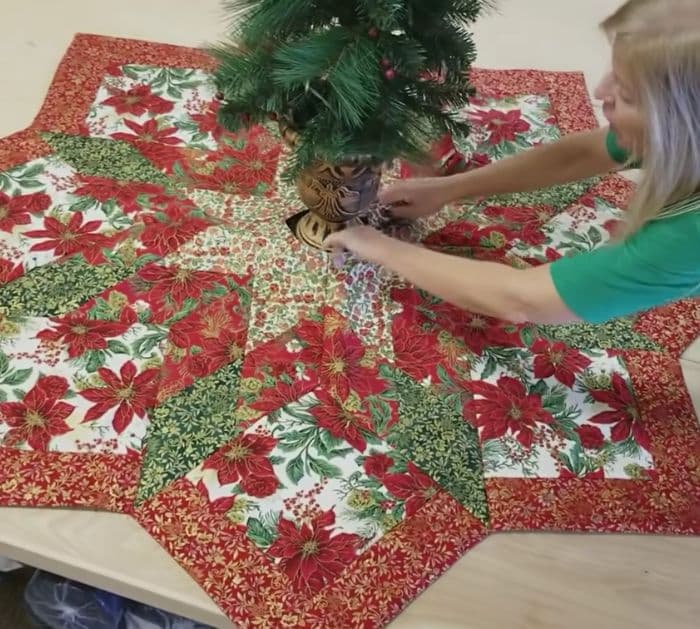 *These amazing images are all credited to Jordan Fabrics via YouTube. Check her other content and follow for more!
How To Sew A Christmas Tree Skirt