Chocolate is my all-time favorite flavor, so this recipe immediately caught my eye. I was browsing on YouTube and saw Oh Yum With Anna Olson tutorial on how to make chocolate peanut butter whoopie pies. That sounds like heaven and looks like heaven. These cake pies look so fluffy and decadent. This video looks so professional and I love how natural Anna is and she seems to feel comfortable in the kitchen. She gives out some good tips on how to make these, and I am prepared. Sometimes when watching tutorials, they're fast, boring, and bland. In this video, it's entertaining and informative to watch. I love the cuts and edits that this video has because everything flows smoothly. Overall, chocolate and peanut butter taste so good together and it's what a lot of my friends prefer. So, I'm ecstatic to make these because they look fun to make.
Ingredients:
Cookies
1 ¾ cups (260 g) all-purpose flour (plain flour)
1 cup (200 g) granulated sugar (caster sugar)
¾ cup (90 g) Dutch-process cocoa powder
½ tsp (2 mL) baking powder
½ tsp (2 mL) baking soda
½ tsp (2 mL) salt
½ cup (115 g) unsalted butter, at room temperature & cut into pieces
1 large egg
¾ cup (175 mL) milk, at room temperature
½ cup (125 mL) full-fat sour cream
2 tsp (10 mL) vanilla extract
Filling
1 cup (225 g) unsalted butter, at room temperature
1 cup (250 g) pure peanut butter
2 cups (240 g) icing sugar, sifted
1 tsp (5 mL) vanilla extract
Directions:
First, Preheat the oven to 375F and line 2 baking trays with parchment paper. Place the trays in the oven to warm right before making the cookies (this step will help the cookies bake with smooth curved tops).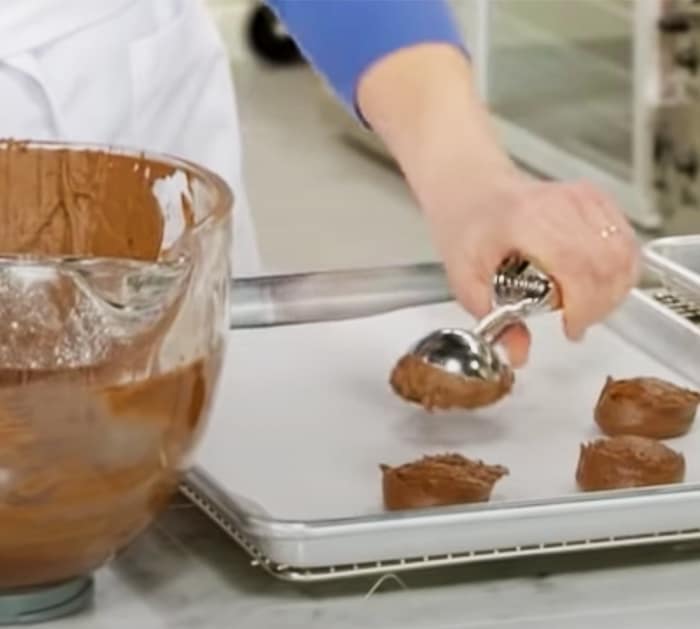 Next, following the step-by-step process on Oh Yum With Anna Olson tutorial, you should have your chocolate cake cookies done and ready to put together. When the peanut butter filling is done, transfer in a large piping bag with a large star tip and that's what you'll use to pipe in the filling.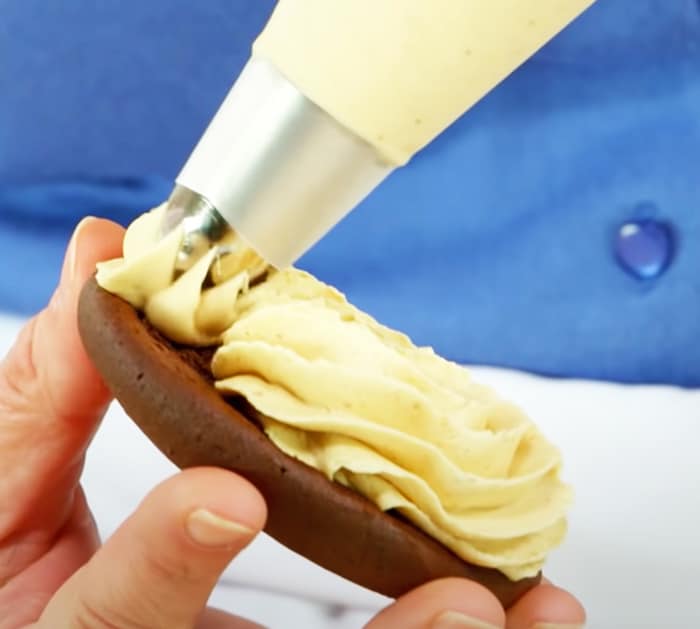 This chocolate peanut butter whoopie pie looks simple and a blast to make. They look awesome, and I have never tried these before so I am looking forward to these. They seem so soft and would just melt when you take a bite.