This raspberry vanilla cake from Preppy Kitchen is just in time for Valentine's Day.This delicious cake is sweetened with white chocolate buttercream and then covered in a creamy Italian buttercream that tastes divine.
Ingredients:
For the Cake:
1 cup granulate sugar 136g

1/4 tsp baking soda heaping

1

tsp

baking powder

heaping

1/4 tsp kosher salt

3/4 cup unsalted butter room temperature, 170g

3 egg

whites

room

temperature

1 tbsp vanilla extract

1/2 cup sour cream 120ml

1/2 cup whole milk 105ml

6

oz

raspberries

fresh or freeze-dried

2 tbsp lemon juice fresh

1 tbsp lemon zest
White Chocolate Buttercream
1 ½ cup unsalted butter room temp, 315g

4

½

cups confectioners'

sugar

648g

1 cup white chocolate chips melted and cooled, 168g

1 tbsp granulated sugar

1 cup raspberries fresh

1 tbsp lemon juice

1 tbsp vanilla

1/4 tsp salt

1 tbsp lemon zest
For the hearts
3

sheets

printable

hearts

or pipe them

free-hand

1 1/2

feet

parchment

paper

½ cup candy melts 84g
Italian Buttercream
4 egg

whites

large

1 1/3 cups granulated sugar divided

1 Pinch kosher salt

16

ounces

unsalted

butter

454g

, room temperature, cut into 1-inch pieces

1 tsp pure vanilla extract

1/4

tsp

cream of tartar

1/3 cup water 70g
Directions:
Prepare all the ingredients as stated.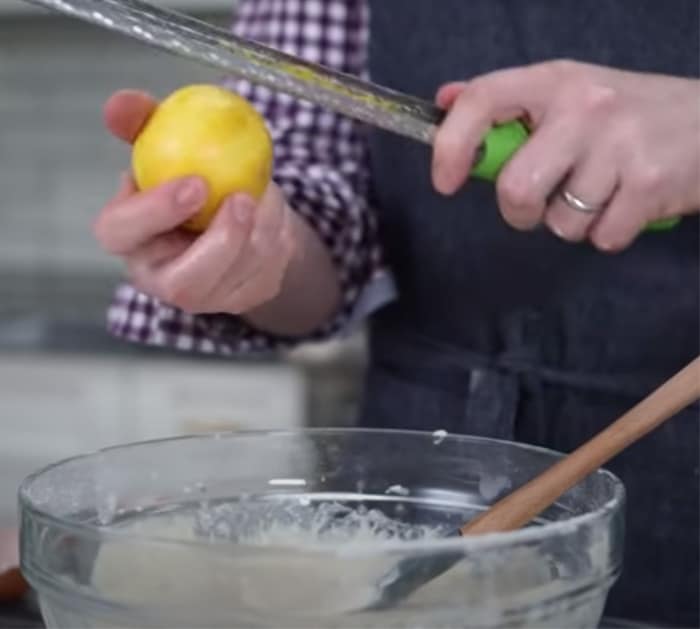 For the cake, preheat the oven to 340°F.
Grease 6-inch pans with butter and flour or use cake strips.
In a large mixing bowl, sift the flour and add the baking soda and baking powder. Whisk well until evenly incorporated and set aside.
In a separate medium bowl, beat the wet ingredients together and add lemon zest. Mix to combine the wet ingredients with the dry mixture. When mixed evenly, fold in the dried raspberries and mix until just combined. Pour and divide the batter mixture evenly into the cake pans.
Place the pans in the oven to bake for 30 minutes, or until the centers are springy to the touch.
Combine raspberries, lemon juice, lemon zest, and sugar in a small saucepan over medium-low heat for the white chocolate buttercream. Bring the mixture to a simmer. When it starts to simmer, reduce the heat by half for about three minutes. When done, strain and place in a small bowl to chill.
In a standard mixer or a bowl using a hand mixer, cream the butter and add the confectioner's sugar and some salt. Beat until creamy.
Next, add the melted and cooled white chocolate and mix until incorporated and smooth. Divide the batter in half and add vanilla to one batch. Add 2 ½ tbsp of the reduction to the separate batch. If the consistency becomes runny, add and mix in 2 tbsp of confectioners' sugar at a time until thickened.
Transfer both buttercream batches into separate piping bags and snip the tips off. Then, add the 2 piping bags into a bigger piping bag fitted with a large round tip.
For the Italian buttercream, beat and combine egg whites, salt, and cream of tartar in a mixing bowl. Add 1/3 cup of sugar and continue beating the mixture until soft peaks form.
In a medium-sized saucepan on medium-high heat, add the remaining sugar and 1/3 cup of water. Stir until the sugar melts and becomes clear.
When the temperature reads 235–240F, drizzle the sugar immediately. Turn the mixer until the meringue is cooled.
Next, add in room temperature butter, one tablespoon at a time. Then, add in salt and vanilla. Beat continuously until the butter is combined and the mixture is silky in consistency. When done, divide the mixture into 5 bowls. Add food coloring to each batch, but keep one bowl white to achieve a gradient look.
Whip the frosting and transfer it to piping bags separately.
For the hearts, line up 3 printable heart sheets as a guide. Add a layer of parchment paper over the sheets. Microwave the candy melts and transfer them to a piping bag. Snip off the tip of the bag and pipe hearts according to the heart guides.
Let it cool and harden.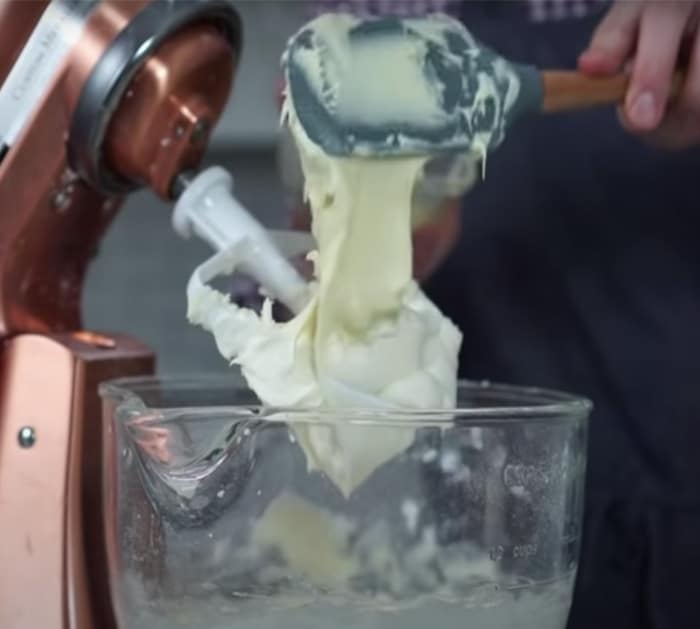 Pipe the pink/white chocolate buttercream between each cake layer to assemble. Then, gently cover the cake with a thin crumb coat layer and let it chill in the fridge for about 10-15 minutes. Once chilled, start adding the Italian buttercream and use the white to make the gradient effect. Work your way up from the bottom to the top. Smoothen the buttercream with an offset spatula.
Lastly, decorate with the heart candy melts.
How to Make a Heart Cake