Hash browns have to be my very favorite way of eating potatoes and nothing tastes better than hash browns with eggs. I found a recipe for hash brown breakfast cups today on Youtube by Joy Of Baking that really sounded so delicious. The recipe called for frozen hash browns which made this recipe super easy to put together and the hash browns are just mixed with a bit of egg white to make them form net little cups inside your muffin tin. There also is a mixture of red pepper, spinach, and ham added to the center of each of the hash brown cups before you add the egg at the end and that alone makes these little treasures a meal in themselves. These hash brown egg cups make the perfect dish to serve for a luncheon or brunch.
Ingredients:
1 pound (1 package frozen) hash brown potatoes (thawed)
2 large egg whites
2 tablespoons melted butter
1/2 cup red onion (finely chopped)
1/2 teaspoon salt (to taste)
1/2 teaspoon pepper (to taste)
1 tablespoon butter or olive oil
1/2 cup red, green, orange, or yellow bell pepper (finely chopped)
salt and pepper (to taste For the top)
1 cup ham (diced) (you can also use Canadian bacon, regular bacon, or crumbled sausage)
2 cups fresh spinach (coarsely chopped)
1 1/2 cups grated cheese (you can use Cheddar, Monterey Jack, Mexican Blend, Gruyere, goat cheese, or any other cheese you prefer)
6 Large Eggs
Directions:
In this wonderful video, you will learn how to make your cute hash brown cups and then make the filling bay sauteeing the ham, onion, spinach, and a layer of cheese.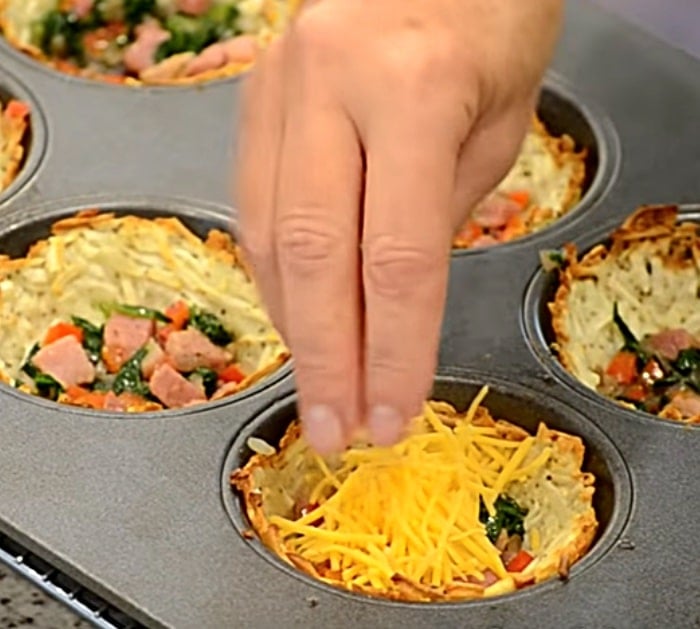 Then you will crack each egg into the cup covering you delicious ham and spinach mixture. You will put the hash brown cup back into the oven for 8 to 10 minutes depending on how you like your eggs cooked. About 8 minutes will make a cooked white with a runny yolk.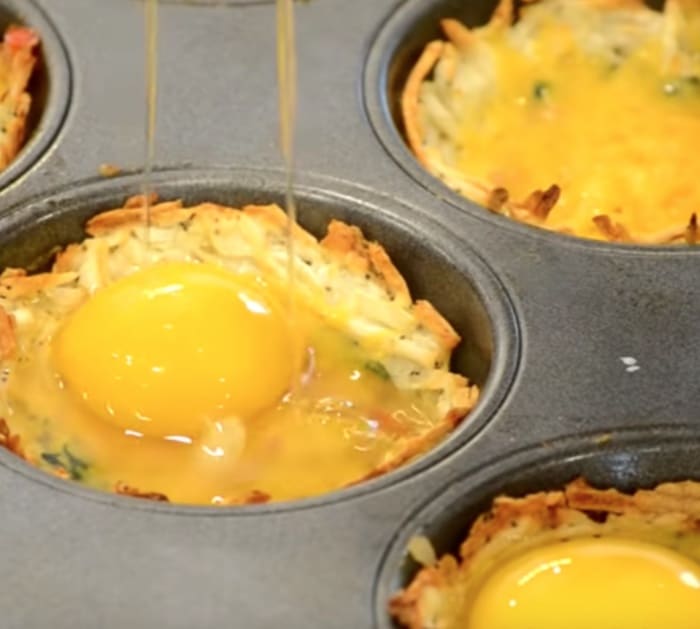 These breakfast cups are so delicious and attractive.
Hash Brown Breakfast Cups Recipe