You probably have made a lot of sandwiches before, but have you tried frying them? This ham cheese fried sandwich by 쿠킹하루 Cooking Haru is one of the best recipes I have ever made! I am so surprised at how it turned out. It was so crispy on the outside and had this melted gooey cheese on the inside. You can also add strawberry jam or raspberry jam to turn it into a monte cristo sandwich if you want.
Ingredients:
sliced bread
2 eggs (beaten)
cheese slices
deli ham
raspberry jam or strawberry jam
salt
1/2 tablespoon of sugar
breadcrumbs
powdered sugar (optional)
Instructions:
Step 1:
Remove the crust from the sliced bread and set them aside. You can turn them into garlic bread for later.
Step 2:
Place one slice of bread, then top with cheese and ham. Repeat the ham and cheese layers, then top it with cheese again.
Step 3:
Repeat step 2 for the second layer, then top with another slice of bread. You can add strawberry jam in between slices.
Step 4:
Transfer the beaten egg to a wide container and add a little bit of salt and 1/2 tablespoon of sugar. Dip the sandwich into the beaten egg. Make sure to dip all sides.
Step 5:
Put some breadcrumbs into a plate. Coat the sandwich with breadcrumbs on all sides.
Step 6:
Place a pan over medium heat and add cooking oil. Once hot, add the sandwich coated with breadcrumbs. Fry it until golden brown and crispy on all sides. Once done, drain the excess oil and transfer it to a plate. Sprinkle powdered sugar on top if preferred. Slice then serve. Enjoy!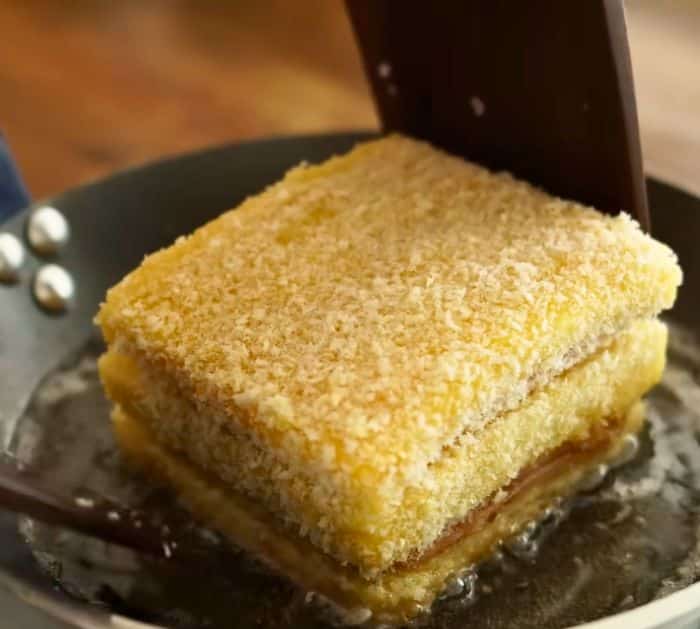 For more easy and delicious snacks like this, make sure to visit and subscribe to 쿠킹하루 Cooking Haru on Youtube. They have a lot of video recipes that you will absolutely love.
Ham Cheese Fried Sandwich Recipe