Ready for all those fun Halloween parties? So are we, but we always end up needing to make something to take to them at the last minute, and never want to show up empty handed. Make some of the best Halloween party snack around, we found 50 of the best Halloween party recipes to try out, and many can are not only easy, but can be made quickly. Don't let your lack of time stand in the way, these spooky treats are simple. Follow the step by step tutorials to learn how to make desserts, cookies, cupcakes and healthy edibles for your special Halloween celebration. Whether you are throwing a big bash for Halloween or you've been invited to a party and want to take some treats along, you are sure to find the perfect Halloween snack recipe here. Complete with step by step tutorials and easy to follow photo instructions, these spooky snacks are guaranteed to turn out exactly like they look.
Don't spend all your time making Halloween food, though. You still want to have time for making spooky decor for your house or big costume bash. Get your home ready for Halloween with our easy DIY Halloween decorations.
Be sure to save some time to create the perfect outfit from our list of DIY Halloween costume ideas and of course, you want the best Halloween makeup tutorials, too. Need some fun costume ideas for couples then try these: DIY Halloween Costumes for Couples. If you've waited until the last minute, never fear. We have some of the funniest, cutest and easiest ideas with our Last Minute DIY Halloween Costumes
Halloween Snack Recipes
1. Marshmallow Web Cupcake Topper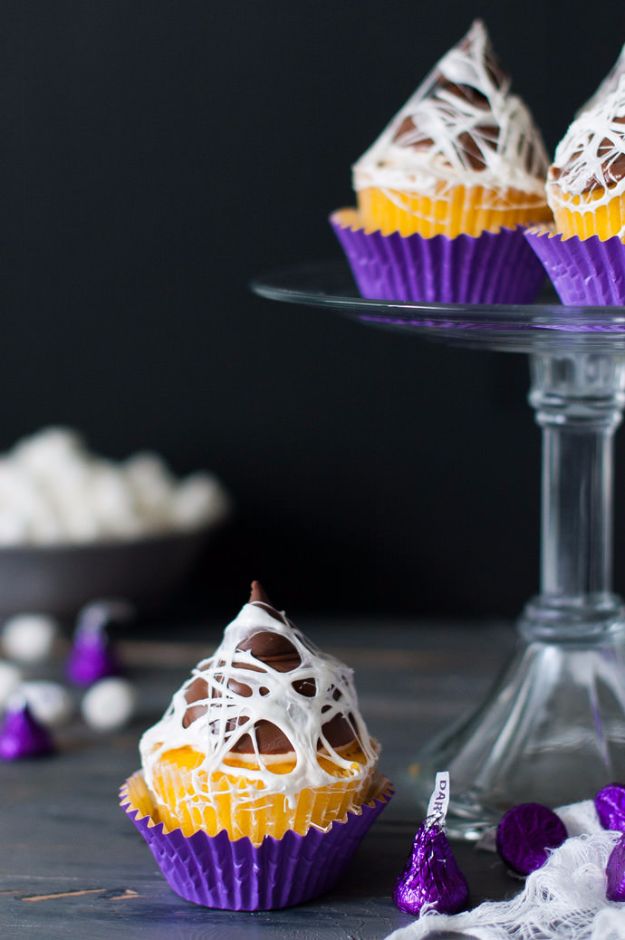 I had to get some cupcakes together quickly for my daughters Halloween class costume party, another Mom got sick and couldn't do the cupcakes and I immediately volunteered because I had seen this idea the night before. I got my pre-made cupcakes from the bakery at HEB, I just asked that they be left bare so I could ice them at home. These cupcakes are covered in marshmallow "webbing" that is made by melting down mini marshmallows and using your fingers to stretch the gooey mixture over a HERSHEY'S Kiss topped chocolate frosted cupcake. The Kiss on top gives the shape of the frosting a somewhat sinister element with it's delicious chocolate point. The kids went wild over them and my daughter's teacher could not stop thanking me because the Halloween cupcakes looked so amazing.
2. Ghost Meringues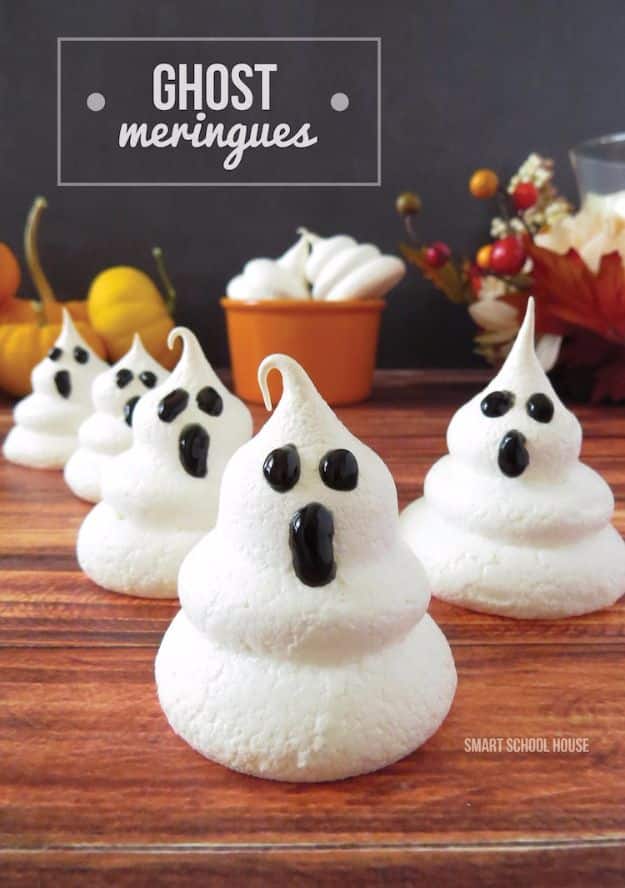 Meringues are so versatile, the kids and I wanted to make some little ghosts for Halloween so we studied up on it. Creating little ghost shapes is incredibly easy and each one will have its own unique shape making them even more fun! If you don't have an icing bag with frosting tips, try using a large ZipLock bag and simply cut off the tip. This is also a great way for young kids to create Ghost Meringues, and they are cute as heck.
3. Halloween Candy Bark

Our Halloween costume party in a few weeks and we've invited our closest friends for a full day of Halloween fun and games, pumpkin decorating, and Halloween treats. This Halloween candy bark will definitely be among our party food table. It's so easy to make and you can add just about anything you'd like to it. Bark candy is always my go-to blank canvas to add whatever holiday theme I need to. For this Halloween bark recipe I used Halloween OREOS (love the orange filling), sprinkles, pretzels to add a bit of salt to cut down the sweetness, mini edible eyes, and candy down in this fun orange, yellow and purple color. I like to use Ghirardelli melting chocolate because of the flavor and how easy it melts. The Ghirardelli melting wafers are smooth and easy to pour. For this recipe, you can make a small batch using one bag or fill a large baking sheet with two bags of chocolate wafers.
4. Halloween Spaghetti
This Halloween spaghetti is so cute for your get together that magical night of December 31st. This is my favorite Halloween recipe and It is perfect for Halloween parties and trust me, all your guest are going to love it as much as we do! Take a look at the step by step method, its basically the same pasta recipe you are probably used to, with black food coloring that will not stain your teeth but will look very festive.
5. Halloween Marshmallow Pops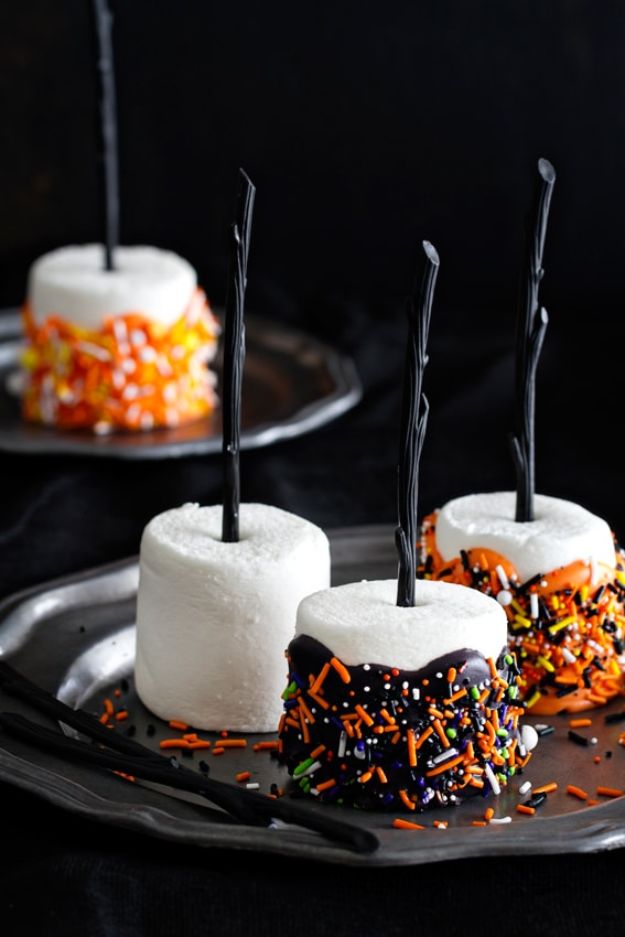 These Halloween marshmallow pops are perfect for roasting or eating plain. They lend themselves perfectly to attaching all sorts of delicious candy, making this an easy treat to whip up for your Halloween party. I love Roasting anyway because when it comes to s'mores, of the trifecta, marshmallows are the best part as far as I'm concerned. Especially with just a little char on the outside. These are visually a great addition to your holiday table whether anyone eats them or not.
6. Halloween Oreo Bats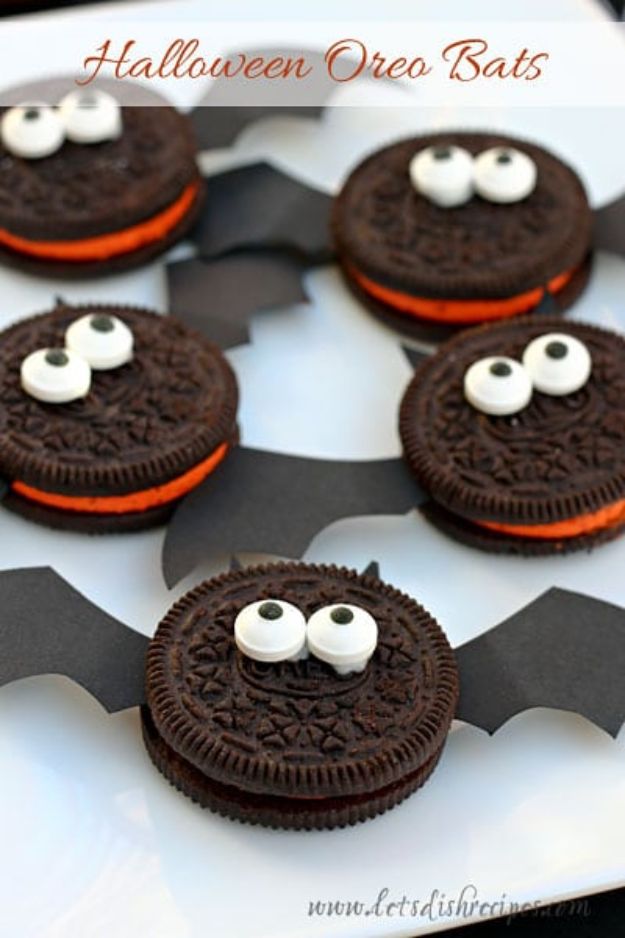 This is the perfect Halloween party treat to pull off in a pinch. I had a deadline at work and completely forgot about my daughters Halloween party at school. I ran to HEB and got some Oreos and the kids helped me scrape the insides, we whipped some orange food color in and replaced the center filling then decorated with eyes and bat wings we cut out of construction paper. The day was saved and they looked fabulous.
7. Ghastly Candy Bark Recipe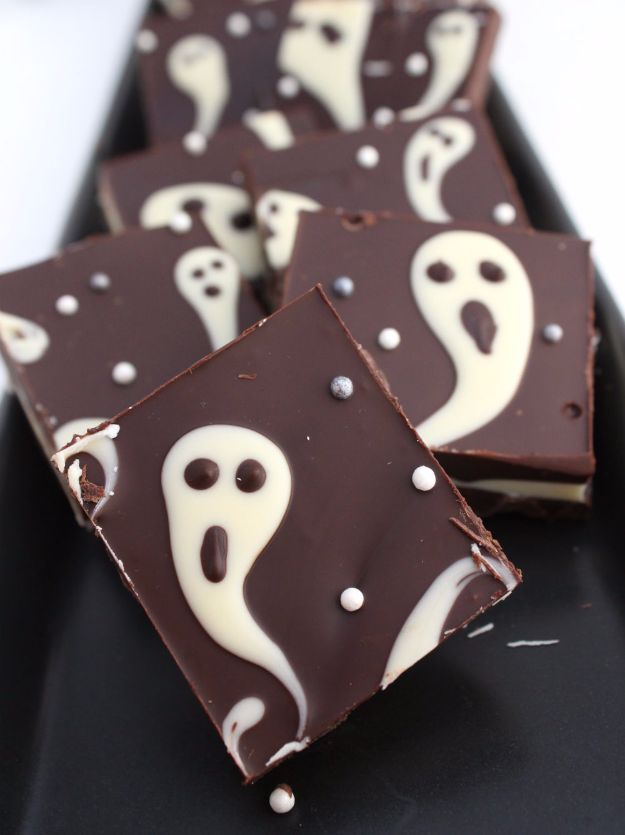 Bark candy is one of the easiest things to make, you can melt your chocolate in the microwave or a double boiler and cool the layers as you go. Any holiday theme can be incorporated into bark because it is like a blank canvas it can reflect any holiday theme you choose. I wanted to give something homemade to my trick or treaters, so I drizzled white melted chocolate bark in ghost shapes all over my freshly made bark trays. The children went wild, we had such a good time.
8. Meatball Mummies Party Snack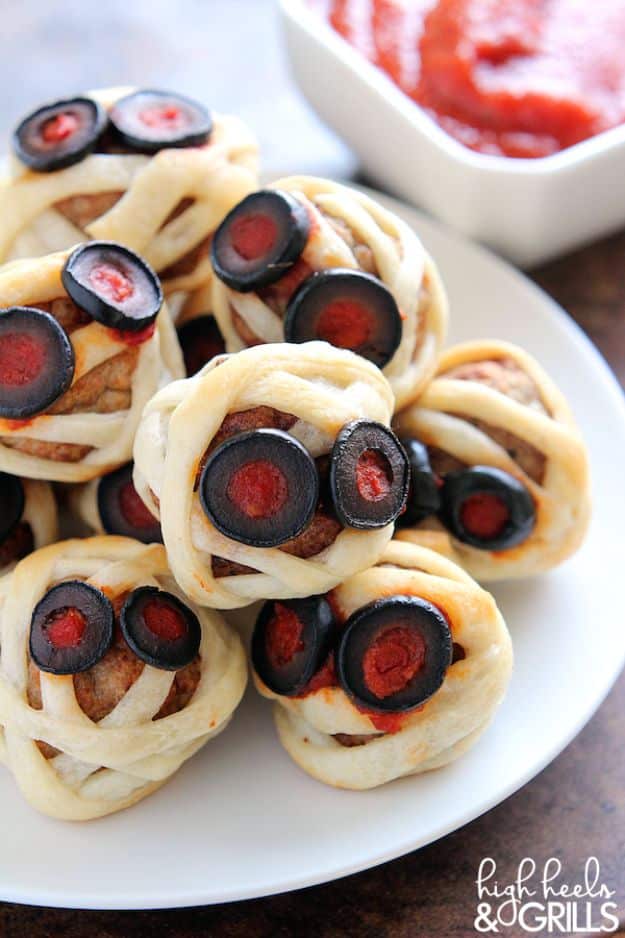 These Meatball Mummies are a fun, easy, and delicious Halloween finger food idea. They are store-bought meatballs, wrapped in crescent down, and topped with marinara and olives. They are an excellent American appetizer, that only take about 30 minutes in total cooking time. They will look really spooky at your Halloween party and make an excellent alternative to Pizza.
9. Shredded Chicken And Rice Stuffed Peppers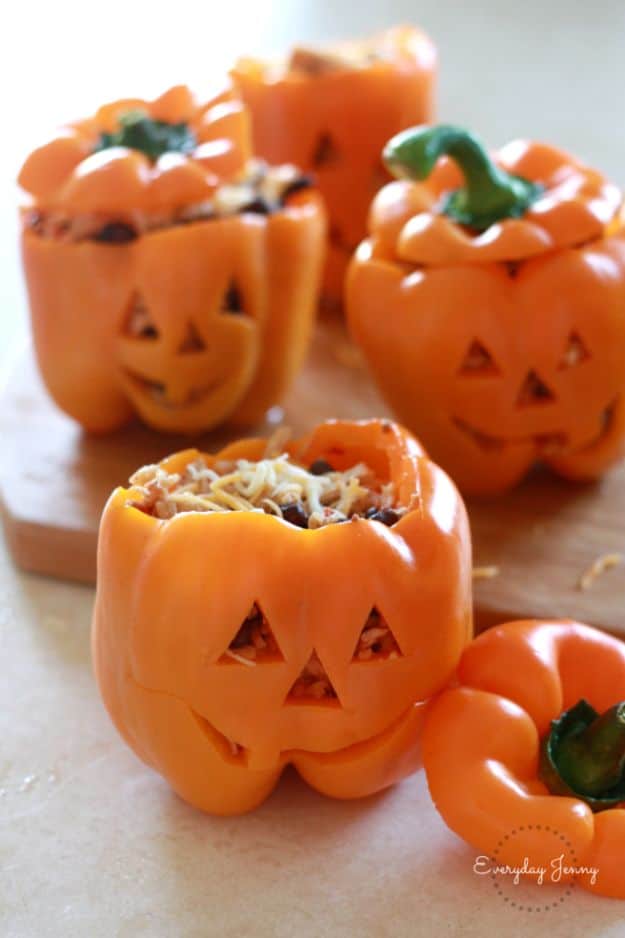 I love my stuffed pepper recipe, we have these at least once every couple of weeks, so I decided to change them up to surprise the kids for Halloween. I thought of the idea of making little jack-o-lanterns out of the peppers when I saw some of the orange peppers on sale. It only takes a few extra minutes and it makes the stuffed peppers extra special. You can either make the slow cooker chicken as a meal one day (for tacos, burritos, taco salads etc.) and make extra to have these peppers later on, or you can make the chicken and rice just for the stuffed peppers. I slow cooked them in my crockpot and my kids were so amazed, they were so excited we took lots of photos.
10. Easy Witch's Broomstick Snacks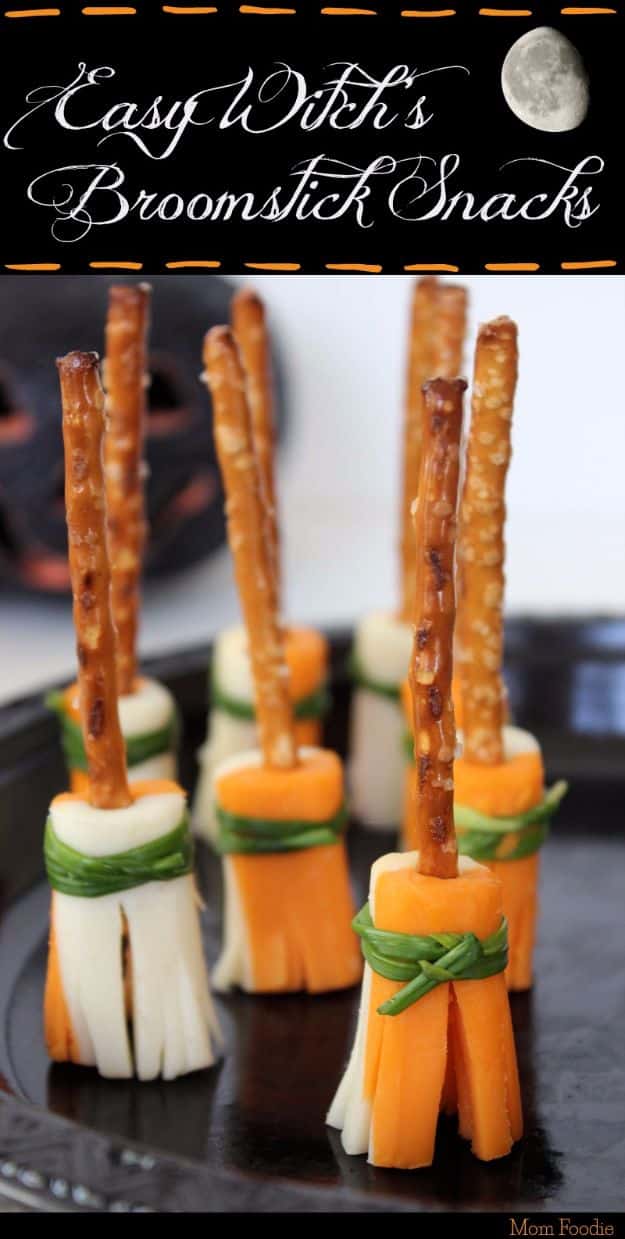 My daughter had this fantastic idea to have an all witch Halloween party, so we wanted an appetizer that was very witchy to get us in the mood. These easy witch's broomstick snacks are sure to be a big hit at any Halloween Party. The snacks are simple to assemble and when stood up fill a nice amount of space on a Halloween party buffet layout. I especially like that you can keep extras of the 3 ingredients needed and whip some more witch's broomsticks together in the bat of a newts eye. As all good hosts know, being prepared is the most essential part of throwing a party after all.
11. Cauldron Cupcakes

12. Frankenstein Marshmallow Pops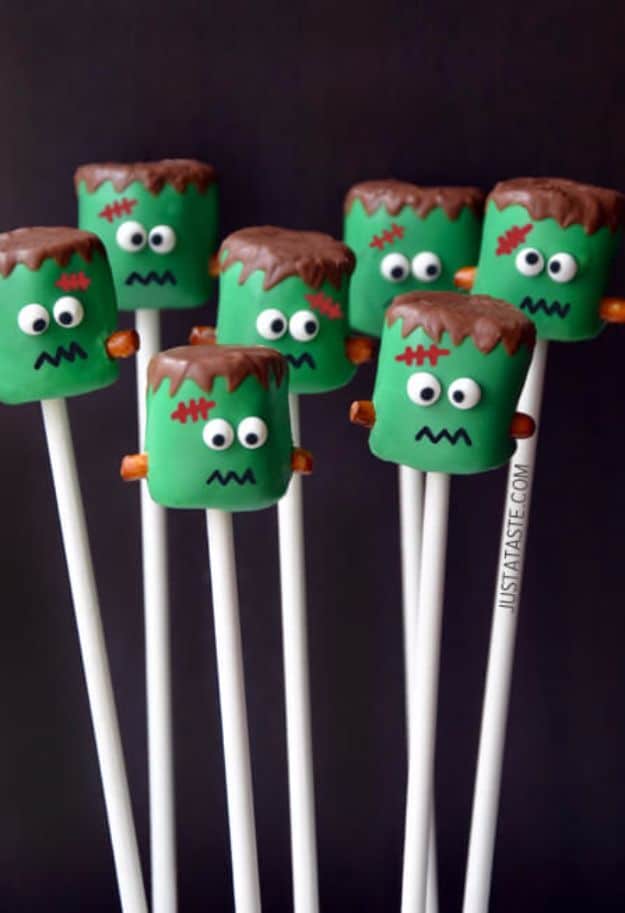 13. Incredible Candy Coated Halloween Popcorn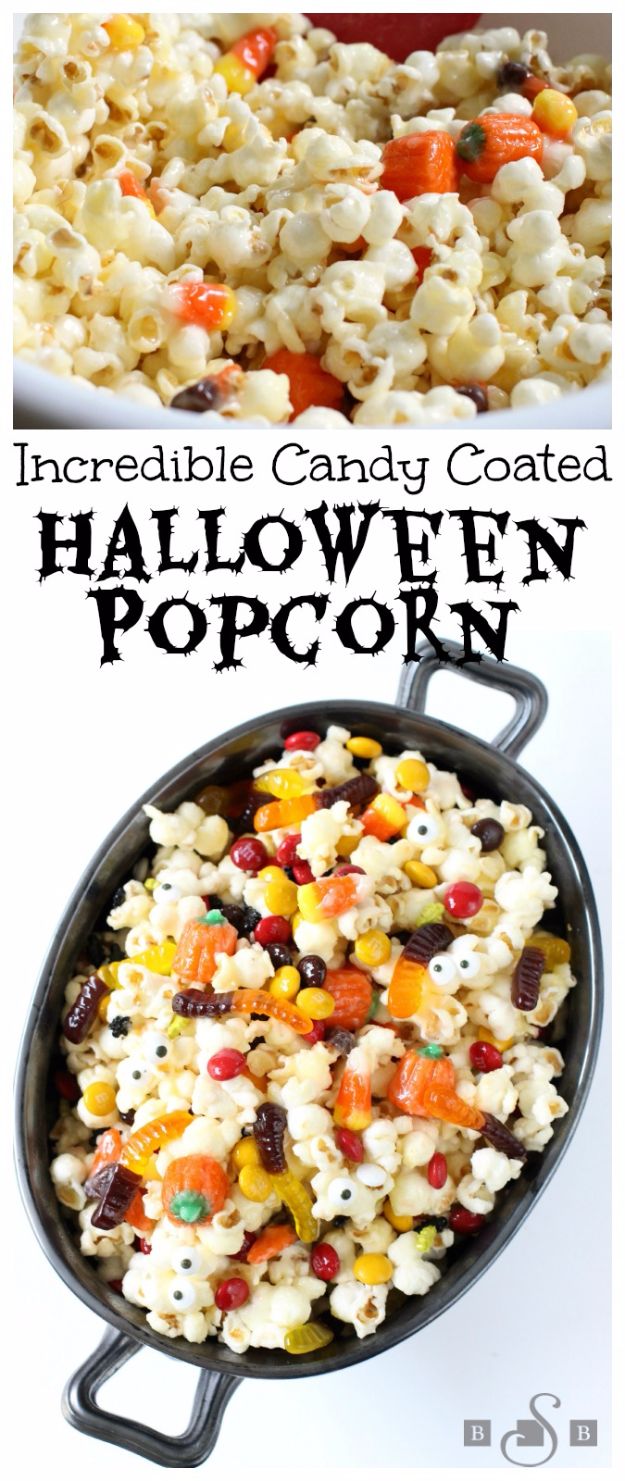 14. Eyeball OREO Truffles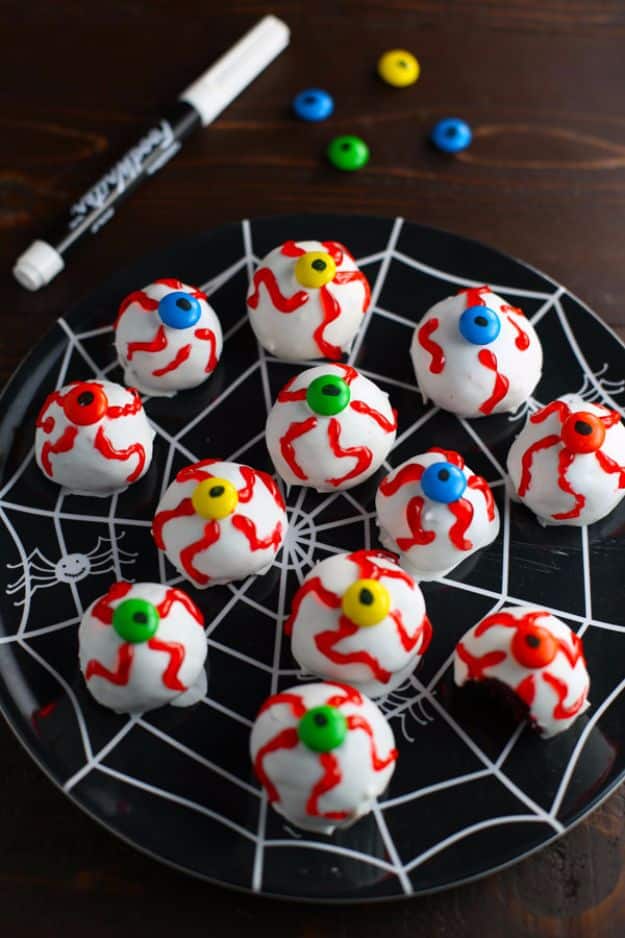 15. White Chocolate Mummy Pretzels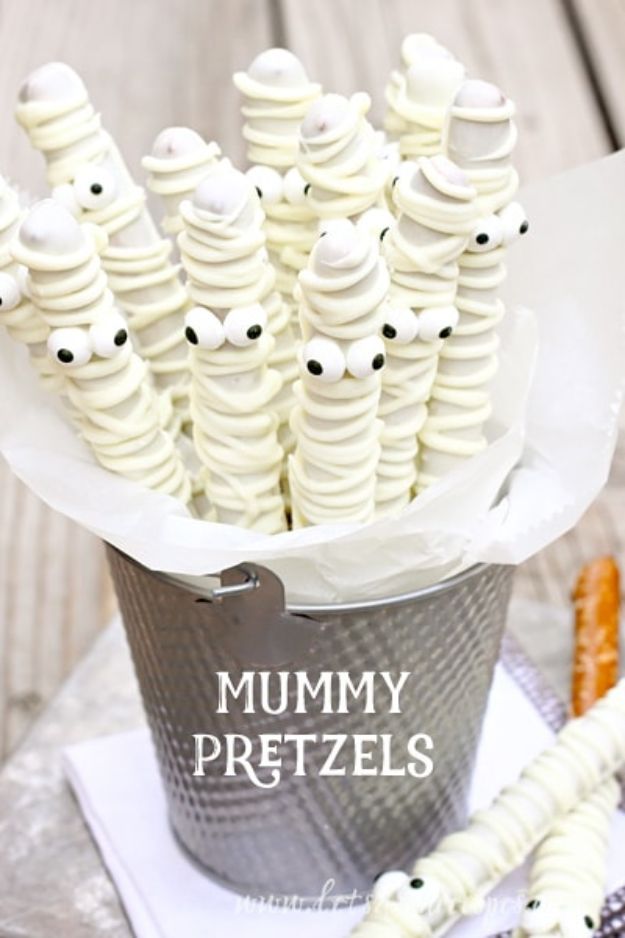 16. Pumpkin Cheesecake Truffle Mummies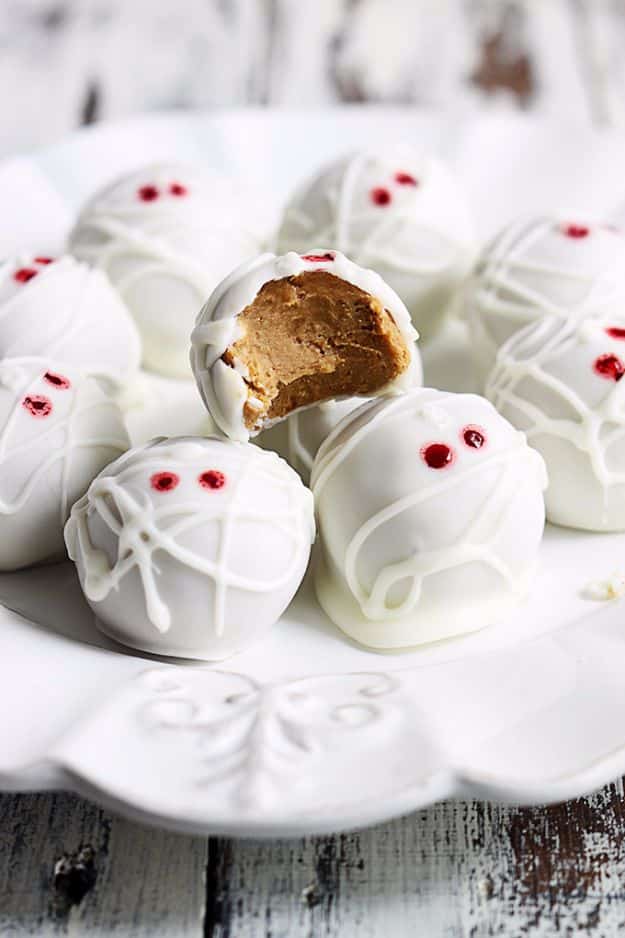 17. Creepy Finger Sandwiches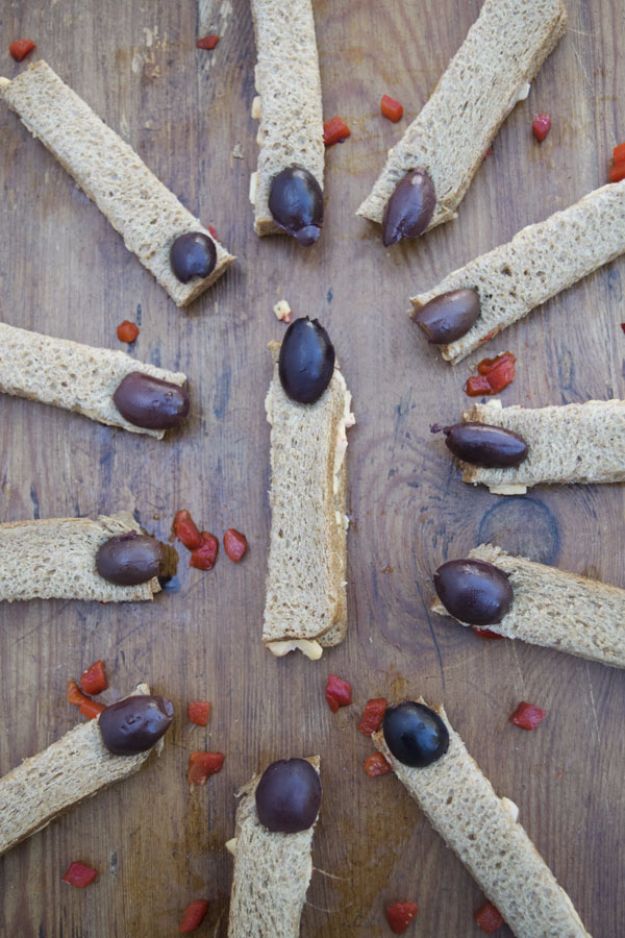 18. Strawberry Ghost Pops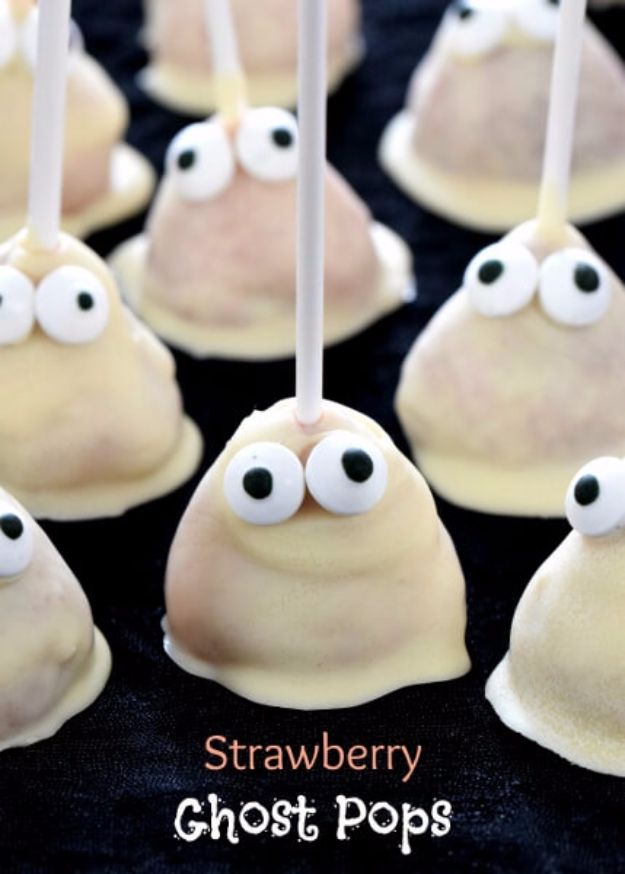 19. Pizza Skulls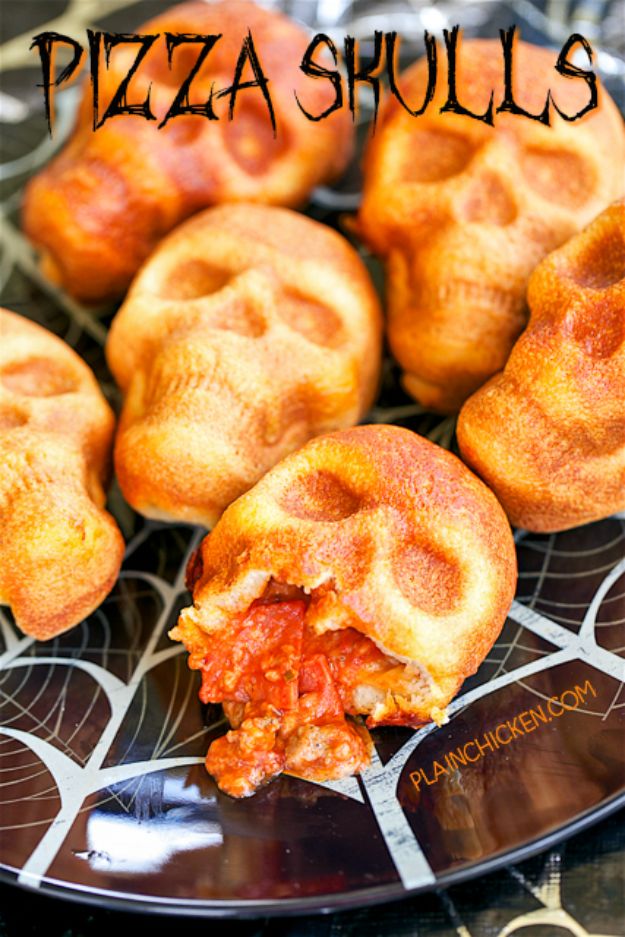 20. Candy Filled Cauldron Cookies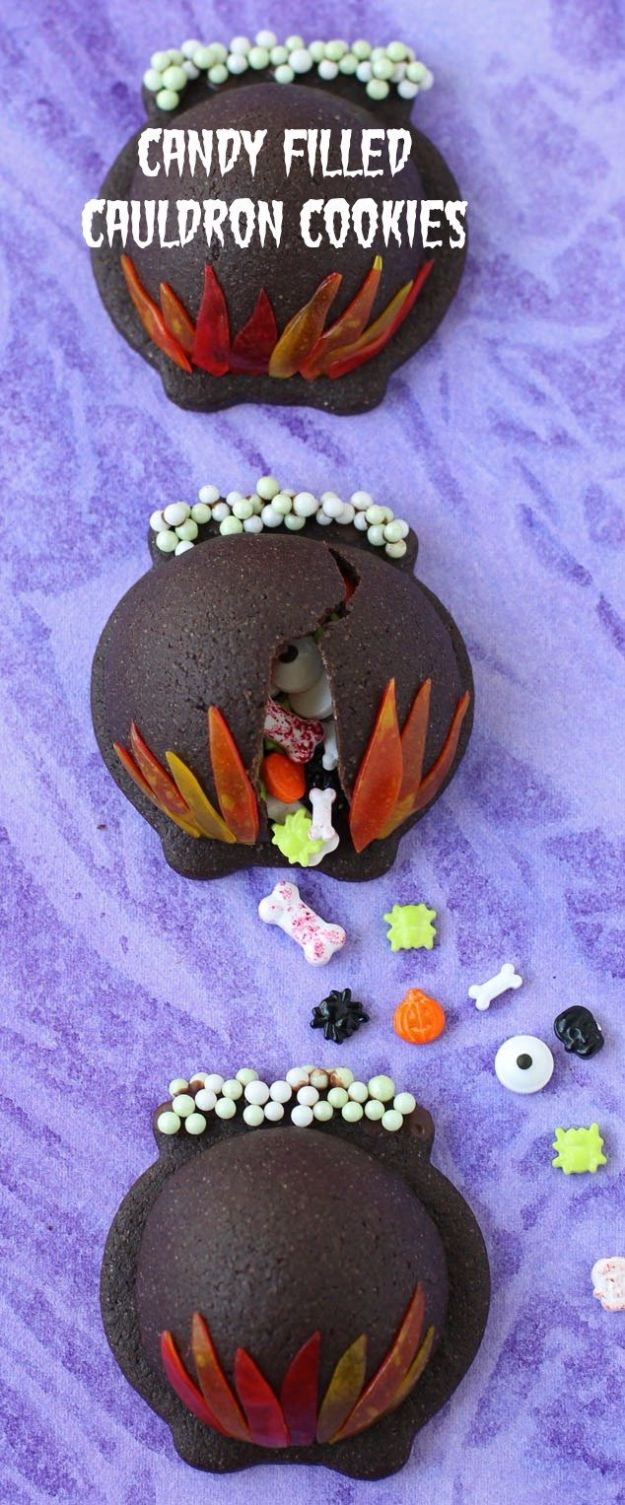 21. Monster Mash Popcorn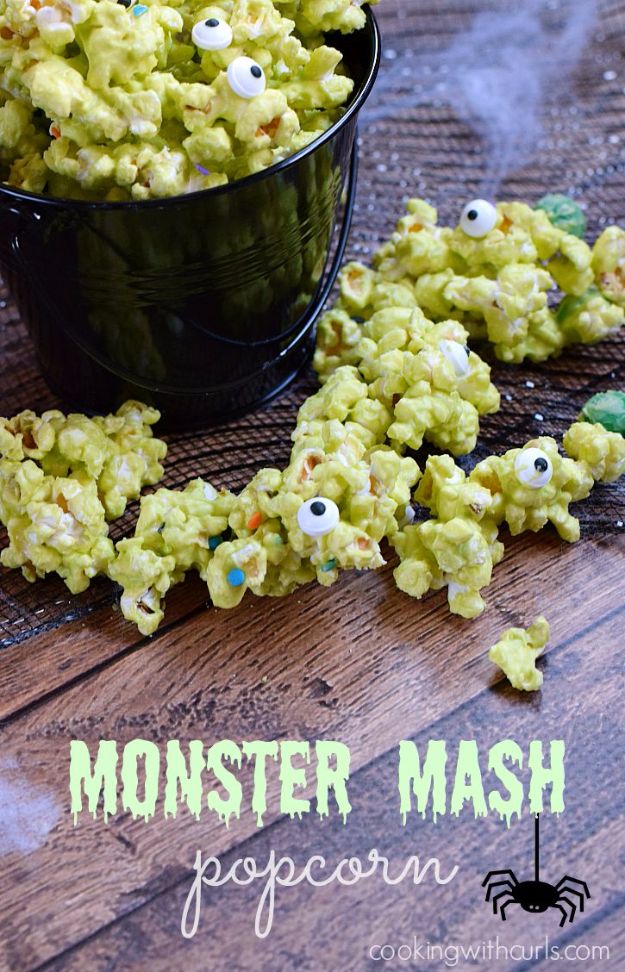 22. Halloween Monster Donuts

23. Monster Cocktail Stirrers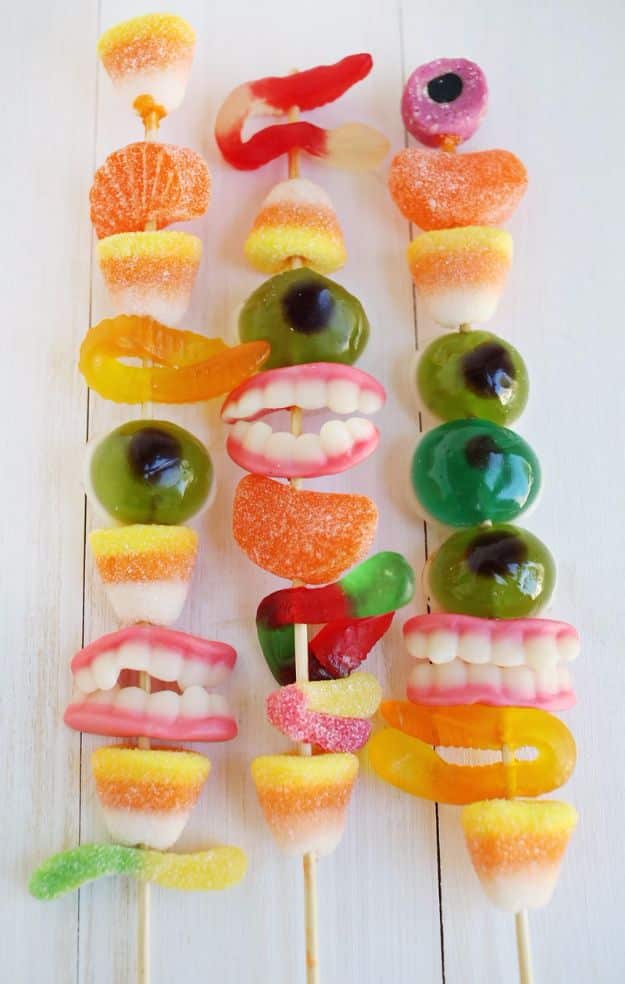 24. Easy Mummy Brownies

25. Haunted Haystacks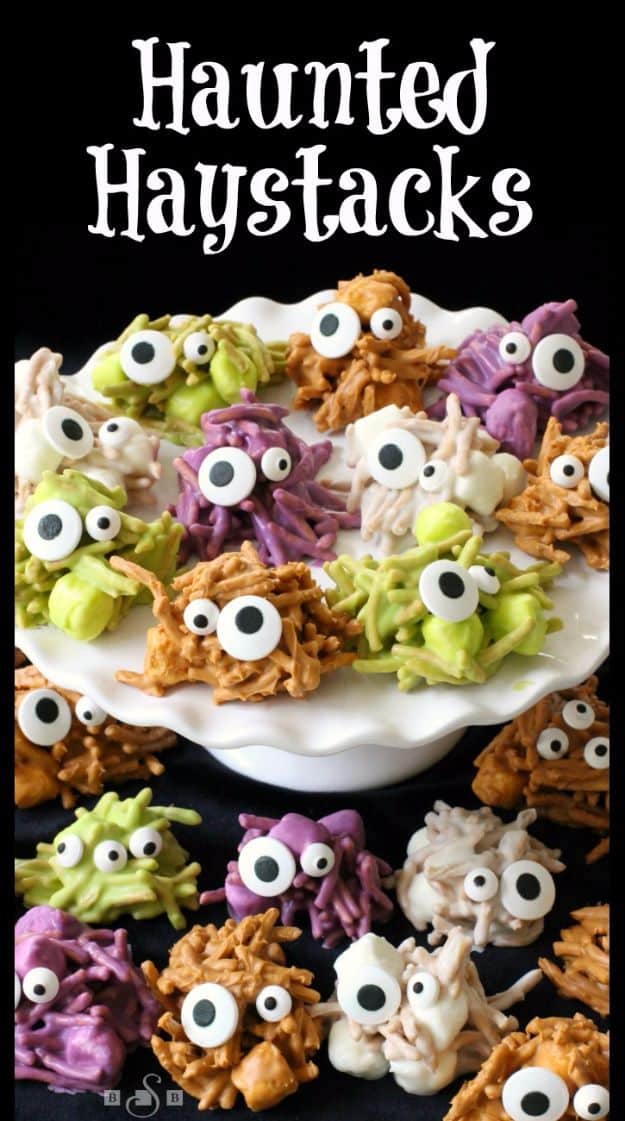 26. Spiderweb Cake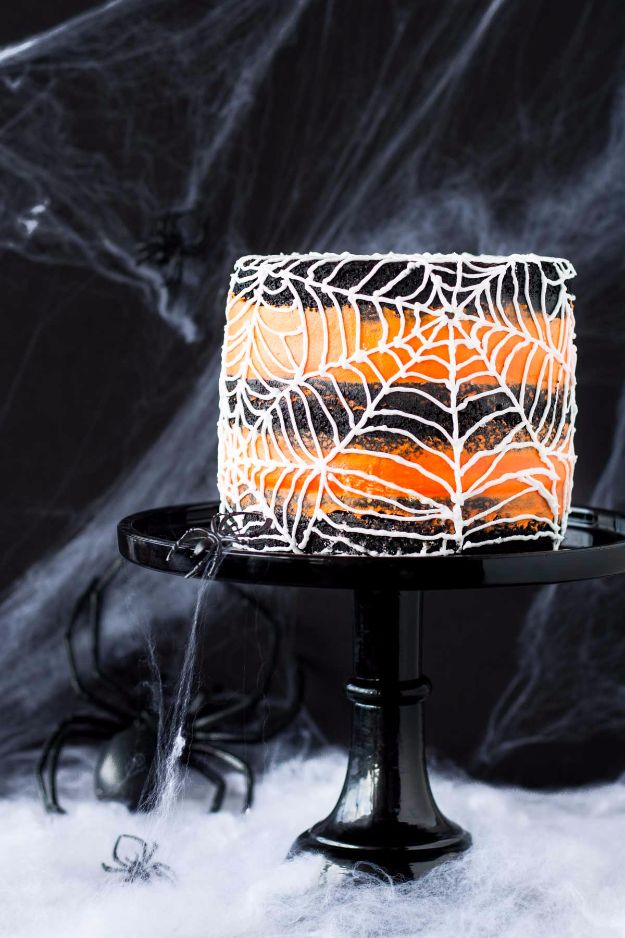 27. Easy Halloween Spider Pizza

28. Brownie Cupcakes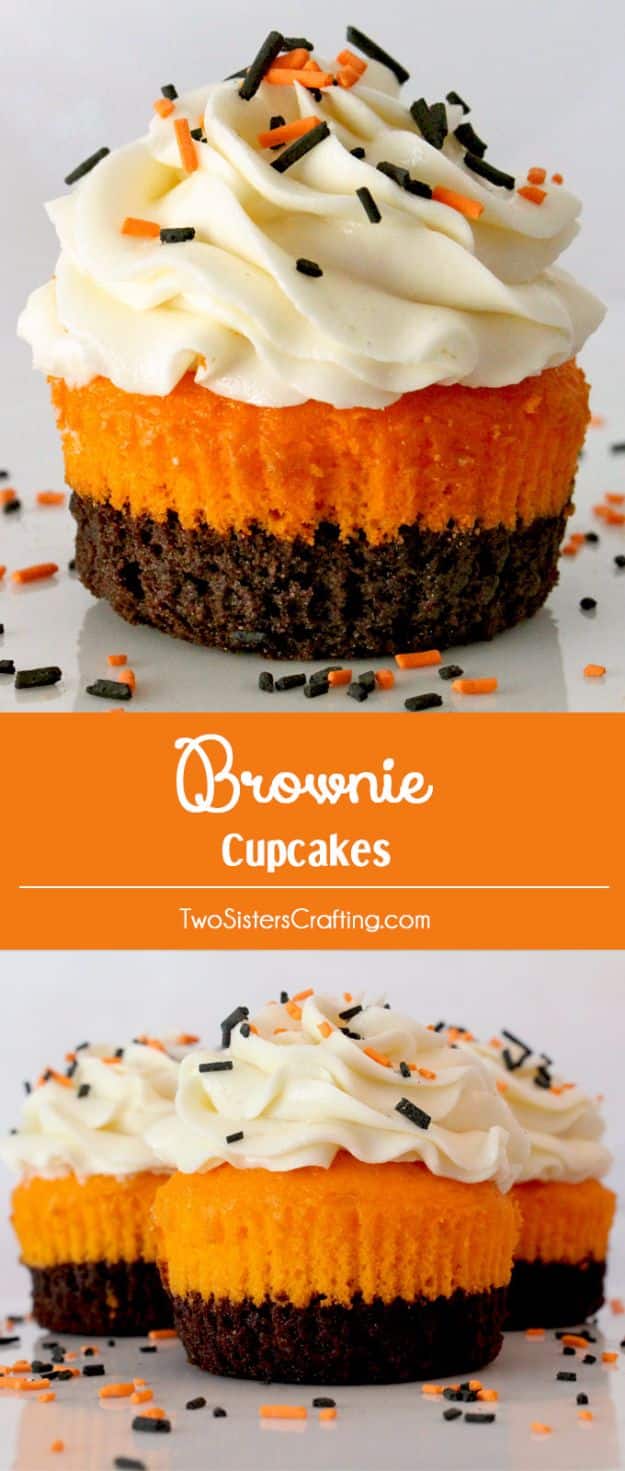 29. Witch Finger Pretzel Rods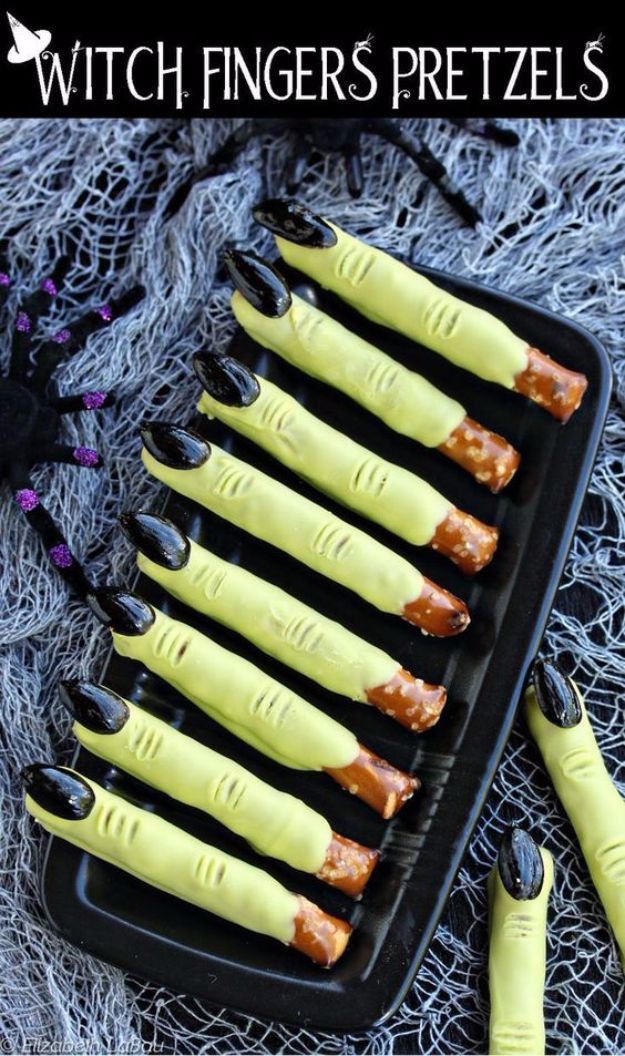 30. Rice Krispy Treat Brains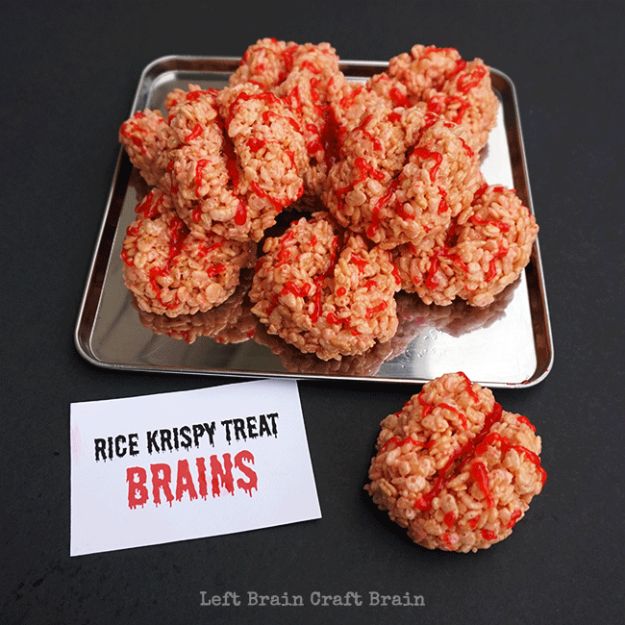 31. Poison Apples

32. Apple Peanut Butter Teeth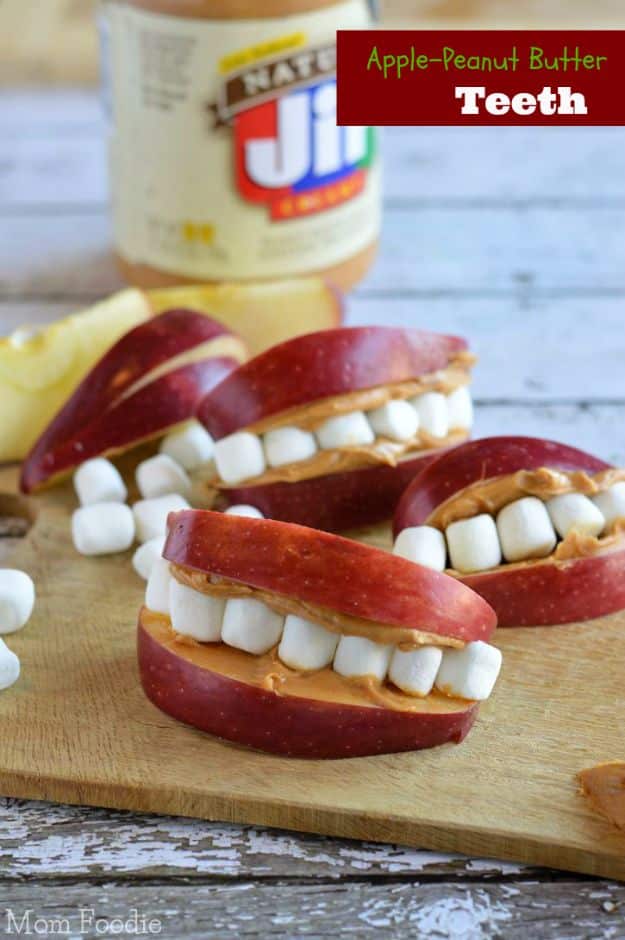 33. Spooky Black Caramel Apples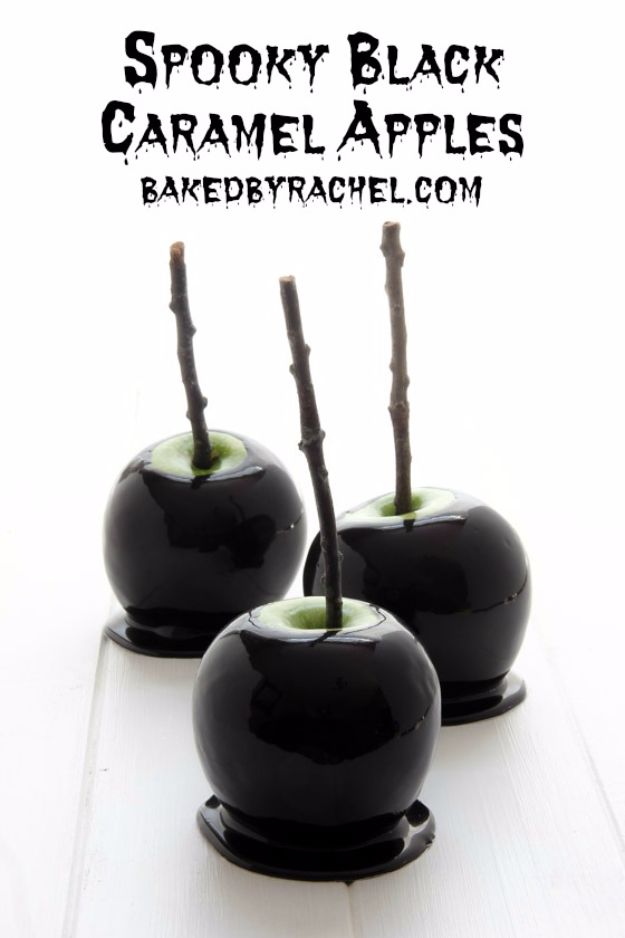 34. Creepy Brain Dip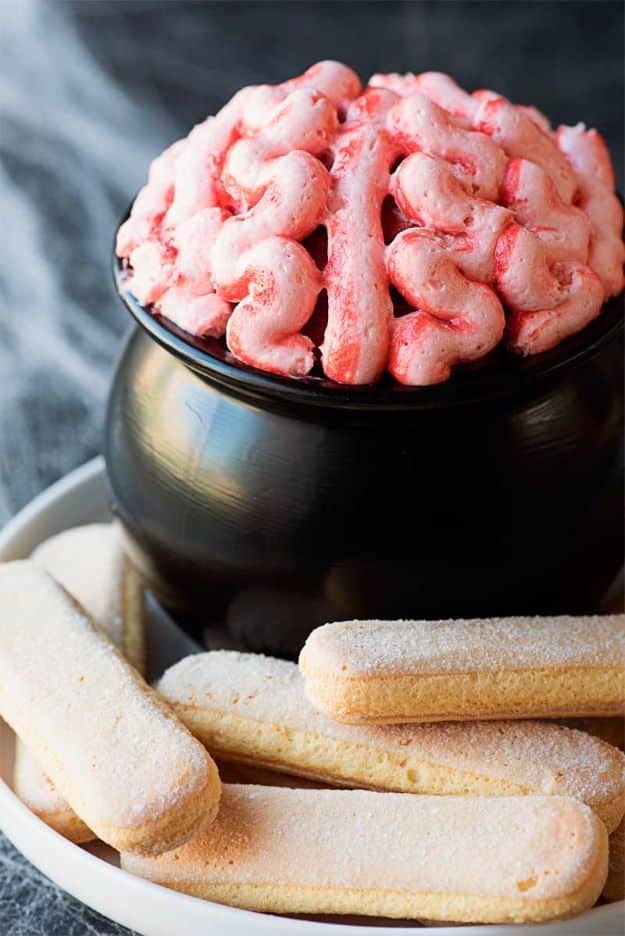 35. Monster Pumpkin Pudding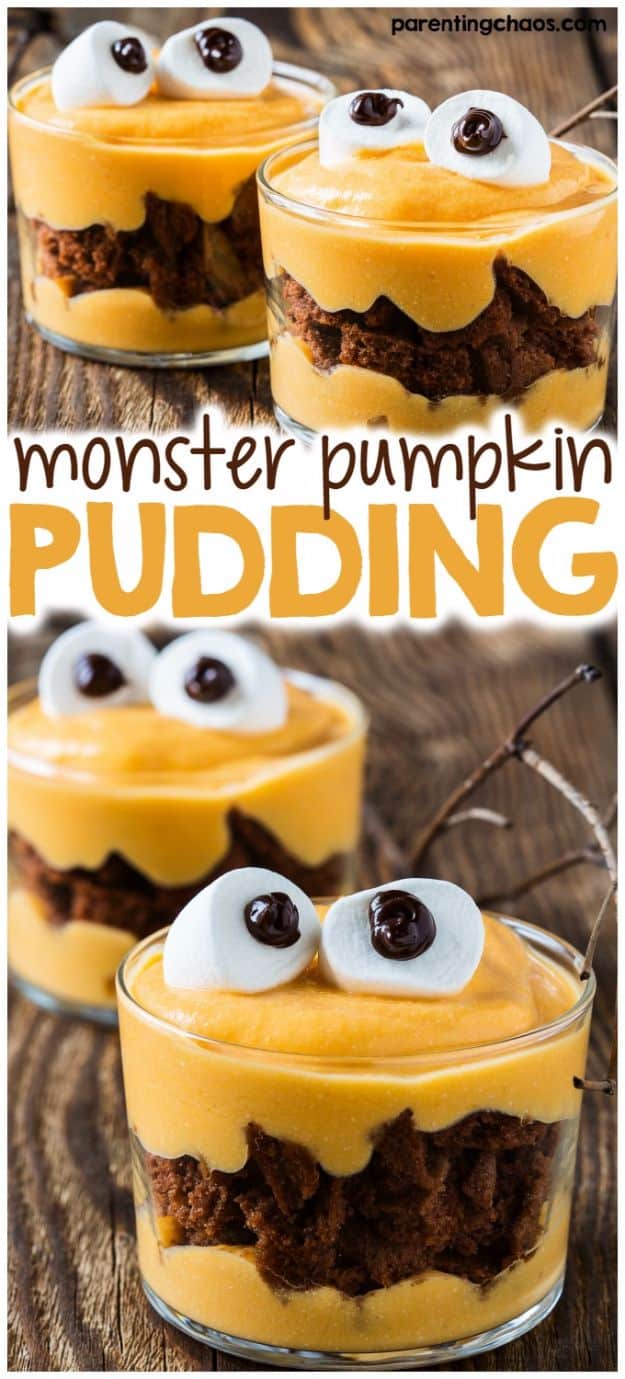 36. Easy Green Halloween Pasta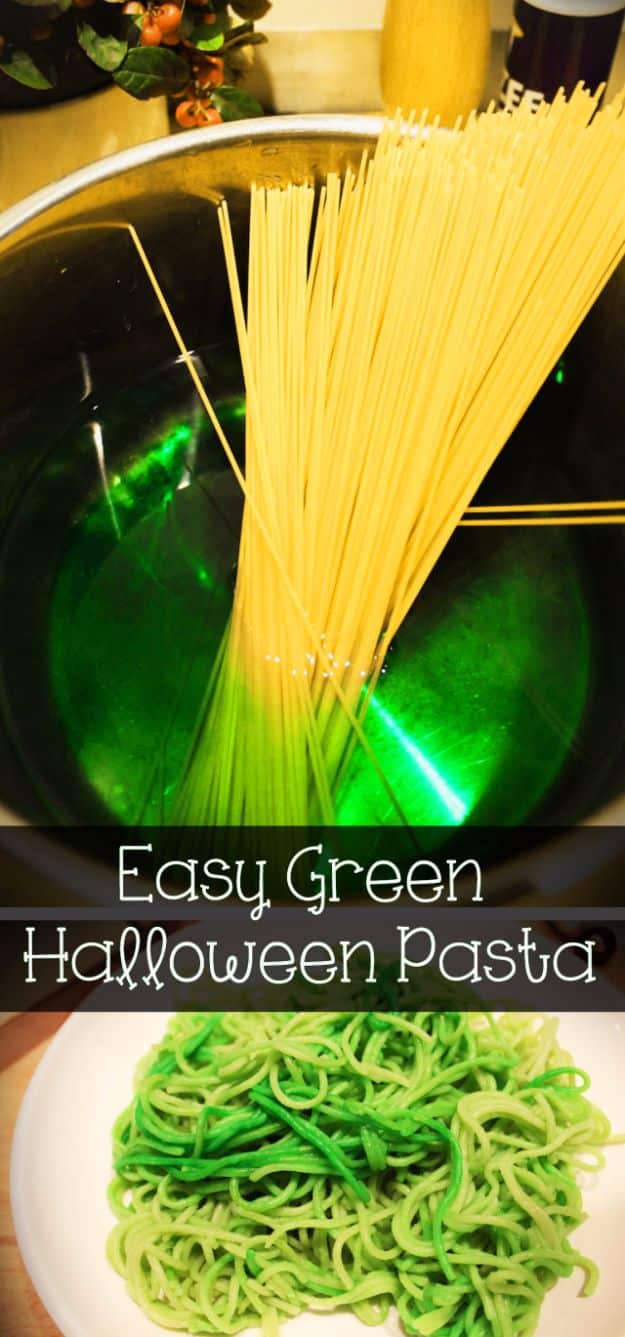 37. Toxic Waste Mac N' Cheese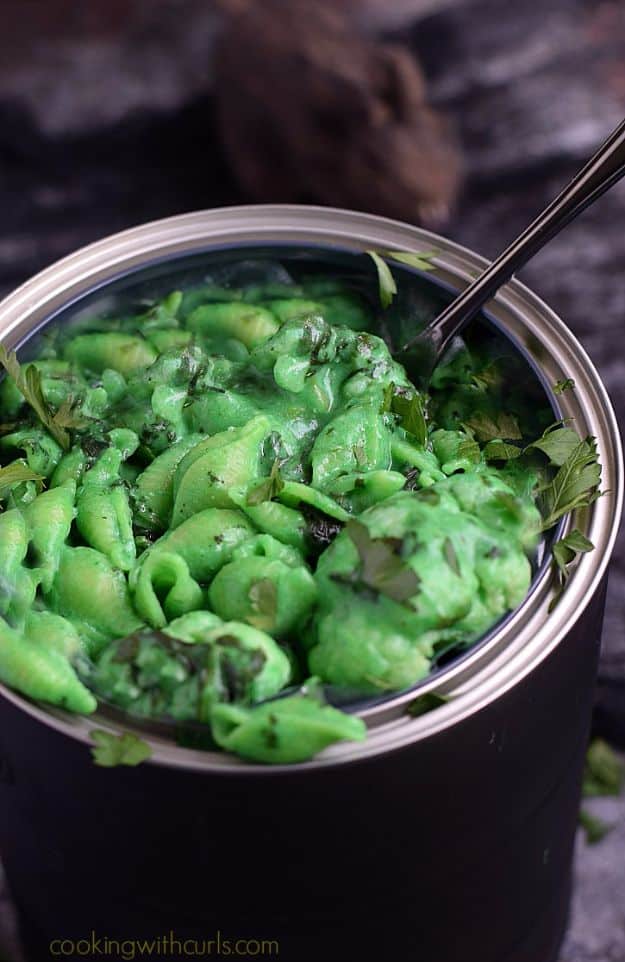 38. How to Make Ghost Pretzels

39. Witch's Brew Brownies

40. Nutter Butter Boos

41. Deliciously Rotten Deviled Eggs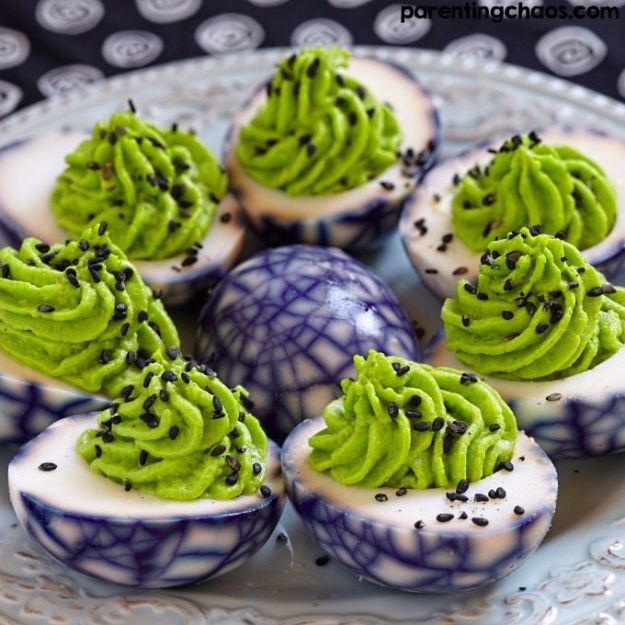 42. Pumpkin Cheesecake Balls

43. Frankenstein Kiwis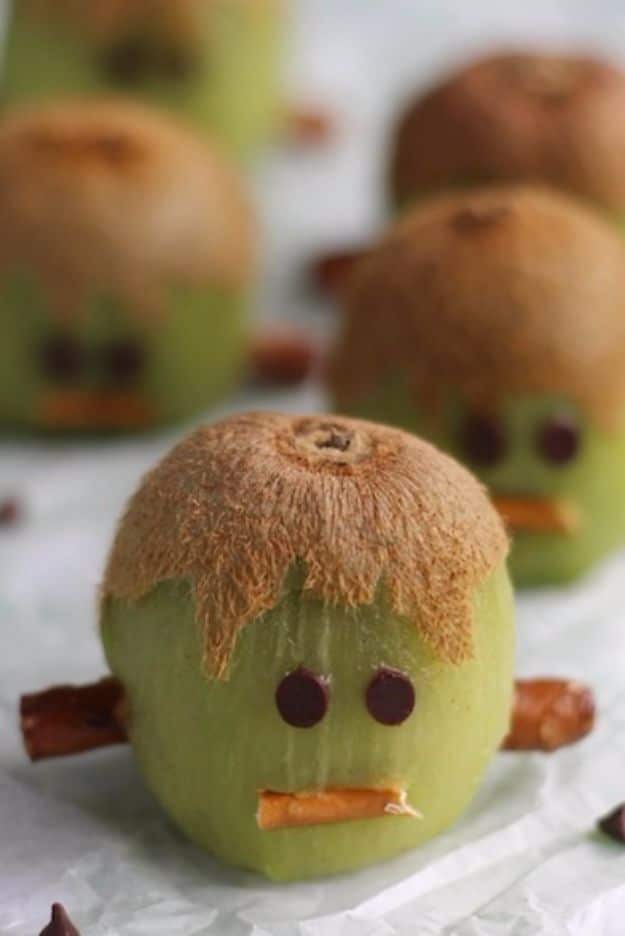 44. Rice Krispie Treat Monsters

45. Chicken Boo-dle Soup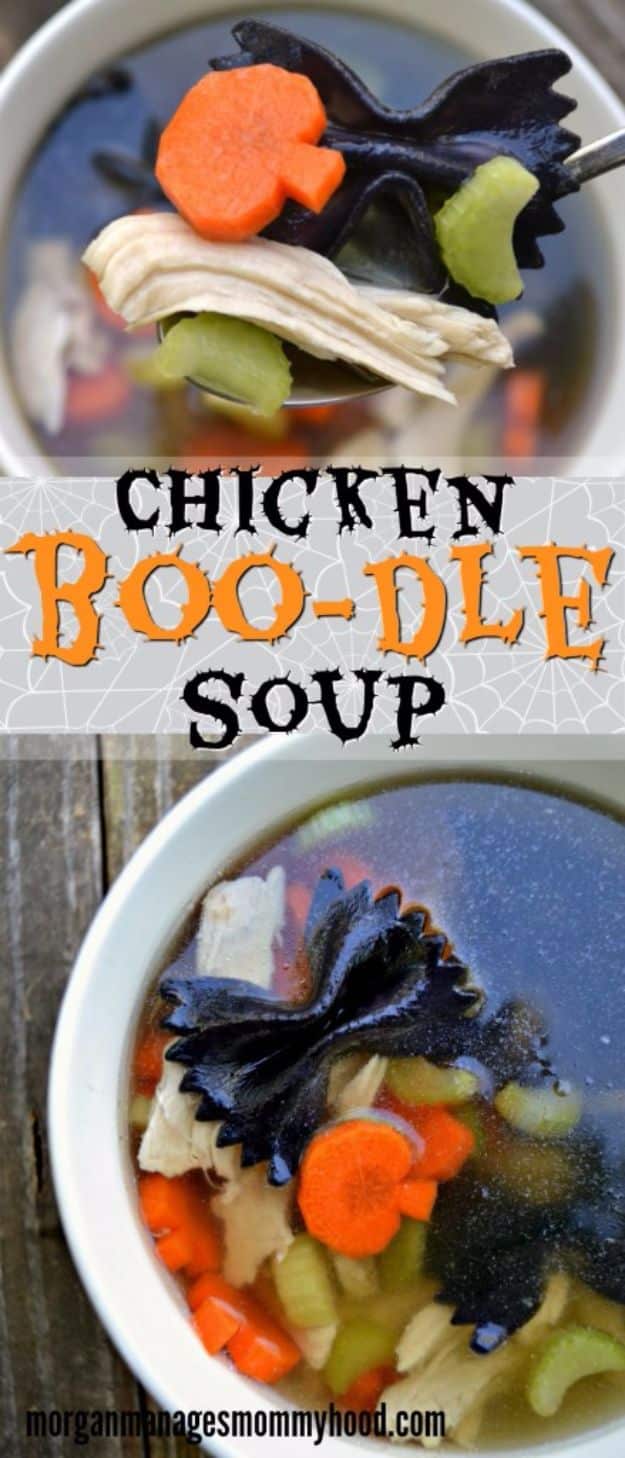 46. Coffin Pop Tarts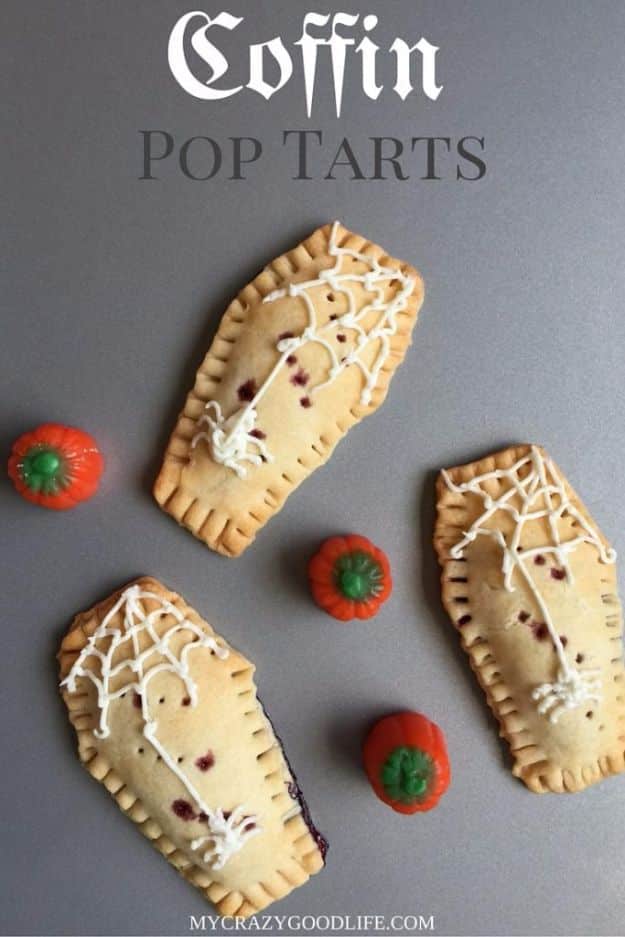 47. Halloween Bundt Cake

48. Holy Skull-y Guacamole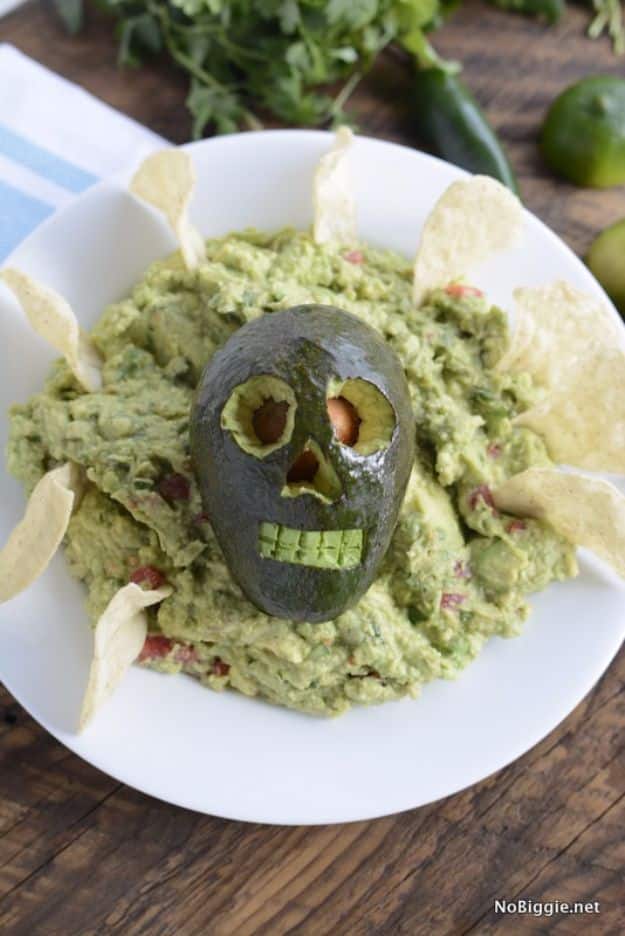 49. Orange Jack-O'-Lantern Fruit Bowl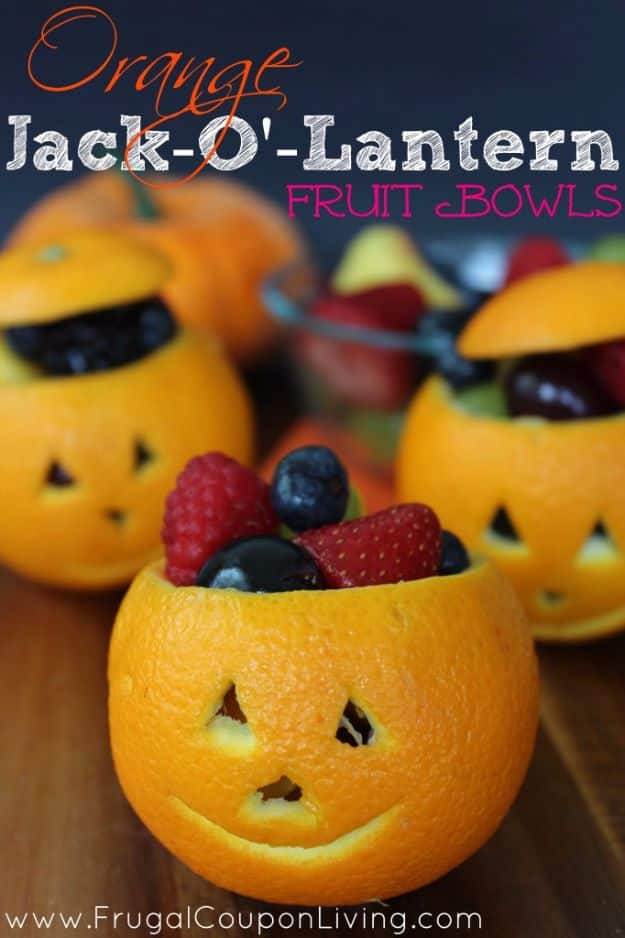 50. Jack-O-Lantern Mac and Cheese Cups