Have you given up gluten or find yourself cooking for someone who has gone gluten free? If you need the best gluten-free recipes, you're in luck. We just spent weeks scouring the Internet for some of the most awesome gluten free foods to make at home, and we tested lots and lots before we decided on these 36 fab foods without gluten. Don't give up flavor and taste while you go gluten-free, make all of your favorite appetizers and snacks, just without the unnecessary flour. These gluten-free recipes use creative substitutes so you can still eat all of your favorite foods. Learn how to make fried cheese bites, amazing vegetables and bite-sized foods you might find yourself dreaming about later. Make some gluten free desserts for the party, and all of the gluten sensitive folks will be thrilled, the others may not even notice.
Gluten Free Appetizer Recipes
1. Gluten-Free Mozzarella Bites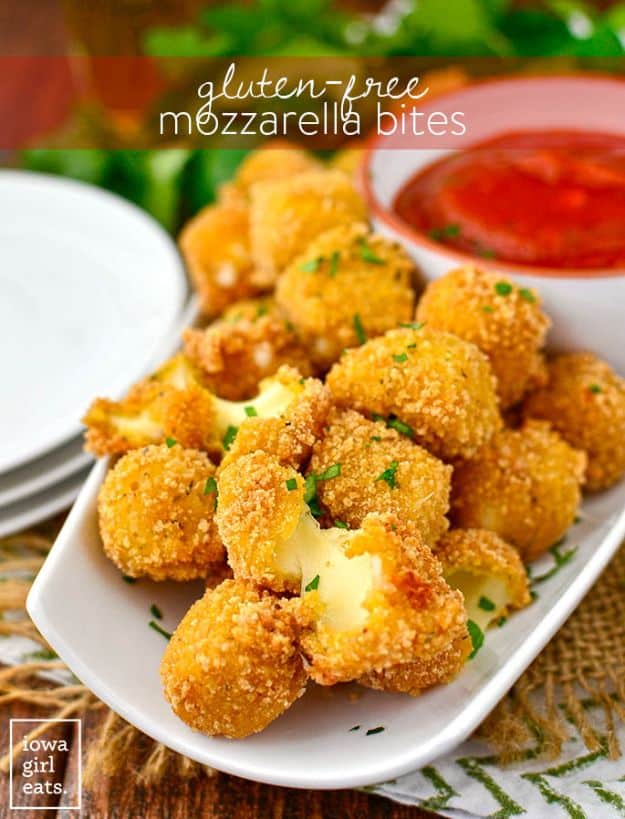 Great for parties or a fun lunch at home, these Gluten Free Mozzarella Bites have the perfect, cheesy crunch. Crunchy on the outside and gooey on the inside, they make for a great appetizer without the added guilt. Plus they are easy to make and keep in the freezer!
2. Creamy Artichoke, Leek & White Bean Hummus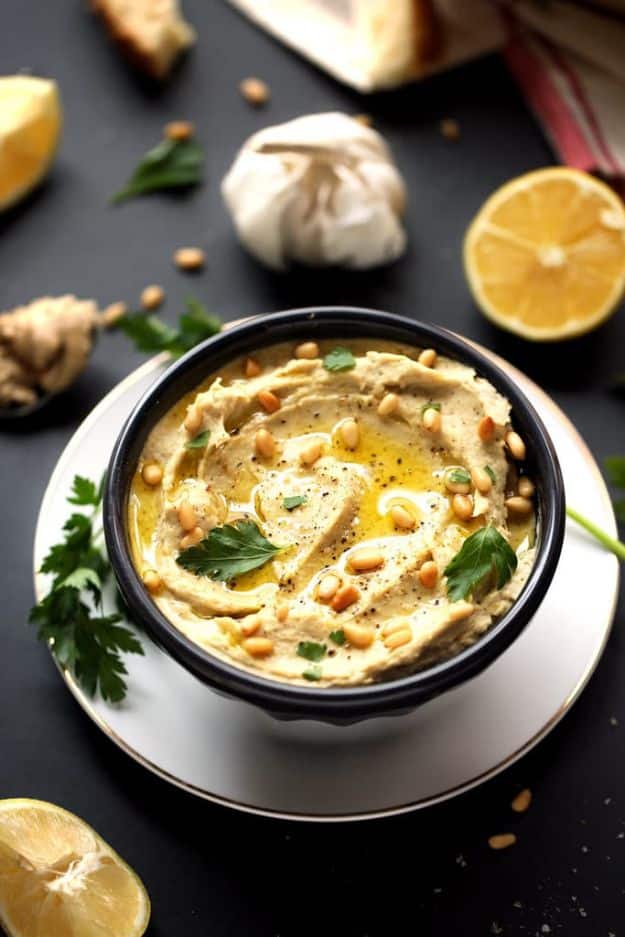 Leeks and artichokes are the guest stars in this homemade white bean dip. With just 7 ingredients, this might look like ordinary hummus, but it's packed with the extraordinary flavors of spring veggies. I tell you, this recipe is right up my alley! I wouldn't have ever thought of putting artichokes or leeks into hummus but I love both so I am going to give this a whirl soon.
3. Gluten Free Chicken Satay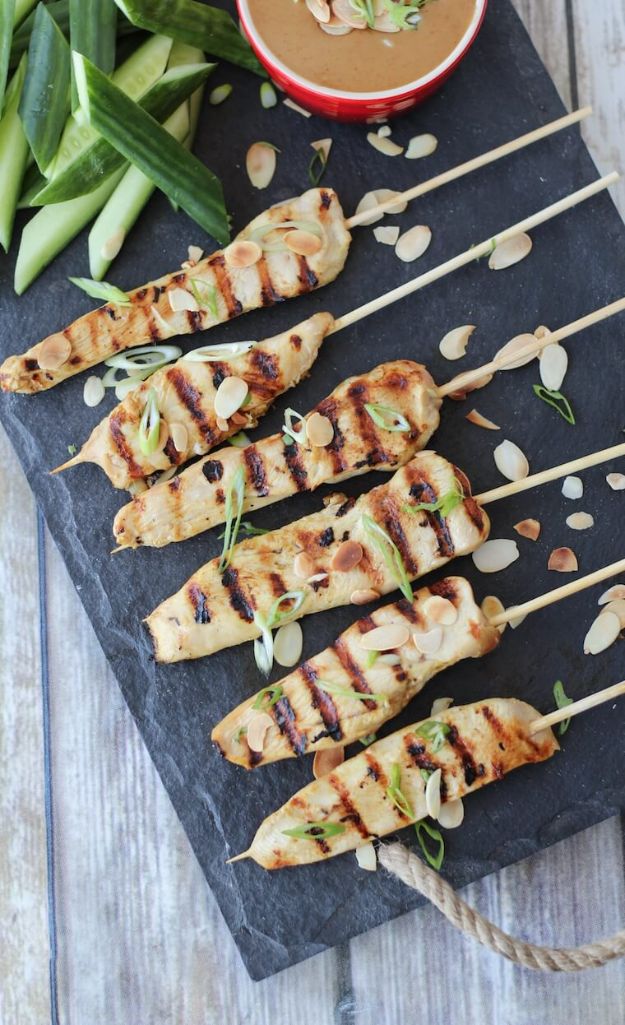 This gluten-free chicken satay skewer hits all the sour, sweet, spicy and salty tasting notes. It is the perfect healthy grilled Summer appetizer that everyone will love. The chicken is marinated in lite coconut oil to yield a super moist, yet lean source of protein.
4. Gluten-Free Chip And Guacamole Bites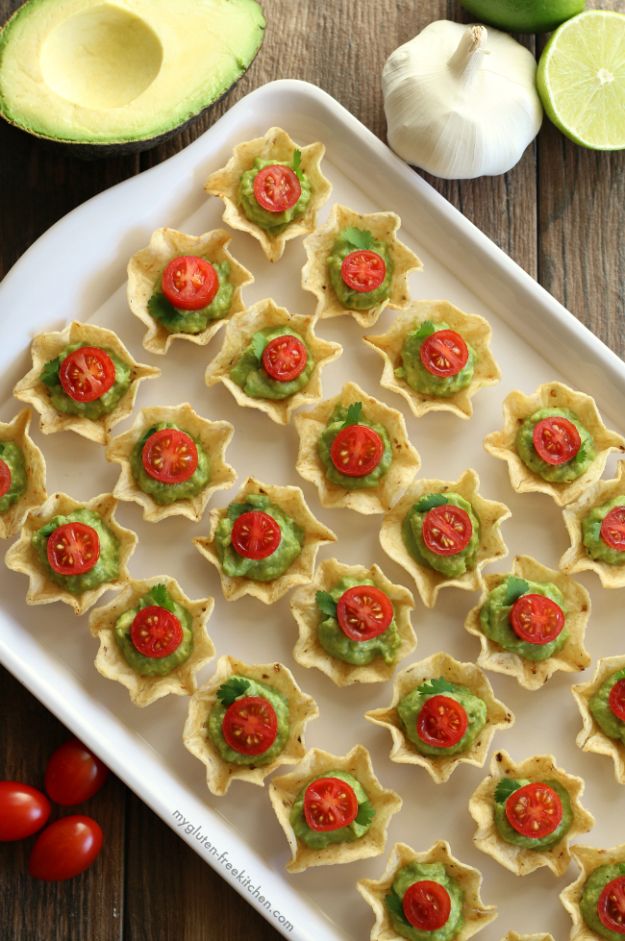 Snacking green is tasty and easy with guacamole bites from My Gluten Free Kitchen. These gluten-free chip and guacamole bites are so fun to bring to parties and potlucks. You can make as many or few of these as you'd like for the size of the group you are feeding!
5. Stuffed Mushrooms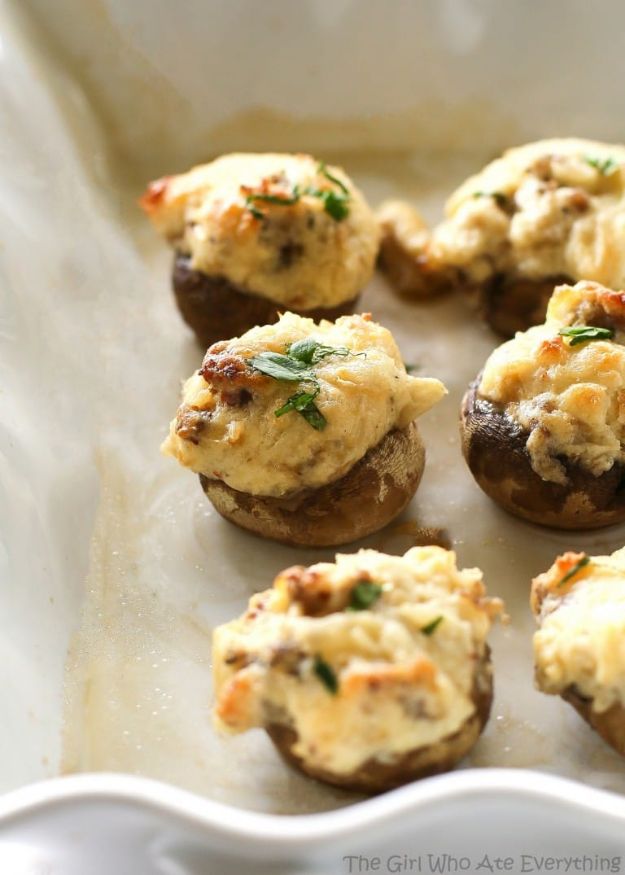 I tried this recipe…and absolutely loved the stuffed mushrooms! I would highly recommend. I followed the recipe exactly. I'm going to make them again as a Super Bowl finger food. Absolutely delicious!
6. Easy Baked Jalapeno Cheese Crisps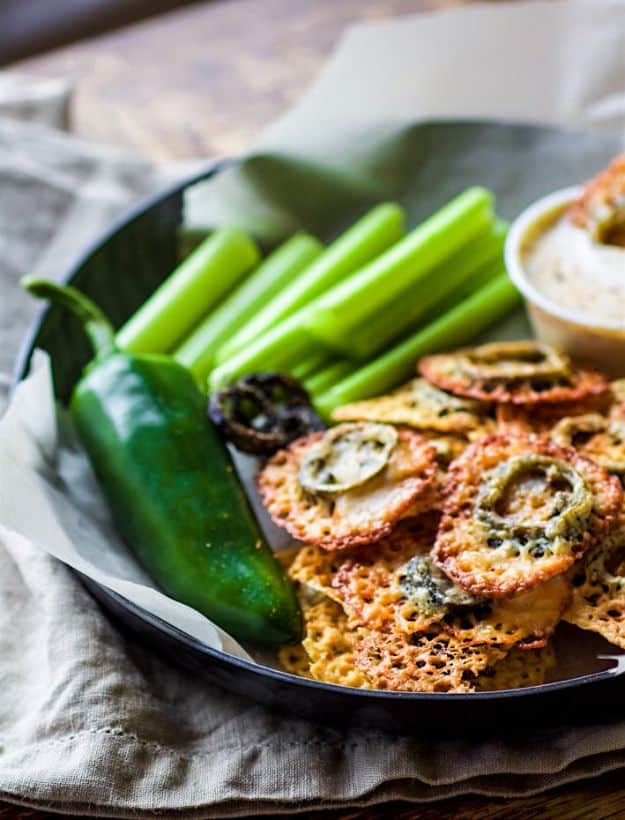 Seriously who would not love this?! Crispy cheesy spicy goodness! With only 5 ingredients, these healthier baked crisps are simple to make. It can be made mild or super spicy, depending on your preference. Once you try it, these can ultimately be one of your favorite appetizers and snacks.
7. Spinach Balls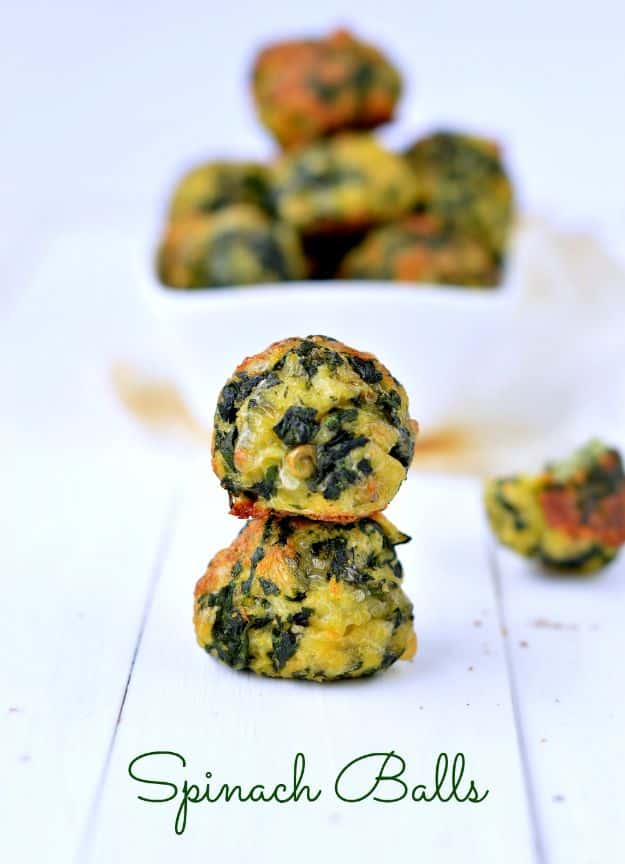 These spinach balls are a simple old-fashioned appetizer easily made gluten-free with ordinary pantry ingredients. It will make your guests think you're fancy, but there only five ingredients in this simple, yet impressive recipe from Sweet as Honey.
8. Crunchy Dorito Fried Chicken Nuggets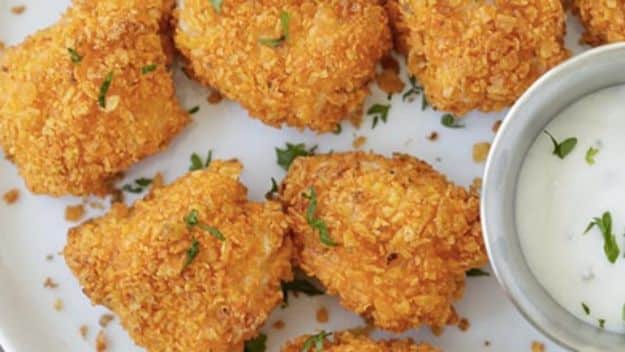 Want a quick and easy dinner that the kids will love…then give this Crunchy Dorito Fried Chicken Nuggets a try! I promise you, they are insanely good! So much texture and flavor in every bite. This is a regular in our meal rotation.
9. Tomato Basil Pizza Bites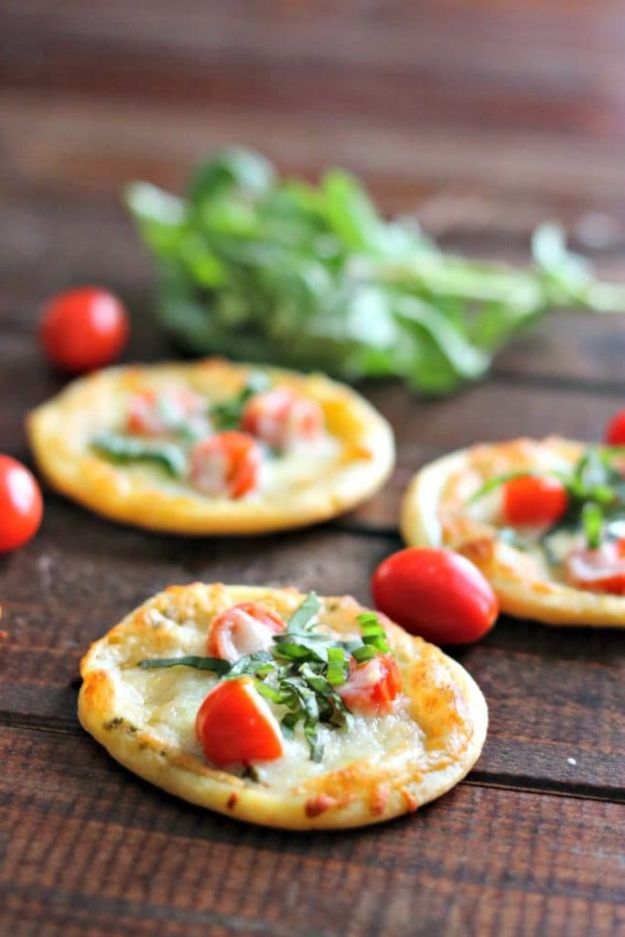 We often have people over during Sundays and have an appetizer night so I am always on the lookout for new recipes to try! This is now on top of my list – looks so yummy! Such a lovely appetizer idea and besides who does not love pizza?
10. Tahini Glazed Chicken Wings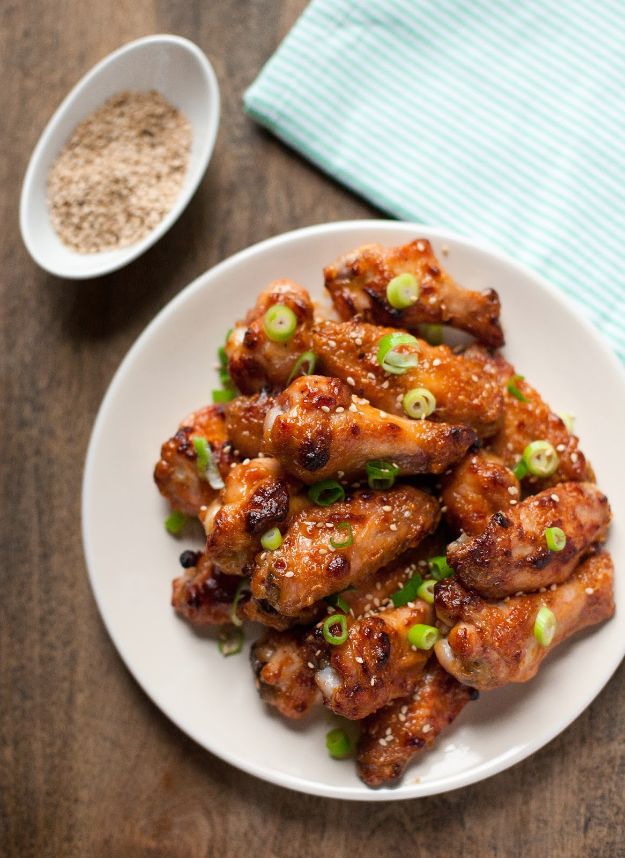 Crispy and juicy with a perfect glaze of sweet and savory flavors, this Tahini Glazed Chicken Wings will be your next favorite Paleo appetizer. These ones are tender, browned and crunchy from a simply being baked twice: first on their own, with a little ghee or oil and some salt and pepper, and then again after being tossed with a velvety glaze of tahini and honey.