This fried shrimp spring rolls by 365 recipe cooking are unbelievably good! It's loaded with carrots, onion, chopped shrimp, mushrooms, and vermicelli. The rice cake is super crispy, and the filling is delicious. Read on or watch the video below for the full instructions.
Ingredients:
25 rice paper (8.7 inches in diameter)
1.1 lb of deveined prawns
0.9 oz of mushrooms
1.7 oz of mung bean vermicelli
1.7 oz of onion (finely diced)
3.5 oz of carrot (finely diced)
scallions (sliced)
2 cloves of garlic (chopped)
1 teaspoon of soy sauce
1 teaspoon of chicken broth powder (divided)
1 teaspoon of sugar
1 teaspoon of oyster sauce
chives
coriander leaves
1 egg
Instructions:
Step 1:
Place the mung bean vermicelli in a bowl and fill it with water. Let it soak for 15 minutes. Do the same with the mushrooms in a different bowl.
Step 2:
Wash the shrimp in a bowl of water with 1 teaspoon of salt. Remove the tail and shell for the 0.65 lb of shrimp, as this will be for the stuffing. Keep the tail for the remaining shrimp.
Step 3:
Separate the portion of shrimp into two plates. For the shrimp with tail, sprinkle 1/2 teaspoon of broth and mix well. Set aside and let it marinate. Finely chop the remaining shrimp.
Step 4:
In a big mixing bowl, add the finely chopped shrimp, carrot, onion, scallions, garlic, drained mushrooms, and vermicelli.
Step 5:
In a small bowl, combine 1/2 teaspoon of chicken broth, 1 teaspoon of sugar, 1 teaspoon of soy sauce, and 1 teaspoon of oyster sauce.
Step 6:
Pour the sauce into the shrimp mixture and add 1 egg. Mix well.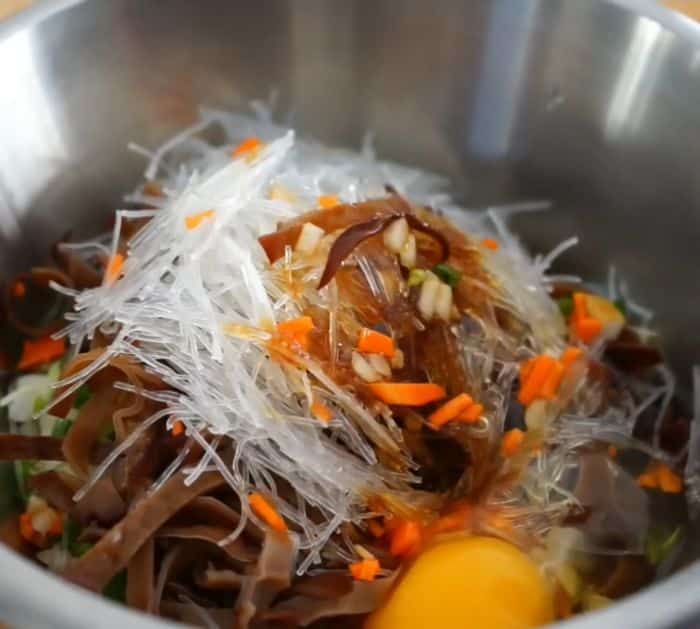 Step 7:
Pass the rice paper in hot water and lay it on your work surface. Scoop a tablespoon of the mixture and place it on the bottom part of the rice paper. Roll it a little bit, fold one side, then add one of the shrimp. Fold the other side and continue rolling. Repeat for the remaining rice paper.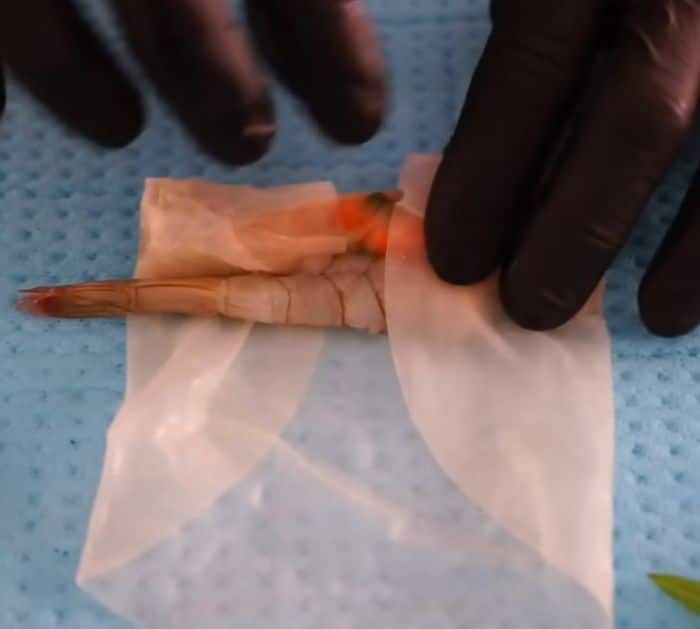 Step 8:
Deep fry the shrimp rolls in hot oil at 356F for about 5 to 10 minutes.
Fried Shrimp Spring Rolls Recipe